University of Michigan standout led Falcons to Prep Bowl titles, Our Lady of Good Counsel to CYO championship: 'We're so proud,' pastor says
DEARBORN — The party came to a quick and abrupt end. And that was just fine with hundreds of people in the Dearborn Divine Child High School gymnasium, gathered around a big-screen ESPN telecast of the 2022 National Football League draft April 28 from Las Vegas.
They didn't have to wait too long to see their favorite player taken — University of Michigan defensive end Aidan Hutchinson, who was selected second overall by the hometown Detroit Lions.
The 6-foot-6, 250-pound Hutchinson, a 2018 graduate of Divine Child, was one of the highest-rated players available in the draft pool. He was a Heisman Trophy finalist last season, leading the Wolverines to the Big Ten championship with a school-record 14 sacks.
Some prognosticators thought Hutchinson might be the top talent in this year's draft, but when the Jacksonville Jaguars selected University of Georgia's Travon Walker instead, the Divine Child crowd was actually pretty fired up.
It didn't take Lions team officials long to indicate they had made their selection, so the partygoers correctly sensed that it would be a best-case scenario for both Hutchinson and his fan base.
"There were hundreds of people here, and we are so happy that Aidan will be a Detroit Lion," said Fr. Bob McCabe, pastor of Divine Child. "We were going crazy — when we heard that he wasn't No. 1, we knew what that meant."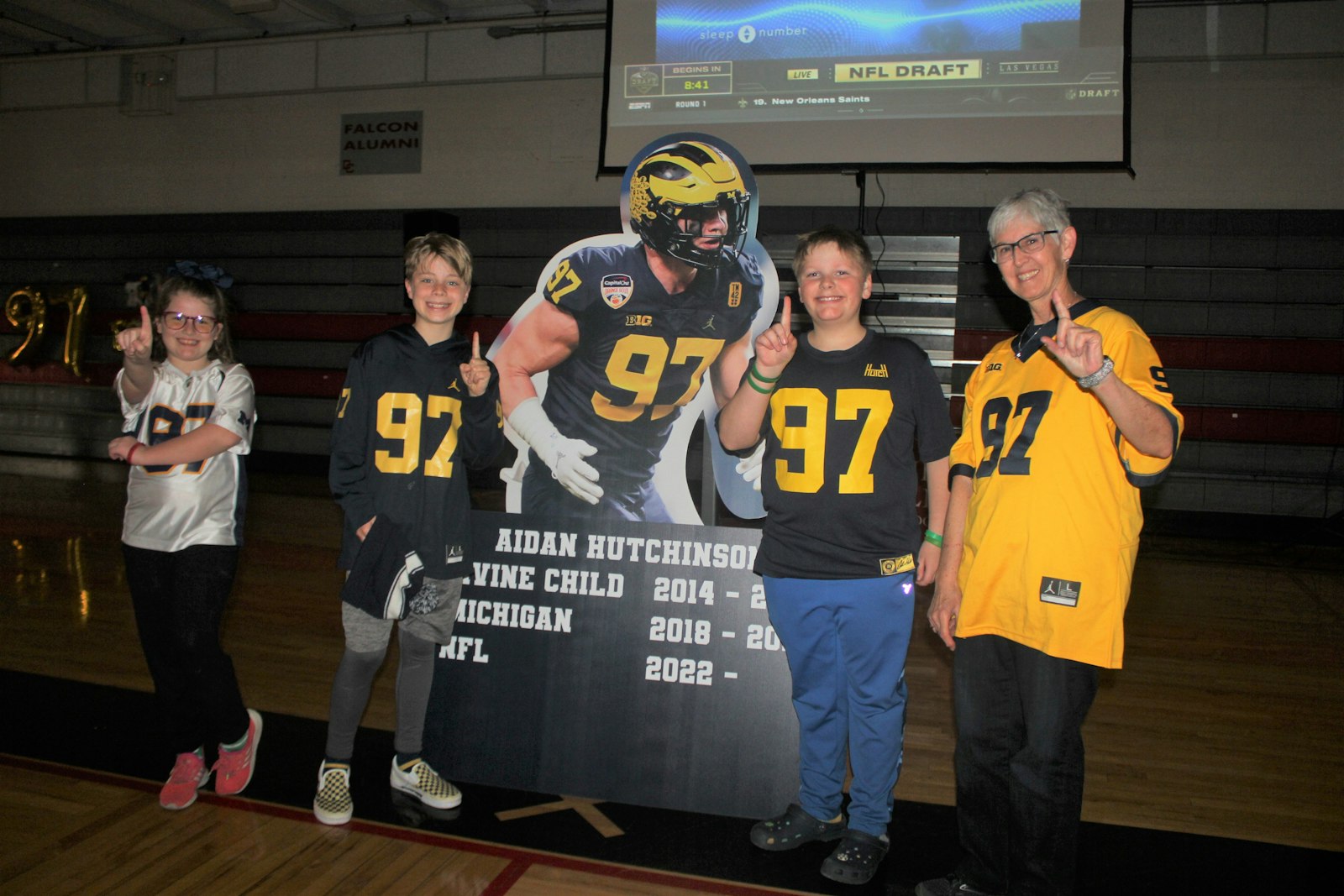 John Filiatraut, who coached Hutchinson at Divine Child, went to Las Vegas to attend the draft live. But there were plenty of other coaches and players in the gym watching and cheering. Assistant coach Dario DiNicola said the Lions have gotten a quality player on the verge of stardom.
"He's going to be at home, and I think that will be big for him," DiNicola said. "I don't know if he wanted to stay home, but No. 1 or No. 2, it's all good. He's had a great career at Michigan, he put in a lot of hard work. He's a hard worker overall."
Coach Paul Gardner recalled Hutchinson playing at Our Lady of Good Counsel in his hometown of Plymouth while a seventh- and eighth-grader.
"He was about a 5-10, 160-pound kid, but he had big feet, so you knew that he was still growing," Gardner said. "The thing about him was, he had a motor like he has now. He never gave up, never quit; he was fearless all the time. You can see that now — that work ethic was instilled in him from a young age."
Hutchinson led Our Lady of Good Counsel to a CYO championship appearance in 2013. However, he only played defensive end when he asked the coaches if he could try it, according to Gardner.
"You could coach a long time and you might not get that luxury of having that type of kid," Gardner said. "Future NFL draft picks aren't part of your mindset when they're that age, but could he have played in college somewhere? Yeah, he probably could, and when he came here to Divine Child, we knew he was something special."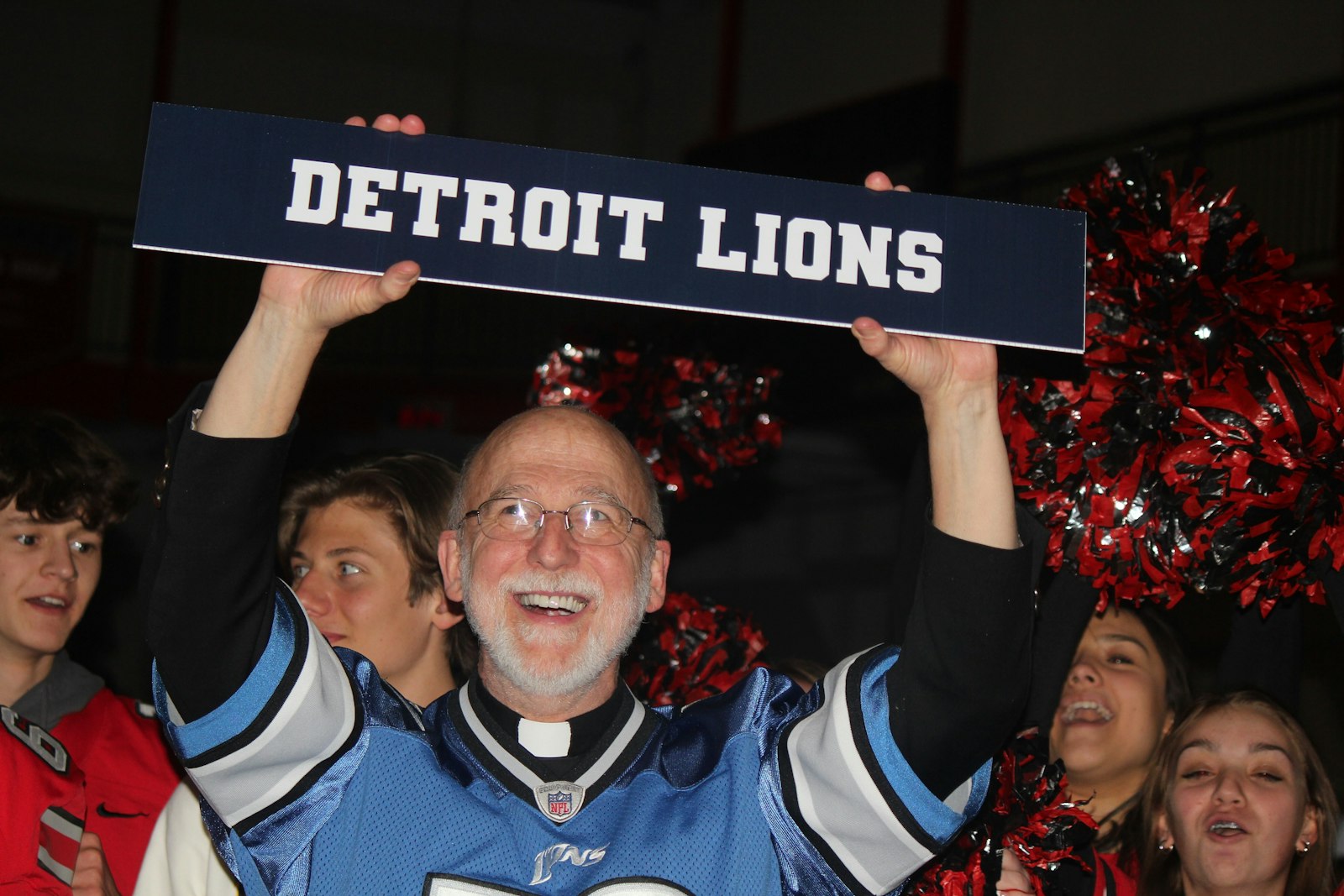 Hutchinson played on two Prep Bowl-winning Falcon squads and attracted a lot of attention from college scouts.
"He is a wonderful kid, with great values that I really think his parents were instilling in him a lot," DiNicola said. "He was great while he was here — a great player, very dedicated, very knowledgeable. He was really an inspiration to a lot of the other players, which was big."
Hutchinson continues to motivate the current cast of Falcons.
"He's inspired all of us to have our own dreams and aspirations to go into the NFL, me included, and I know that a lot of my other teammates would love to be in that position, and we're going to work to get there," said Dylan Senda, a junior offensive lineman who has already committed to play at Northwestern University. "He's amazing. I'm so proud of Aidan and what he's accomplished, and I can't wait to see what he does at the next level."
"He's relentless," junior lineman Ryan Read said of Hutchinson. "He will give 110 percent, 110 percent of the time, no matter what. I guess it really inspires us. We watch him on TV and we realize that he came from not only our hometown, but our school, and that just really pushes us to do our best."
"We are blessed. We're very blessed, and we anticipate great things," Fr. McCabe said. "His character is something that is so admirable, and we're so proud of him, not only for his athletic ability but his spiritual. We were proud to play a part in the development of this young man who embodies so much of what Divine Child stands for."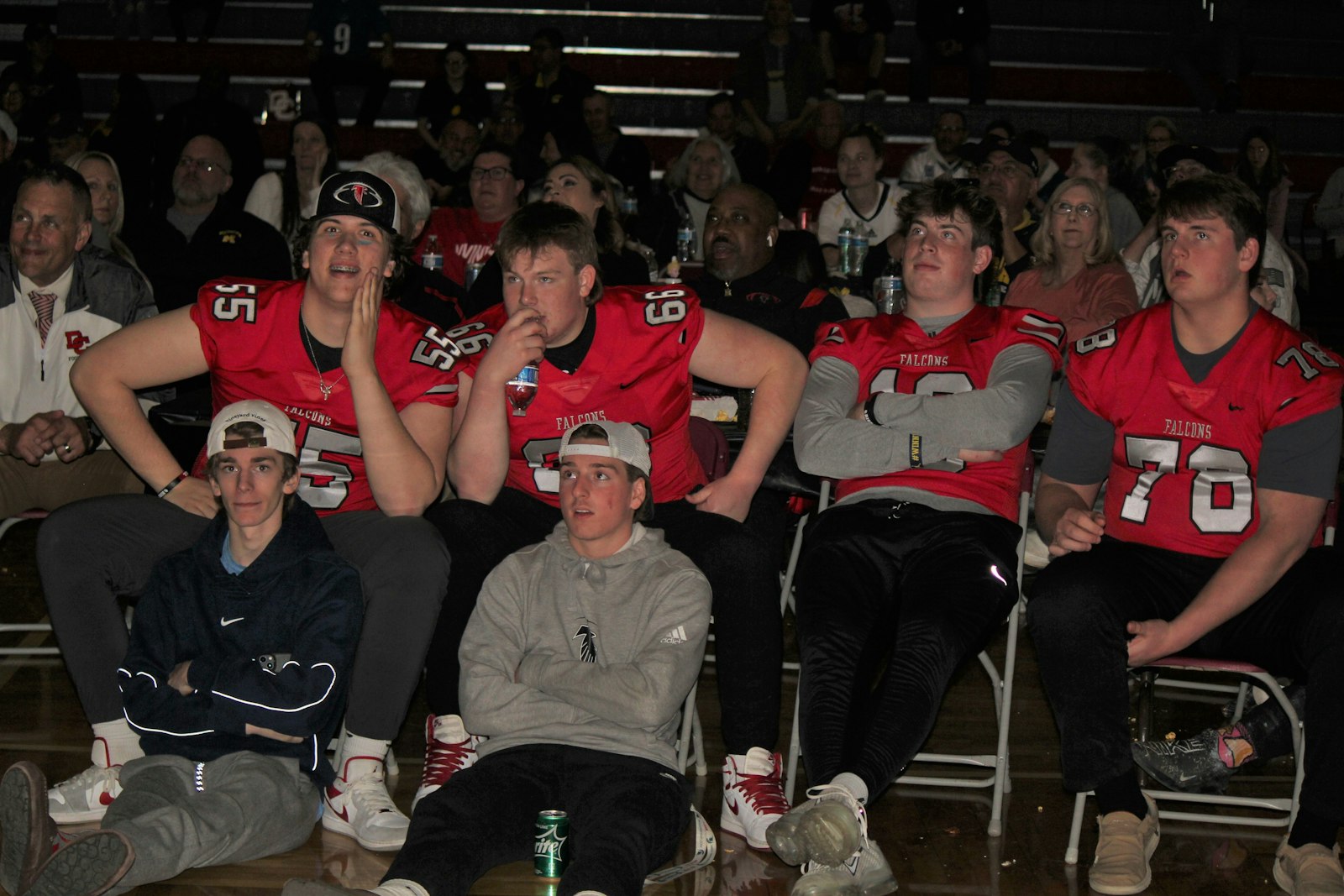 "I know he wanted to be No. 1, but he'll always be our No. 1," said Gina Delgado, who was Hutchinson's Spanish teacher. "The Divine Child Falcon family will continue to support him, and we're just super-excited to have him in Detroit. I guarantee that the whole Divine Child family will be there in the stands at his first (NFL) game to support him."
All three of the Falcon graduates who have suited up in the NFL — quarterback Gary Danielson (Class of 1969), wide receiver Jeff Chadwick (1978), and now Hutchinson — have worn the Lions' Honolulu Blue and Silver.
In addition, Hutchinson joins Tigers catcher Eric Haase (Class of 2011) and Red Wings defenseman Jordan Oesterle (2010) as Divine Child's active professional athletes.
Incidentally, the last time a football player from a Catholic high school was taken in the No. 1 draft slot was 2016, when the Los Angeles Rams selected University of California quarterback Jared Goff. Goff is now the Lions' signal-caller, having come to the Motor City in the trade that sent Matthew Stafford to the West Coast.
Copy Permalink