Through faith, love and unwavering trust in God, parents of conjoined twins inspire an outpouring of support from across globe
Editor's note: The following story was originally published in Spanish on Detroit Catholic's sister publication, Detroit Catholic en Español.

DETROIT — From the moment they learned they were parents of conjoined twins, during the hour and 10 minutes that they lived, and throughout the entire pregnancy, Nicole and Austin LeBlanc committed themselves to unwavering trust and faith in God's will.

"My sister has shown me that when you have faith in God and invite love instead of fear, then the hardships of life don't seem so terrible," Danielle Duque, Nicole's sister, told Detroit Catholic en Español.

In her hospital room following the twins' birth and subsequent passing May 16, Nicole had a special bed where her babies rested next to her. Shortly before they died, María Teresa and Rachel Clare received the sacraments of baptism and confirmation.
Recovery from surgery has been arduous, and while Nicole yearns, like any mother, to nurture and hold her babies, she clung to her faith and trusted that the Lord's plans were bigger and more blessed than her own.
"My room was on the same floor as the babies, and it was a little hard to hear other babies crying and other families celebrating new life, while I was crying for my babies," Nicole told Detroit Catholic en Español. "However, when Fr. David (Pellican) entered, he offered a prayer and an incredible sense of peace filled the air. Despite the pain, I felt prepared to face what I was going through, and yes, it was a true miracle from the Lord."
A mission that has just begun
Nicole is in the process of recovery and has a medical appointment scheduled four weeks after delivery, on June 9. According to medical recommendations, she has been advised not to try to have children for a year.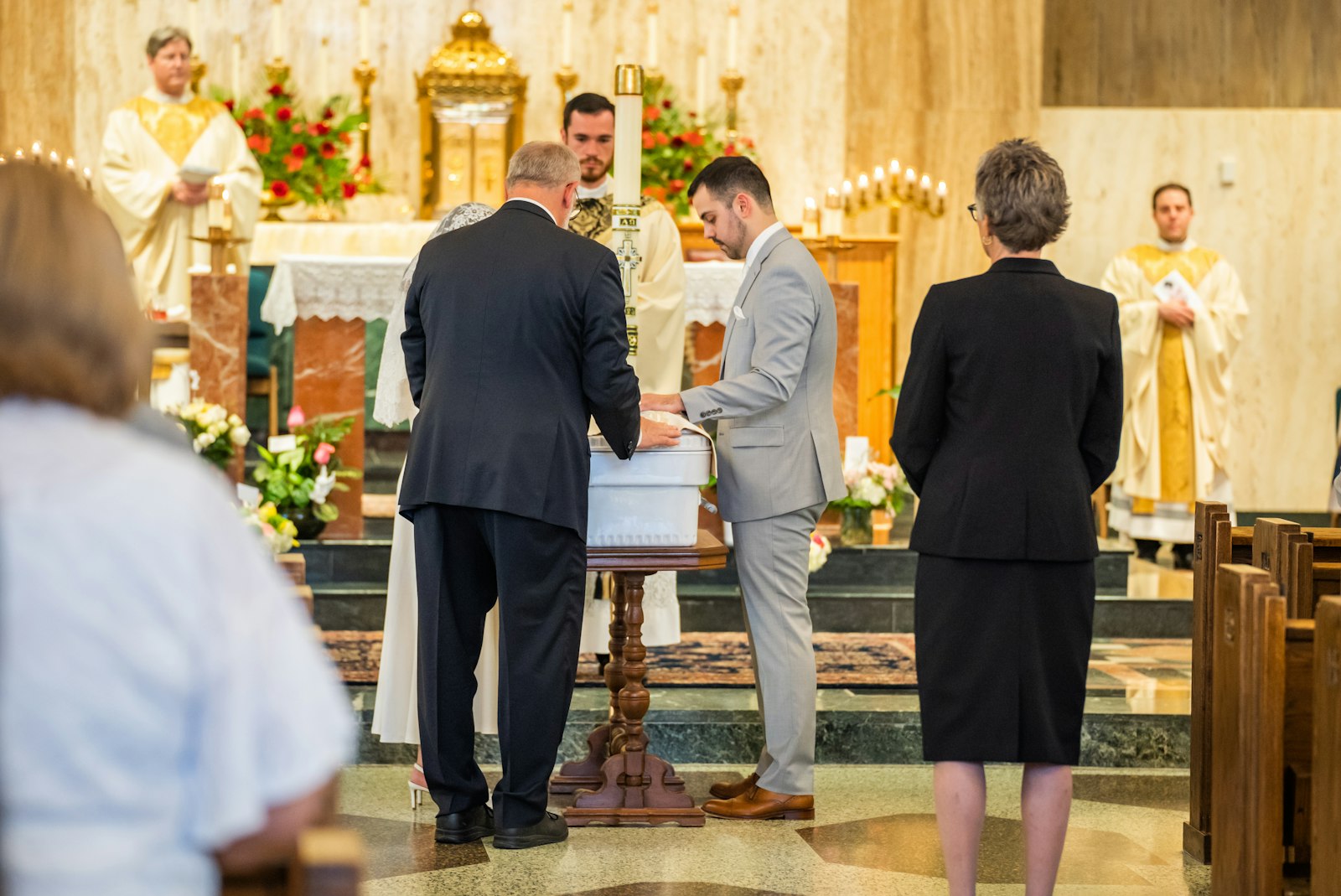 During her recovery process, Nicole has been producing milk. Wanting to help other babies, she searched for places to donate.
"Thank God, my body has produced breast milk, since I knew I was carrying twins. Now, I want to donate this milk to babies in need. However, I have found that there is only one place in Michigan that accepts donations, and it's a long way away," Nicole said.
After her recovery, Nicole said she'd like to work to change that.
"I'd like to work towards having a donation location in Ann Arbor or somewhere closer," she said.
Every night, Nicole gets up at 2 and 5 a.m. to express her milk, and always accompanied by her husband, they take time to pray together for the babies.
"Austin is attentive to my needs at all times, and he has already fulfilled one of his missions for our daughters: to (help them) enter heaven. If that was his responsibility, he has carried it out admirably," Nicole said.
Austin shared that when he converted to Catholicism in 2020, he asked God in prayer to help him choose a confirmation saint, and one name kept coming to him.

"Every time I read about the saints, St. Joseph always appeared. When I was in the RCIA, I knew that I wanted to marry Nicole and that I needed a saint to help me transition my life to being a husband and father," Austin said. "I feel like St. Joseph always has been with me through my struggles in my wife's pregnancy. Whenever something got difficult, I prayed that St. Joseph would help me find a way to become the best husband and dad, and take care of my wife and unborn babies."
The community: An extended family for the LeBlancs
Nicole and Austin's experience over the past eight months has been a true gift of learning. Every step of the way, the couple has witnessed with profound gratitude the immense generosity and support from those around them.
The prayers, Masses, holy hours and rosaries offered by family and friends have been a balm that has sustained the couple and given them strength in the midst of pain.
In addition to facing the challenges of a complicated pregnancy, the young couple is experiencing financial difficulties. They continue to gratefully accept the generosity of the community through donations, an invaluable help to them as they move forward with hope and determination.
The LeBlancs are grateful for the community's extraordinary prayers and generosity, which will help them defray the cost of the babies' wake and funeral, which was celebrated May 31 at Divine Child Parish in Dearborn.

Nicole has experienced warm support from the community, especially online, where her testimony has spread beyond the Archdiocese of Detroit. Detroit Catholic's original article was picked up by several international Catholic media outlets, including OSV News , Aleteia, ACIprensa, Catholic News Agency, EWTN News, Church POP, as well as at least one publication in Germany.
Nicole tiene casi 5 meses de embarazo y espera gemelos. Sus hijos padecen una rara condición: comparten un solo corazón. Abrimos hilo. pic.twitter.com/bQP8ovGFuU

— ACI Prensa (@aciprensa) March 20, 2023
One of the Twitter messages that struck Nicole deeply was a quote from Servant of God Fr. John Hardon, SJ: "Our children in heaven still owe us obedience as they would on earth ... So ask them for anything; they can be great intercessors before Our Lord!"
Aware of the closeness of her babies to the Lord and the Blessed Virgin Mary, Nicole has offered herself as an intercessor with them for the entire community that needs it. This gesture reflects her deep faith and her desire to provide comfort and spiritual support to those who need it.
A very special invitation to the community
As thanks for the generosity and prayers of the community, the LeBlancs extended a special invitation to the community to join them at the funeral services for their daughters, offering the opportunity to unite voices in prayer, asking for the intercession of the little ones and presenting any personal needs that one may have.
A visitation was held May 30 at John N. Santeiu & Son Funeral Home in Garden City, with a bilingual rosary in English and Spanish. The requiem Mass was celebrated the following day, May 31, at the Church of the Divine Child.

The couple's story has touched hearts in different parts of the world, from India to Spain and Belgium, a testament to the impact that community, love and solidarity can have in times of adversity.

"Nicole has shown a strength that can only come from God," Mia Duque, Nicole's younger sister, said. "He had a special plan for these precious babies, turning them into saints. Nicole was the instrument that God used to fulfill His purpose. Growing up in the Catholic faith, we have witnessed the response of the Holy Virgin Mary when she said, 'Let it be done to me according to your word.'"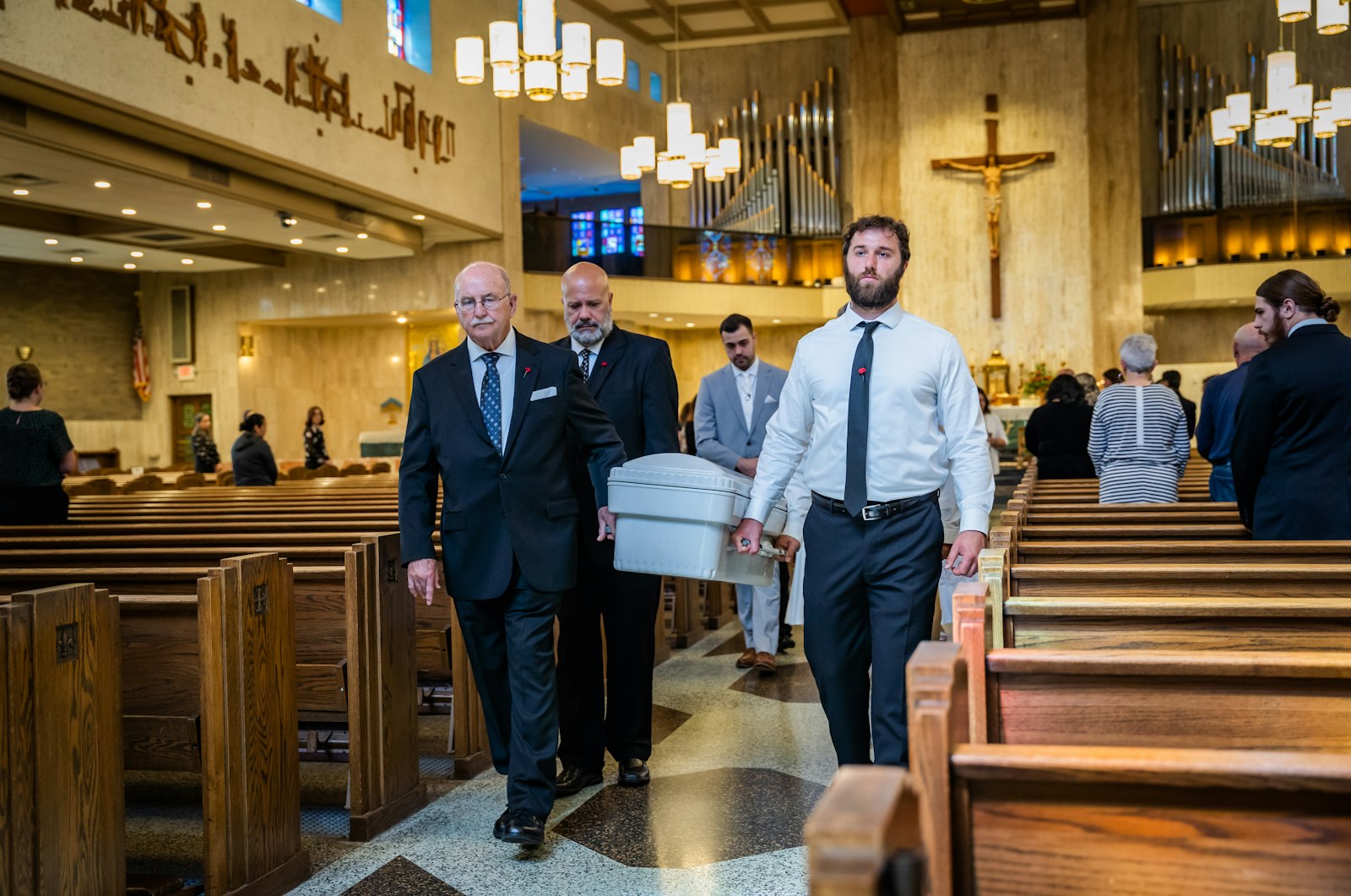 The lives of Maria Teresa and Rachel Clare, though brief, have left a profound impact, Fr. Pellican added. As saints in the loving arms of the Father, their story will continue to inspire others to trust in divine providence and to embrace life in all its stages, always with courage and love, he said.
"Maria Teresa and Rachel Clare lived less than an hour after they were born, and every moment of that brief span was filled with grace. They opened their eyes and could see their parents. Mom, Dad, and Grandma hugged them and told them how much they loved them. Through baptism, they were washed from original sin and introduced into the Kingdom of God," Fr. Pellican said.
"They became beloved daughters of God for all eternity. Through confirmation, the life of the Holy Spirit was strengthened in them, and although they were still infants in this life, they were brought to spiritual maturity in Christ," he added. "During those moments after birth they were showered with love by their earthly family, but they were also showered with grace and welcomed into their heavenly family."

Detroit Catholic en Español is heartily grateful for the trust placed by the LeBlanc family in opening up their privacy and allowing us to be spokespersons for their story, which has been a source of unity and inspiration for the local Latino community, knowing that it will continue to touch the hearts of those who need it.
Copy Permalink
Pro-life
Personal witness