DETROIT — A pair of sophomores are atop the list of the Catholic High School League's best individual girl golfers as a result of last Tuesday's championship round at the Detroit Golf Club.
Maeve Casey from Farmington Hills Mercy shot a 1-over par 70 to claim the top individual honors in the Bishop (Central) Division by a stroke over last year's sophomore sensation, Macomb Lutheran North's Lauren Timpf, and junior Mackenzie Behnke of Bloomfield Hills Cranbrook Kingswood.
In the Cardinal (AA/Intersectional) Division, Rachel Fay of Wixom St. Catherine of Siena, shot her "personal best of the year," a 72 for medalist honors.
Casey, Timpf and Behnke took turns, it seemed, taking the lead fighting not only one another but Mother Nature's chilly, windy environment.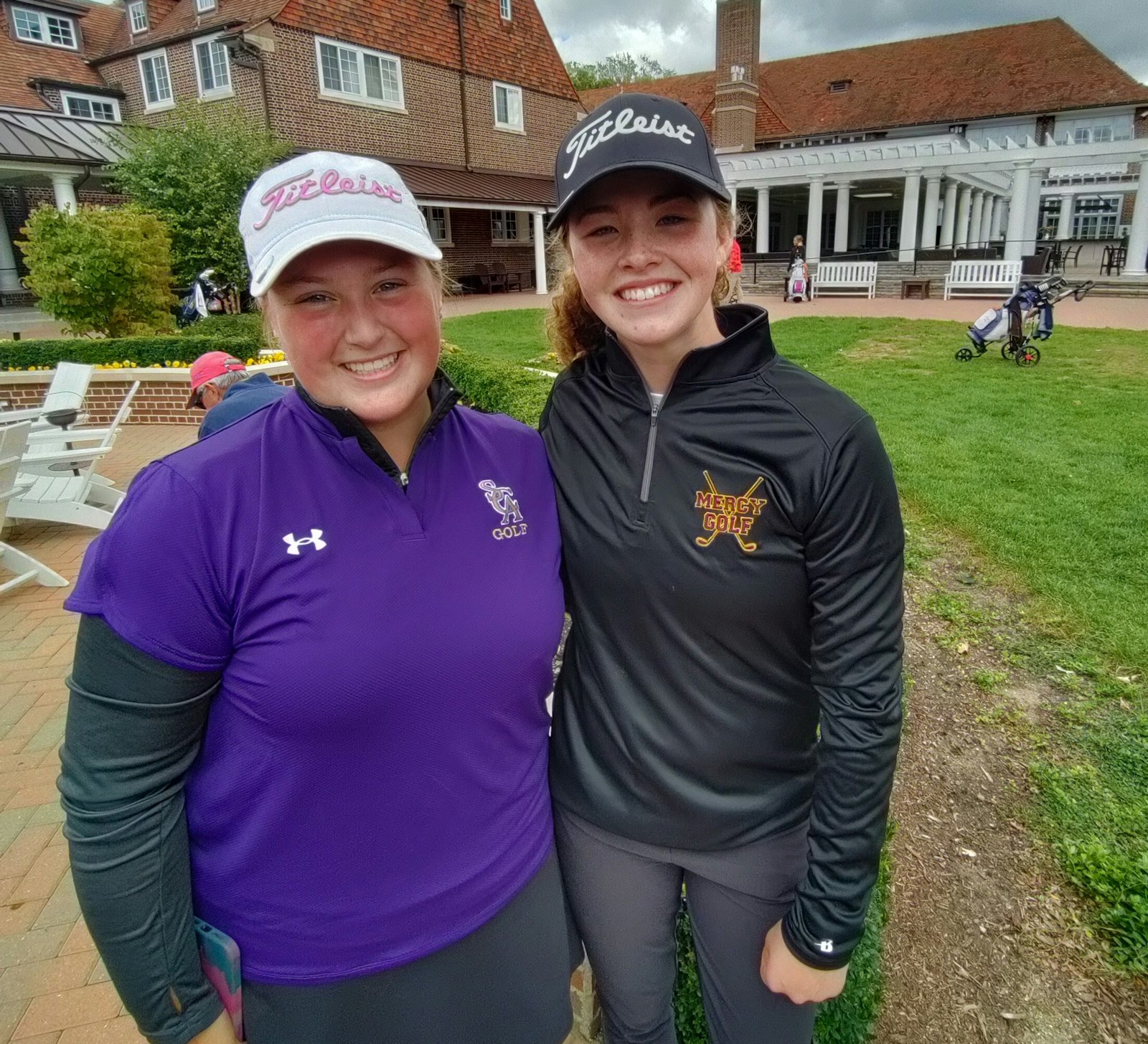 The 15-year-old Casey, who's been playing golf for nearly four years, had the more consistent round. "I hit my drives pretty well and I was able to get my wedges in close for my putts," she said.
Timpf didn't have the preciseness she showed a year ago when she shot a 64. "I tried to put myself into position with my drives for birdies. I didn't have enough effort in my swing when the wind was with me and I would take off too much when the wind was into me. I just tried to swing too hard."

Behnke took herself out of contention for the individual honors with a bogey 6 on the par 5 18th hole while Casey birdied and Timpf parred.
Fay's 72 was her personal best of the year, she said. "I finished strong with a par-birdie-par. Mentally, I felt very good. I was happy about that."
Timpf and Behnke both have some important golf in the next couple of weeks. The MHSAA regional playoffs begin Oct. 3 and conclude with the finals Oct. 14-15. Timpf is the defending Division 3 individual champion, while Behnke and her teammates will be attempting to win their second Division 3 team title in a row.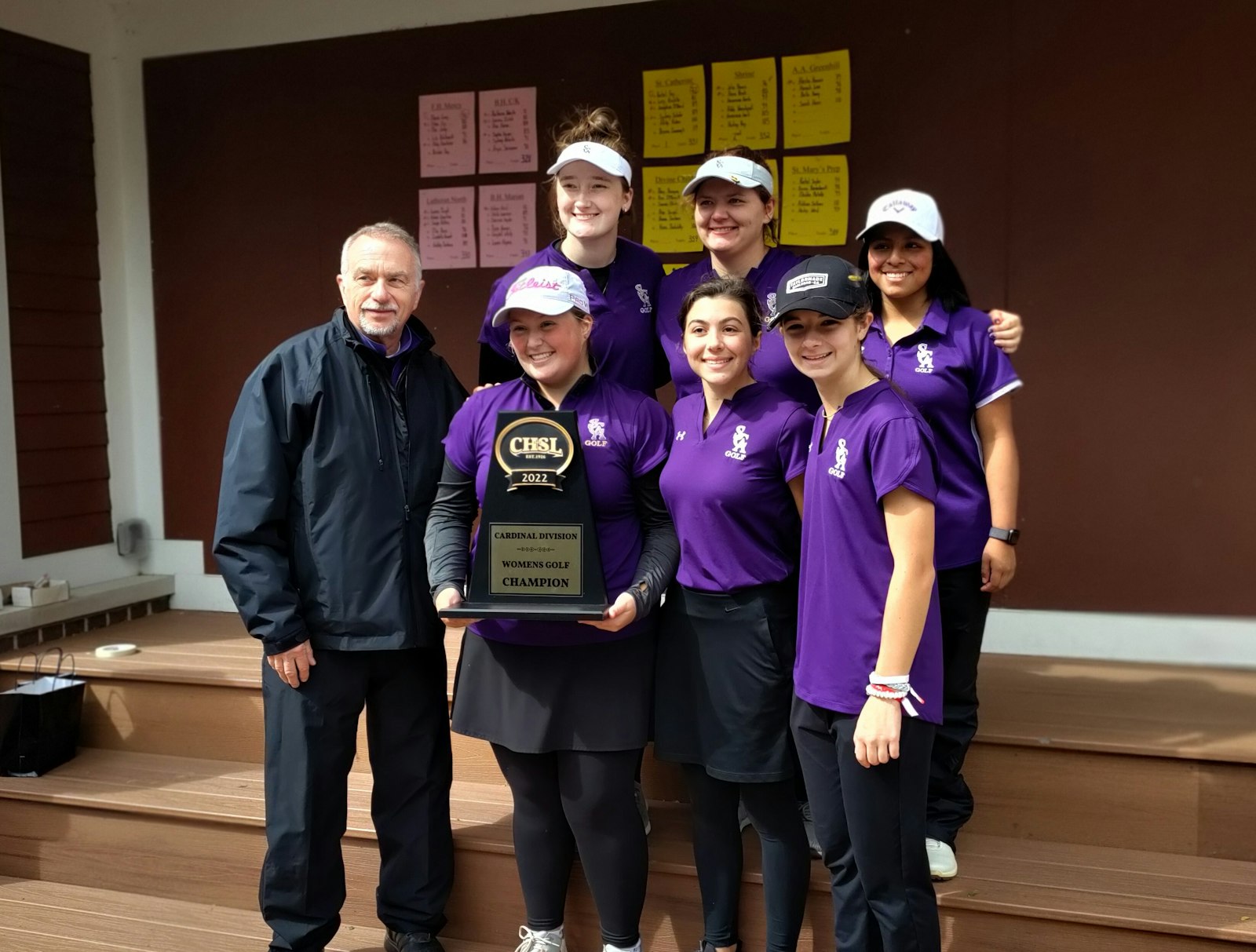 "I'm more motivated than ever to win again," Timpf said.
Cranbrook and Mercy tied for the Bishop Division team championship, the second in a row for the Cranes and the first for Mercy since 2018.
The Cardinal Division team championship for St. Catherine is the school's first. Orrin Tibbits has coached the Saints for the five years the school has played golf.
Team Standings (Bishop Division)
Farmington Hills Mercy 324; Bloomfield Hills Cranbrook 324; Macomb Lutheran North 330; Bloomfield Hills Marian 334.
Top 10 Individuals (Bishop Division)
Maeve Casey (Mercy) 70; Mackenzie Behnke (Cranbrook) 71; Lauren Timpf (Luth North) 71; Saige Rothey (Luth North) 80; Sienna Ilitch (Cranbrook) 80; Chloe Vig (Mercy) 80; Aileen Cosentino (Luth North) 81; Collen Hand (Marian) 81; Sophie Kouza (Cranbrook) 85; Abby Slankster (Mercy) 86.
Team Standings (Cardinal Division)
Wixom St. Catherine of Siena 331; Royal Oak Shrine 352; Dearborn Divine Child 359; Orchard Lake St. Mary's 384; Bloomfield Hills Academy of the Sacred Heart 390; Ann Arbor Greenhills 395; Ann Arbor Fr. Gabriel Richard 411; Warren Regina 414.
Top 10 Individuals (Cardinal Division)
Rachel Fay (St. Catherine) 72; Julia Brown (Shrine (76); Alesha Hassan (Greenhills) 79; Lucy Krichko (St. Catherine) 81; Anna Brush (Shrine) 86; Mary Ronayne (Divine Child) 85; Maggie Pulte (Sacred Heart) 85; Erin McCormick (Divine Child) 87; Joey McQuaid (St. Catherine) 89; Sydney Schafer (St. Catherine) 89.
Contact Don Horkey at [email protected].
Copy Permalink