WARREN — 'Twas the shot heard around the Catholic League. Its full impact wouldn't be felt in the state until three days later.
In the quarterfinal match at University of Detroit Mercy Calihan Hall, De La Salle led No. 1 ranked Orchard Lake St. Mary's, 23-14, at the half, but found themselves in a hole, behind 43-36 with 3:50 remaining in the fourth quarter.
The Pilots put together a frantic 12-5 rally in the closing two minutes to produce a 48-48 tie with 40 seconds to play.
St. Mary's had beat De La Salle twice during the regular CHSL Central Division, once in double overtime and the other by 13 points. The Pilots wound up 3-5 for fourth place and 13-7 overall going into the Michigan High School Athletic Association playoffs.
"We were battle tested. We were playing the fourth toughest schedule in the state. We believed we could compete with anybody," coach Gjon Djokaj said. "We had to re-establish some of our culture. We had some sit-downs and talked about the road we wanted to go on once the playoffs started."
De La Salle had little difficulty winning the district and regional titles.
Djokaj also cautioned: "Stay focused. Value every possession. Otherwise you won't be prepared for the moments that are ahead."
One of those moments had arrived.
The Pilots stalled for the last shot. The ball was passed to Caleb Reese who was 35-40 feet away from the basket along the right sideline.
"He didn't know exactly how much time was left," Djokaj said, "and heaved the ball without having his full feet under him."
Teammate Triston Nichols watched the play develop from his location across the court along the left baseline.
A 6-foot-4, 200-pound wide receiver, he had caught two touchdown passes in De La Salle's football championship game in the fall. He was gearing up for the catch of his lifetime.
Players from both teams were in rebound position.
"I could see that it was an air ball," Nichols said. "The students were counting down the seconds, but they were off a little bit. I could see the time: one second."
"He went crashing in. He didn't give up on the play," Djokaj said.
Nichols put the ball up and in for a stunning 50-48 upset. "I saw the clock as the ball went in: 0:00.3."
"This group is really a confident group, a resilient group," Djokaj said. "Our confidence to win the state championship, I can tell you, was well before that play. We enjoyed it. We celebrated it in the locker room. But we knew our mission was not complete."
The Pilots avenged their semi-final loss a year ago to Ann Arbor Huron by wearing out Grand Rapids Northview (with an imposing 25-1 record), 59-45, never giving up the lead once they got in front, 7-5, early in the first quarter.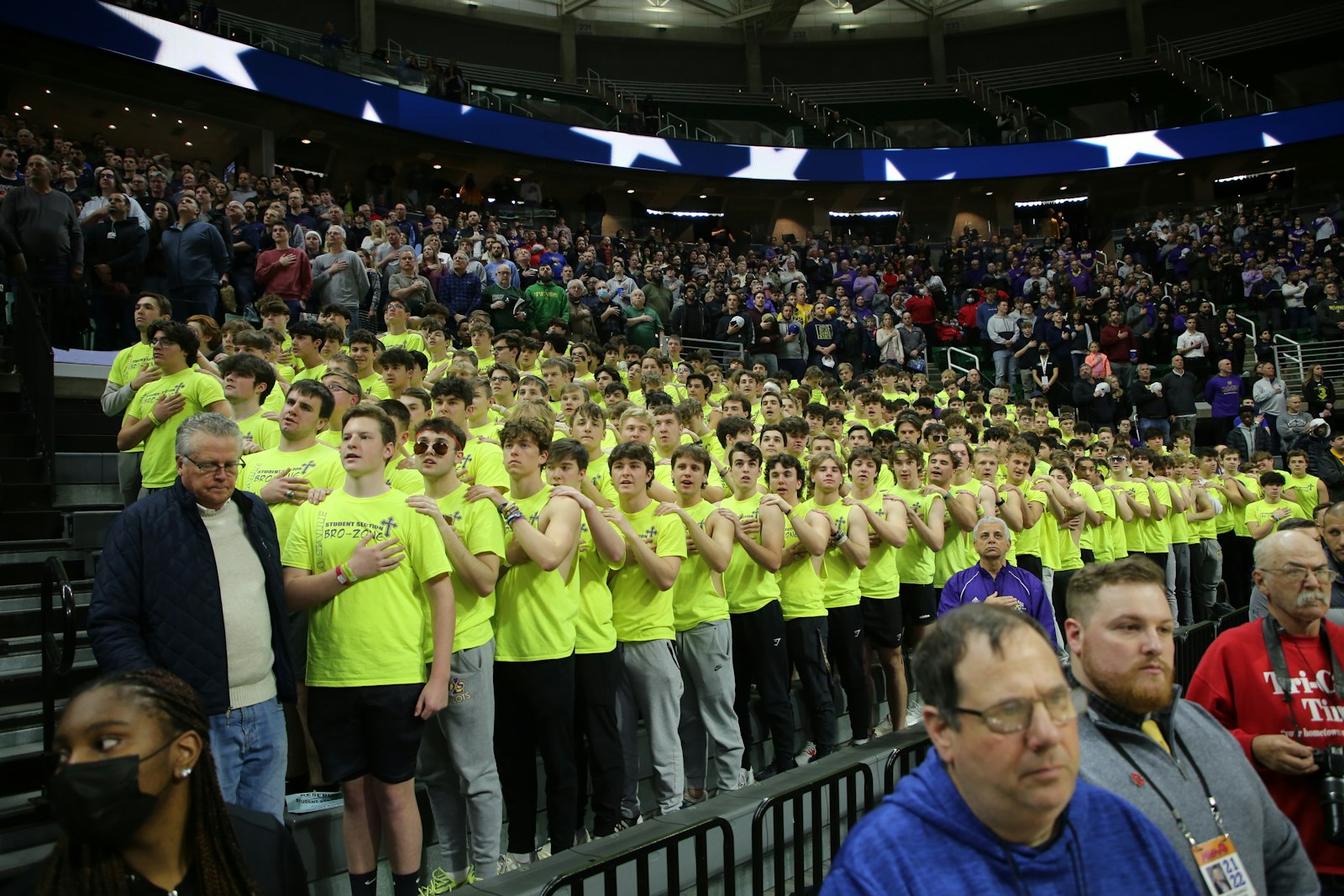 Senior guards Tamario Adley (12 points) and Caleb Reese (seven points, seven rebounds) and juniors Nichols (17 points, five rebounds) and Nino Smith (18 points, six assists) led the attack.
The next day in the main event, the lead changed hands 11 times before De La Salle took a 39-38 edge late in the third quarter and built on it for a 67-58 victory over defending champ, Grand Blanc.
Smith, Nichols and Adley powered the offense with 18, 17 and 12 points, respectively.
Junior 6-foot-8 forward Michael Sulaka probably put on the best individual performance during the playoffs. He scored 26 points in the regional final win over Macomb Dakota, then had 16 points, 10 rebounds and several blocks in the upset of St. Mary's, and had 20 points, eight rebounds and four blocks against Grand Rapids Northview.
Foul trouble limited him in the championship game to nine points, eight rebounds and three blocks.
"We made winning plays down the stretch, and I thought overall we got contributions from a lot of different players at different times," Djokaj said. "That's what we've been built on all season long, and I'm happy to be going out with a state championship and the way we got here."
Djokaj, 41, in his two years as Pilots head coach has directed the team to a semi-final and a final championship. He formerly was head coach at Livonia Franklin for a year and at Walled Lake Northern for three years. His record is 82-44.
As for the future, "The program here is in good standing," Djokaj said. "The junior varsity and freshmen teams both won the Catholic League tournament. We have eight or nine returning players. We have to rebuild the chemistry. A lot of things have to fall in place. We don't want to take things for granted."
After the semi-final win, De La Salle player and coaches checked in to a local hotel, held a brief practice at Dewitt High School in preparation for the next day's state final, and enjoyed
a fish fry at an East Lansing Knights of Columbus post.
Three busses transported about 150 students — the Bro-Zone — for the trips to East Lansing for the semi-final game on Friday afternoon and the championship game the next day.
They arrived back in Warren at about 6 p.m. Friday and had to report back by 9 the next morning for the ride for Saturday's game at noon.
Here a rundown of De La Salle's 16 state champions:
In baseball (4): 2016 (coach Matt Cook), 2009, 2000 and 1993 (Brian Kelly).
In basketball (1): 2022 (Gjon Djokaj).
In bowling (1): 2006 (Ken O'Brien).
In football (4): 2021 (Dan Rohn), 2017 and 2016 (Mike Giannone), 2014 (Paul Verska).
In hockey (1): 2017 (Craig Staskowski).
In soccer (5): 2006, 2000,1993, 1992,1990 (Thaier Mukhtar).
Contact Don Horkey at [email protected]
Copy Permalink