St. Joseph of Arimathea Pallbearer Ministry has students serving as pallbearers for funerals of homeless, forgotten individuals
DETROIT — For six years, juniors and seniors from University of Detroit Jesuit High School have carried the caskets of men and women they've never met. In some cases, they haven't even known the name of the person they carried.
Now, after a hiatus because of the COVID-19 pandemic, the St. Joseph of Arimathea Pallbearer Ministry at U of D Jesuit has again begun to provide pallbearers at funerals of homeless individuals, military veterans, and those who have no loved ones to bury them.
The St. Joseph of Arimathea Pallbearer Ministry began in 2015 when three U of D Jesuit seniors learned about the ministry while visiting another Jesuit school, St. Ignatius High School in Cleveland. Since then, the U of D Jesuit campus ministry office has organized students to serve as pallbearers in partnership with A. J. Desmond & Sons Funeral Directors.
At the ministry's first funeral in October 2015, six seniors carried three veterans whose bodies had gone unclaimed. This August, four U of D Jesuit students served at a funeral for the first time since February 2019.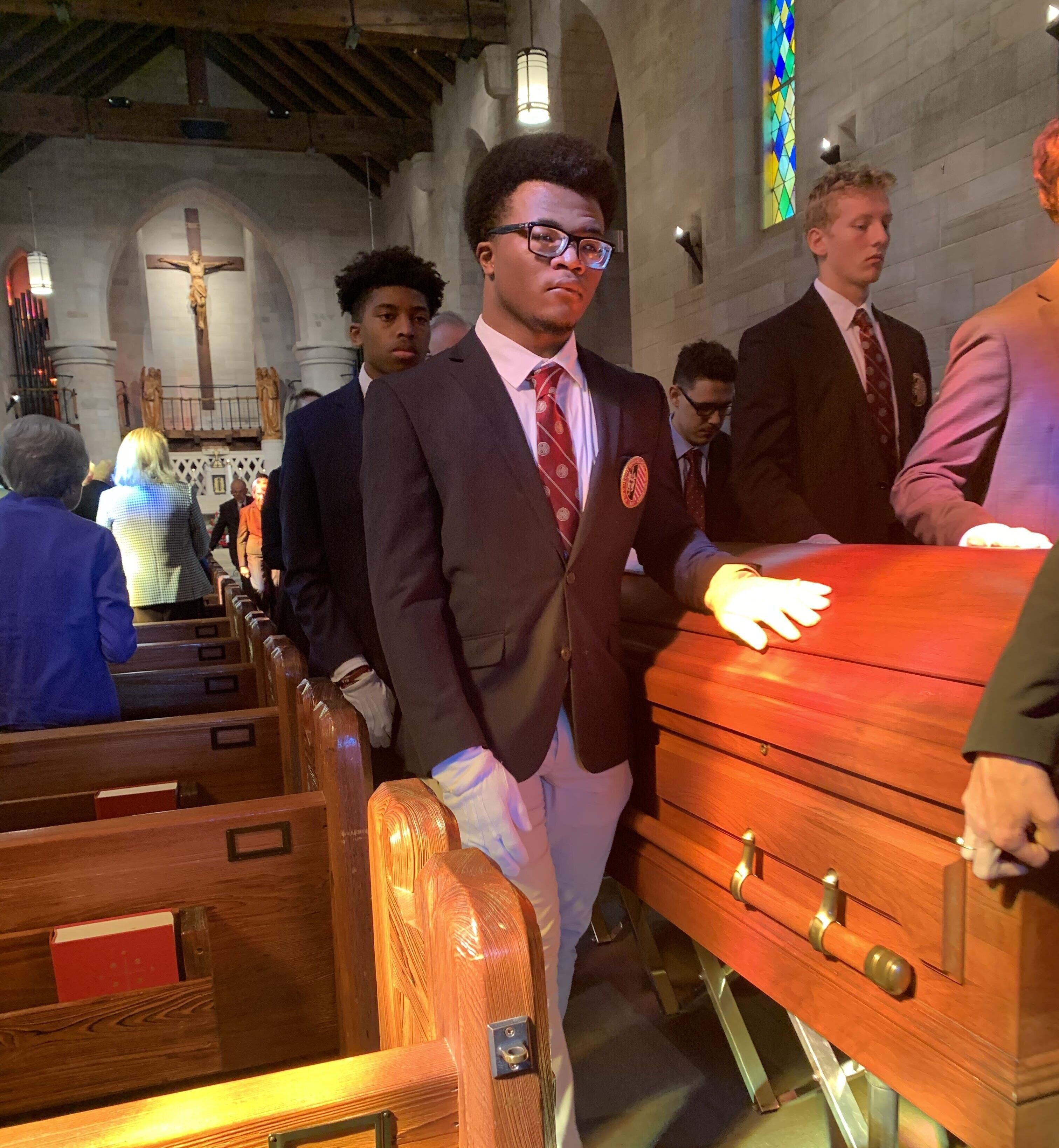 The pallbearer ministry — as it is often referenced at the school for brevity — aligns with U of D Jesuit's motto, "Men For Others." Reaching out to the poor and marginalized encompasses several ministries at the school, including one that offers food and fellowship to the homeless on the streets of Detroit each week.
Barbara Koster Rigg, campus ministry and service coordinator at the school, oversaw the pallbearer ministry from 2018 until recently. Rick Mazyck, another campus ministry and service coordinator, now facilitates the group.
"This is one of the corporal works of mercy. We are called to bury the dead," Koster Rigg said. "We want everyone to be buried with the dignity they deserve."
The corporal works of mercy are a set of seven charitable actions taught by Jesus. According to the Catechism of the Catholic Church, "The corporal works of mercy consist especially in feeding the hungry, sheltering the homeless, clothing the naked, visiting the sick and imprisoned, and burying the dead. Among all these, giving alms to the poor is one of the chief witnesses to fraternal charity: it is also a work of justice pleasing to God (CCC, 2447)."
In early October, 20 juniors and seniors who signed up for the ministry attended a training session, learning about the mission and procedures for being a pallbearer. Before a funeral, the students pray together and learn about the deceased, if any details are known. They then carry the casket at the funeral and participate in the burial rites at the cemetery. Afterward, students write a reflection about their experience.

Senior Eli Piasecki signed up to be a pallbearer the summer before his junior year, but because of the pandemic, he served his first funeral in August.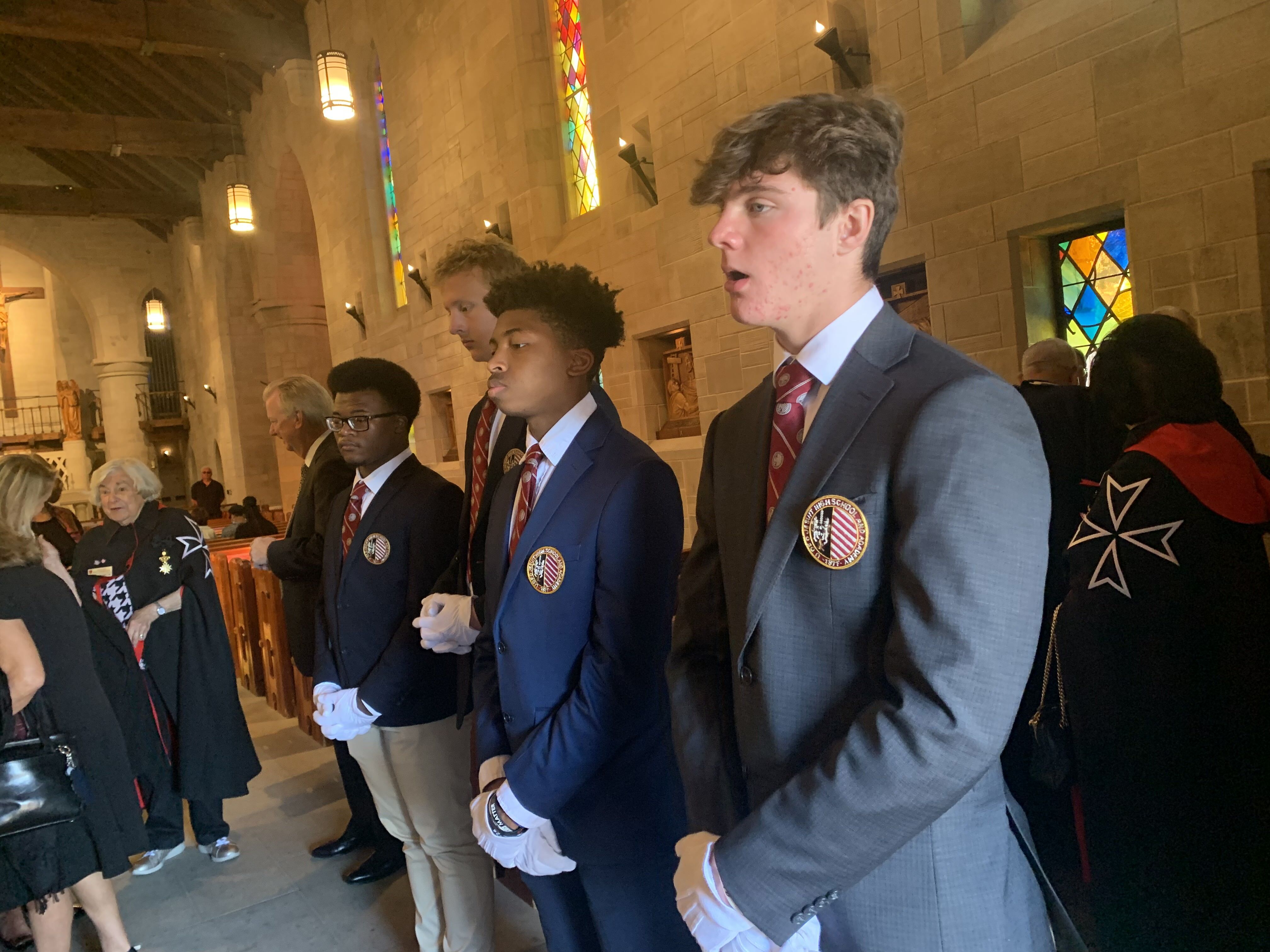 "Ever since my freshman year, I have heard about the pallbearer ministry and seen pictures of Jesuit men serving. It makes me proud to go to a school that has an opportunity for students to serve like this," Piasecki said. "My first funeral was a life-changing experience. I, as well as my fellow brothers I served with, felt the tremendous impact we had on the mourning family."
U of D Jesuit President Fr. Theodore Munz, SJ, attended a recent funeral at which students carried the casket.
"Families appreciate the respect they show and for the care they have for family and friends," Fr. Munz said. "It is a humble service that is consistent with the pallbearers being men for others to the greater glory of God."
Junior Jack Borys signed up for the ministry last month because he believed it would be a "moving experience." Attending his first funeral in early October confirmed his expectations.
"These are human beings and to have no one at their funerals is devastating, so just being there for them goes a long way," Borys said. "This has opened my mind and heart to want to serve others."
Nick Valbuena, a 2019 U of D Jesuit graduate and now a junior at American University in Washington, D.C., served for 27 funerals while he was in high school. He recalls the impact the first funeral had on him.
"I had never been to a funeral for anyone before," Valbuena said. "I was sad and didn't know why at first, but then I realized it was because this person had died and only one or two people were there for the funeral. At the same time, it was so beautiful to be able to provide the dignity of a funeral."
During his time at U of D Jesuit, Valbuena spent many weeknights after school bringing sandwiches to the homeless in Detroit and getting to know them.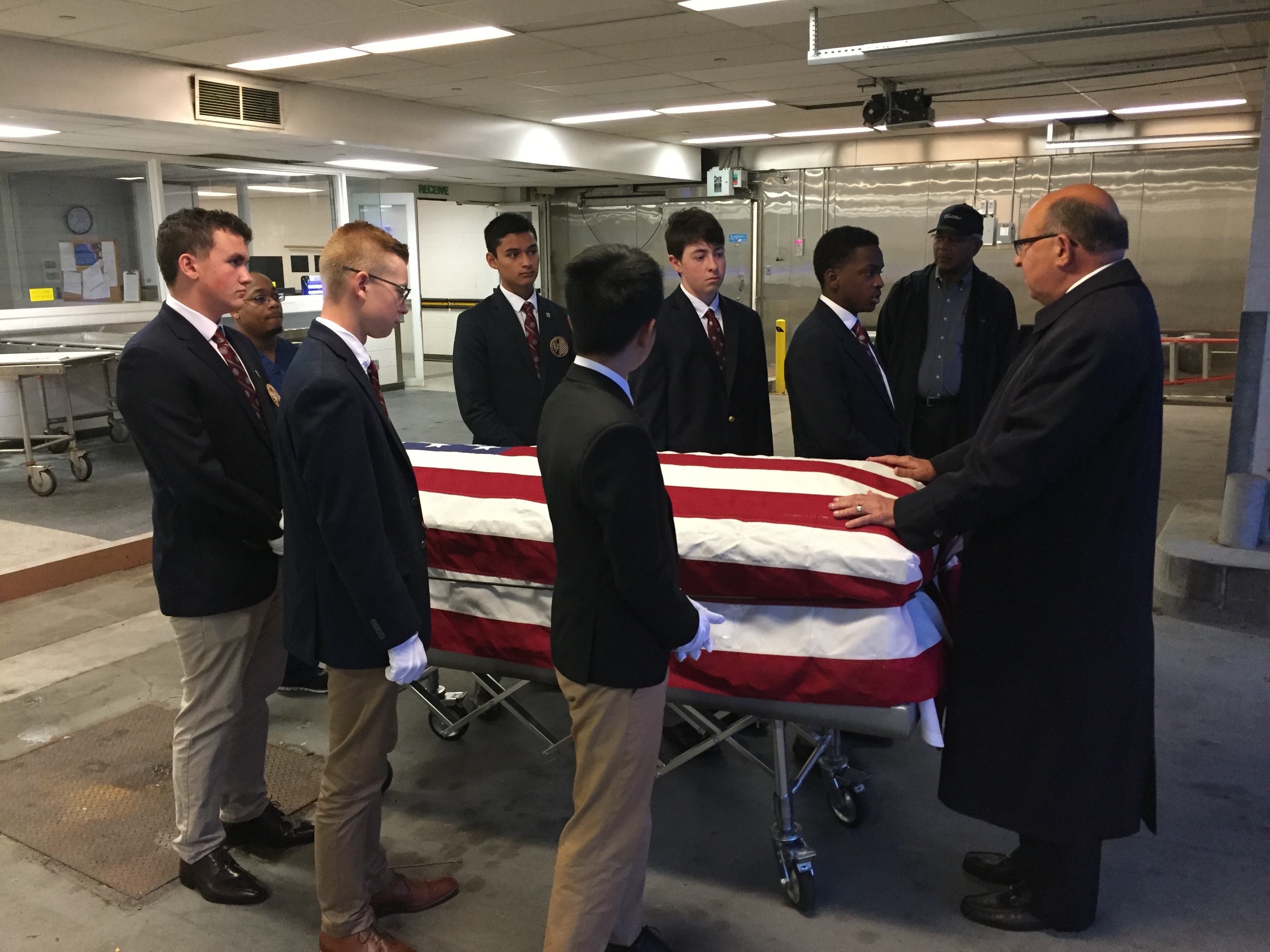 "People who are marginalized feel like they aren't visible. Even with a burial, if we don't make the deceased person seem visible or like they mattered, it's inhumane," Valbuena said.
David Mutone, a sophomore at the University of Michigan in Ann Arbor, also served as a pallbearer.
"People were always really happy to see us there, on a sad day, helping them during this one last time they have with their loved one," Mutone said. "Doing service at U of D made me more cognizant of what other people are going through and to always treat and love people as God's children."
Many U of D Jesuit alumni go on to be involved in community service at the college level and beyond. Mutone serves as the service co-chairman for his scholarship organization, the Stamps Scholars Program. Valbuena celebrated "Friendsgiving" at college and convinced his friends to package the leftovers and distribute them to the homeless in the Van Ness neighborhood of D.C. He also volunteers with a pop-up health education clinic in the city.
Students miss several class periods to attend a funeral, but those who volunteer don't mind making up missing work to continue the tradition of the St. Joseph of Arimathea Pallbearer Ministry at U of D Jesuit.
"It is important to know, especially in times of despair, that there are people there for you," Piasecki said. "I hope the family and friends of the deceased see God through me and my fellow pallbearers. I feel like a true disciple of Jesus when I freely choose to follow this ministry and embrace it."
Copy Permalink
Catholic schools
Funerals and cemeteries