Shrine eighth grader Lucille Clark's podcast, 'The Little Way,' chosen to produce limited series with Archdiocese of Detroit's help
DETROIT — Every year, the Alliance Catholic Foundation, a nonprofit of Alliance Catholic Credit Union, awards 10 students a total of $20,000 in scholarships through its competitive "Live it. Show it. Share it." contest.
In past years, students have been asked to write a parable, design a "meme," and describe a saint they'd like to "hang out" with.
This year, students were asked to pitch a podcast designed for high school students about their Catholic faith and to record an intro. But this year's contest had a twist: Out of 10 finalists, one student was given the opportunity to actually produce and record their podcast, in partnership with the Archdiocese of Detroit's communications department.

The winning students were honored during a special Catholic Schools Week Mass on Feb. 2 at the Cathedral of the Most Blessed Sacrament.

Out of 57 qualified entries from 27 different schools, a panel of judges from Alliance, as well as several other Catholic institutions, narrowed the entries to 10 finalists.
Each of the finalists earned at least a $1,000 scholarship to use during the next school year. Students then were interviewed by Alliance's CEO and other Catholic representatives, who chose a grand prize winner to receive $6,000, as well as second- and third-place winners, who received $4,500 and $2,500, respectively.

In addition to the financial rewards, in a separate judging process led by the archdiocese's communications department, one podcast from among the 10 was chosen to be produced.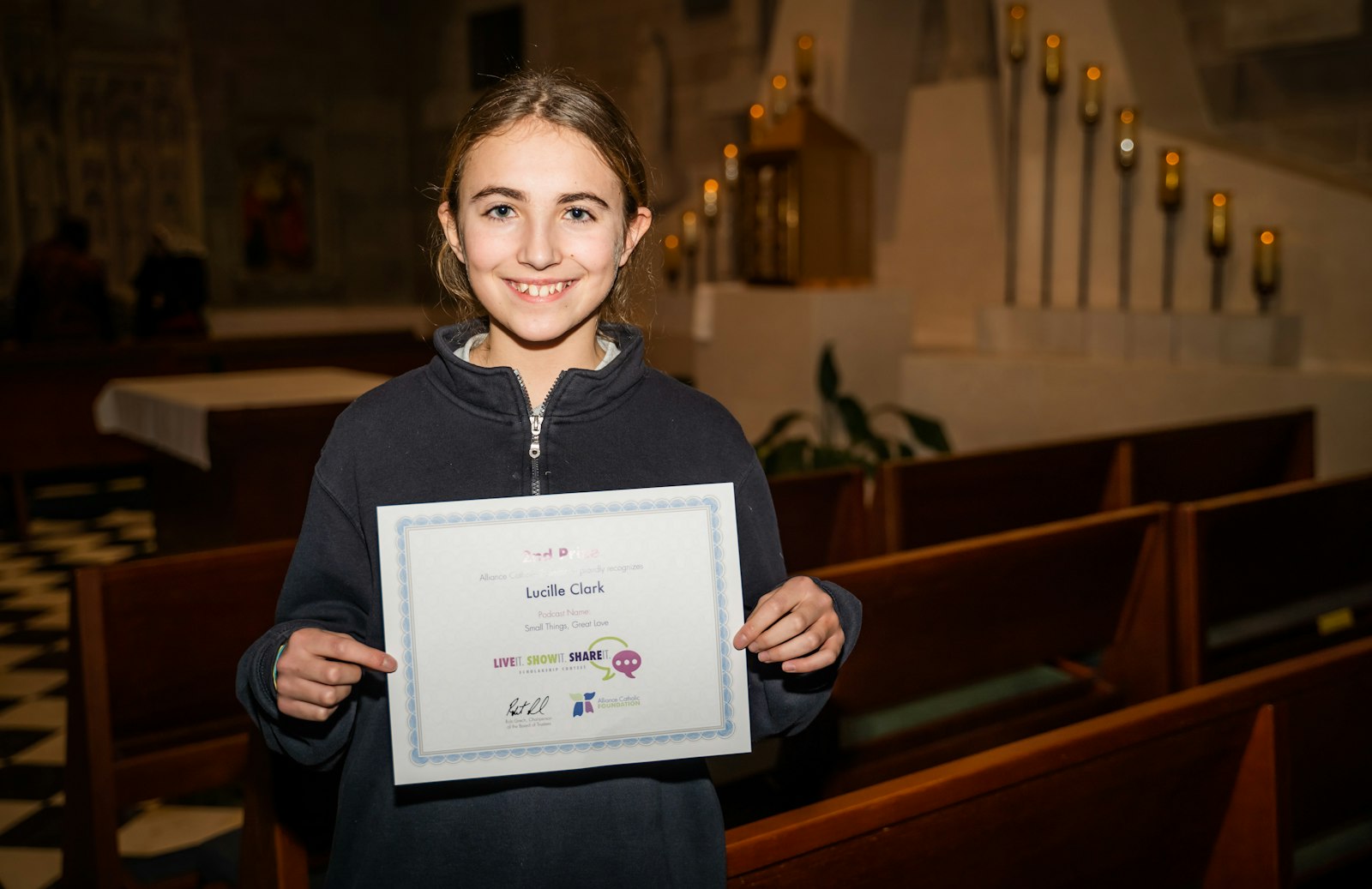 The winning podcast went to Shrine Academy eighth grader Lucille Clark, whose podcast pitch, "The Little Way," is inspired by the life and works of St. Therese of Lisieux.

"It is about St. Therese and how she did little things with great love," Lucille, who will be attending Marian High School in the fall, told Detroit Catholic. "I will interview different people who do little things that make a big difference. I just noticed that little tiny things can make the biggest difference on a day-to-day basis. I wanted to share that with people."
Lucille will have an opportunity to work with the archdiocese's communications department to produce three episodes of "The Little Way." Lucille's podcast also earned her second place in the scholarship contest, which includes $4,500 to use toward the next school year.

In addition to presenting a clear, structured plan for the podcast, Lucille's idea is rooted in storytelling that could draw teens close to Christ, said Emily Mentock, associate director of strategy for the archdiocese's communications department, who served as one of the podcast judges.
"What stood out to me about the winning podcast was how the student was able to take something that was clearly really important to her and had an impact on her life, which was the life of St. Therese of Lisieux, and then see how she could apply that to the real world," Mentock said. "I thought that was a really beautiful concept."

The grand prize winner, Shrine sophomore Gabriella Reece, told Detroit Catholic her podcast pitch was focused on finding God in movies and television shows.

Alliance received numerous compelling podcast submissions, and students rose to the challenge, said Keith Burke, vice president of marketing and community relations for Alliance Catholic Credit Union and president of the Alliance Catholic Foundation.

"The students are remarkable, and the judging panel always has a tough time selecting because they are always so impressed by the students," Burke said. "As for (Reece), it was a combination of her poise, her ability to articulate her faith well, and her explanation of how she came up with her podcast and why she thought it would be effective at reaching young people, as well as her overall enthusiasm and composure, that stood out in the interview process."
In addition to providing students with the means and encouragement to continue in Catholic schools and to live their faith, the seventh annual "Live it. Show it. Share it." scholarship contest came with the added benefit of introducing teens to an easy medium for sharing the Gospel message, Mentock said.

"It was really exciting to see young people get involved in this way because podcasting is such an important medium that is having its moment, and certainly, the Church needs to be in this space," Mentock said.
Detroit Archbishop Allen H. Vigneron presented the winners with certificates during the Catholic Schools Week Mass.
Copy Permalink
Catholic schools