From live 'morning shows' to cookies, ice cream and special liturgies, Catholic Schools Week joyously celebrates all things Catholic education
NEWPORT — Live from Newport, it's Catholic Schools Week.
Leaders from the Archdiocese of Detroit's Department of Catholic Schools met with students from St. Charles Borromeo Academy in Newport for a livestreamed "morning show" Jan. 31, kicking off a week of prayer and games to begin the annual celebration of Catholic education.
During the live show — the first of five days of broadcasts at different schools via the archdiocese's social media channels — St. Charles students played a game involving using a spoon to transfer Skittles from one table to another, told the camera what they love about Catholic schools and prayed with the wider Catholic community who was encouraged to tune in.
"We are taking this 'show' on the road, visiting a school each day of the week to do some fun activities," May Bluestein, Ph.D., assistant superintendent for curriculum, instruction and assessment for the archdiocese, told Detroit Catholic.
Other stops during the week will be a surprise for viewers, Bluestein said.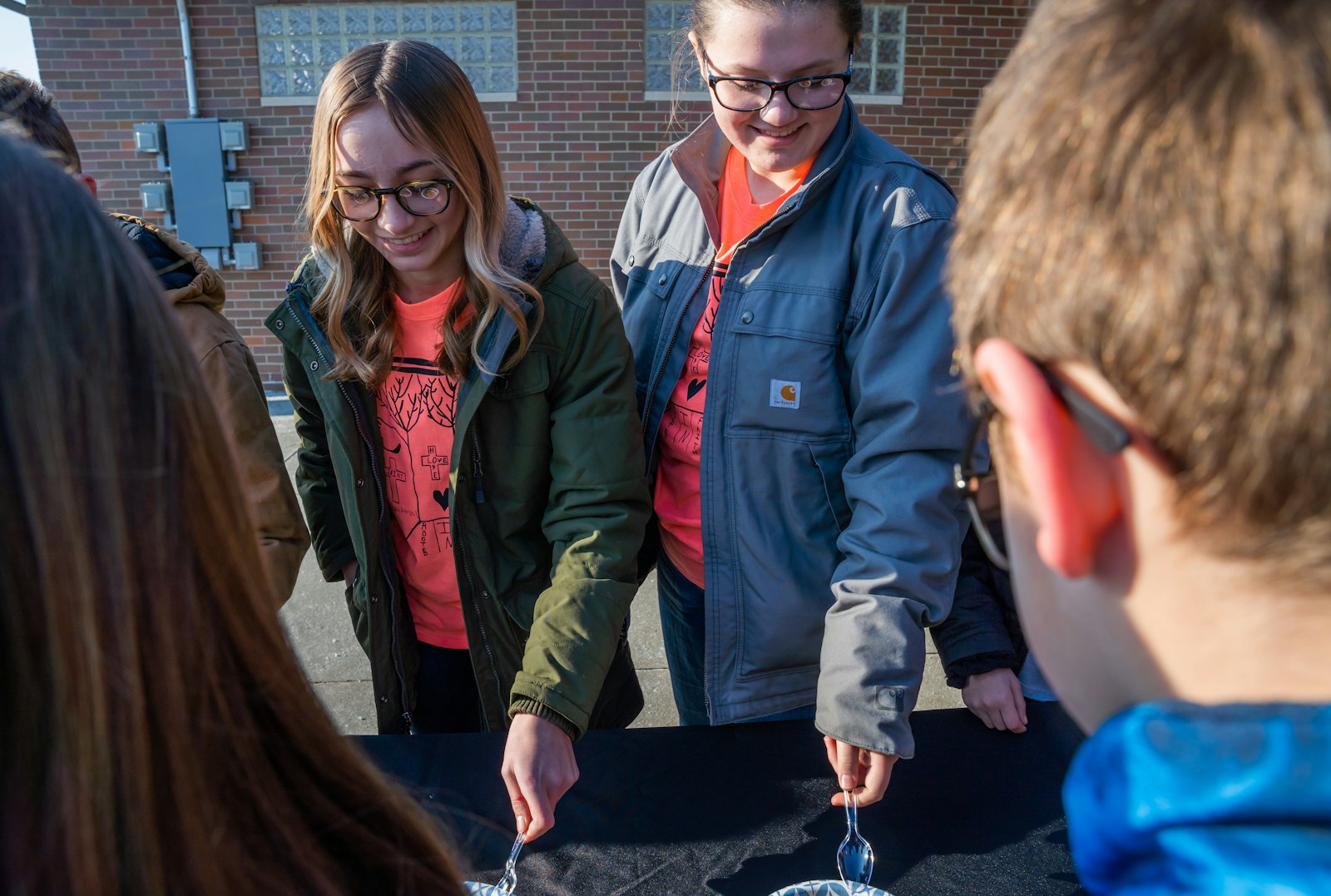 "We are highlighting the students in school, introducing them to an audience on Facebook Live," Bluestein said. "We are doing this to get the kids excited about Catholic Schools Week and introduce our schools to a wider audience."
Catholic Schools Week, coinciding with the Jan. 31 feast of St. John Bosco, the patron saint of schoolchildren, is a weeklong celebration of what makes Catholic schools unique, Christ-centered places to nurture all elements of the human person.
Catholic schools across southeast Michigan are celebrating the week with special dress-down days, pizza and ice cream parties, service opportunities and community prayer — a break from the routine to appreciate the graces Catholic schools provide.

Bishop Foley High School in Madison Heights is hosting a daily schedule dedicated to expressing gratitude — giving thanks for God, parents and the clergy at the beginning of the week, thanking teachers and students at the end, and culminating with a robust schoolwide Bingo game and enjoying much-hyped "Foley cookies," a school staple.
"A 'Foley cookie' is a large chocolate chip cookie that goes back far longer than I'm aware of that every student seems to remember from their time here," Bishop Foley principal Frank Accavitti said. "It's a connection to their memories of Bishop Foley. Coming up, we're having a fundraiser called 'Taste of Home,' where alumni are encouraged to order cookies to remember their time at Bishop Foley."
Parents on Monday got "Foley Cookies" when they dropped off their Ventures for school, beginning of a week of gratitude and celebration that is a nice break from the routine.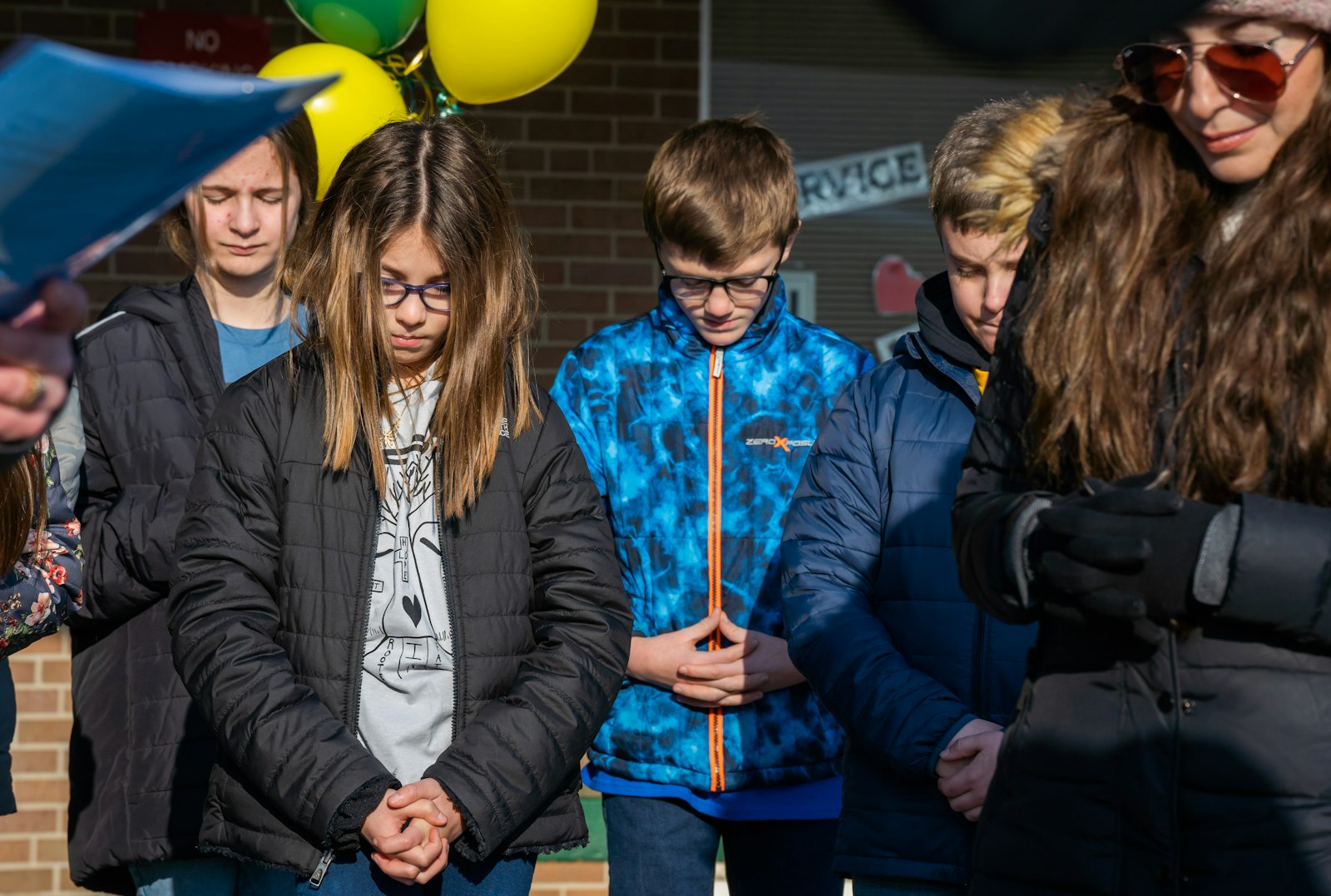 "It's important to take a moment to recognize all the people who help make Catholic education possible for our students, from the teachers on site to our priests and clergy who help us have our connection to God each and every day," Accavitti said. "We remember all the sacrifices our parents make to give our students a great Catholic education and pray their experiences here will stay with our students beyond Bishop Foley. We want to part of them their entire lifetime as they go out to be joyful, missionary disciples."
Like last year, schools are still contending with COVID-19 restrictions as part of a "new normal," but where there's a will to celebrate Catholic Schools Week, there's a way.

Holy Cross School in Marine City is celebrating "Spirit Week," encouraging students each day to dress in a different theme, including a superhero day, Michigan-Michigan State rivalry day, and an #OxfordStrong fundraiser to benefit victims of the Nov. 30, 2021, school shooting at Oxford High School. Holy Cross students also will write thank-you cards to distribute to parishioners of Our Lady on the River Parish's three locations.

Holy Cross principal Betsy Davenport will even push an ice cream cart down the hallways, playing ice cream truck music on her phone, going classroom to classroom to deliver treats to students.
"With everything that's going on in these children's lives, it's important to have opportunities to really celebrate and come together," Davenport said.
Holy Cross and other schools in the Blue Water Vicariate (Cardinal Mooney High School in Marine City, St. Augustine in Richmond, Immaculate Conception in Ira Township, St. Mary/McCormick Catholic Academy in Port Huron, St. Edward on the Lake in Lakeport and St. Mary in St. Clair) will also compete in a "Penny War," with proceeds donated to the Capuchin Soup Kitchen in Detroit.
The school will be posting the various themes and activities on social media through the week, which serves as advertisement for the growing school.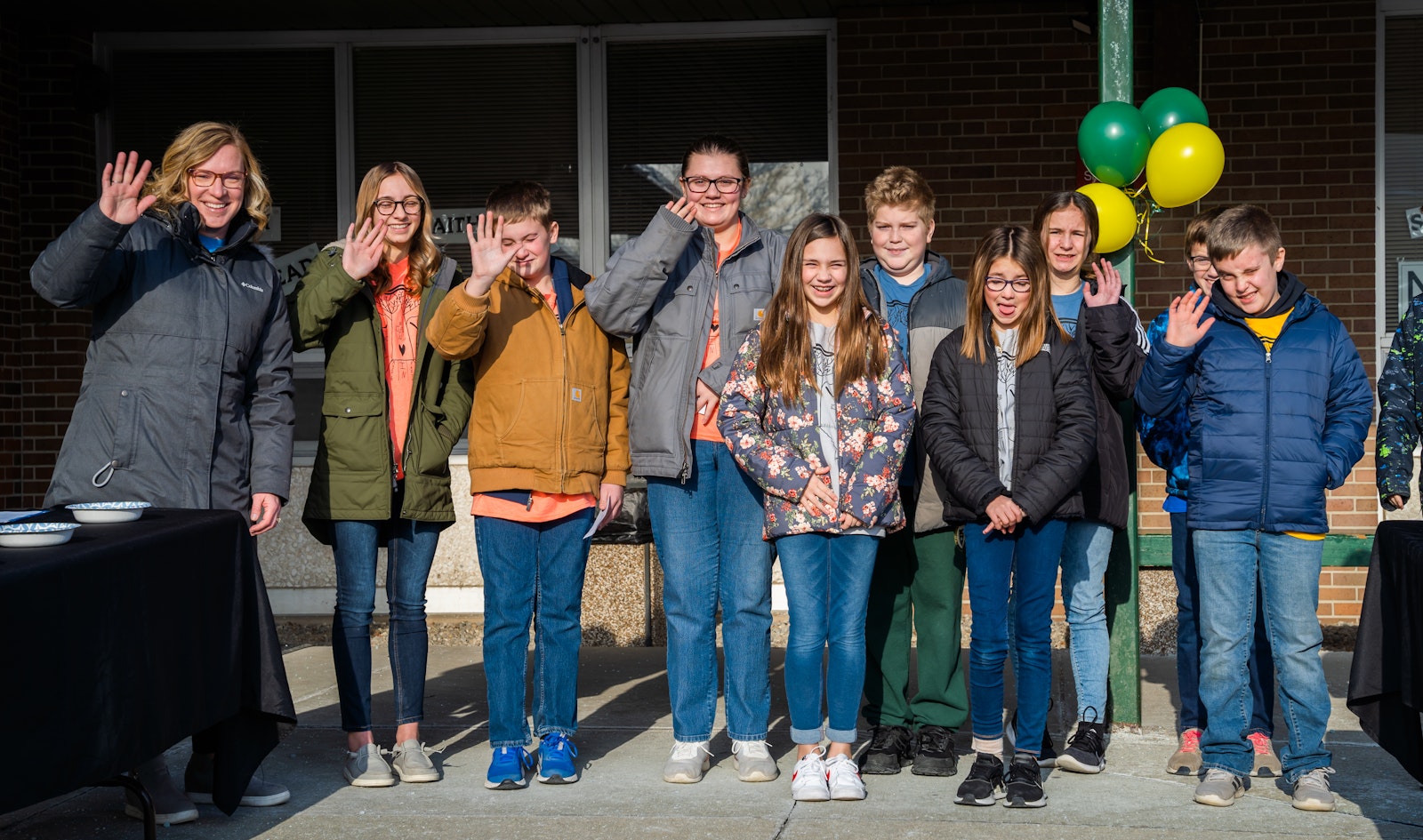 "I think whether it's Catholic Schools Week or any day, we are showing we are doing the same things, just a bit different," Davenport said. "This week is about highlighting those attributes."
On Thursday, Feb. 3, all schools in the Archdiocese of Detroit are invited to gather at the Cathedral of the Most Blessed Sacrament in Detroit for the annual Catholic Schools Week Mass with Archbishop Allen H. Vigneron. During the Mass, winners of Alliance Catholic Credit Union's annual scholarship contest will also be recognized.

The archdiocese also is hosting a student art contest with the theme, "The Holy Eucharist as the 'Source and Summit of the Christian Life.'" Scholarships will be awarded to three students from three categories: K-4, 5-8 and 9-12, with submissions due by Feb. 28.

"The contest was inspired by a homily by Pope Francis during the feast of Corpus Christi," Bluestein said. "He was talking about us being the bread, broken for others, and how we receive those graces from Jesus in the Eucharist: to become the bread broken for others, in service to others.
In their artwork, students will be asked to choose a saint or religious man or woman they admire and "talk about that person in their artwork, displaying what a saint or religious is, conveying how they are bread broken for others," Bluestein added.
But whether it's art competitions, special Masses, ice cream parties or "Foley cookies," it's impossible to capture everything a Catholic education means to the thousands who've benefitted from it, in the space of a single week, said Beth Lechy, principal of St. Charles Borromeo.

"We come here every day and know this is a special place to be," Lechy said. "Because we get to live our faith, the teachers get to model their faith and the students get to grow as people. We take this week to focus on why Catholic education is special, sharing it with others who might not normally see all the things we do here. But really, every day is special at our schools."
Learn more about Catholic schools
To learn more about Catholic education in the Archdiocese of Detroit, attend an open house or inquire about Catholic schools, visit www.detroitcatholicschools.com.
Copy Permalink
Catholic schools