New art installation, stand commissioned for parents grieving loss of a child through stillbirth, miscarriage; artist hopes painting brings peace
DETROIT — The first name written in the Archdiocese of Detroit's Book of Innocents memorializing children lost to miscarriage and stillbirth dates back to 2003. Since then, grieving parents have filled the pages of the book with the names of countless precious children, sometimes the only time they will see their child's name in print or said aloud.
Each year, parents and families are invited to the Cathedral of the Most Blessed Sacrament in October to remember and pray for these children during the annual Mass for Children Lost to Miscarriage and Stillbirth.
During this year's Mass, celebrated by Archbishop Allen H. Vigneron on Oct. 24, the book received a permanent home in the cathedral's narthex.
"Those of you who bring to the cathedral the wound of having lost a baby ... you have perhaps felt blind and not understood how God is at work in your lives, but you have faith and you trust that in all of this, no matter what the heartbreak, God loves you," Archbishop Vigneron told those gathered.

Going forward, the Book on Innocents will be displayed on a specially crafted stand built from an old lectern, marked by a painting commissioned to honor those lost and bring peace to their parents, titled "Rest."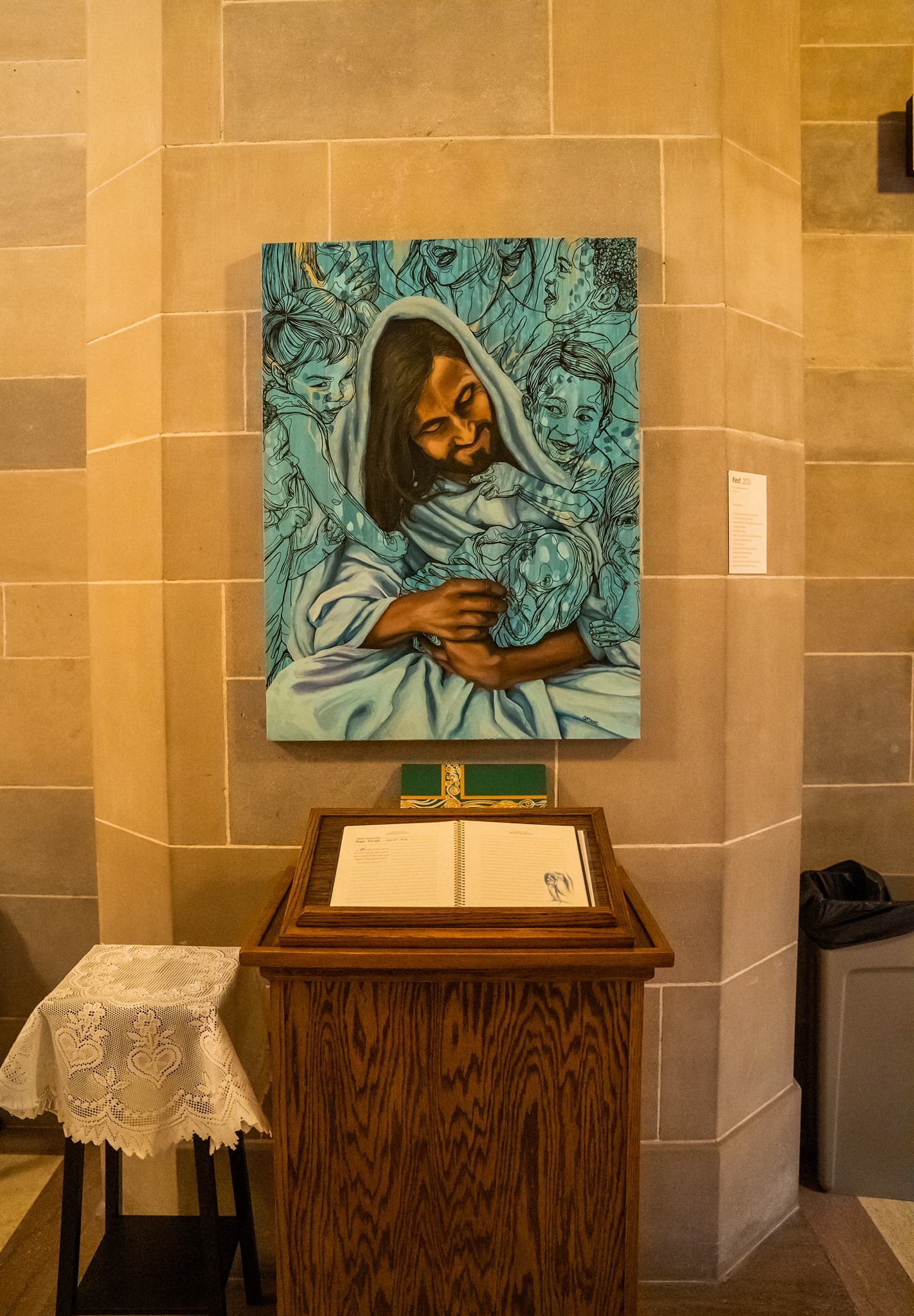 "I approached the cathedral and asked if there was any way it could live at the cathedral as a way for the archdiocese to acknowledge as a community that we were praying for these children and that they are remembered in a very special way," said Nicole Joyce, natural family planning coordinator for the archdiocese, who began attending the annual Mass in 2009, after experiencing her first miscarriage. "I felt it was an important sign of our tradition as a pro-life church to recognize these lives."

Recognizing cathedral rector Fr. J.J. Mech's goal to make the cathedral an "apostolic center for arts and culture," Joyce persuaded Fr. Mech to commission an original work of art to commemorate the space.

Jim Waggonner, a carpenter of 23 years, built a stand for the book using an old Church lectern that had been in storage at Sacred Heart Major Seminary. Waggonner kept the stand simple, but carved out an opening in the back of the stand to hold the books as they fill up with the names of the innocent.
Joyce also reached out to a local artist and teacher at Everest Collegiate High School and Academy in Clarkston, Carrie Baker Mazure, to paint an image to hang over the stand and book.
For Mazure, the project was personal. She and her husband had four miscarriages before giving birth to her daughter.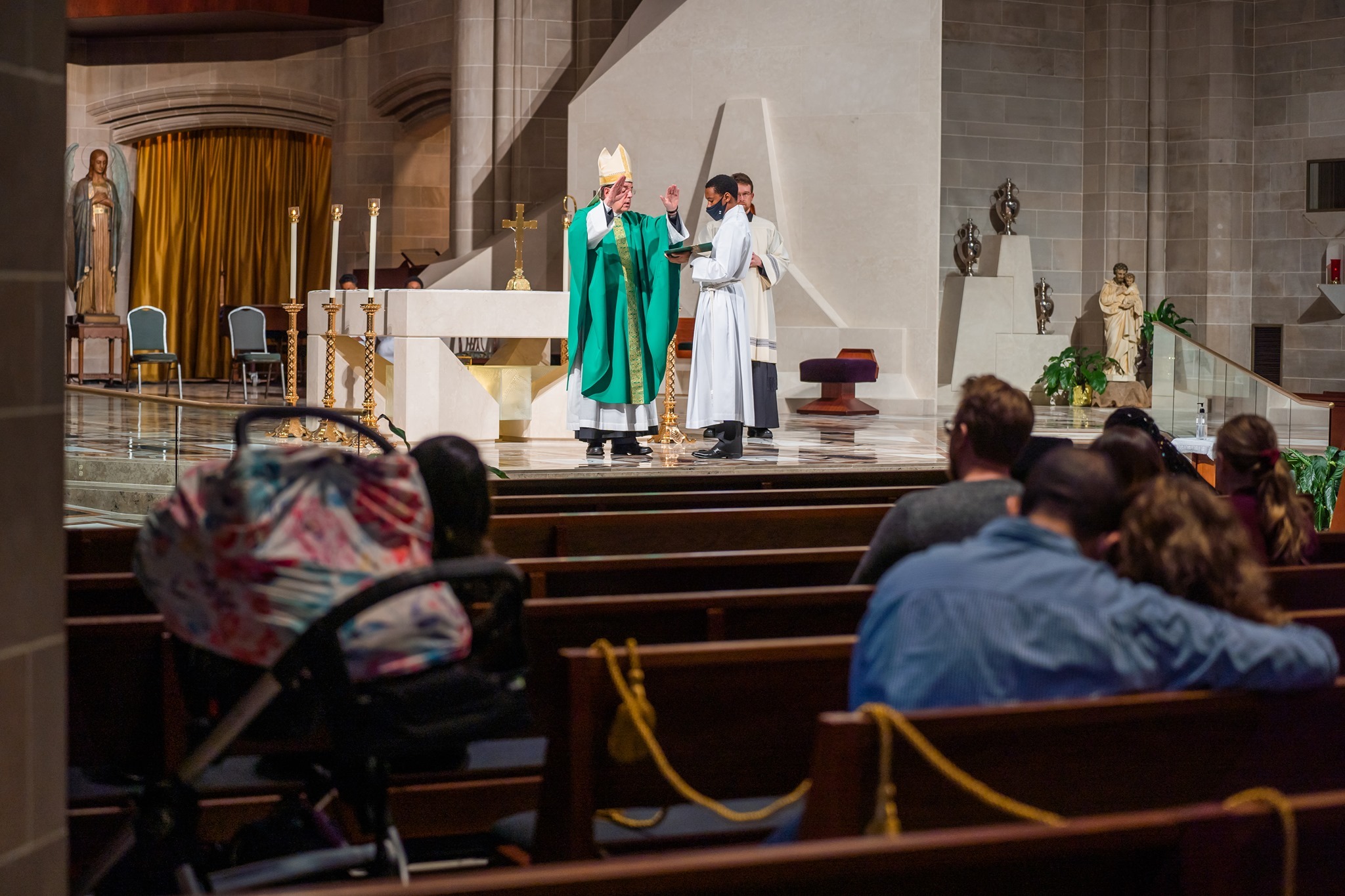 "It was a cathartic piece, and when I dropped it off, I felt like I dropped my kid off at college," Mazure said. "It was the easiest and also most challenging piece I have ever created. I say 'easy' in the sense that I don't think I created it."

The image depicts a smiling Christ surrounded by children who are happy to be in his presence, Mazure said. Jesus is painted in positive space and is the only one in the image who is fully painted in order to create a sense that the children lost to miscarriage and stillbirth fully exist in Christ, and he knows their wholeness.
"I wanted to create something that made the children feel seen and known even if they weren't seen and known by other people," Mazure told Detroit Catholic.
One of the challenges of miscarriage is how isolating it can be, Mazure explained. People often are unaware when someone is pregnant, and because parents don't have the chance to meet their children, there is a lingering sense that they are strangers.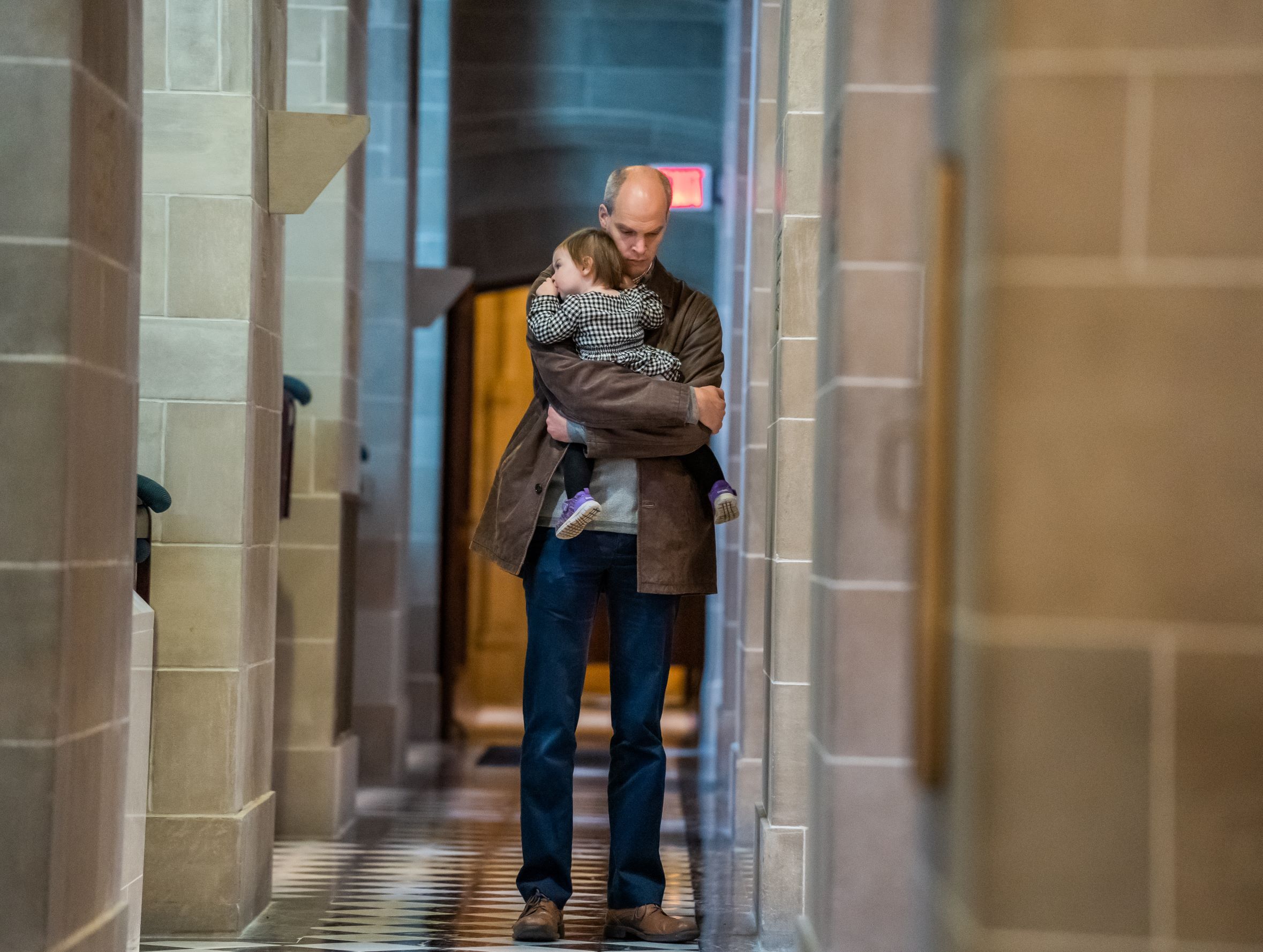 "You love them, and nobody else knows anything about them, and so while you are still grieving them and grieving who they might have become and who you wanted them to be, nobody knows them or remembers them," Mazure said. "I was hoping to create a piece that would emphasize that they were never not known; they have always been seen and wanted and loved."
Mazure prayed for inspiration while working on the piece, and says she has been able to reach a place of peace and comfort about her own losses she previously hadn't felt.
"I called it 'Rest' because I have been angry for a long time about my own losses," Mazure said. "I don't feel actively angry anymore, and I had for such a long time. As I was making this, it kept coming back to me that this is a place where I can rest from my own grieving, and I can also invite other parents to rest."
The painting also includes a nod to the Japanese art of "Kintsugi" — the art of repairing broken pottery with gold or silver lacquer. Mazure said she wanted the piece to reflect the concept of turning something broken into something beautiful.
In the coming months, the Archdiocese of Detroit will launch a new grief ministry for parents who have lost children at any age or stage in life, Joyce said. Joyce will serve as chapter advocate and will use the resources provided by Red Bird Ministries to allow individual parishes and Families of Parishes to begin their own ministries of accompaniment.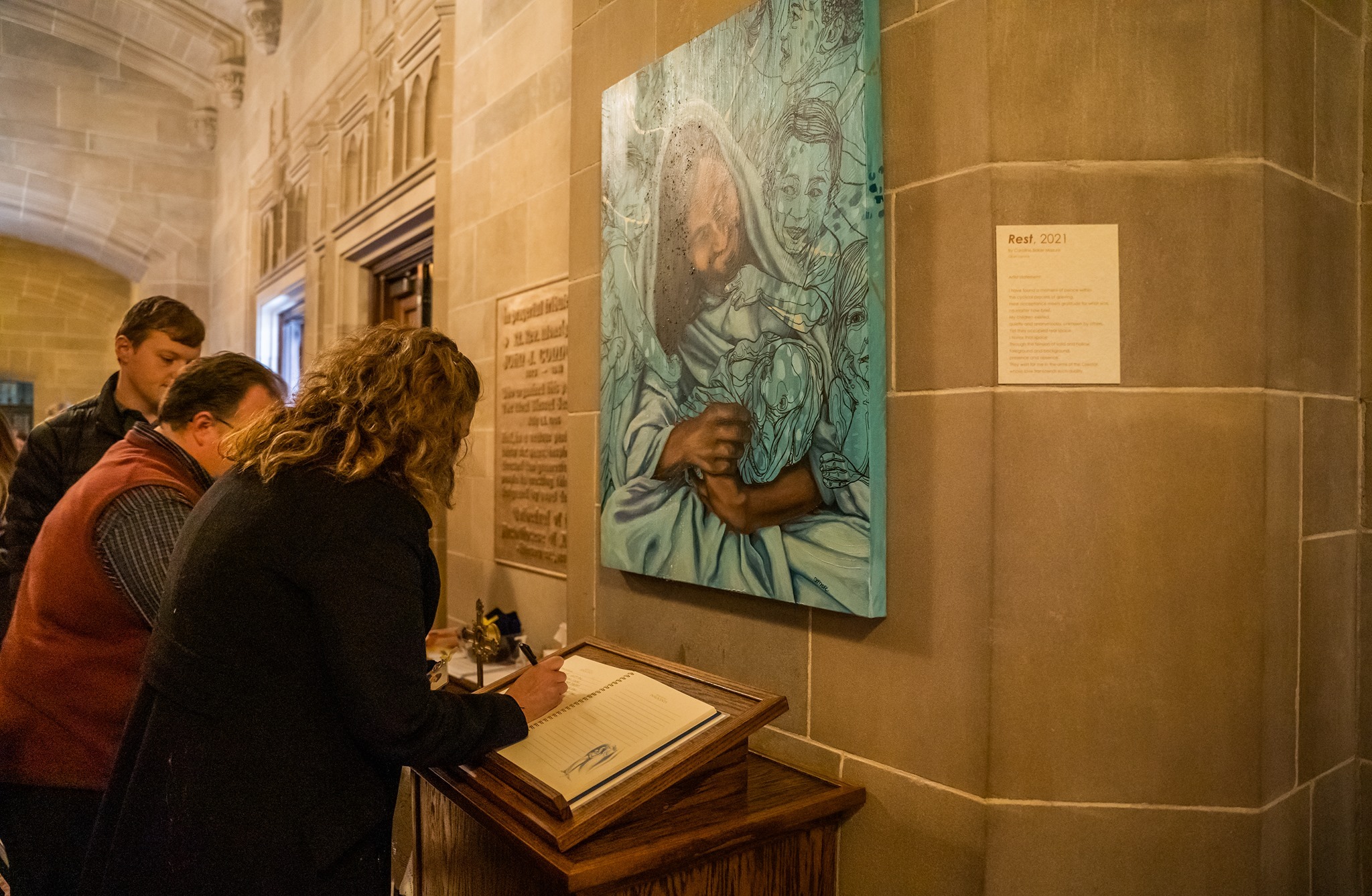 The first workshop will be held Saturday, Nov. 6, at St. Anastasia Parish in Troy. Two informational sessions will be offered in December for those interested in training as group leaders, and training will commence in January.
Joyce said there has been a need for a ministry for some time and that every year, families in attendance at the Mass for Children Lost to Miscarriage and Stillbirth ask for further resources and support. Until now, they have not been able to find a support ministry that was authentically Catholic, Joyce explained.
"It is really designed to bring individuals and couples to a sense of healing, but also to accompany them through their grief," Joyce said. "As we know, grief is a process. It is not a linear journey from Point A to Point B. (The ministry) is designed to walk with individuals as they experience their grief and just be with them, which is really what unleashing the Gospel is all about."

Archdiocese of Detroit Red Bird Ministries chapter important dates
For questions or assistance with registration, please contact Nicole Joyce, coordinator of family support ministry at (313) 237-5776 or [email protected].
More information about the Archdiocese of Detroit's Red Bird Ministries can be found here.
Copy Permalink
Hope and healing
Sacred art