Co-ed Catholic high school's first major expansion includes chemistry, biology classrooms, with a focus on product design
CHESTERFIELD TOWNSHIP — Austin Catholic High School in Chesterfield Township is growing and upgrading its technology and facilities after opening the doors of its new building eight years ago.
The only Catholic co-ed high school in Macomb County added a new wing that consisted of two state-of-the-art science labs, a robotics room, a general STEAM classroom, two collaboration-conference spaces, and fine and performing arts classrooms. Though not officially opened until October, the students have been enjoying the expansion since the beginning of the school year.
"I love how they have (the new wing) set up," senior Kassandra Waldi told Detroit Catholic. "The one thing I love is the open layout and we can move the tables around."
Analia Jarvis, parent of Austin ('22) alumnus Alexis Jarvis, said the new wing has transformed the building from a "former elementary school" into a "real high school."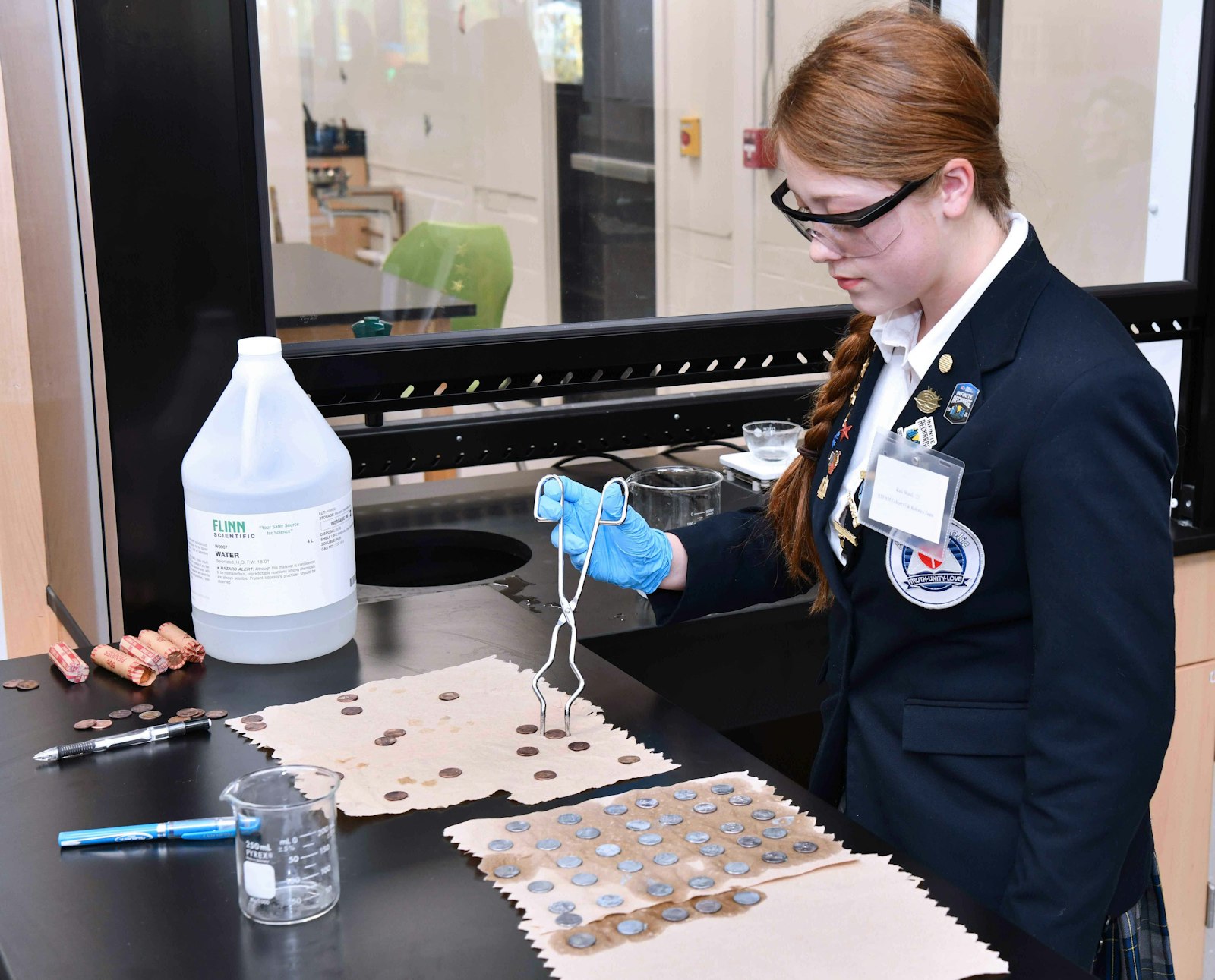 "To be able to do the chemistry in the room and all the labs that they are able to do now is great," Jarvis said. "It is a showpiece to highlight what Austin can do."
Waldi added the newly designed areas are a perfect space for students in her class to work on their project to build a wind turbine.
"I love the amount of light that (the new wing) lets in," Waldi said. "Being able to look outside is how we were inspired and came up with the wind turbine idea because it was a super windy day."
Austin unveiled its new STEAM Innovation Wing on Oct. 23, inviting Macomb County and archdiocesan representatives to tour its new facilities, including the Father Jerry Machlik Chemistry and Biology labs.
Taking the students to a new level for their scientific and artistic projects and experiments was the goal for the new wing, said STEAM director Laura Hayden. STEAM is a newer concept, as opposed to traditional STEM courses, that incorporates art and design into the science, technology, engineering, and mathematics track program.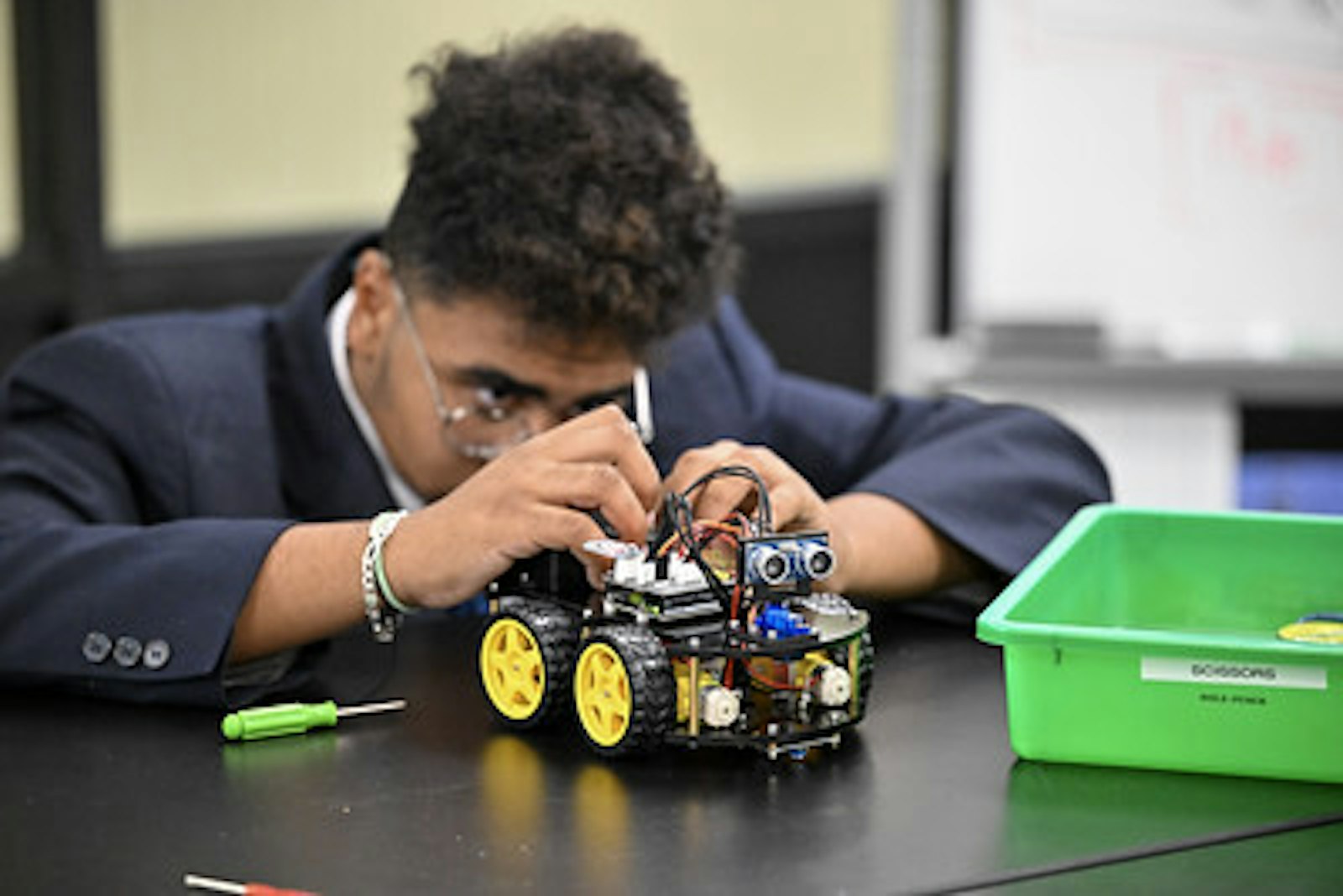 By integrating art into the curriculum, students are taught to think about the design and utility of the projects they create.
"The STEAM program that we have now is not only the science, technology and other fundamentals," Hayden said. "We are having the students innovate and create a product or modify an existing product. This is what they use in the automotive world to creatively solve problems, and that carries over into our entire STEAM program. We want our students to be creating something — not just learning the physics beyond the electrical."
Head of School Janel Coppens said the school's cross-curricular courses will benefit students for years to come, adding a large percentage of Austin's graduates have continued their education in STEAM-related fields.
"When you talk to the engineers and those in the field of STEM, they say that the younger people are lacking in design elements," Coppens said.
The project to develop a wind turbine, which is part of an 18-month project for a group of Austin students, asks students to work on the design for function as well as aesthetics, since the turbines will be out in the open and part of a landscape.
The new STEAM wing has opened new possibilities for students, Hayden said. Previously, science experiments were limited, given the lack of appropriate classrooms to accommodate the necessary safety measures. Now, the classrooms have water, gas, new microscopes, and science lab gear, among other resources. The robotics groups have their own space as well.
"Being able to use the Bunson burners creates so much wonder and excitement in the students' eyes," Hayden added.
The Augustinian-affiliated school, which currently has an enrollment of 115 students, started with nine students 11 years ago in a smaller building in Ray Township. In 2016, the school moved into a former elementary school in Chesterfield Township. This year, Austin added its first "wing," which was the demolition and reconstruction of an existing unused space.
Longtime Austin Catholic donors Judy and Roger Kucway, members of St. John Vianney Parish in Shelby Township, were happy to see the school continue to grow and expand its offerings. The couple recalls being inspired by the vision for the school 20 years ago.
"I know how important Catholic school was in my life, and my thought process and the way I live is because of Catholic schools," Judy Kucway said. "I felt that we needed a Catholic school in this area because we have none."
"Good ethics have done so much," Kucway said, adding that Austin students are taught to be "good citizens and good Catholics."
"Good Catholics start in the home, but they want to extend that into the classroom, and Austin does that," Kucway said. The new wing is just one of many new "marks" the school is going to hit in upcoming years, she added.
"It's not done," Kucway said. "We are just starting."
Copy Permalink
Catholic schools