BLOOMFIELD HILLS — This is a story of "Ava's Journey to be Better."
Her father leads off:
In her early grade school days, "she was a tennis player. She wanted to play a team sport, though. Her mother introduced her to volleyball. She started playing at 11, and as soon as she stepped on the court, as a player and a teammate, she took to it like a fish to water.
"(Marian coach) Mayssa Cook was her club coach" when Ava was in the sixth grade and 12 years old. "Mayssa had a high school team (Ann Arbor Fr. Gabriel Richard) and one of the girls was nominated for Miss Volleyball. The girl didn't win. She was a terrific player.
"Ava said, 'Dad, that's what I want to be.' Her first goal, she said, was to win a state championship. The second goal: she wanted to win a national championship. She wanted to play on an Olympic team and win a gold medal."
Ava picks up the story:
She attributes her focus and determination to the fact that "I grew up in a hard-working family. Both parents worked very hard and they were both athletes. This was engraved in me. This was the culture I grew up in being around my parents and competing with my brothers.
"Coming to a school like Marian that has such high academic and high athletic standards was just the perfect spot for me because I could thrive in what I was used to."
Then, adding a shout-out across time and space: "Little sixth-grade me, I did it!"
Now a 17-year-old senior, what she did was win the 2021 Miss Volleyball trophy. The announcement was made last Monday in the presence of the cheering student body assembled in the gym for what was publicized as a pep rally for the volleyball team.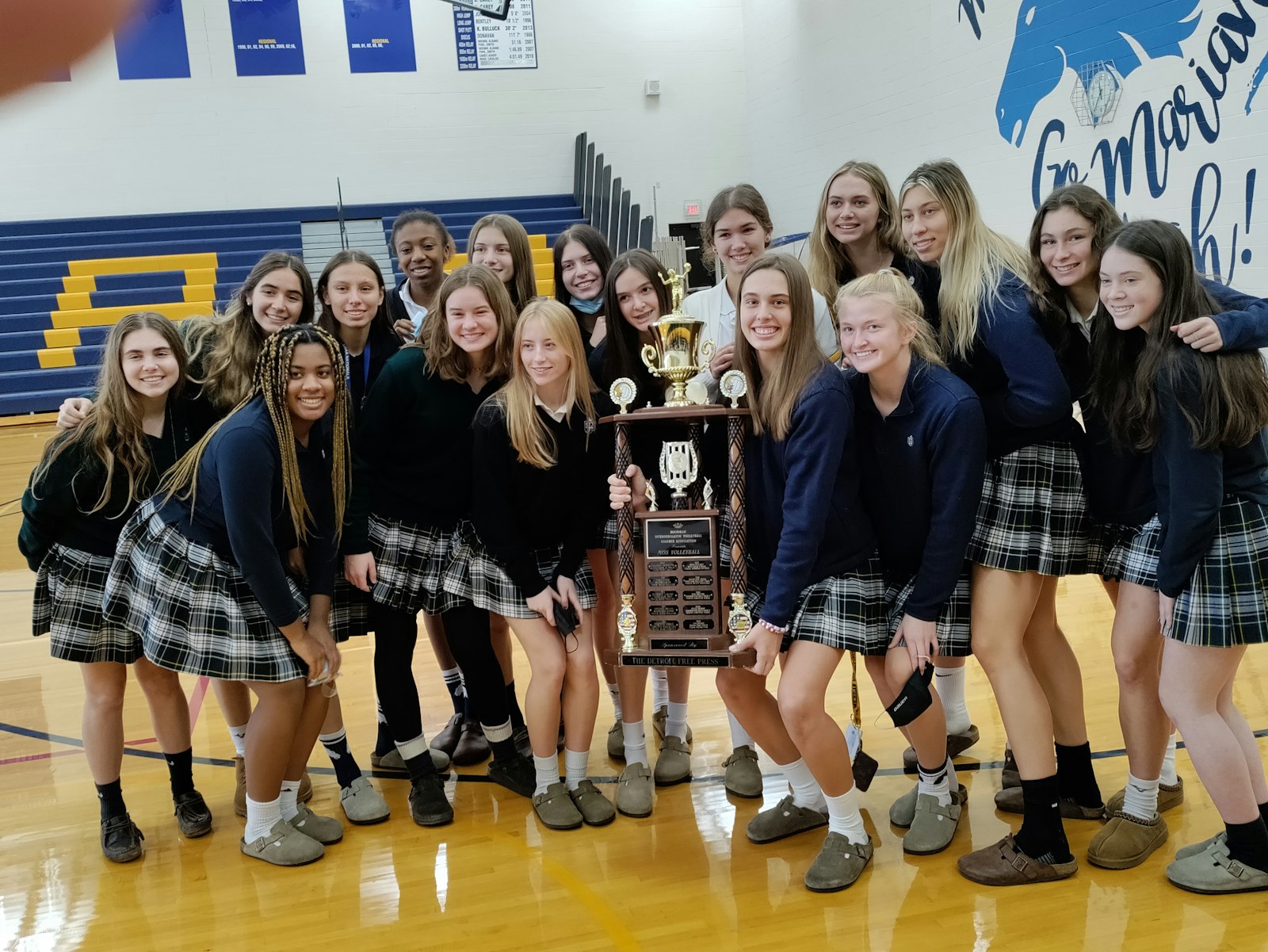 Bre Johnson, chair of the Miss Volleyball committee of the Michigan Interscholastic Volleyball Coaches Association, said, "It wasn't a close contest. She stands out that much on the court, but not just for volleyball, but the whole package. She has the characteristics we were after for this award."
Ava's 260 points were 119 more collected by second-place finisher Serena Nyambio from Detroit Country Day. Alyssa Borellis, of Pontiac Notre Dame Prep, finished third with 116 points. Her teammate Josie Bloom's 55 points earned her the 10th spot.
Ava called her teammate Sarah Sylvester's 83 points for eighth place "bittersweet because we both can't have the award. If I could, I would just split that thing in half and give half of it to Sarah because she absolutely deserves it. She's so hard-working and she comes into the gym every day, ready and focused. She's just an incredible player and an incredible person."
Ava is the second player from Marian to win the award (the first was Alexandra Cocklin in 2009), the third in a row from the Catholic League (following Julie Bishop in 2020 and Jessica Mruzik in 2019, both from Farmington Hills Mercy), and the sixth overall from a school in the Archdiocese of Detroit (Madeline Chinn in 2018 and Tanya Carlson in 2014, both from Notre Dame Prep).
Ava has realized her goal of winning a state championship. Marian, with an underclass squad (no seniors), won the Division 1 crown a year ago. The Mustangs have been season-long favorites to do it again this year.
"Our seniors are true leaders," Cook said about Ava, Sylvester, Sophia Treder and Janiah Jones. Ava has 537 kills (2,063 career), a 94 serve percentage and 51 aces. The 6-foot-3 Sylvester leads with 87 blocks, Jones has 75, and Treder 304 digs.
A 6-foot-1 outside hitter, Ava was named the 2020-21 Gatorade Michigan Volleyball Player of the Year, the third chosen from Marian in 12 years. The other winners were Alex Lovell (2010-11) and Rachel Charles (2009-10).
Brizard, Sylvester and Treder were members of the Michigan Elite 17 Mizuno squad that finished runner-up in the 17 Open of the AAU Junior National Championships in Orlando in June. Brizard was named an Open All American.
Ava made her commitment to North Carolina State University a year ago. Coach Luka Slabe was an assistant on the U.S. Olympic women's volleyball team that won the gold medal, a first for the United States.
She was Slabe's first recruit. "He's wonderful. I love him," Ava said. "He can help me reach my goal to win an Olympic gold medal."
Coach Cook adds to Ava's story:
"She's my first Miss Volleyball. I've had girls in the top 10. I had been training Ava since she was 11 years old. I had been coaching at Gabriel Richard. She'd come practice with the girls. Eventually she would attend our home games. She made her father drive in a blizzard to Battle Creek when we won the state championship (in 2015). She said she wasn't going to miss it for anything.
"I remember giving her a big hug after we won the match. I told her she was going to win a championship one of these days. I think it must have been God speaking through me. Crazy how it all came to fruition. I never thought I'd be her coach when it happened.
"I'm happy she's moving on to the next level. She's a player who makes everyone around her better."
Ava's father gets the last word:
"I'm so proud of her. It's hard to believe she's a better person than she is as a player. We always told her volleyball is a great sport, that it's part of life's journey to be a better person. It's something she has really taken to."
Volleyball and swimming finals conclude fall sports schedule
State champions in volleyball and girls swimming will be crowned this weekend.
Volleyball will generate most of the interest with three Detroit-area Catholic schools in the final four stage of the state playoffs.
The semi-final and final rounds in volleyball will be played at Kellogg Arena in Battle Creek.
In Division 1, it'll be No. 1 Marian (51-1) versus No. 2 Hudsonville (52-2-1) at 4:30 p.m. Thursday. The winner advances to the final at noon Saturday against either Ann Arbor Skyline (54-3-2) or Macomb Dakota (31-4-1). Marian won its quarterfinal match against Davison 25-14 25-19 24-15. The Mustangs are attempting to repeat.
In Division 2, No. 1 Pontiac Notre Dame Prep (62-1) faces Grand Rapids Christian (33-9) at 4:30 p.m. Friday. The winner will meet either North Branch (45-8) or Lake Odessa Lakewood (40-12) at 4 p.m. Saturday for the D2 championship. Grand Rapids Christian has won the title the last three years. Notre Dame trumped Detroit Country Day 25-15 25-23 25-18 in the quarterfinal.
In Division 3, Monroe St. Mary Catholic Central (35-11) plays McBain (36-4-1) at noon Friday. The winner will meet either Muskegon Western Michigan Christian (49-5) or Reese (33-5-1) at 2 p.m. Saturday for the state title. St. Mary, D3 winner the last two years, won its quarterfinal match against Pewamo-Westphalia 25-15 22-25 12-25 14-25.
In the girls swimming finals on Saturday, Mercy, runner-up a year ago, will compete in Division 1 at the Holland Aquatic Center, while Bloomfield Hills Cranbrook will be defending its Division 3 title at Calvin University.
There's semi-final football on Saturday featuring the CHSL's lone survivor, Warren De La Salle (11-0) taking on Livonia Franklin (7-5) at 1 p.m. at Hazel Park High School. The winner will move on to Ford Field on Friday, Nov. 26, at 1 p.m. for the Division 2 championship.
Contact Don Horkey at [email protected].
Copy Permalink