DETROIT — The Catholic High School League's lineup of boys basketball champions dating back to 1926, when the league was founded, welcomed its latest additions Friday evening, a pair of longtime teams who hadn't achieved such a lofty stature since a long time ago.
To their credit, they succeeded against formidable opponents who were familiar with the atmosphere and experience of playing in the vastness of Calihan Hall on the University of Detroit Mercy campus.
It was 13 years ago, in 2010, when Detroit Loyola last won the CHSL championship. The Bulldogs overcame first-half jitters to beat Riverview Gabriel Richard, who was seeking its fourth consecutive title, 53-42.
It was 33 years ago, in 1990, when Bloomfield Hills Brother Rice won its last CHSL title. The Warriors got the better of University of Detroit Jesuit High School, 68-63, which had carried the winner's trophy home eight times in the last 10 years.
Loyola's speed, defense wins Cardinal trophy
Both teams got off to a ragged start.
Loyola — 20-1, champs of the CHSL Intersectional I division and ranked No. 1 statewide in Division 3 — missed its first 11 shots. Richard (14-4, winners of CHSL Double A division) turned the ball over nine times (15 for the game), but managed to lead 19-15 at the half, the first time all season that Loyola trailed after two quarters.
"I would say nerves, big crowd, college campus, college court (and) not being in the gym the last couple of days because of the (metro area-wide) power outage," Loyola coach Dennis Morey II said. "Just a slow start, but second half, we got control."
Within two minutes at the start of the third quarter, Loyola converted the halftime deficit into a 21-19 lead and kept the pressure on with a 13-0 run for a 36-23 lead, an advantage the Bulldogs maintained for the remainder of the contest.
"They took it to another level," Gabriel Richard coach Kris Daiek said. "We didn't respond very well. When you're faced with pressure, you either back down or you go after it. Playing one of the top teams in the state, we knew it was going to be tough but I'm happy how we competed."
"We want to dictate the tempo," Morey said. "We don't think a lot of our teams will play at our speed, and because of our depth, we know we can go deep and give our guys breaks."
Sophomore Nic Sobush and senior Luke Westerdale with 11 points each and 10 by sophomore Charles Kage led Richard's offense.
Three seniors hit double figures for Loyola: Dashawn Martin a game-high 16, Ryan Martin 13, and Jotham Nweke 10.
"It's great to be able to hang another banner in the gym," Morey said. "We talked to these guys, what's their legacy going to be when they leave? Leave it better than you found it. These guys have taken it to heart and they've done that."
The Bulldogs have also won CHSL titles in 2004, 1999 and 1998.
Warriors pushed to the limit for Bishop trophy
This clash between Brother Rice (20-1, CHSL Central Division champ for the first time since 1996, No. 2 statewide in Division 1) and U of D Jesuit (15-4, runner-up in the Central, No. 6 statewide in Division 1) was the third of the season.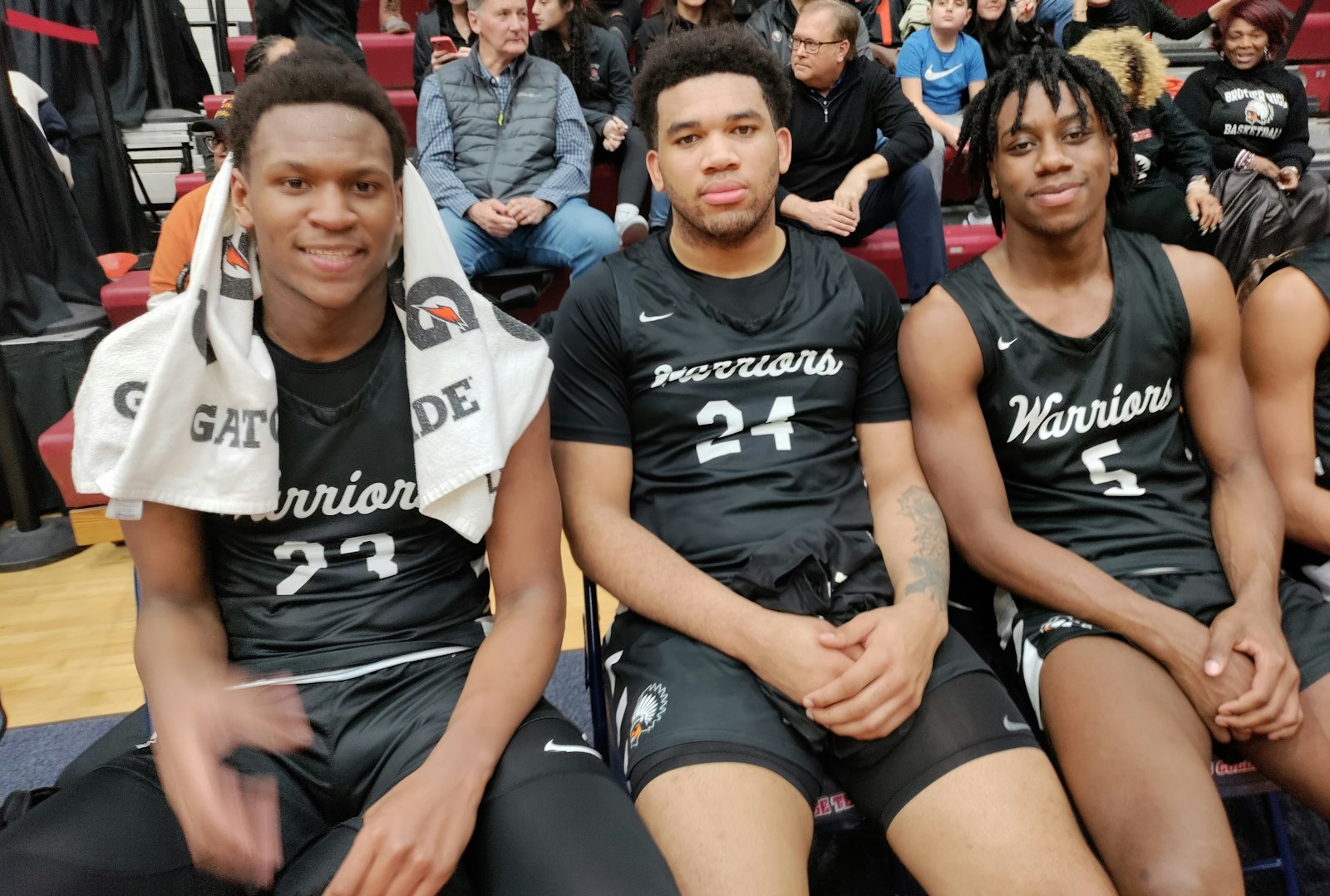 The Warriors won the first two meetings by 15 and 11 points and had chipped away at an 8-point edge at halftime to lead by 15, 46-31, halfway through the third quarter, on their way to winning a CHSL championship, at long last.
Brother Rice started the season on a seven-game streak, sidelined 38-34 in a defensive struggle against Warren De La Salle, and resumed winning on the talents of three Division 1 commits: guard Johnathon Blackwell (Wisconsin) and forwards Curtis Williams (Louisville) and Xavier Thomas (Toledo).
Dubbed "The Big 3," they led the team's statistics in every vital category: scoring, rebounds, assists, steals. They each surpassed the 1,000-point level in their prep careers. They elevated Rice's basketball program to statewide prominence.
Coach Rick Palmer all along insisted that, really, there was a "Big 4," including 6-foot-7 junior forward Warren Marshall, "a humble kid (who) just works his butt off with zero maintenance."
"I kind of got hot to start," Marshall said, "and I knew from there it was going to be good." He scored 10 in the second quarter and 11 in the third of his team-high 25-point production, his best game of the year.
"I kind of slowed down in the fourth quarter (two points on a dunk)," Marshall said.
U of D Jesuit, on the contrary, was just getting fired up for a possible upset. The Cubs have their "Special Big 1" in the person of guard and Mr. Basketball nominee Sonny Wilson.
Wilson connected on three triples in quick succession to cap a frenzied 19-11 rally and radically reduce Rice's lead to 65-62 with 73 seconds to play.
The teams traded one-point free throws to make it 66-63 with 22 seconds remaining.
Palmer put Blackwell on Wilson for the final possession. "We got somebody else besides (Wilson) taking the shot."
Junior Ryan Hatcher's attempt for a game-tying triple bounced off the rim into Curtis Williams' hands. He was immediately fouled with 3.3 seconds remaining. He made both free throws to seal the deal for the Warriors.
"I give our guys at lot of credit," said U of D coach Pat Donnelly. "They fought. They were down 15 and they fought back. Rice is a talented team. They're big. They're athletic. They defend well."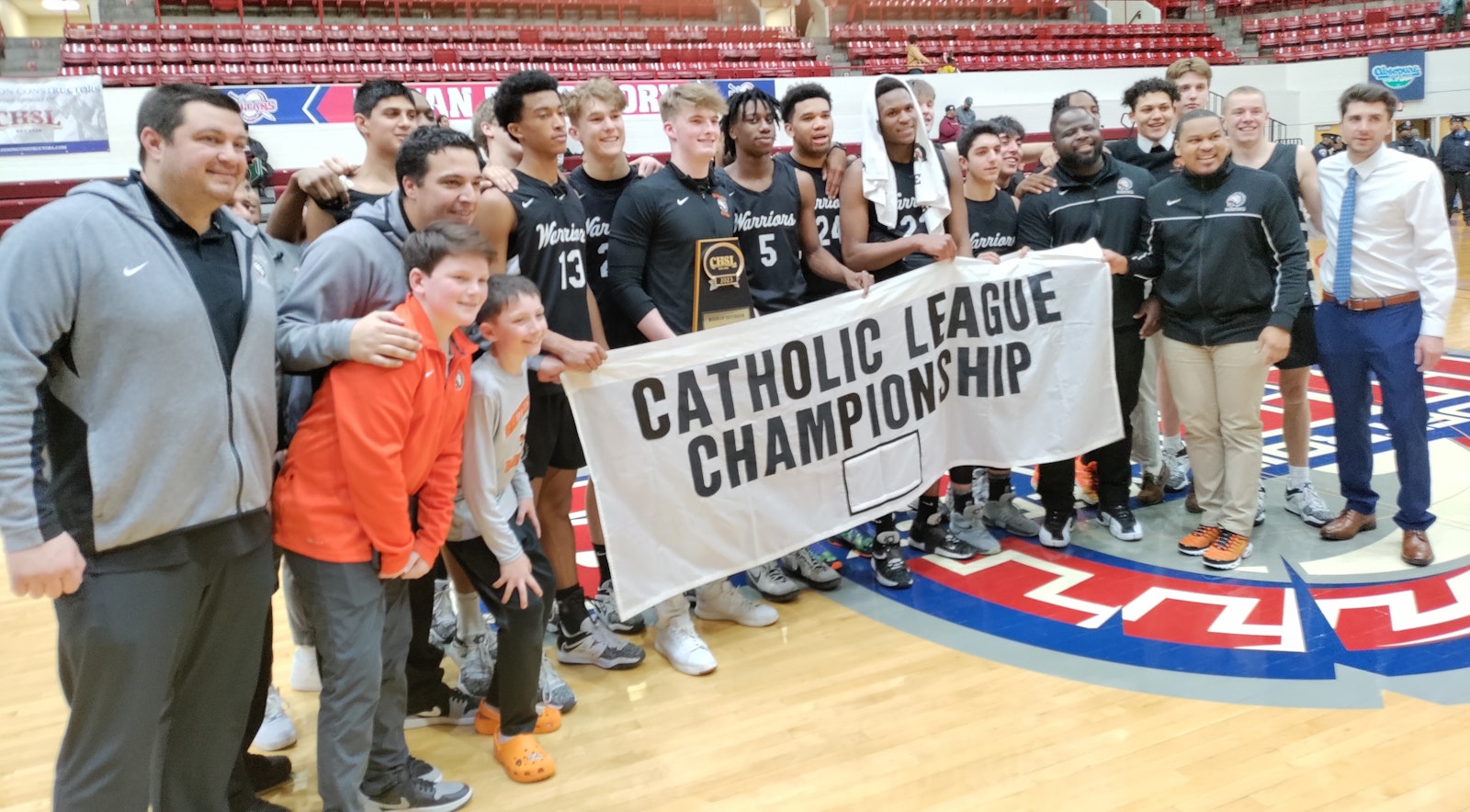 Wilson finished with a game-high 31 points. Teammates sophomore guard Leroy Blyden had 19 and senior forward Zavier Banks 10.
For Brother Rice, Thomas had 22 points, Blackwell 9 and Williams 7.
The win gives the Warriors six CHSL championships. The others came in 1982, 1981, 1979 and 1974.
No. 1 vs. No. 2 in game for city championship
No. 2 Brother Rice will meet up with No. 1 Detroit Cass Tech (21-0) at 7:30 p.m. Friday, March 3, at the University of Detroit Mercy's Calihan Hall in the annual Operation Friendship game between the CHSL and Detroit Public School champions.
In the consolation game at 6 p.m., U of D Jesuit will play Detroit Martin Luther King.
March Madness underway
Brother Rice will play either Birmingham Groves (14-6) or Birmingham Seaholm (10-10) in a Division 1 district semifinal game at 5:30 p.m., Wednesday, March 8, at Bloomfield Hills High School.
U of D Jesuit will play either Berkley (13-7) or Detroit Mumford (1-14) in a Division 1 district semifinal game at 5:30 p.m. on Monday, March 6, at Berkley High School.
Loyola will play a Division 3 district semifinal game against Center Line Prep Academy (8-5) at 5:30 p.m., at Detroit Pershing High School.
Riverview Gabriel Richard will play a Division 3 district semifinal game against either Ypsilanti Arbor Prep (6-12) or Ottawa Lake Whiteford (14-7) at 7 p.m. on Wednesday, March 8, at Erie Mason High School.
Contact Don Horkey at [email protected].
Copy Permalink