SOUTHFIELD — The Brother Rice Warriors' half-hour return trip to school from Lawrence Tech University, where they lost a game last Friday evening to St. Francis de Sales, seemed a lot, lot longer than de Sales' 90-minute journey home to Toledo.
Brother Rice, stunned 41-0 by Roseville a week earlier in the season opener, appeared to be on its way to its first victory with a two-touchdown lead.
Appearances are deceiving. The Knights went on a four-touchdown rampage for a 28-19 conquest and their first win of the season. The Warriors are 0-2.
"We gave our maximum effort," Knights coach Charles Woolridge said. "We're a young team, but it all finally came together for us. Our offense was spectacular, especially the two running backs, 5 and 2. We call them Thunder and Lightning."
First, there was No. 2, "Lightning," 150-pound junior Raheem Brown, who ripped a 33-yard sprint to the end zone just 22 seconds after the Warriors took a 13-0 lead midway through the third quarter, followed by a 24-yard touchdown run early in the fourth quarter to put the Knights ahead 14-13.
Then came No. 5, "Thunder," senior Traven Horton. He escaped from a mob of Rice tacklers for a 44-yard touchdown. Less than two minutes later, Horton charged virtually untouched through the middle of the Rice defense for a 43-yard game-clinching touchdown.
Brother Rice scored its first touchdown two minutes into the second quarter. The Warriors defense turned back a fourth-and-inches gamble by de Sales on its own 29. Quarterback Blake Marrogy hit wide receiver Max Orozco with a 27-yard pass to the two. Marrogy scored the touchdown.
Junior kicker Ben Bingham missed the extra point, forced to kick from the 15-yard line because of a penalty.
The Warriors came out of the intermission with a 12-play, 64-yard drive, climaxed by Marrogy's 4-yard score. Bingham converted and Rice led 13-0.
However, this turned out to be the beginning of the end for Rice. The Warriors, penalized for unsportsmanlike conduct, kicked off from their own 25-yard line. "Thunder" Horton ran the ball to Rice's 33-yard line to set the stage for de Sales' come-from-behind rally.
"You have to give them credit," Rice coach Adam Korzeniewski said. "They got the ball to the people that make plays for them. We absolutely killed ourselves in the red zone."
In the first quarter, first-and-10 from the 17, Rice advanced just six yards in two plays. Bingham missed a 19-yard field goal attempt.
In the second quarter, with sophomore quarterback Brady Thomas behind center, the Warriors moved from their own 33 to de Sales' 4-yard line. That opportunity was squandered when Thomas fumbled the ball.
Late in the third quarter, Rice reached the Knights' 14-yard line. A major 15-yard penalty forced Rice to call upon Bingham to try for a 33-yard field goal. His attempt was short and to the left.
"Those (red zone failures) took (a potential 12) points off the board," Korzeniewski said.
Thomas directed a spirited 14-play, 73-yard drive in the game's closing two minutes for Brother Rice's third touchdown, a 3-yard toss to Colin Mayette with 8 seconds to play.
The odds for Rice (0-2 overall; 0-1 CHSL Central) to avoid losing its first three games at the start of the season since 1985 appear dim with the prospect of hosting Toledo Central Catholic (3-0; 1-0) at 7 p.m. Friday at Lawrence Tech.
Toledo Central Catholic scored on its first four possessions to defeat Novi Detroit Catholic Central (1-1; 0-1) 42-21 last week. The Shamrocks travel to St. Francis de Sales on Friday.
Warren De La Salle (1-1; 0-0) and Orchard Lake St. Mary's (1-1; 1-0) won their first games a week ago. De La Salle beat Muskegon 40-28, and St. Mary's beat Toledo St. John's Jesuit (0-2; 0-1) 28-7. The Pilots and Eaglets face one another at 7 p.m. Friday at Wayne State University.
Coach Fracassa 'doing OK'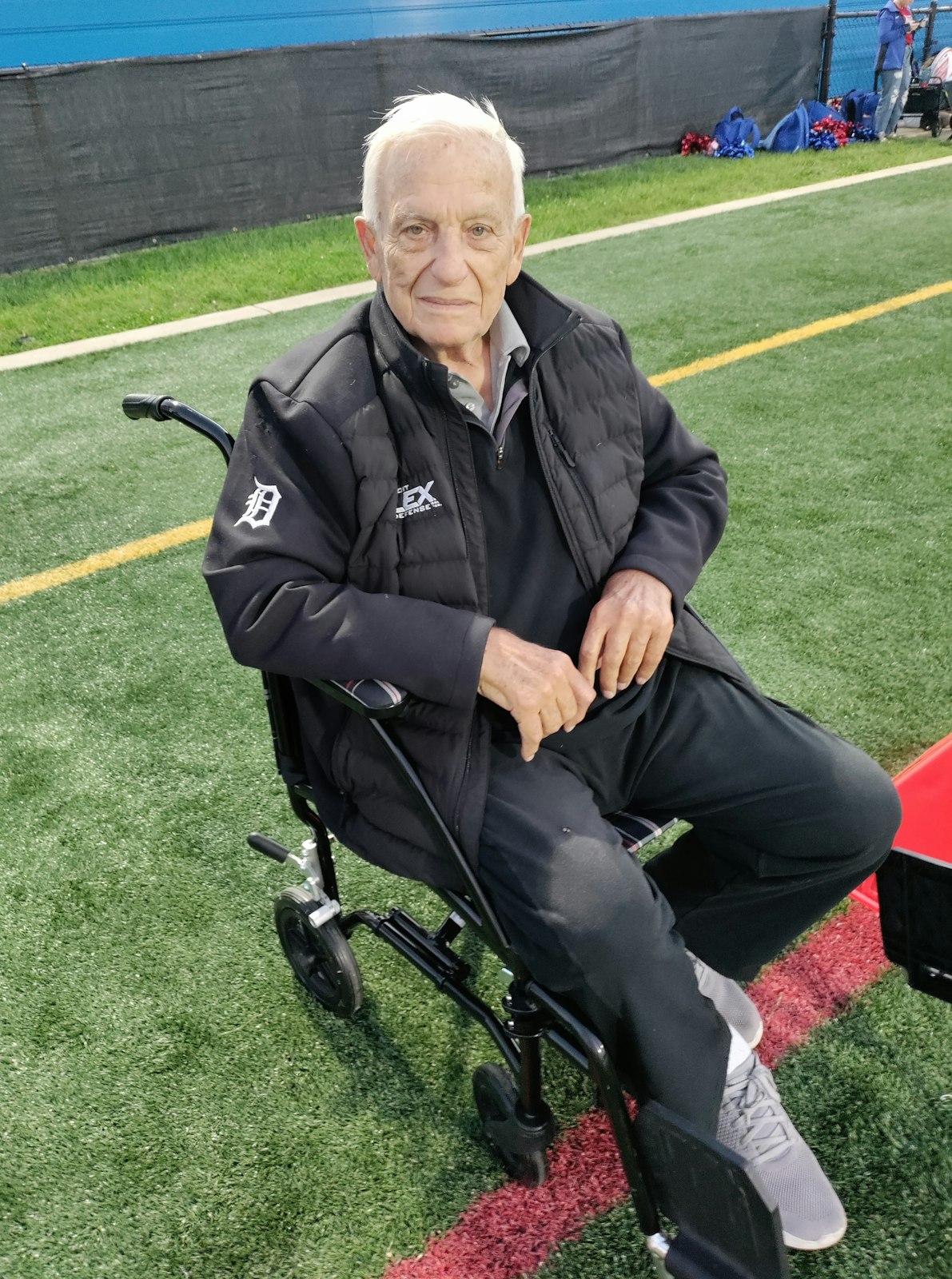 "Hey, I'm 90," proclaimed legendary Hall of Fame football coach Al Fracassa at last Friday's Brother Rice football game. "And I'm doing OK." He said he watches sports on TV, does a little exercising, and helps his wife around the house.
He occasionally visits Brother Rice, where "would you believe it, they still have my office there with all my stuff," he said. The "stuff" is a collection of mementos of a 53-year career (nine at Royal Oak Shrine, 44 at Rice), nine state championships and a stunning 430 wins.
"I've met so many great kids in my time. I remember some of them who played for me," he said. "They don't forget me."
Contact Don Horkey at [email protected].
Copy Permalink