BLOOMFIELD HILLS — Two powerhouse Catholic League squads, Brother Rice lacrosse and Orchard Lake St. Mary's Prep baseball, each certainly to be top-ranked among Michigan high schools in pre-season polls, will be honing their considerable skills during Easter week in Ohio.
Both teams have left no survivors in the wake of their explosive starts.
The 4-0 Warriors have outscored opponents 98-16, starting with 16-2 versus Cleveland St. Ignatius, overwhelming St. Mary's 25-3, demolishing Warren De La Salle 36-5, and trouncing Hartland 21-6 to avenge the overtime loss to Hartland for the Division 1 state championship a year ago.
The 7-0 Eaglets slipped past Howell, 5-4, in the opener but went on a barrage with four shutouts in the next six games: 6-0 and 1-0 over Novi Detroit Catholic Central, 10-0 and 14-3 versus University of Detroit Jesuit, and 8-5 and 10-0 against Grosse Pointe Woods University Liggett.
Dating back to the mid-2022 season, St. Mary's has won 73 games in a row, just two shy of the state record 75 by Homer in 2004-05. The national record is 89 by Portsmouth, New Hampshire, in 2007-10.
'We have a tremendous amount of talent'
But, "can we compete at a higher level?"
That's the question Warriors coach Ajay Chawla, who has won seven CHSL championships and six MHSAA titles in his 10 years at Rice, hopes to have answered facing "three really good opponents in a week" in the Buckeye state.
The trip begins April 12, at Hudson (2-1), about 30 miles south of Cleveland. The Explorers beat Cleveland St. Ignatius 11-9 on March 22, three days before Brother Rice defeated St. Ignatius 16-2.
On April 14, Brother Rice meets Cincinnati St. Xavier (7-0) in a game played at Hudson. Xavier is ranked No. 2 in Ohio and has scored 114 goals. "I think this will be our toughest game of the three," Chawla said.
The next day, the Warriors wind up their trip against Louisville St. Xavier (6-6), the eighth-ranked team in Kentucky, in a game played at Ohio State University.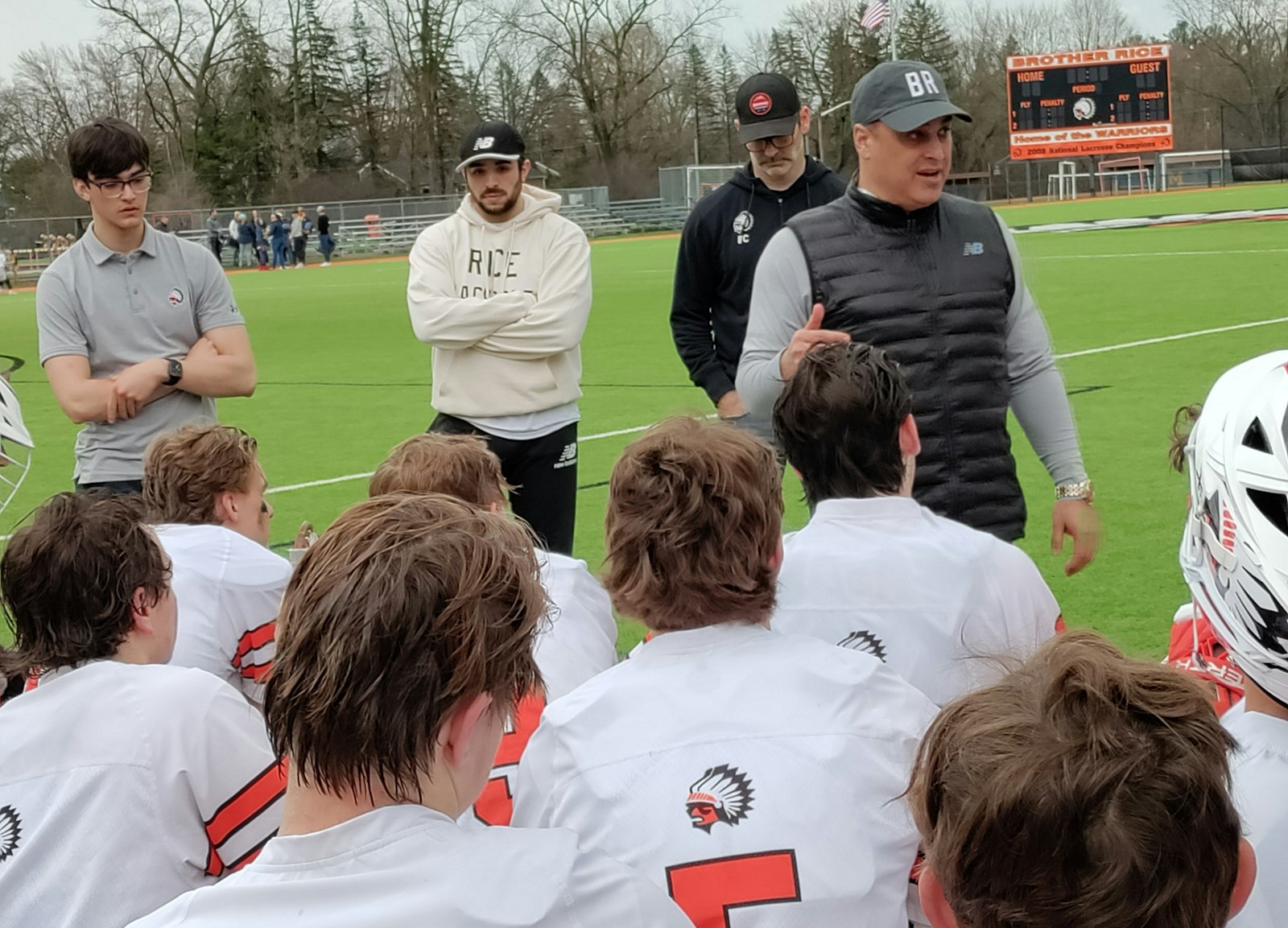 "We have a tremendous amount of talent," Chawla said. "Can we play tight games? Once we get a good lead, we can blow teams out. How will we fare in those 1-, 2-, 3-goal games? That's what we're going to have to figure out."
Senior goalie Cam Sims (Ohio Wesleyan commit) "is comfortable in the net," Chawla said. "He's been making some big-time saves but in games that weren't very close, that didn't have an impact. But he looks very promising for us going down the road."
Senior Robert MacMichael (Bellarmine) and junior Drew Lindsay "are both really good defensemen," Chawla said.
Among the seven middies that Chawla employs, junior Andrew Zawaideh "is playing great defense able to neutralize their (opponent's) top middie in every game."
Others in Rice's middies rotation are seniors Braden Zarek (John Carroll), Sam Klein (Bryant University) and Ben Eck (Robert Morris), and juniors Cash Papadelis, Caiden Ramos and Alec Gniatczyk.
Seniors Hunter Polonkey (Lehigh) and Christian McNulty, and Hunter's sophomore brother, Hansen, comprise the trio of attackers. "Hunter's the best in the state," Chawla said. "He's got it all. Great vision. Gets to the cage. Shoots the ball very well."
Senior Michael Quaine and sophomore Danny Holt handle the all-important faceoffs. "They have really stepped up," Chawla said. "That was the difference in last year's state championship game against Hartland. I think we won only two the whole game. This last game we went better than 50 percent."
Brother Rice will resume its regular schedule Tuesday, April 18, hosting University of Detroit Jesuit.
Four juniors comprise OLSM's pitching staff
Brock Porter anchored the pitching staff for the Eaglets championship years. Combining 100 mph fastballs and knee-buckling changes of pace, he had a 30-2 record with 320 strikeouts and a miniscule 0.67 ERA.
He turned down a scholarship from Clemson in favor of a $3.7 million offer from the Texas Rangers. He's toiling in the minors now.
To fill the void created by Porter's absence, coach Matt Petry has assembled a staff of four junior hurlers — Aiden Donovan (3-0), Parker Brzustewicz (1-0), Grant Essig (1-0) and Anthony Pesci (2-0) — who have combined to throw four shutouts and a 2.57 ERA.
Donovan and Brzustewicz were part of last year's rotation, going 7-0 and 6-0, respectively.
Seniors first baseman Blake Grimmer and third baseman Jasen Oliver, who were co-leaders with 49 runs batted in a year ago, will be key elements of this year's offense. Oliver is hitting .438 with 17 RBI and four home runs, including a grand slam. Grimmer is hitting .500 with three RBI so far.
Rounding out the top six batters are junior Will Boisineau (.400, five RBI, one home run), senior Ryan McKay (.391, four RBI, two doubles, two triples), freshman Hudson Brzustewicz (.375, four RBI), and senior Vincent Cowdrey (.353, four RBI, one home run).
The Eaglets play Cuyahoga Walsh Jesuit at Canton on April 12, Lewis Center Olentangy Orange April 13, Grove City and Mitford in a morning-afternoon doubleheader at Grove City on April 15.
Contact Don Horkey at [email protected].
Copy Permalink