CLINTON TOWNSHIP — The Catholic League Hall of Fame enriched its membership with 21 new inductees in ceremonies June 13 at Fern Hill Country Club.
Induction of Bob Artymovich, Catholic League Person of the Year
Some 39 individuals have been honored as "Person of the Year" since the late CHSL director Walt Bazylewicz introduced the first one in 1983 as a way of recognizing individuals who have contributed lengthy and meritorious service to the Catholic League.
Bob Artymovich started his business, EA Graphics, in 1975 printing t-shirts for the Hamtramck Polish Festival. That business, based in Sterling Heights, has grown into one of the largest t-shirt companies in North America.
Over the last 10 years, EA Graphics has produced t-shirts for every CHSL and MHSAA athletic event, and two years ago, started doing the same for all championship events in the state of Ohio. Kids all over the two states proudly wear his shirts with their name on the back.
In November, when the tragedy occurred at Oxford High School, EA Graphics offered to sell "Oxford Strong" t-shirts and donate the proceeds. EA Graphics donated more than $310,000 to the Oxford Community Relief Fund.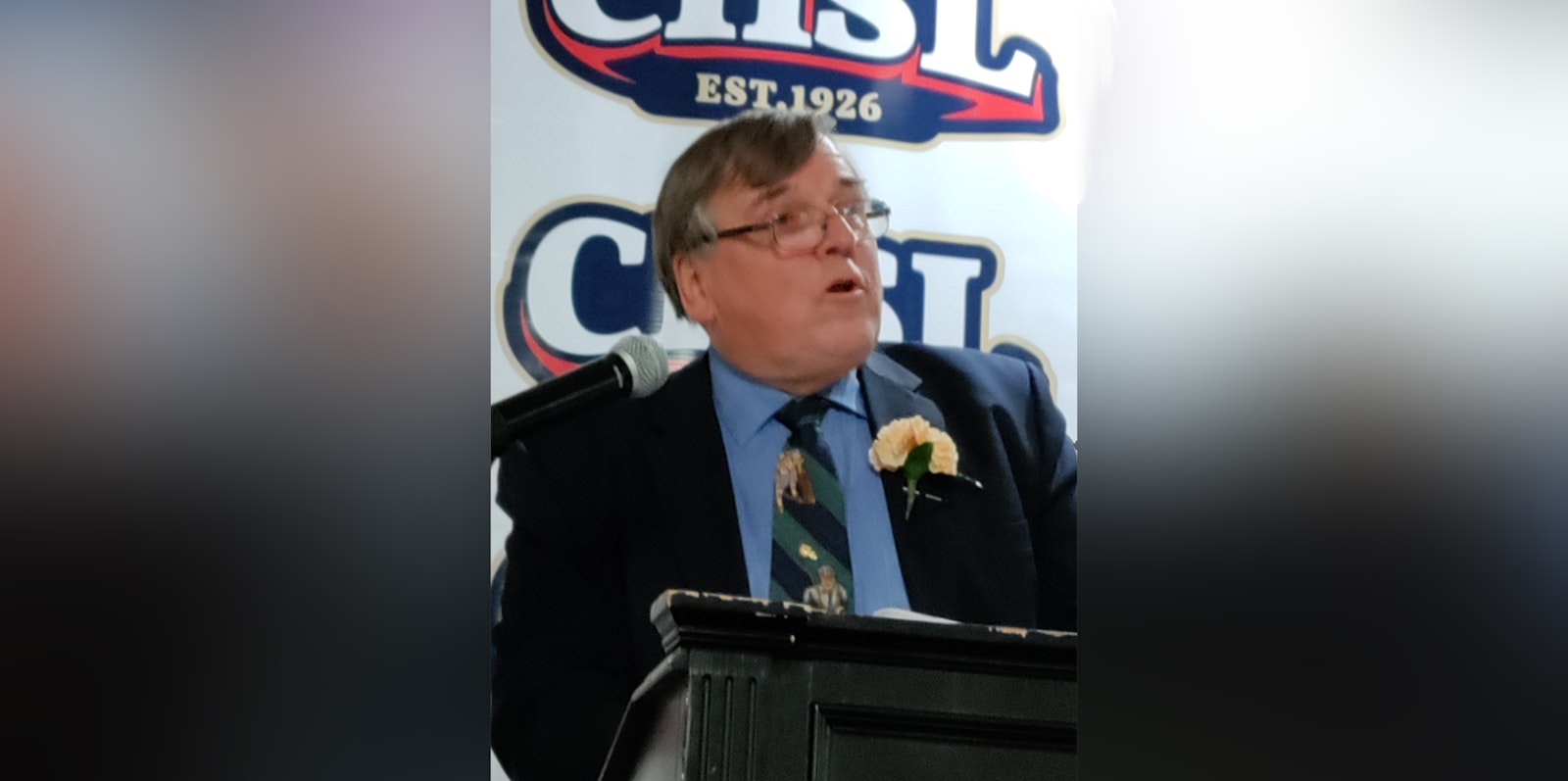 "As a school and league so rich in history and tradition," said CHSL director Vic Michaels, "we are pleased to continue a strong tradition by honoring so deserving a person as Bob Artymovich. Not only for his success at EA Graphics, but in the hearts and minds of students and families in not just Catholic schools but all schools in this state.
"There is no person more worthy than Bob Artymovich, the 2022 Ed Lauer Person of the Year."
In his response, Artymovich recalled "growing up in Detroit I learned that there were a lot of people around me that were not as fortunate as my family and I were. My younger sister was born paralyzed from the waist down. I watched and learned from my parents the extra care that was required to raise a special needs child.
"My father was a district manager for the Detroit newspapers and in charge of roughly 130 paperboys during my high school years," Artymovich continued. "I peddled papers with a number of these kids and watched my dad mentor them and help them whenever he could. But these early lessons of helping others in need in our community are the foundational beliefs that have helped me become the person I am today.
"This award is not about me. It is about all of us. (It's about) growing up in the Catholic faith and helping those in need. Giving back to your community when it needs you.
"We are all brought here together today by our faith, and every one of us can contribute big or small to positively impacting the future by helping one another in need. I feel I have been able to achieve most of my goals of helping the community, as I have set out to do, with the support of the Catholic League, the MHSAA, and the MIAAA."
Induction of Mike Dempsey, 2022 Legend of the Catholic League
In existence since 1926, the Catholic League has only made this designation 13 times.
In his 54 years of officiating, dating back to 1968, Mike Dempsey has worked boys and girls basketball, football, baseball, softball and even one volleyball contest. He has also worked five MHSAA basketball finals, four state football finals and countless Catholic League playoffs and championship contests.
"It's tough to be an official and continue to do things the right way," Michaels said. "That is why we designate Mike from over a half-century of service to represent our front line, our direct connection to youth — officiating. Mike has always treated our coaches, student-athletes and spectators with the same respect we ask from them, long before it became fashionable.
"Try as we might to measure a person's impact on earth through their role in officiating, we just can't. But we can all see that what he did in the world of school sports was always rooted in fairness and love of the game.
"So, we say thank you for being one of the Catholic League's finest officials and for representing all Catholic League officials in the long history of our league. Your life can best be remembered — and now officially — as Legendary.
"We proudly present Mike Dempsey, the 14th Legend of the Catholic League."
Induction of Athletes
Myles Amine (2015 Novi Detroit Catholic Central; 2022 Michigan)
A standout wrestler, he was a five-time NCAA All-American and two-time Big Ten champion. He was a bronze medalist in the 2020 Tokyo Olympics. He currently works as an analyst in the financial services industry while training for the 2024 Paris Olympics.
Anna Dixon (2018 Farmington Hills Mercy; expected 2023 University of Toledo)
She led Mercy softball to the 2016 Catholic League and state championships. At Toledo she earned MAC All-Academic honors. Anna plans to attend graduate school for clinical psychology.
Stanley Grayson (1968 Detroit All Saints; 1972 Holy Cross College)
At Holy Cross, where he was inducted into the Holy Cross Hall of Fame in 1993, he played basketball for four years, earning All-New England honors and the Crusader of the Year student-athlete award. "I've got a lot of memories playing athletics at All Saints and in the Catholic League. Two stand out. In 1967, we lost the state championship in the finals. We had a record of 24-3. We were all sophomores and juniors and having tasted defeat, to a person, we said we were all coming back. Next year we went not only undefeated but became state champion." Grayson, an attorney, served as a former Deputy Mayor of New York City. Currently, he works as an investment banker.
Ralph Holley (2017 Orchard Lake St. Mary's; 2021 Western Michigan)
An outstanding defensive lineman, he led St. Mary's to three consecutive state titles in 2015-16-17. At Western he earned All-MAC honors and was named to the Dean's List. He has signed with the Philadelphia Stars in the US Football League.
Aidan Hutchinson (2018 Dearborn Divine Child; 2022 Michigan)
A unanimous All American his senior year at Michigan, Hutchinson set the team's single season sack record of 14. He was the runner-up for the Heisman Trophy. The Detroit Lions drafted him, the second pick in the first round, and signed him to a $35 million, four-year contract.
Maria Kaschalk (2017 Bloomfield Hills Marian; 2022 Central Michigan)
An accomplished soccer player, she led Marian to the 2017 state championship. At Central she was team captain and a member of the All-MAC honors in 2020 and 2021 and All-Academic MAC 2018-2021. She plans to pursue a career as a physician assistant.
Katie Minnich (2018 Farmington Hills Mercy; 2022 University of Florida)
A standout swimmer. At Michigan she led the team to 2019 and 2020 Big Ten championships. At Florida, she was co-captain of the 2021 NCAA champions. "I am truly grateful for my time growing up at Mercy and at Our Lady Queen of Martyrs, my time at Michigan and my time at Florida," she said. "But specifically my time at Mercy taught me the grit and perseverance to overcome the challenges of life and how to handle them with grace and stay centered in my faith." Her long-range goal is to become an orthopedic surgeon.
Scott Nelson (2017 Detroit U-D Jesuit; 2020 Wisconsin)
A standout football player who also played basketball and baseball in high school, a leg injury wiped out his sophomore season at Wisconsin. In three seasons, he played in 16 games with 15 at safety. He currently is an undrafted free agent with the NFL's Seattle Seahawks.
Jeremiah Riordan (2017 Detroit U-D Jesuit; 2021 University of Buffalo)
A standout football player, he was a three-sport athlete at U-D: football, basketball and track. At Buffalo he led the team to two East MAC championships. He was ranked as the No. 2 long snapper in the country in 2017. He completed flawless long snaps in 58 consecutive games over five seasons. He plans to pursue a career in public service in the field of police or fire.
Josh Ross (2017 Orchard Lake St. Mary's; 2022 Michigan)
An outstanding linebacker, Josh led St. Mary's to three state titles in a row. He was named the Walt Bazylewicz CHSL Athlete of the Year in 2017. At Michigan, he earned All-Big Ten and defensive player of the week honors.
Michael Sims (2017 Detroit U-D Jesuit; 2022 Morehouse College)
At Morehouse, he was a four-year starter on the football team and served as team captain. Michael was all-conference quarterback and on the All-Academic team. He plans to attend graduate school to pursue an MBA degree.
Induction of Coaches and Administrators
John Fenbert coached basketball for 21 years: head coach for nine at Redford St. Agatha and 12 as an assistant at Novi Detroit Catholic Central.
Mike Evoy has been CHSL associate director since 2009, the longest serving associate director in league history.
Nate Hampton for 33 years has been an administrator for football, boys and girls basketball, and boys and girls track and field for the Michigan High School Athletic Association. His concluding remarks: "For a coach, for an athletic director, for an official, we can never make a great player out of a student who is not potentially great, but we can make great competitors out of any student. And, miraculously, coaches and athletic administrators and officials can make adults out of children. For most of us the final score doesn't read so many points for my team and so many for theirs. Instead it reads so many men and women out of so many boys and girls. That's the score we read to ourselves when the final game is over."
Mitch Hancock, wrestling coach at Novi Detroit Catholic Central since 2006. Record of 326-53, eight state championships, ranked top 15 nationally for past six years.
Sarah Leonard, pom-pon and dance coach from 2011 to 2018 at Dearborn Divine Child. Her teams won seven state championships and five Catholic League titles.
Richard Rychik, an administrator for 32 years (currently dean of students) at Orchard Lake St. Mary's Preparatory.
Mike Schram has worked as a baseball and basketball official for 48 years, as football official for 15 years and as a softball official for seven years.
Loretta Vogel has coached volleyball for nearly 45 years, the last 13 at Farmington Hills Mercy, where she won the 2019 state championship. She was named a National Coach of the Year in 2020.
Tom Kelly Athletic Director of the Year Award

Carlos Calderon, Wixom St. Catherine of Siena
Calderon has been athletic director at St. Catherine since 2019. CHSL director Michaels said: "Carlos has been one of the most cooperative and supportive ADs in the league. He is a great ambassador for CHSL members, a remarkable administrator and a better person."
James Leary School of the Year Award:
Bloomfield Hills Cranbrook Kingswood
"They are one of the most cooperative and helpful schools in the Catholic League," Michaels said. "When the league needed someone to host our boys and girls tennis championships or girls lacrosse championships, they stepped up. The athletic program has become one of the best in the league."
Contact Don Horkey at [email protected].
Copy Permalink