Fifty deacons and their wives celebrate special jubilee Mass with Archbishop Vigneron on Oct. 29, reflecting on ministry
DETROIT — Deacon Edward Swartz, 88, said his pastor was the first to give him the idea of becoming a deacon.
He wasn't quite sure how to respond — literally.
"The pastor of the church came up to me one day, and he said, 'You know Ed, you'd made a good deacon.' And my response was, 'What's a deacon?'" Deacon Swartz laughed. "I think the diaconate is very important to the Church, and there are many men who are called to it. I think with our shortage of priests, it's a good thing that we have deacons."

One-thousand, one hundred and fifty years of service to the diaconate was celebrated Sunday, Oct. 29, at Sacred Heart Major Seminary as 50 deacons and their wives gathered for a special Mass with Archbishop Allen H. Vigneron.

The archbishop blessed and thanked the deacons and their wives for their service and ministry of charity to God's people.

"We are, I hope, aware of some of the graces that God has worked, the Holy Spirit has worked, in the lives of our jubilarians and their service of Christian charity," Archbishop Vigneron said in his homily.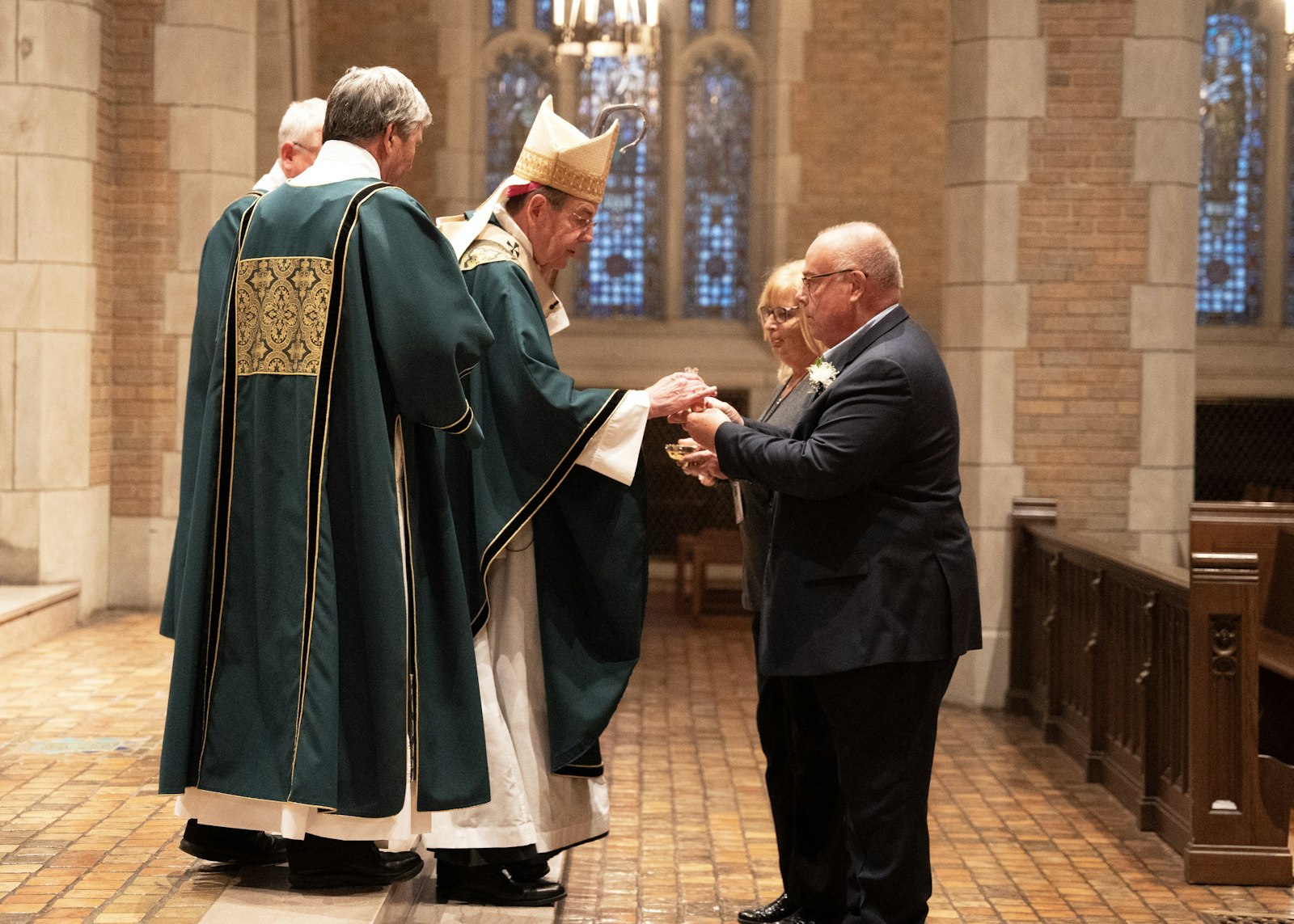 The diaconate ministry of charity is intimately connected to the Church's relationship to God, our creator, the archbishop added — an insight that could be found in the Mass readings.
"While love of God is the highest obligation of the human person, love of neighbor is integral to this divine love," Archbishop Vigneron said. "There is no real love of God without love of neighbor. God's own name is compassion."
In the Gospel reading (Matthew 22:34-40), a scholar tries to test Christ by asking: "Which commandment in the law is the greatest?" Christ answers definitively, Archbishop Vigneron said, further highlighting the importance Jesus places on the ministry of charity.
"Jesus knew clearly that he was being tested, and he speaks very forcefully; no sidestepping the test," Archbishop Vigneron explained. "(He said), 'You shall love the Lord your God, and you shall love your neighbor.'"

The Gospel passage helps to underscore the important role of the deacon, Archbishop Vigneron added.
"Our jubilarians' ministry of charity is a share in the very ardent love that burns in the very heart of Jesus," the archbishop said. "Charity is so much at the very heart of who Jesus is."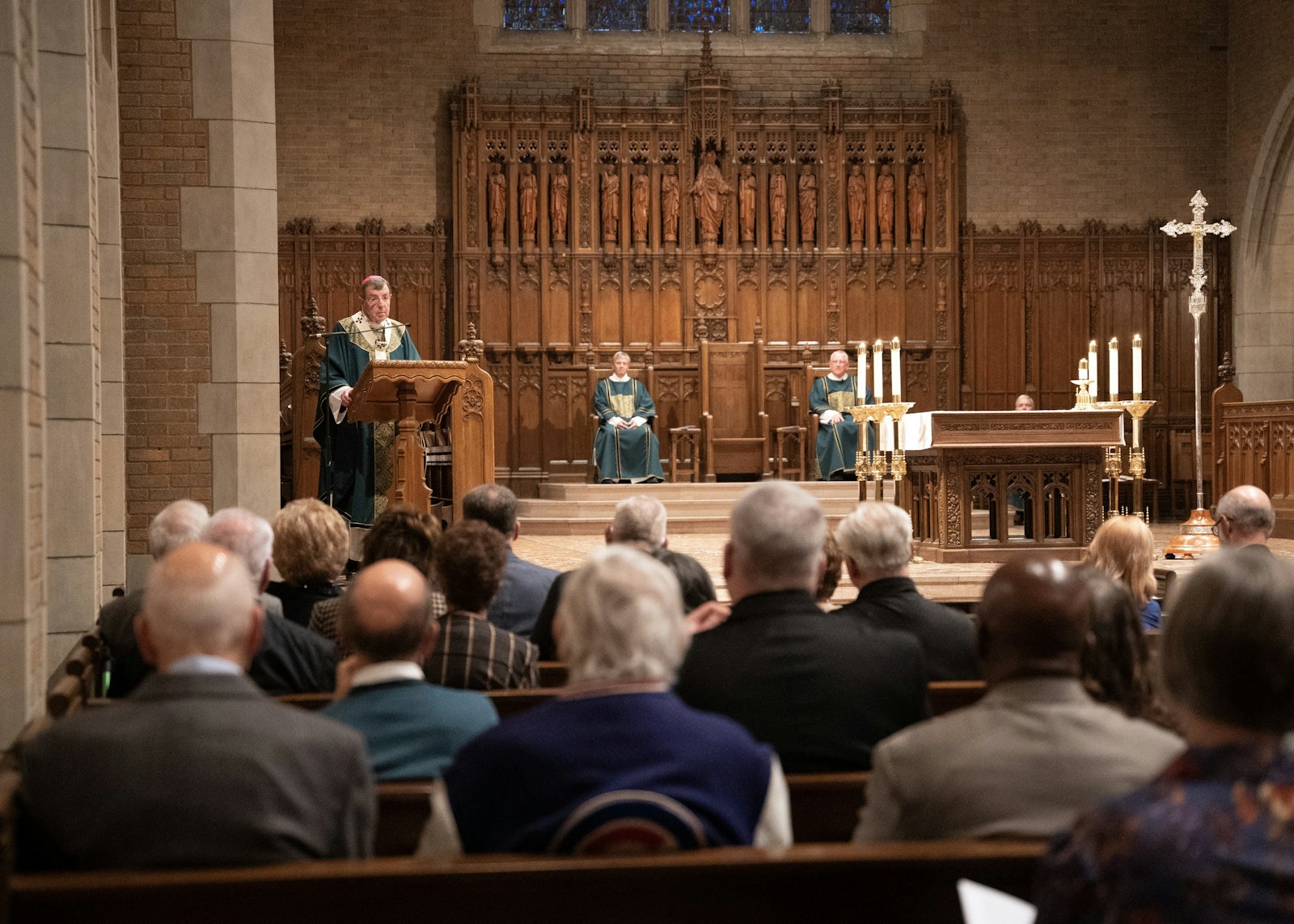 Following Mass, the jubilarians, fellow deacons and their wives gathered for a time of fellowship and dinner to celebrate their years of service.
In reflecting on the 40 years since he was ordained, Deacon Swartz said that one of the biggest blessings to his diaconate was his wife, Mary Lou, who passed away in 2009.
"I think the biggest blessing for me was the help that my wife gave me when I even decided to become a deacon because I had to prepare before that," said Deacon Swartz, who served at several parishes, including St. Teresa of Avila in Warren. "My wife and I had eight children, so it was a big change."

Deacon Tom Thomas, also celebrating 40 years, said that at 81 years old, he continues to minister from home to God's children after spending time in 12 parishes over the last four decades.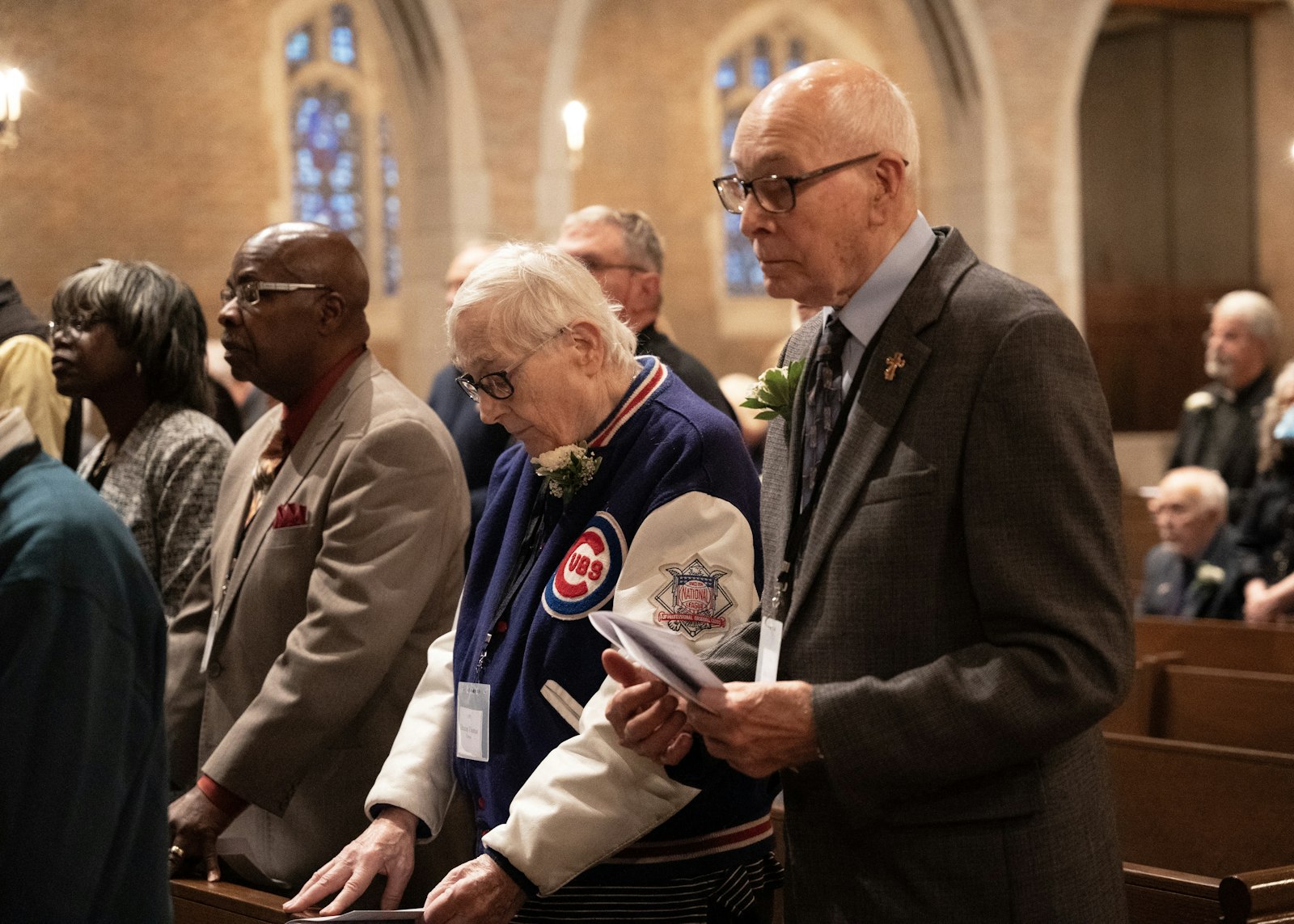 "I'm not in favor of making life at one parish because you learn more when you meet different people," Deacon Thomas said. "In my 40 years, I have done a lot of mingling with a lot of different people, and I enjoyed it."
Like Deacon Swartz, Deacon Mike Smith (30 years) was also asked by his parish priest to consider the permanent diaconate. Today, he serves at St. Hugo of the Hills Parish in Bloomfield Hills.
"I am so grateful for the love of the people," Deacon Smith told Detroit Catholic. "We like to help others, but they, in turn, help us, and I think that's been a big blessing for me."

Deacon Jubilarians 2023
45 Years
Deacon Patrick Bruen
Deacon Robert Fitzgerald
Deacon Harold Goodhue
Deacon Gary Pardo
Deacon Raymond Gabel
40 Years
Deacon Daniel Hurley
Deacon Joseph Lennon
Deacon Truman Stevens
Deacon Bill Stimpson
Deacon Edward Swartz
Deacon Thomas Thomas
35 Years
30 Years
Deacon Daniel Darga
Deacon Joseph Iskra
Deacon Kenneth Nowicki
Deacon John Santeramo
Deacon Michael Smith
Deacon Don Sobolewski
Deacon Johnny Vanneste
25 Years
Deacon Patrick Conlen
Deacon James Ward
20 Years
Deacon Robert Ervin
Deacon Luis Flores
Deacon Marc Gemellaro
Deacon John Liddle
Deacon Gerald McGowan
Deacon Edwin McLeod
Deacon Mark Redwine
Deacon John Thompson
15 Years
Deacon Thomas Carter
Deacon David Fleming
Deacon Jack Gardner
Deacon Kurt Godfryd
Deacon Daniel Gonos
Deacon William Kolarik
Deacon Michael Lang
Deacon Robert Maher
Deacon Stephen Talbot
Deacon Lawrence Toth
Deacon Ronald Vader
10 Years
Deacon Leon Rodgers
Deacon Marc Rybinski
Deacon Matthew Wisniewski
5 Years
Deacon Hector Anaya Bustos
Deacon Regis Buckley
Deacon Tommaso Caporuscio
Deacon Donald Esler
Deacon Jefferey Loeb
Deacon Leo Maciolek
Deacon Gregory Willoughby
Copy Permalink
Deacons