Approximately 100 pilgrims from southeast Michigan join their prayers, voices to the universal Church's celebration in Lisbon
LISBON — The word "Catholic" comes from the Greek "katholikos" meaning universal, a sign that Christ's church on Earth is global.
But for most of the world's 1.3 billion Catholics, the Church is more local. Catholics naturally have a "parochial" connection to their parish, their school, and their small group Bible study.
That's all well and good, but it's what makes events such as World Youth Day all the more special, where pilgrims can witness firsthand the global nature of the Church and the universality of the Gospel message.
"Being here is just amazing," Ava Hanchon of St. Colette Parish in Livonia said about being at World Youth Day 2023 in Portugal. "I've always read about it, heard about it, but being here and getting to see the different sites and seeing the universal Church gathered at one place is a very universal experience, and I've enjoyed it."
World Youth Day invites thousands of pilgrims of all ages to come together for five days of prayer, community, camaraderie, reflection and pilgrimage. This year, approximately 100 pilgrims from the Archdiocese of Detroit journeyed across the Atlantic for the occasion.

Cardinal Manuel Clemente, patriarch of Lisbon, welcomed the pilgrims for the opening Mass at Eduardo VII Park in Lisbon.
"The path you traveled to get here was worth the effort, and during this time you will find, in the variety of who you are and in the quality that you bring, each and every one, from each land, language, and culture," Cardinal Clemente said in his homily. "Nothing can substitute this personal path and path together, to encounter the path of all.
"Dear young people, you know well that when the heart is filled, it quickly overflows. How impossible it is to suffocate what goes in your soul, when it is truly strong and mobilizing," he said.

This year's pilgrimage in Portugal, Aug. 1-6, is all the more special as it is a mere hour and a half from Fatima, where the Blessed Virgin Mary appeared to Venerable Lucia dos Santos, St. Francisco Marto and St. Jacinta Marto from May 13, 1917, to Oct. 13, 1917.
For Detroit pilgrims, the visit to the Sanctuary of Our Lady of the Rosary of Fatima has been a significantly powerful experience, standing on the spot about which they have heard so much over the years.
"A powerful moment from Fatima was getting to offer flowers for the intentions of all my friends and family and donors at the Shrine of Our Lady of Fatima," said Melanie Moore, a parishioner of St. Joseph Shrine in Detroit. "I had to fundraise a lot to get to Europe, beginning with a mission trip to Poland and ending with a culmination of the journey to get to World Youth Day. So to physically lay down these intentions I had, and my donors had, laying them all before Mary, it's really powerful. It's really cool."
The pilgrims got to pray at the tombs of Sts. Jacinta and Francisco Marto and Venerable Sr. Lucia de Jesus Rosa dos Santos, OCD, bearing witness to the people and place where Mary appeared.

"A thing that is special about this particular World Youth Day is being able to visit Fatima; that was an incredibly moving experience," said Alissa Tuttle. "To be in a place in the universal Church we've heard about in our Catholic history and hearing about Mother Mary and her beautiful intercession. To be able to kneel and pray where Mother Mary appeared at the tombs of Lucia, Francisco and Jacinta, that's just an incredible and beautiful gift that I'm so grateful Portugal has to offer us."
Tuttle said this World Youth Day was a particular gift, as she was with her husband on the pilgrimage for the first time, bearing witness to their marriage in a large gathering where people from around the world were showing pride in their cultures and their countries while praising the name of the Lord.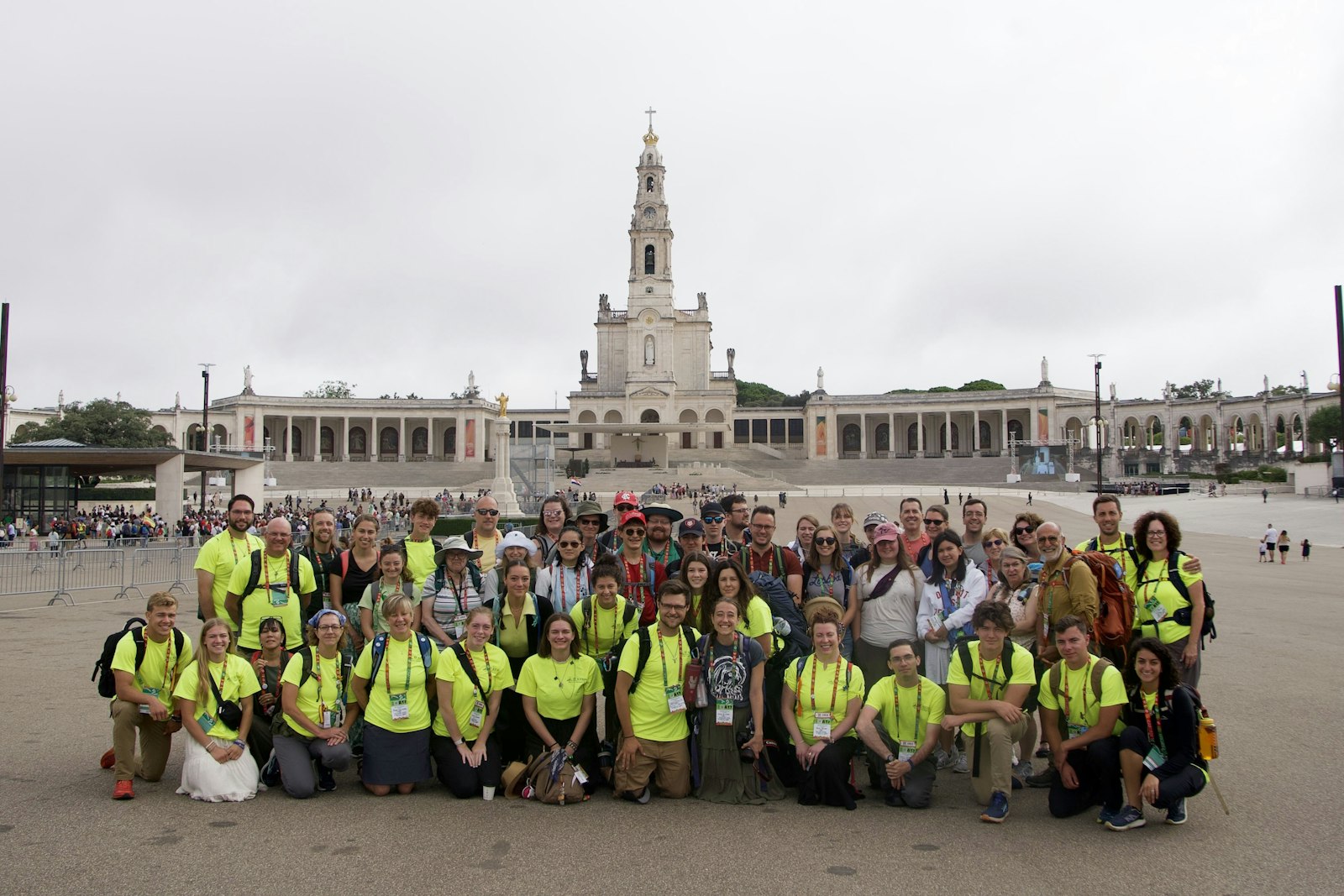 "You see the joy in so many people's lives, living for Jesus," Tuttle said. "Going to events and seeing people from Brazil, and they are chanting something in their own language — some people from Ireland are there, and they have their own unique chant. It's so beautiful seeing the universal Church coming together, but showing their own individuality and beauty."
Joy is an international symbol at World Youth Day, it seems, as many pilgrims highlighted how festive the atmosphere was in Portugal — all these people, from all over the world, united in the joy of kinship with Christ.
"To me, World Youth Day means young people can come all over the world and share the same faith and love for God," Tuttle said.
Katie Perotta, social media manager for the Archdiocese of Detroit's Communications Department, contributed to this report from Lisbon.
Copy Permalink
Youth ministry
Young adult
Pilgrimage