GROSSE POINTE WOODS — Dearborn Divine Child's girls lacrosse team did what it has been accustomed to doing when they play Ann Arbor Fr. Gabriel Richard.
They win.
For the second year in a row, the two teams met for the Catholic League Cardinal (AA Division) trophy. The Falcons followed up last year's 16-5 conquest with a more competitive 12-9 decision Saturday morning on the artificial turf at Liggett University High School.
For the last three seasons, Divine Child has won all nine of its matches with Fr. Gabriel Richard by a cumulative margin of 136-38.
Spurred by three goals by senior Bella Mitchell, the Falcons (15-2) surged to an early 5-1 lead. Mitchell's fourth goal at the start of the second half made it 7-3.
In a little more than four minutes, the Fighting Irish (13-4) tied the score at 7-7, fueled by four goals in succession by junior Emma Rushing.
The game was knotted again at 9-9. The Falcons claimed victory on a pair of goals by McKenna VanZant and the clincher by senior Cecilia Vitti.
Richard's rally "caught the girls a little back on their heels," Divine Child coach Grace Savage said, "but they picked it up. They decided this was a game they weren't going to lose."
Savage, in her fifth season at Divine Child, praised the leadership of Mitchell, who transferred from Wixom St. Catherine of Siena in her sophomore year (ineligible to play) but was voted captain for her junior and senior years.
"The players respect her attitude. She's a very positive player," Savage said. "She pushes her teammates to be the best they can be." Mitchell will be going to Michigan State "but not to play lacrosse."
The coach also pointed out Cecilia Vitti, who had four goals in the game to raise her career's output to 104. "She's one of our hardest workers," Savage said, adding that she also played varsity basketball and recently won the Van Patrick Memorial Award as the best female athlete in Dearborn. She intends to continue playing lacrosse at Howard University.
"The girls played hard all the way to the end," said Gabriel Richard coach Chris Merucci. "They didn't listen to people saying they didn't have a chance. This was a team of no travel club players versus a team of all travel club players."
Merucci is in his first year at Gabriel Richard. He coached Livonia Ladywood in 2015, was an assistant at Bloomfield Hills Cranbrook Kingswood in 2016, and is the founder and director of the Triumph Lacrosse Club in Livonia.
Whereas Divine Child's roster has 13 seniors, there are none on Gabriel Richard's. Just seven juniors, 10 sophomores and two freshmen.
"We are going to be a powerhouse for years to come," Merucci said.
Marian wins Eighth CHSL title
It took less than two-and-a-half minutes for Cranbrook Kingswood to fire a barrage of four goals in the battle for the CHSL Bishop (Central Division) trophy against Bloomfield Hills Marian.
When the horn signaled the end of the 25-minute first half, the Cranes still maintained a four-goal advantage, 11-7.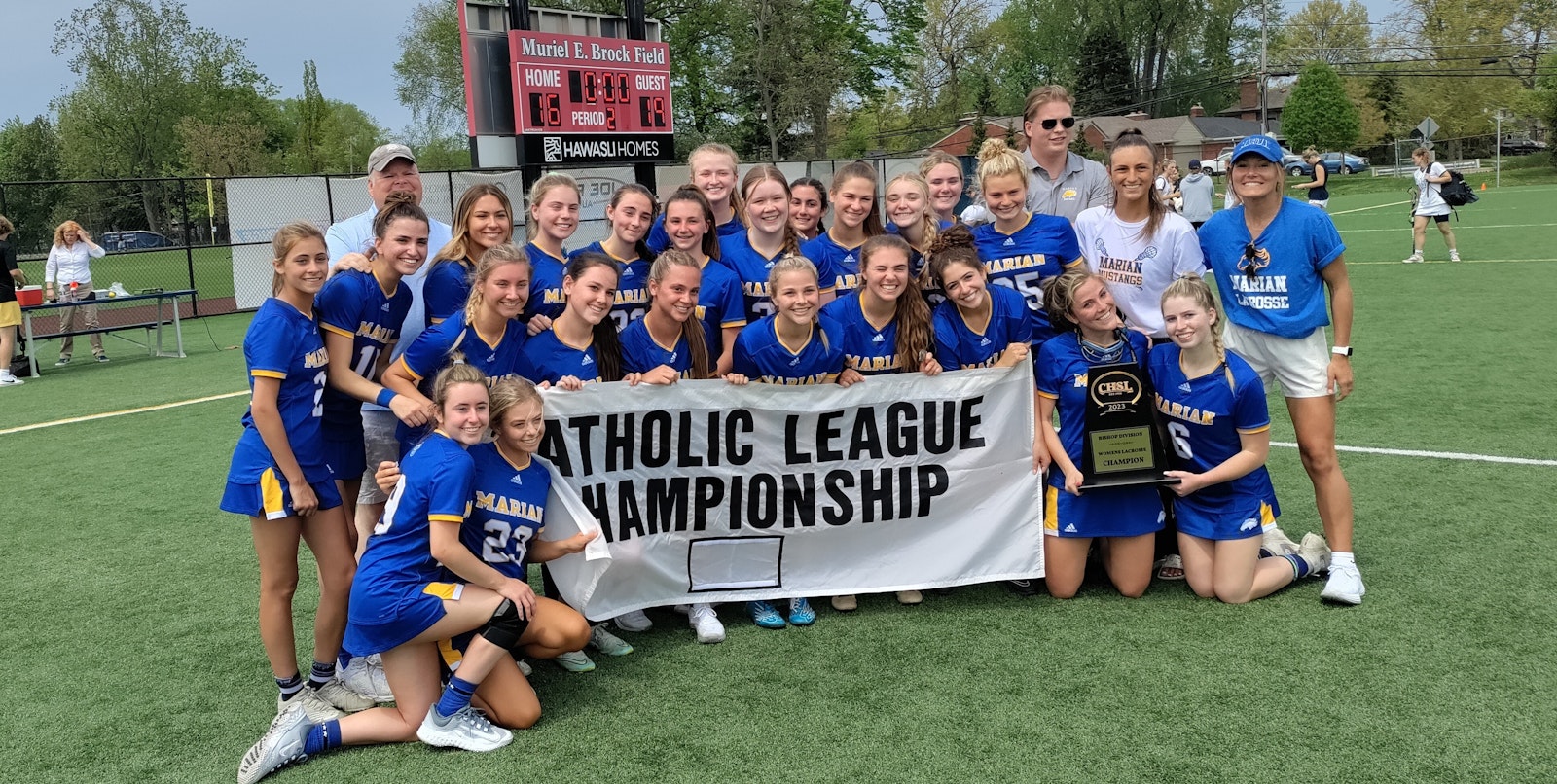 This is Lou Conroy's first year coaching at Marian after spending the last three seasons at Bloomfield Hills Academy of the Sacred Heart.
"I told the team at halftime that we were going to nip it away," he said. "We had lost twice to Cranbrook but they were close games (14-10, 13-11). It's hard to beat a team three times.
"Then I gave a talk about memories. I told them our first memory was Tuesday (four days earlier) when we beat Mercy (in the semi-final, 17-16 overtime). Today is our second memory. I could see the idea starting to click. This is it. The seniors sensed that."
Marian (8-6) came out of the intermission with its guns blazing. It took a little bit longer, some 12-and-a-half minutes, but the Mustangs tied the score at 12-12, again at 13-13, and then took charge with a 6-2 run for a 19-15 victory for their eighth CHSL championship, the first since 2014.
Senior Coco Conroy, the coach's niece, led the uprising with seven goals, five in the pivotal second half.
"It was a little bit of a mental game," she said. "We were shaken up by the rocky start. But we never gave up." She is going to Notre Dame in the fall "just for the academics."
Freshman Grace Dery and junior Ava Dietz reach had three goals, sophomore Jaclyn Waechler and senior Molly Banta two apiece, and one by senior CC Carter.
"We fought to the end, " said Cranes coach Hilary Petcoff, "but the ball was bouncing their way. They had more possessions."
Senior Ella Lantigua with four goals and her sister, sophomore Lela Lantigua, with three goals paced the Cranes' offense.
Contact Don Horkey at [email protected].
Copy Permalink