St. Paul on the Lake School in Grosse Pointe Farms ends monthlong food drive with cereal box domino chain throughout school
GROSSE POINTE FARMS — Students lined the hallways and waited in the gym at St. Paul on the Lake Catholic School on Tuesday, May 16, to cheer on a giant domino chain made up of cereal boxes that ran the length of the school and ended in the center of the school gym.
The cereal box domino chain started upstairs, went down steps, around corners and ended with a spiral formation in the gym, all centered around Fr. Jim Bilot, who waved a pom-pom and furiously shook a cowbell.
The domino chain was more than just a cerealsly cool engineering marvel designed by student members of the junior high leadership team. The boxes were collected as part of a drive for several local food pantries, and, after the 2,015 boxes fell, student leaders gathered them up to deliver to each location.
Students collected cereal boxes throughout the month of April, said Tricia Kesteloot, coordinator of evangelical charity at St. Paul on the Lake. The school made it a competition to see which classroom could collect the most boxes. At first, the school collected 1,685 boxes, an average of about four boxes per student.
But the drive exploded when Kesteloot was interviewed by the Grosse Pointe newspaper.
"We opened it up to the parish, and we heard from parishioners who had even moved to the other side of the country. We heard from alumni. We heard from children of former teachers. We heard from four to six different people who wanted to be cereal ambassadors, and they donated money for large purchases of cereal," Kesteloot told Detroit Catholic. "The collection lasted 30 days, and we added an extra weekend, and the cut-off was Monday, May 1. On that one day, we collected over 500 boxes."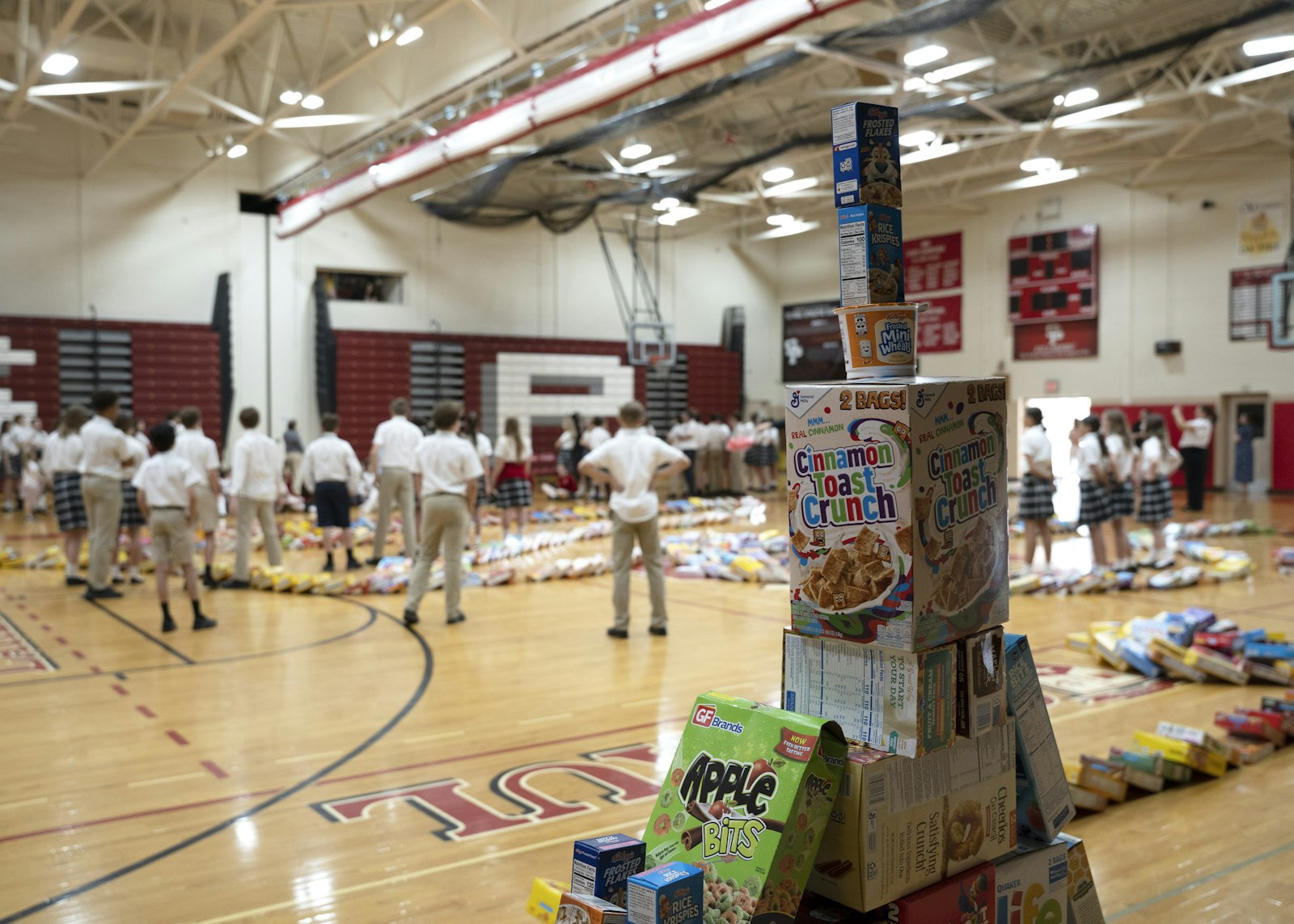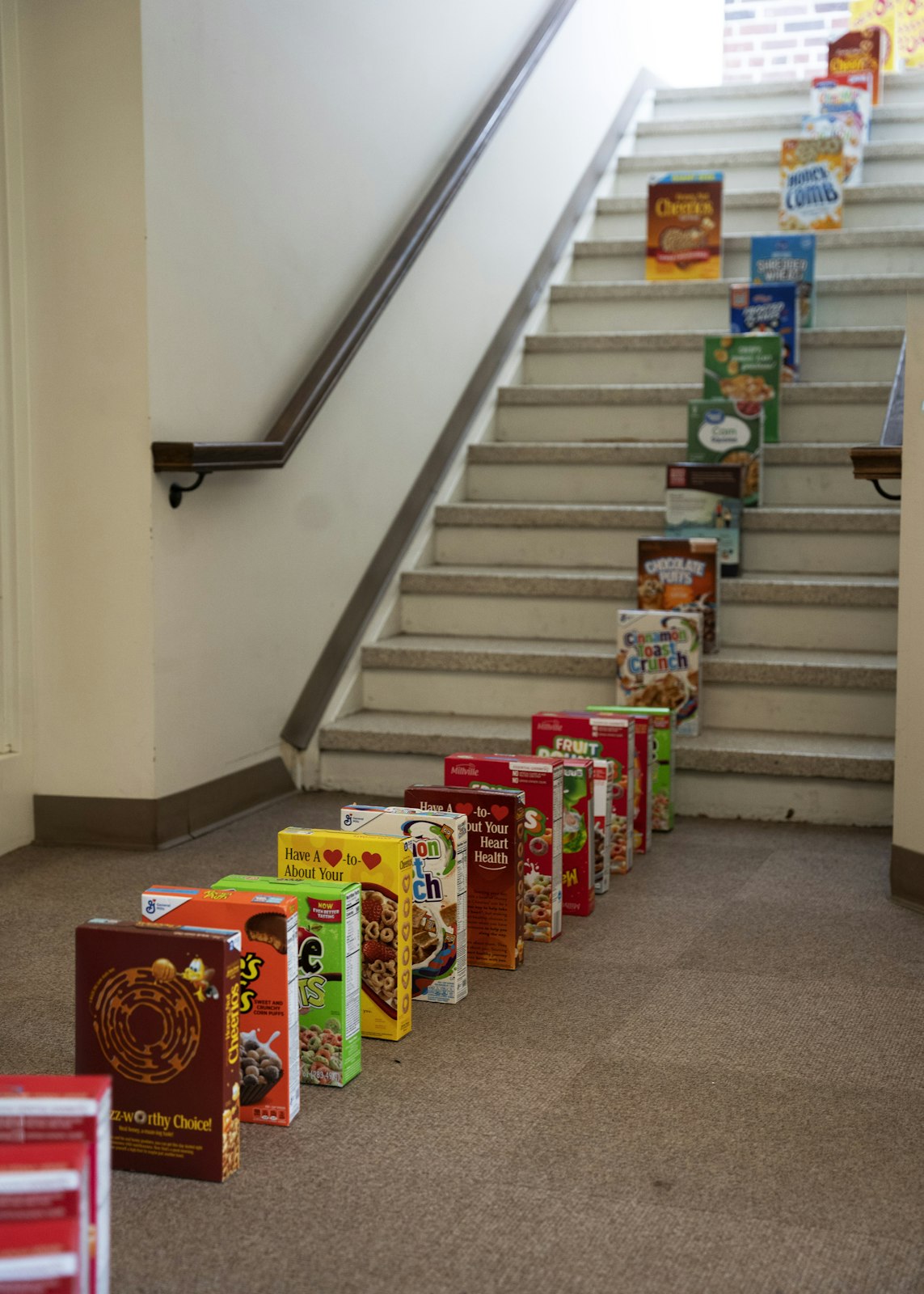 The students planned and executed the domino chain during their free periods, Kesteloot said. They engineered how to make it fall around corners and down stairways and counted how many were needed per hallway. The students collected the boxes from classrooms weekly, sorted them and created an inventory.
On the morning of the big reveal, student leadership arrived early to set up the chain, which took two hours. Although some parts of the chain needed a little help to fall down, overall, it was a big success.
"There were a few rough bits, but we got past those successfully. It went really well," St. Paul sixth grader Eoin Crotty told Detroit Catholic. "Teamwork can really make the dream work."
Not only was it a great teambuilding and leadership exercise, Eoin said, but he became more aware of how important cereal can be to food pantries.
"It is really important because there are a bunch of people out there who are much less fortunate than others, and cereal can be helpful because it can serve as all three meals," he said.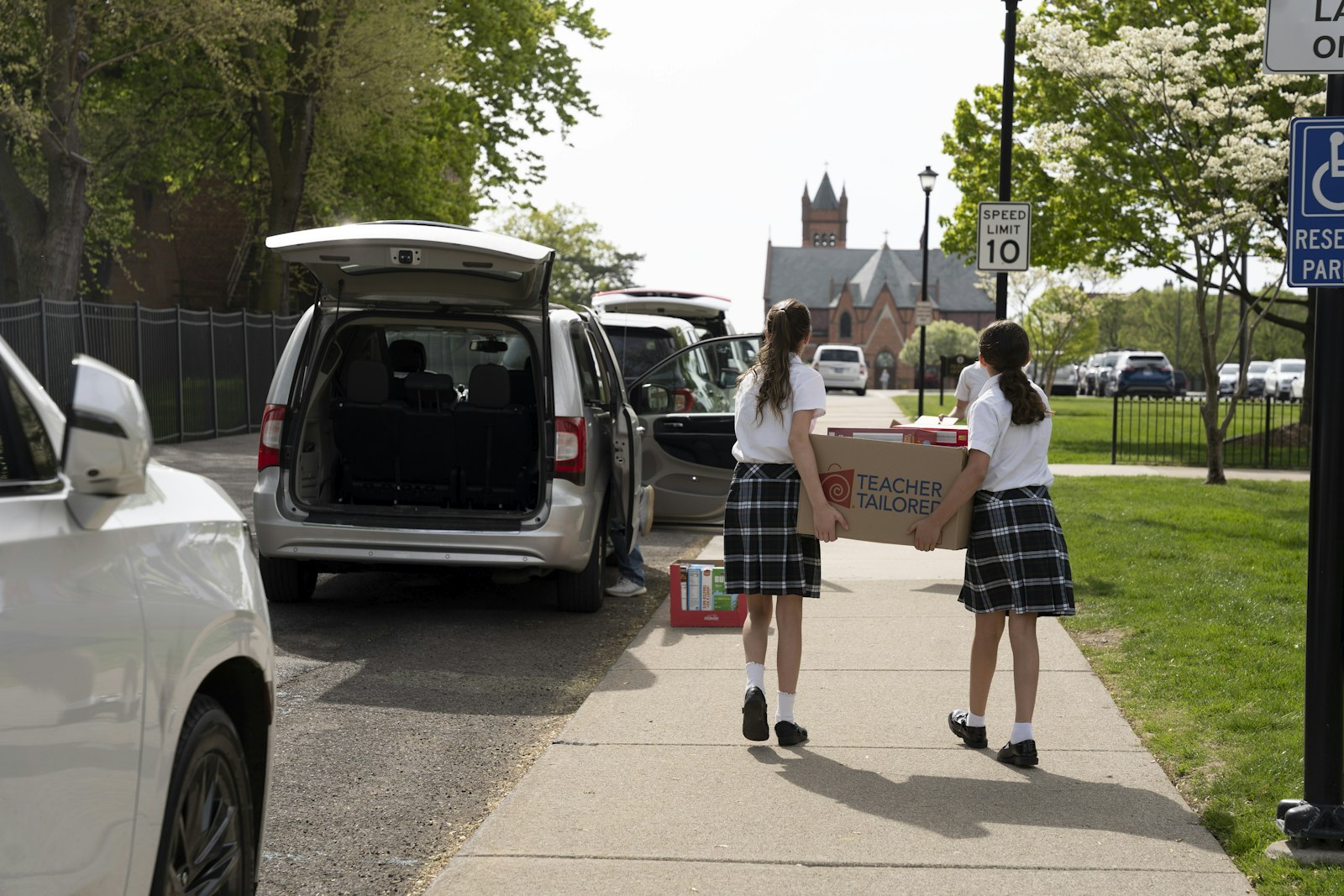 After the chain had fallen, students loaded boxes of cereal into cars to be delivered to Deo Gratias Ministries, Franciscan Ministries Food Pantry, and parish food pantries at Nativity of Our Lord, St. Aloysius and St. Raymond in Detroit.

Sr. Felicity Marie Madigan, CSSF, co-director of Deo Gratias Ministries, wasn't sure the ministry would have space for all the donations — but with a bit of engineering, she found a way to fit all 600 boxes into the facility. Anne Crowe, who organizes Nativity of Our Lord Parish's pantry, said the 800 cereal boxes the parish received were similarly unprecedented.

"We have never been a recipient of something like this before," Crowe told Detroit Catholic. "St. Paul Church and School are weekly donors to us — they have a bin in their lobby — (but) this is unbelievable. I am blown away."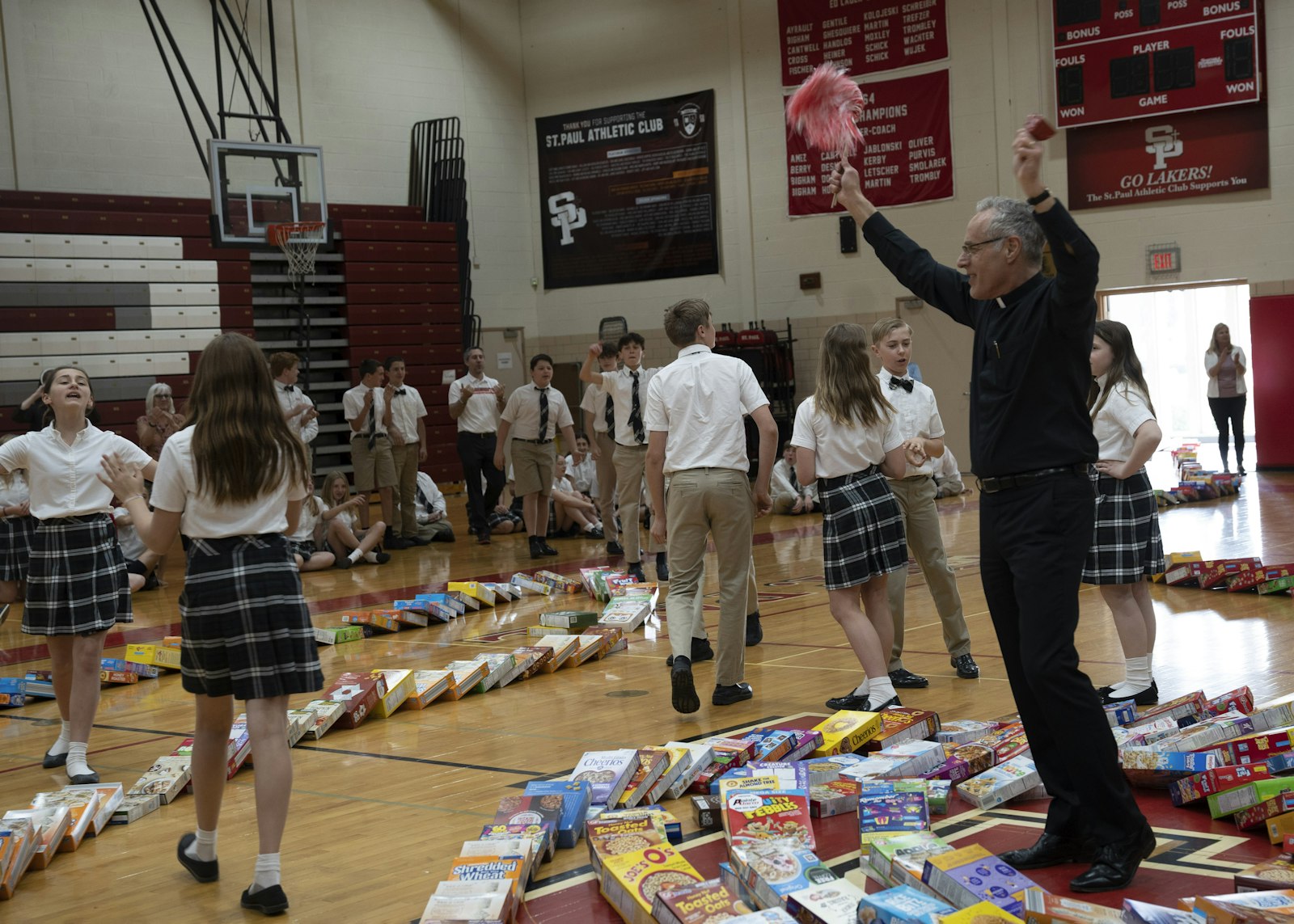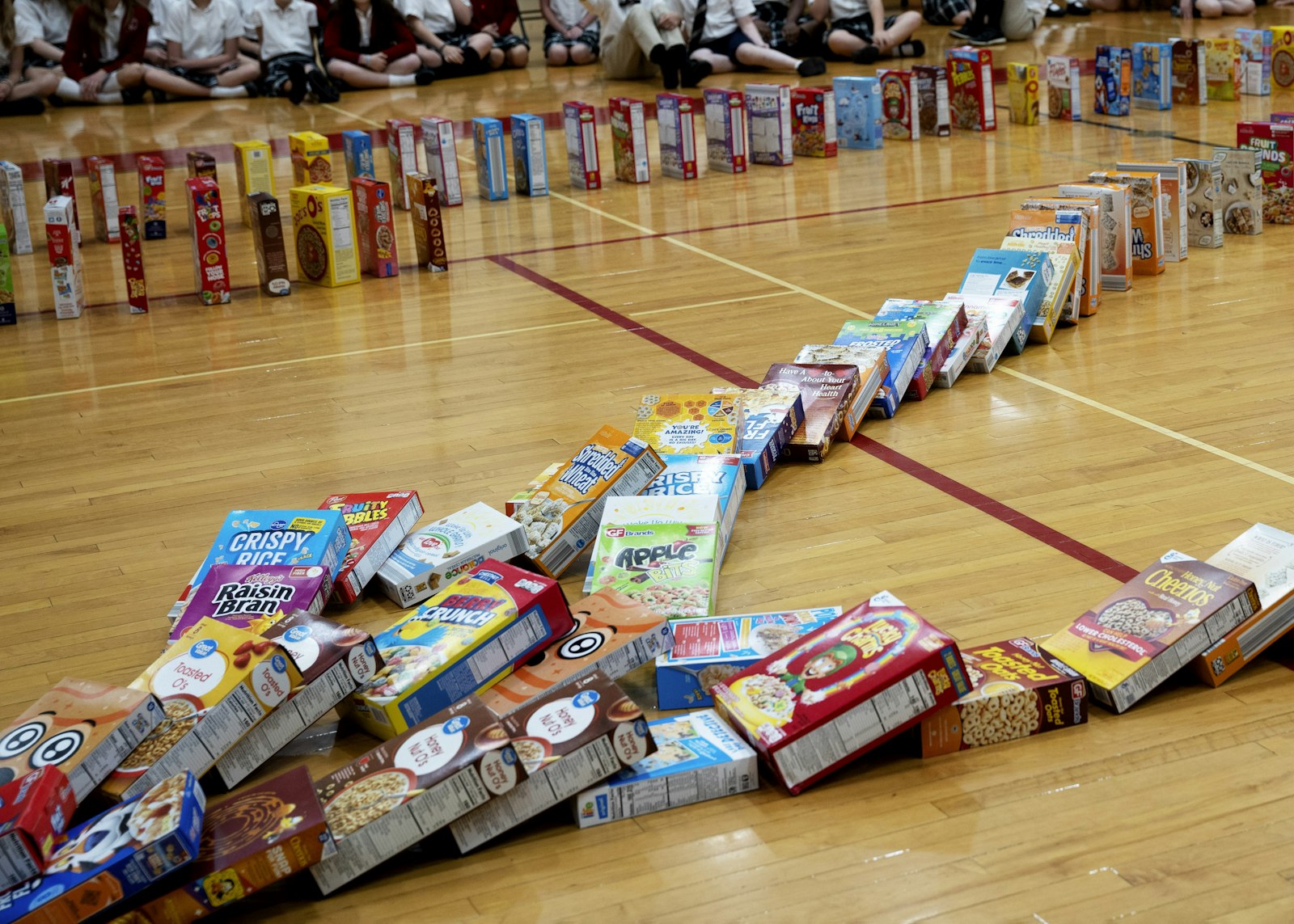 Crowe said the pantry feeds an average of 500 people a month in the 48213 ZIP code, the largest and one of the poorest in Detroit. Donations often decrease in the summer, Crowe added, but hunger has no season.

"Especially with summer coming and schools being closed, some of our families can't get to the feeding programs, and that means (kids) are not getting their two meals a day they generally would get at school. Summertime is especially worrisome for our families," Crowe said.
Students saw the project through from start to finish, St. Paul sixth-grade teacher Carla Schultz said.
Schultz, who originally proposed the domino idea to Kesteloot, said the students agreed that delivering the boxes was their favorite part of the process.

"I needed all of my engineer-minded students to help me figure out how we were going to make this work and actually get it to go from the second floor down to the first floor and into the gym," Schultz said. "I thought that would be the highlight, but after talking to students, almost every kid agreed that the best part was being able to go and make sure it got into the hands of the right people and finish that connection."
Evangelical charity is more than community service, Kesteloot added.
"It is really about intentionally loving people in God's name," Kesteloot said. "One of the things we have talked about this year is the dignity of every human person and what it means to truly love your neighbor. We have talked with all of the students about the importance of being able to feed those in need."

Copy Permalink
Christian service
Catholic schools