WARREN — Emily Frikken played for Diane Laffey, coached with her and now succeeds her as the athletic director at Regina High School.
"I've worked toward this opportunity my entire professional life," Frikken said. "When I graduated from Regina in 2009, I told everyone that I'm going to work here one day."
That day came four years ago when she hired on as alumnae relations director and joined Laffey on the sidelines as an assistant in softball and basketball.
On April 27, Regina announced that Frikken, 31, would take over the athletic director duties on July 1 from Laffey, 83, who had informed Regina officials earlier in the year of her decision to retire.
Laffey is the prototypical coaching legend in Michigan high school athletics, serving 60 years, the last 52 at Regina, building the Saddlelites into one of the state's most formidable programs, particularly in softball, where she was the winningest coach including seven state championships and 33 Catholic League championships in eight sports.
"I knew about her reputation before I attended Regina," Frikken said. "I attended summer camps there with my older sister when I was in middle school."
About her time as a student-athlete, Frikken says, "Diane was the coach you wanted to play for, the coach you wanted to win for. When your coach has the love and passion for the sport and the team, you want to give that passion back to her."
About her new responsibilities ahead, "I've learned quite a bit that I can apply from her," Frikken said. "I want to make the position my own and continue making Regina the competitive program that it is. I have goals but want to build on everything that she's built for the school."
Frikken plans on continuing her role as an assistant softball and basketball coach but will not assume head coaching positions that Laffey carried for decades. She says she will also "step away from the classroom" where she taught freshman and junior English.
"In my first year I want to give my attention to all the sports and athletes. I have such big shoes to fill, and I want to make sure I'm doing everything right," she said.
The athletic director job won't be completely foreign territory for Frikken. She was athletic director at Livonia Ladywood for four years before it closed its doors in 2018.
Frikken graduated from Albion College in 2013 with a major in English. In 2020, she graduated with her master's degree in educational leadership-administration from Wayne State University. Currently, she is completing the process to receive her certification for athletic administration through the National Interscholastic Association for Athletic Administrators.
As a student, Frikken was probably headed for Center Line St. Clement High School, from which her sister Connie graduated. When she was in the eighth grade, the high school closed.
"My parents told me to choose," she said. She picked Regina, influenced in no small part by her summer camp experiences at Regina and that her oldest sister, Kristina, graduated from Regina in 2003 and her aunt, Mary Hensler Keyte, in 1985.
Connie coaches basketball at Roseville High School. "We literally go all over to watch games together whenever we can. It's great to have my sister as my best friend and my cheerleader."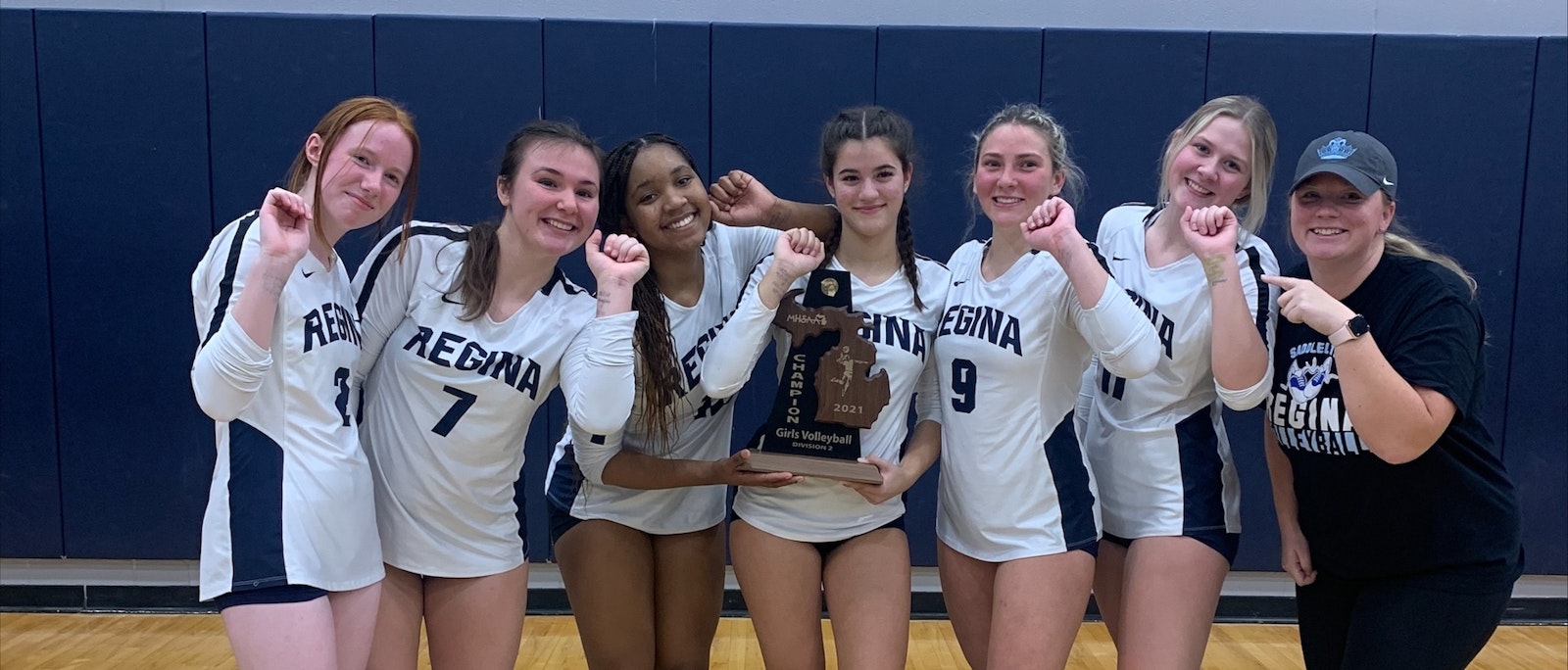 Sports is "the center of everything" in the Frikken family. "We have had Lions season tickets since 1973," she says, "and I remember growing up the five of us on a Sunday going to a Lions game. I was born on a weekend and my dad left the hospital to go to a Lions game."
Her dad, Ted Frikken, passed in 2002. "He was the biggest Lions fan I have ever known," she said. "If we ever get to the Super Bowl, I'll be there front and center for him.
"My mom, Ann, sacrificed so much for my sisters and me to be able to attend Catholic schools. She never missed a game and kept score at all my Regina basketball and softball games."
Frikken shares her mantra, "Positive thoughts equal positive results," with her student-athletes. "I live by that. I preach it to the girls. My motivation is that every single day the girls see the positive in every single situation. They find the good in themselves. Even in games we lose, I ask them to find and recognize three good things you did well."
Frikken said she was surprised to learn "girls on the volleyball team had caught on to that positive thing so much." In an MHSAA Division 2 district final last year, in the fourth set, "One of the girls pointed to her wrist, and all the girls wrote 'Positive thoughts equal positive results' on their wrists."
The Saddlelites went on to defeat Macomb Lutheran North for the district title.
"That really meant a lot to me," Frikken said, "that they recognized that I try to be a positive force in their lives and help them recognize the positive in everything."
With just weeks before she takes on her new challenge, Frikken says: "This position is something I've always been working towards, but it's very bittersweet. It means I won't be with Diane every single day. That's one of the emotional parts of it."
Contact Don Horkey at [email protected]
Copy Permalink