Utica Catholic school went from 760 to 927 students this year, so extra space was needed — space it found in the building next door
UTICA — A building busting at the seams was a problem for students and staff at St. Lawrence Elementary School until the principal realized the solution was in plain sight the entire time — literally.
The new middle school building officially opened Feb. 28 in what was formerly the St. Lawrence Knights of Columbus Hall next door to the school. The move was necessary to accommodate an enrollment boom at the school, having gone from 760 students in the 2020-21 school year to 927 for 2021-22.
Lisa DiMercurio, St. Lawrence's principal, attributed the increased enrollment to the school's reputation: "We have an excellent staff, and we are firm on traditions. Our faith is strong; everything we do is centered on Jesus Christ.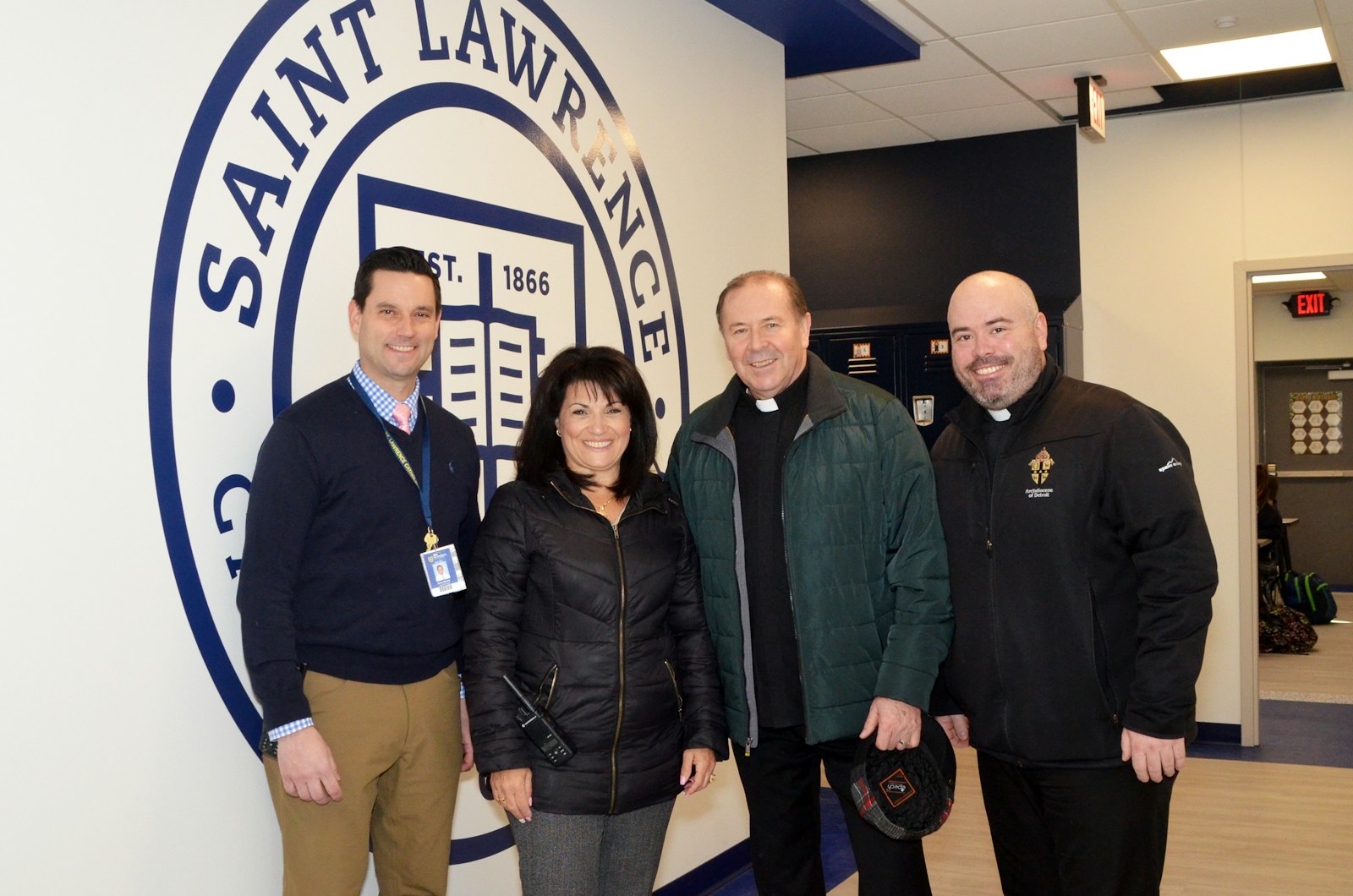 "Also, our approach during COVID and offering a choice of virtual and face-to-face instruction are huge factors," DiMercurio added. Many families wanted a more stable and faith-centered curriculum. "Families didn't want to expose their children to curriculum changes in other schools. Coming to a Catholic school provides that close family feeling that a district can't provide."
Not wanting to turn families away meant having to come up with a solution on gaining more space, which was already maxed out in the current school building.
DiMercurio said the solution was divine intervention. About a year ago, after praying the Chaplet of Divine Mercy in her car on her way to school, "the idea to ask the Knights just came to me," she recalled. "I had been praying about how we could address the increase of applications. I shared this with Fr. Roman (Pasieczny, St. Lawrence pastor) and he gave me his blessing to set up a meeting to ask the Knights if they wanted to sell the building."
"It just made sense to stay on campus … and here we are opening our new beautiful building," she said. "I could have never done it without Fr. Roman giving me the reins and supporting me."
Fr. Pasieczny said everything happened at the right time. "This is a new day," he said. "The children are happy, the staff is happy and there are so many smiles. So many prayers have gone into this, and especially so has the patience of the children and teachers."
Since the idea's conception just a year ago, along with months of paperwork and renovations, the new middle school opened to 243 middle school students (grades six through eight).
The new building has seven classrooms, two science classrooms, a multipurpose cafeteria, and an office for its assistant principal, Brian Barker.
Both students and staff were anticipating its opening, including eighth-grader Erin Haugh, who admitted getting around the new building "took some getting used to, but in a good way because the middle-schoolers needed our own space."
Erin said the new setting and the state-of-the-art technology are some of the best parts of the new school, which includes clever touch boards, security cameras, public address system, fire panel, and LED lighting. In addition, renovation of the commercial kitchen is under way.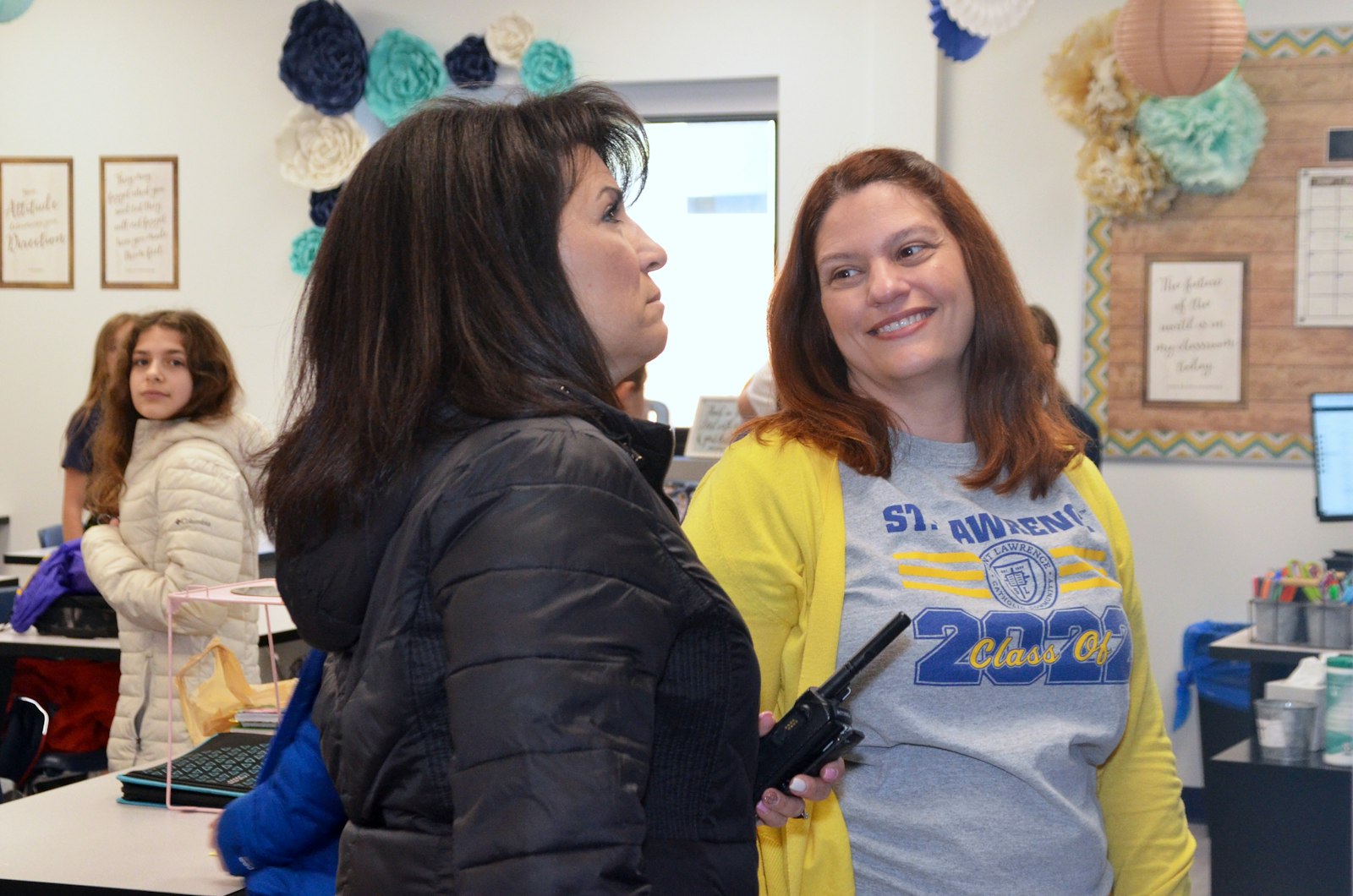 As a St. Lawrence parent, Erin's mother, Jennifer, is pleased with the school addition. "I am really excited for Erin and her classmates to have their own space," she said. "I think it will let them feel a little more like middle-schoolers and a little less like elementary students. This is a big plus for the St. Lawrence community." 
Amy Camilleri, a St. Lawrence Elementary school alumna, has also been a middle school teacher at the school for the past 23 years. She said after 17 years in the same classroom, "it's exciting to be moving into a new room and new building. Everything is new and clean," including the mission statement on the wall outside her classroom.
An open house will be held this spring for those who want a tour and for prospective students, DiMercurio said. Plans are also under way for the new building to be blessed by a bishop.
"It's all about evangelization and raising Catholics," DiMercurio added. "That's why we are here. We teach and practice our faith, just as it says in our mission: We are nurturing and celebrating our love for Jesus Christ."
Copy Permalink
Catholic schools