St. Patrick's Day Mass at Most Holy Trinity in Corktown urges faithful to maintain the living tradition of the apostle to the Irish
DETROIT — Most Holy Trinity Church in Detroit was a sea of green Friday, March 17, as the faithful gathered to celebrate the 188th St. Patrick's Day Mass with Archbishop Allen H. Vigneron and then afterward, enjoy an afternoon of celebration, the Irish way.
The yearly St. Patrick's Day tradition, which takes place at the historic church in Detroit's Corktown neighborhood, where Irish immigrants once congregated, is followed by the "Taste of Corktown" reception featuring live music, local food vendors as well as craft beers and Irish whiskeys.
Archbishop Vigneron, although of French descent, presided over the Mass.
"He's French, but with a shot of Irish whiskey, he will be Irish for the day," Msgr. Charles Clancy Kosanke, of Most Holy Trinity, quipped about the archbishop.
Fr. James Livingston delivered the homily, but Archbishop Vigneron made a few remarks about the traditions surrounding the day.
"By God's grace, we have been blessed not to observe St. Patrick's Day as a matter of folklore, but as a living tradition, a tradition that began when he evangelized the Irish peoples, and that continues to endure even today," Archbishop Vigneron said.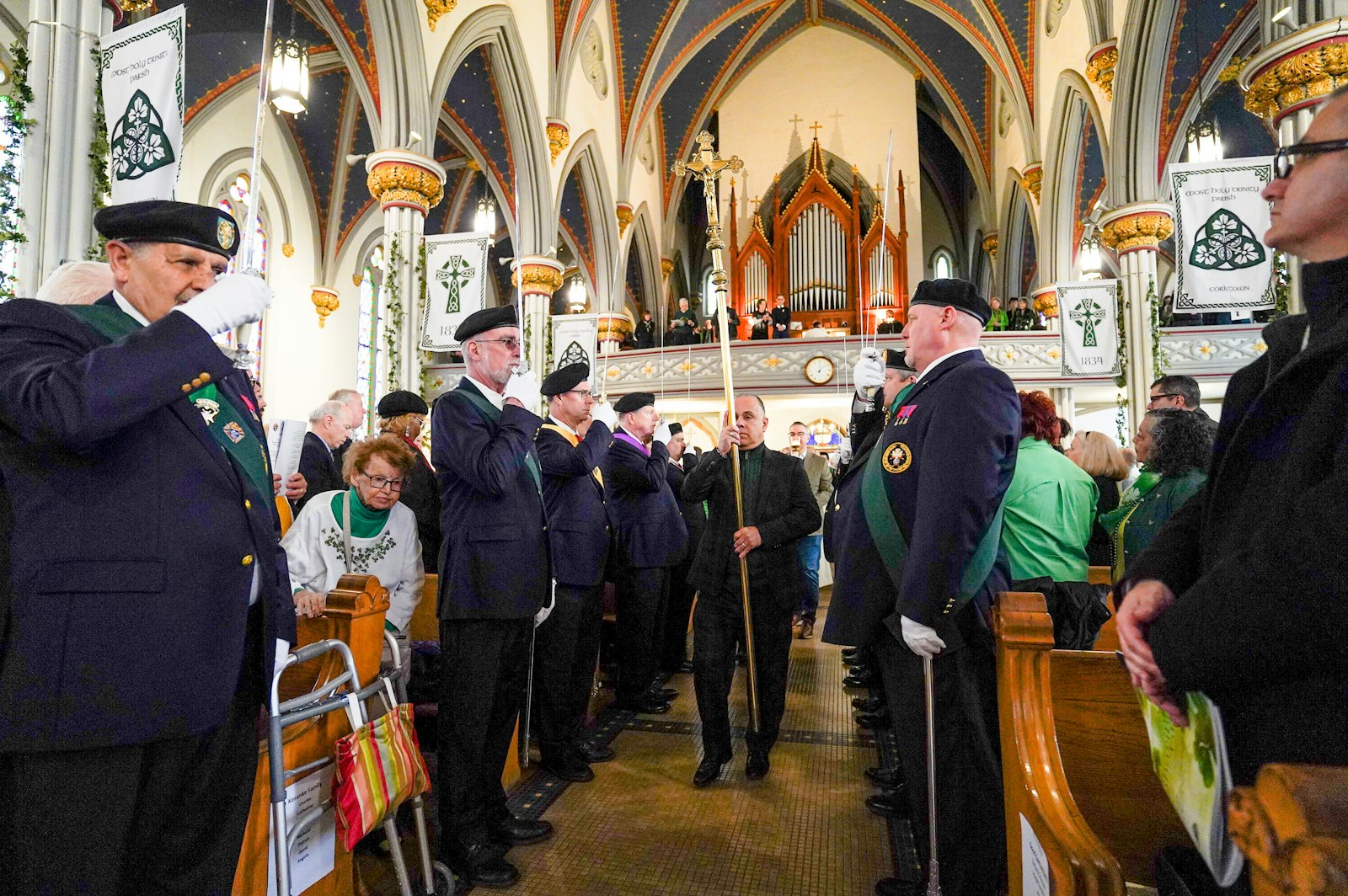 It falls on today's faithful to maintain the tradition as a living reality, he added.
"I invite you to join me in the resolution I make today to keep the traditions of our faith alive as something that guides our lives and all of our judgments and actions, and that will lead us on to our home in heaven. St. Patrick, pray for us," Archbishop Vigneron said.
In his homily, Fr. James Livingston, who is of Irish descent and serves as a chaplain at Ascension hospitals in Novi and Southfield, recounted the story of St. Patrick in conjunction with the day's Gospel message.

"The Gospel story today is about the love of God and love of neighbor, and I don't know about you, but at first when you hear that story, you think, 'Oh that's easy.' But the reality is, it becomes the most difficult one for all of us," Fr. Livingston said.

St. Patrick, who was captured from his home in Roman Britain by pirates at the age of 17 and placed in captivity, can serve as a role model for loving others, Fr. Livingston said.
"They bring him over to Ireland, and he is working for an Irish king, and there he is, just sitting there — he was a shepherd, so he had a lot of time to pray and think, but then he escaped and went back to Britain," Fr. Livingston said. "But rather than just sitting there, he moves ahead, and he has this burning to be a priest in the Church. So he becomes a priest, and then he begs his bishop to go back to Ireland."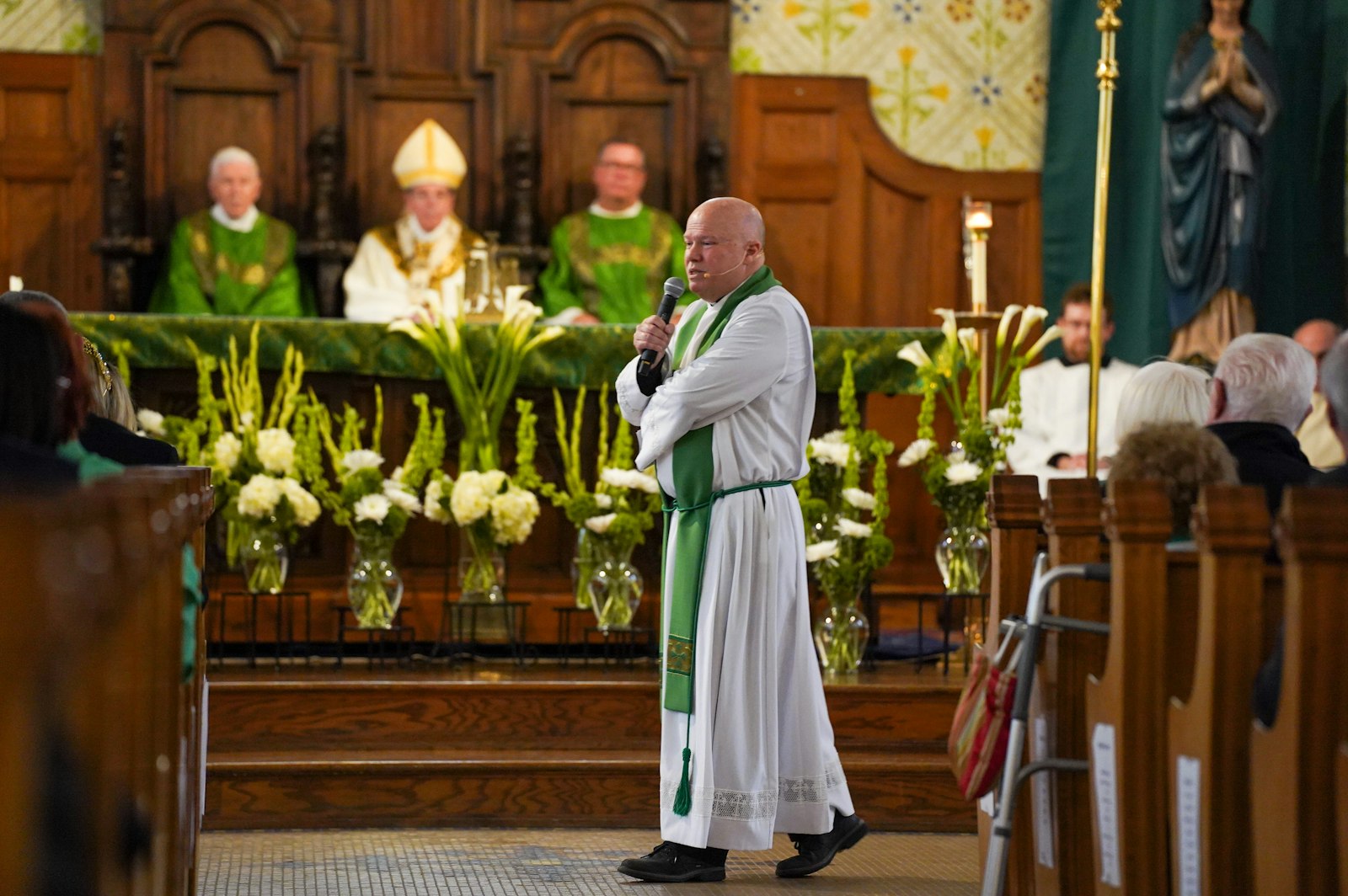 St. Patrick journeyed back to Ireland and began his mission to evangelize and spread Christianity in 432. Patrick had been a captive himself, and now was setting captives free, Fr. Livingston said.
In today's world, there are a growing number of "nones" — people without any faith or belief in God, Fr. Livingston said. Like St. Patrick, it now falls on today's Christians to evangelize so people can know who Jesus is, he said.
Fr. Livingston shared an example of the love of God being unleashed in the archdiocese by telling the story of a different Patrick, Fr. Patrick Gonyeau, who serves at Corpus Christi Catholic Church in Detroit.
"I came out of Comerica Park a few years ago, and there was this young priest kneeling down, and he is washing the face of this dirty, smelly young man, and he is lovingly washing his face, and he's feeding him, and he's praying with him," Fr. Livingston said. "I said nothing, and I went to my car, and my friends said, 'What do you think of that?' and I said, 'I think I saw a saint.'
"Patrick, in my mind, was unleashing the Gospel right there at Comerica Park as he was kneeling there with this man who was bleeding and didn't have a place to stay," Fr. Livingston added.

Fr. Livingston said his own family set an example by regularly praying the rosary, adding his mother makes time for Eucharistic adoration even in times of trouble.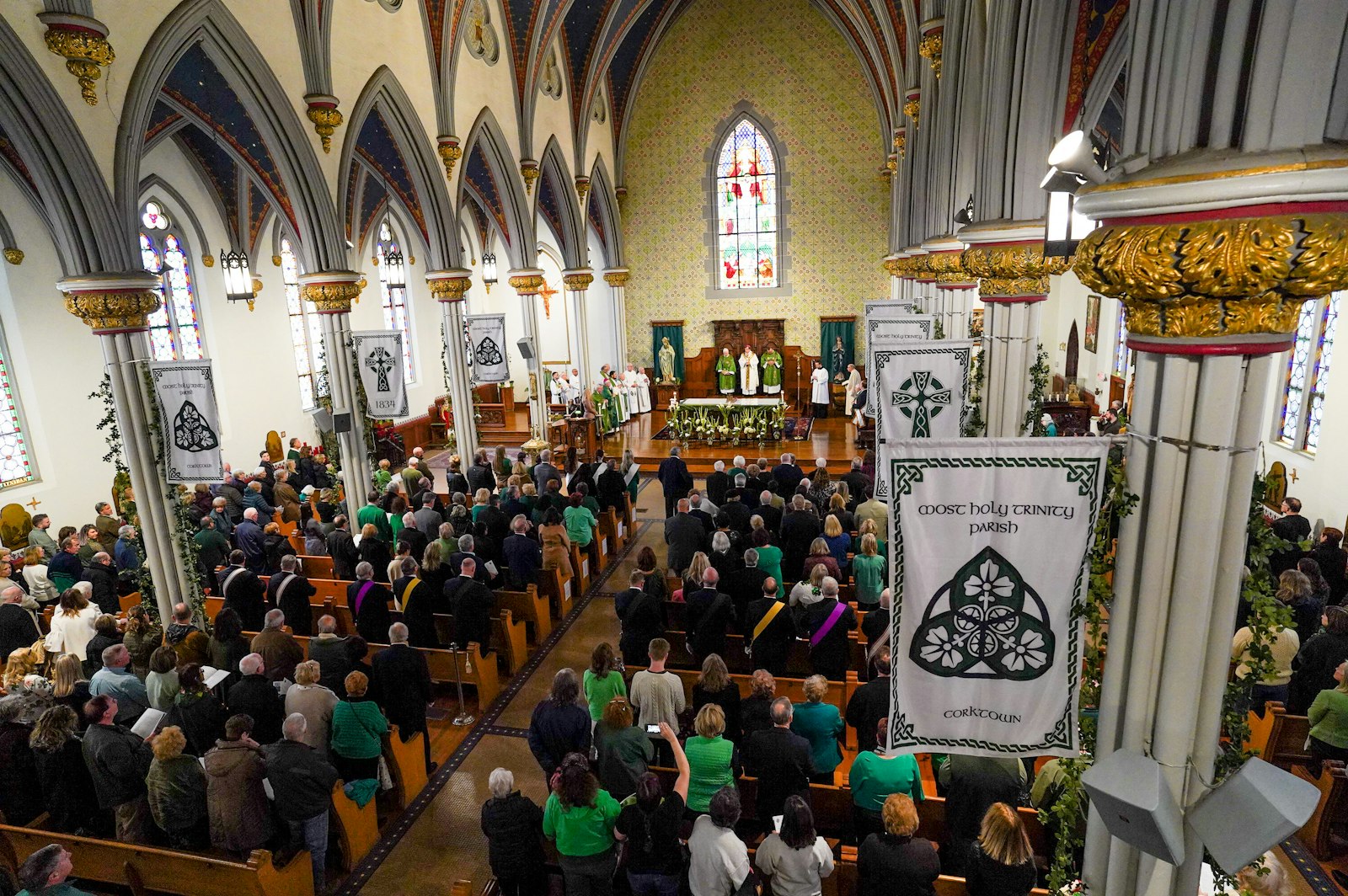 "Eucharistic adoration can change our hearts and can change our souls so that we can do the work of Christ and proclaim Jesus Christ as Lord of our life," Fr. Livingston said.

For years, Ireland faced great turmoil and suffering as the division between the north and south led to countless deaths, hatred and pain, he added.
"A lot of times when I would go to Ireland, I would see things bombed out, and we would pray for a united Ireland again," Fr. Livingston said. "But we have more than just Ireland to think about now. We have the rest of the world, and we have to get the souls back to the Lord."

To facilitate that change, Fr. Livingston encouraged everyone to perform acts of kindness.
"An act of kindness could be you inviting (someone) to the table for food and drink. It might mean to say a kind word. It might mean that you invite them to church," Fr. Livingston said. "Let us pray for each other that we will continue to do the healing work of Jesus in the Church."

Copy Permalink
Feast days