Clarkston Catholic school introduces new cutting-edge classroom technology in partnership with robotics company FANUC
CLARKSTON — The students at Everest Collegiate High School and Academy in Clarkston now have a unique advantage available to only a "handful of schools" in Michigan: an Innovations Lab with industry-standard robots.
During the school's Founders Day ceremony on Sept. 15, Everest announced the opening of its new high school Innovations Lab. Created in partnership with the robotics company FANUC, the lab contains state-of-the-art robots like those used in aerospace, automotive and other manufacturing industries.
Students enrolled in the Robotics III class at Everest will learn to program the robots to perform specific tasks.
Fr. Jeremy Schupbach, a 2014 Everest graduate and a priest of the Archdiocese of Detroit serving at Divine Child Parish in Dearborn, joined Fr. Thomas Salazar, LC, Everest's chaplain, for a special blessing of the new lab during the Founder's Day event.
Fr. Schupbach said he is proud of the technological advantage at his alma mater, and not just because of the new equipment.
"To me, the exciting thing about the robotics lab is that it aligns itself with the gifts of some of (Everest's) best teachers," Fr. Schupbach said. "I think the greatest gift Everest has to offer will always be its teachers, and the math teachers (Jeff Stencel and Nghiem Nguyen) are especially outstanding, both in their academic rigor but also their example as Catholic men. I think any investment that allows students to spend more time doing creative work with those guys is a huge win for Everest."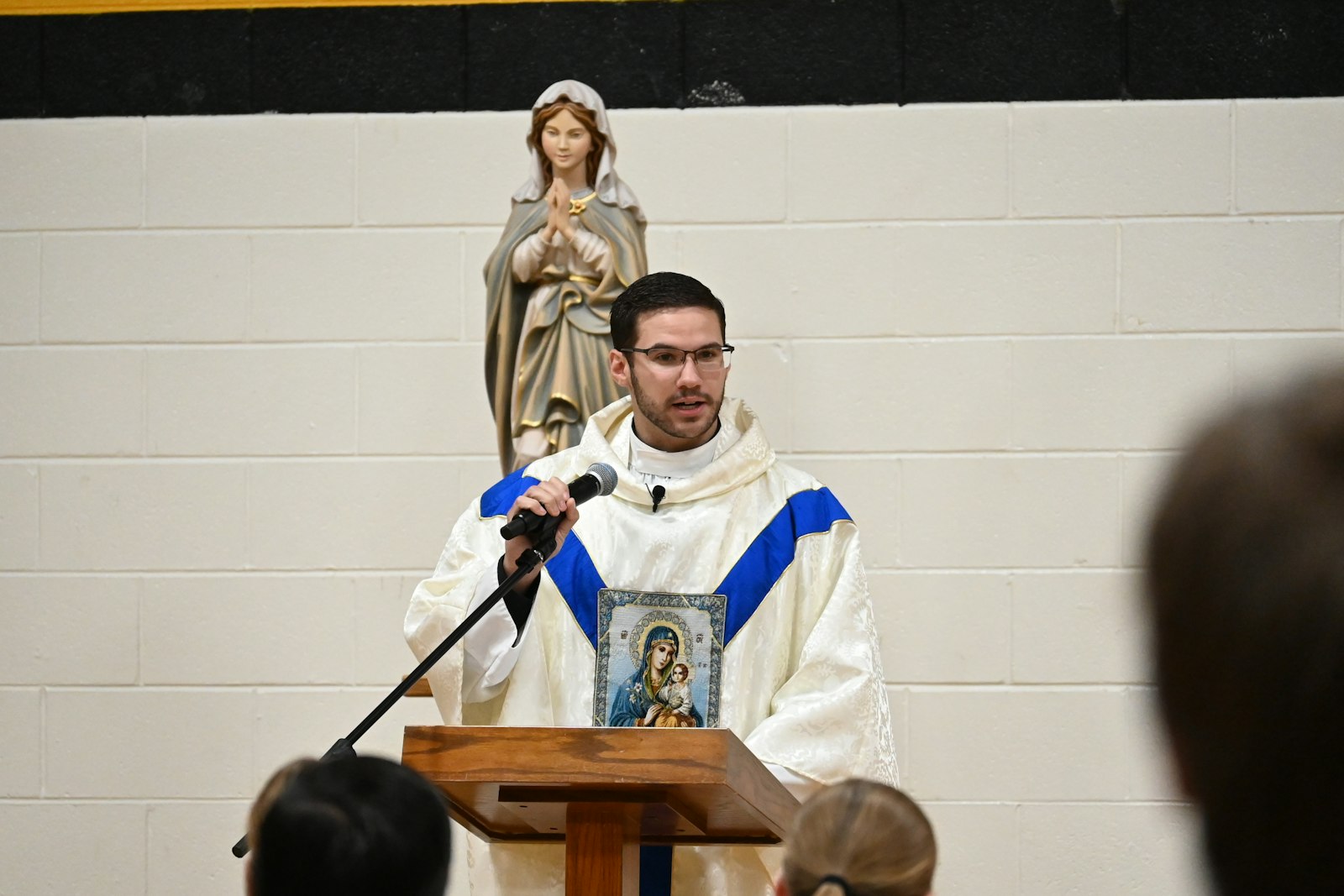 Nguyen, who teaches math and robotics at Everest, said he is excited to work with the students in the new lab.
"Our robotics classes will not only challenge and stimulate our students' minds, but also teach skills immediately applicable in engineering and manufacturing," he said.
One of Nguyen's students, senior Justin Brzezinski, hopes to attend Lawrence Technological University next fall to study robotics.
"The FANUC robots (at Everest) will allow more opportunities for students like me," Brzezinski said. "The greater precision and accuracy (of these robots) helps us write better programs that will complete more complex tasks."
Everest principal and headmaster Greg Reichert said the school is preparing its elementary students to take advantage of the technology in the high school.
"Everest elementary students have the opportunity to learn coding skills through co-curricular STREAM (Science, Technology, Research, Engineering, Art and Mathematics) programming," Reichert said. "For the past several summers, STREAM camps have given upper elementary and middle school students the opportunity to work with autonomous vehicles/robots in cooperation with Square One Network. Our robotics elective offerings will introduce students to VEX robots, and then later on to the FANUC robots with Robotics III."
Reichert said Everest emphasizes the correct place of technology within its learning environment.
"Our goal is to prepare our students to be leaders in today's society. Everest students are taught skills like cursive handwriting and learning with physical books, as well as other skills often swept aside in favor of technology," he said. "But at the same time, it is important to prepare them to use technology in college and beyond."
Copy Permalink
Catholic schools