EAST CHINA TOWNSHIP — Going into last Friday's MHSAA Division 8 district title game, Marine City Cardinal Mooney was enjoying one of its best football seasons in a while.
In fact, not since the turn of the century, 1998-2001.
The Cardinals were 32-10 overall but a sensational 24-1 in the Catholic League C-D Division, earning them a spot four years in a row in the Prep Bowl (won one, lost three) and four years qualifying in the state playoffs.
Joe Quesnelle has coached 43 years in the Catholic League. When he arrived at Cardinal Mooney five years ago, the program was in dire straits. He implemented a mandatory weight-training regimen and held the first week of two-a-day practices at an offsite location to encourage team bonding.
The team's 7-3 record a year ago was the first winning record in 13 years.
This fall, the Cardinals won the Intersectional II division with a 5-0 mark remarkable for two reasons: a 15-8 victory over Clarkston Everest Collegiate, a first time in eight meetings between the two, and a Prep Bowl appearance for the first time since 2001. They lost 27-13 to Madison Heights Bishop Foley.
The Cardinals pounded Marlette, 48-24, in the pre-district contest for a rematch with Everest for the district honors.
Everest might be described as the new kid on the block. Under coach Mike Pruchnicki, it fielded a football team for the first time 10 years ago and established an incomparable record in the MHSAA of qualifying for the playoffs every year.
The Mountaineers have a couple of "firsts" this autumn they aren't particularly pleased about: losing to Mooney, breaking their string of five consecutive league titles and five Prep Bowl appearances (won three, lost two).
In 2020, the year of the pandemic, Everest reached the doorstep to the Division 8 state finals, only to have a COVID-19 outbreak on its roster shatter that dream.
Everest, too, had an easy pre-district win, 71-34 over Flint Beecher, to set the backdrop for the encounter with Cardinal Mooney.
Both squads, then, had a lot to play for.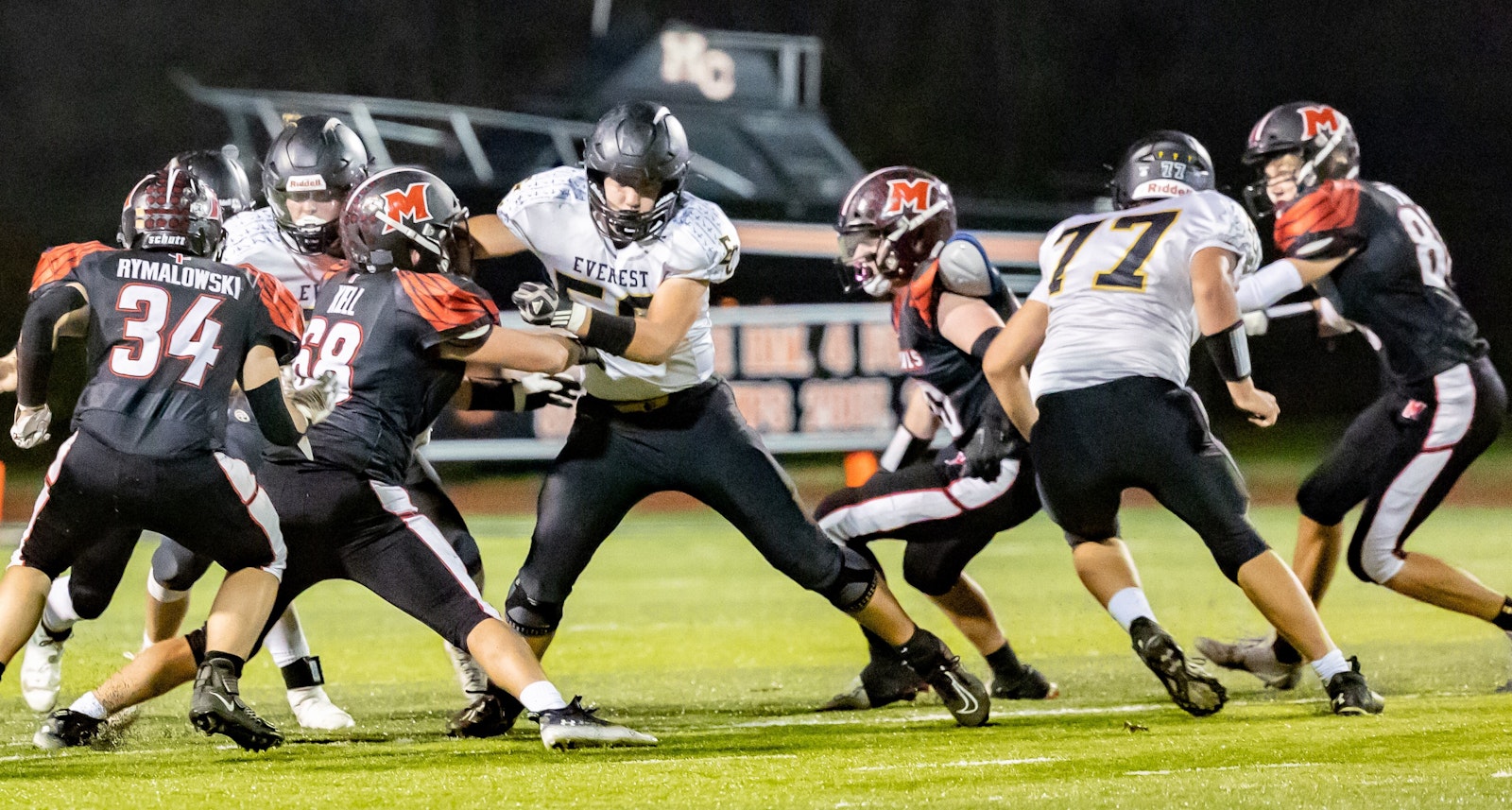 The Cardinals (8-3) drew first blood, and quickly. Safety Brendan Haisenleder pounced on a fumbled snap from center to give Mooney possession on Everest's 37-yard line. On the next play, Haisenleder raced to the end zone, and in a little more than two minutes, the Cardinals led 7-0.
It took just three minutes for the Mountaineers to recover. They put together a 75-yard drive in eight plays, 42 yards coming on three scrambles by sophomore quarterback Patrick Cooper. Luke Walker accounted for the final two yards for a touchdown. Sophomore Isaac Cross kicked the extra point to even the score.
Everest took control of its destiny, especially on defense, methodically wearing down the Cardinals' resistance and producing a 42-21 victory.
Taking advantage of a poor Cardinals punt midway through the second quarter, Cooper connected with junior halfback Thomas Powrie for a 26-yard pass to Mooney's 20. From there, Cooper ran untouched up the middle for a 14-7 lead.
The Mountaineers' goal-line stand to close out the first half turned the tide of the game. Mooney lineman Drew Dawidowicz returned an intercepted pass 35 yards to Everest's 15. Four running plays moved the line of scrimmage to the 5 with 17 seconds on the clock.
Haisenleder was stopped on the 1-yard line in a plunge through the left side. On second down, he tried again over center and was mobbed at the goal line. Officials ruled he was a half-yard short.
Under heavy pressure, quarterback Brian Everhart missed two pass attempts.

All season long, Haisenleder represented the heart and soul of the Cardinals' offense. A slender 5-foot-9 and 190 pounds, he was a force of much larger proportions whom opponents found difficult, nay, near impossible to stop, let alone contain.
In this game, he carried the ball 31 times for 204 yards and three touchdowns. For the season, he's in the top tier of high school runners in the state with 2,302 yards on 253 carries. He scored 30 touchdowns (28 rushing, two passes). On defense from his safety and linebacker duties, he had 172 tackles (16 in this game) and five interceptions.
"He's the best player I've ever coached," Quesnelle said. "He's the ultimate team player. I couldn't ask for any more from him."
The Cardinals didn't have much more to give, either. They received the second-half kickoff and punted the ball away after three fruitless downs.
Sophomore running back Jimmy Nedwick scored the first of his three touchdowns on a 2-yard run in the third quarter and on 49- and 5-yard passes in the fourth quarter. He totaled 153 yards on 17 carries.
Freshman halfback Andrew Gaglio scored on a 24-yard run in the fourth quarter.
Haisenleder scored twice in the fourth quarter on a 15-yard pass and a 5-yard run.
Six of 10 CHSL teams still in the playoffs
Six of the CHSL teams who qualified three weeks ago for the MHSAA playoffs are still in the hunt for a state championship.
Division 1: Novi Detroit Catholic Central (8-2) at Belleville (11-0) at Belleville Stadium, Saturday, Nov. 12, 1 p.m.
Division 2: Harrison Township L'Anse Creuse (7-4) at Warren De La Salle Collegiate (10-1) @ Wayne State University, Friday, Nov. 11, 7 p.m.
Division 3: Bloomfield Hills Brother Rice (5-5) at Detroit Martin Luther King (7-3) @ Martin Luther King, Jr. Senior (Lorenzo Wright ), Friday, Nov. 11, 6:30 p.m.
Division 4: Orchard Lake St Mary's (5-5) at Goodrich (10-1) @ Roy U. Stacy Complex, Goodrich, Friday, Nov. 11, 7 p.m.
Division 4: Dearborn Divine Child (9-2) at Riverview (11-0), Friday, Nov. 11, 7 p.m.
Division 8: Sterling Heights Parkway Christian (6-5) at Clarkston Everest Collegiate (8-3), Friday, Nov. 11, 6 p.m.
Contact Don Horkey at [email protected]
Copy Permalink