Magazine turns to Marguerite Schropp Lucarelli ('89) to design cover of iconic 50th anniversary issue on women's sports
RIVERVIEW — Fifty years ago, women and girls who today are noted as trailblazers in their respective sports couldn't have imagined the impact of a little-recognized clause tucked into the 1972 Education Amendments Act.
But Title IX, as it came to be known, changed the face of women's athletics forever, recognizing a right for women and girls to compete in sports at all levels.
When one of the nation's pre-eminent sports periodicals decided to honor the law's 50th anniversary with its June 2022 edition, it turned to a local Catholic school alumna to put a face to what the law has meant to women and girls over half a century.
Well, several faces, in fact.
Gabriel Richard High School alumna Marguerite Schropp Lucarelli designed the stunning June 2022 Sports Illustrated cover celebrating the 50th anniversary of Title IX. Lucarelli is the current picture editor for Sports Illustrated and a 1989 graduate of Gabriel Richard.

To celebrate the momentous anniversary, Lucarelli and her fellow editors wanted SI's June cover to showcase the impact of Title IX across the women's sports spectrum, Lucarelli told Detroit Catholic via email.
"I suggested the idea of crowd sourcing pictures from our audience to create a cover that represents a sample [of] all female athletes," Lucarelli said.
With this goal in mind, Lucarelli helped design her first crowd sourcing SI cover in her 29 years of working at the magazine.
Lucarelli attributes her success at Sports Illustrated to her Catholic education.
"My success at Sports Illustrated," Lucarelli said, "has much to do with the sacrifice my parents made by giving me a Catholic school education; Saint Joseph Elementary School, Trenton, Michigan, Gabriel Richard High School, Riverview, Michigan, and Saint Mary's College, Notre Dame, Indiana."
It was at Notre Dame that Lucarelli began harnessing her photography talent and first encountered Sports Illustrated photographers.
Lucarelli told Detroit Catholic that were it not for Gabriel Richard's "incredible college preparatory education" she would never have been able to study at Notre Dame and receive various experiences in practicing sports photography.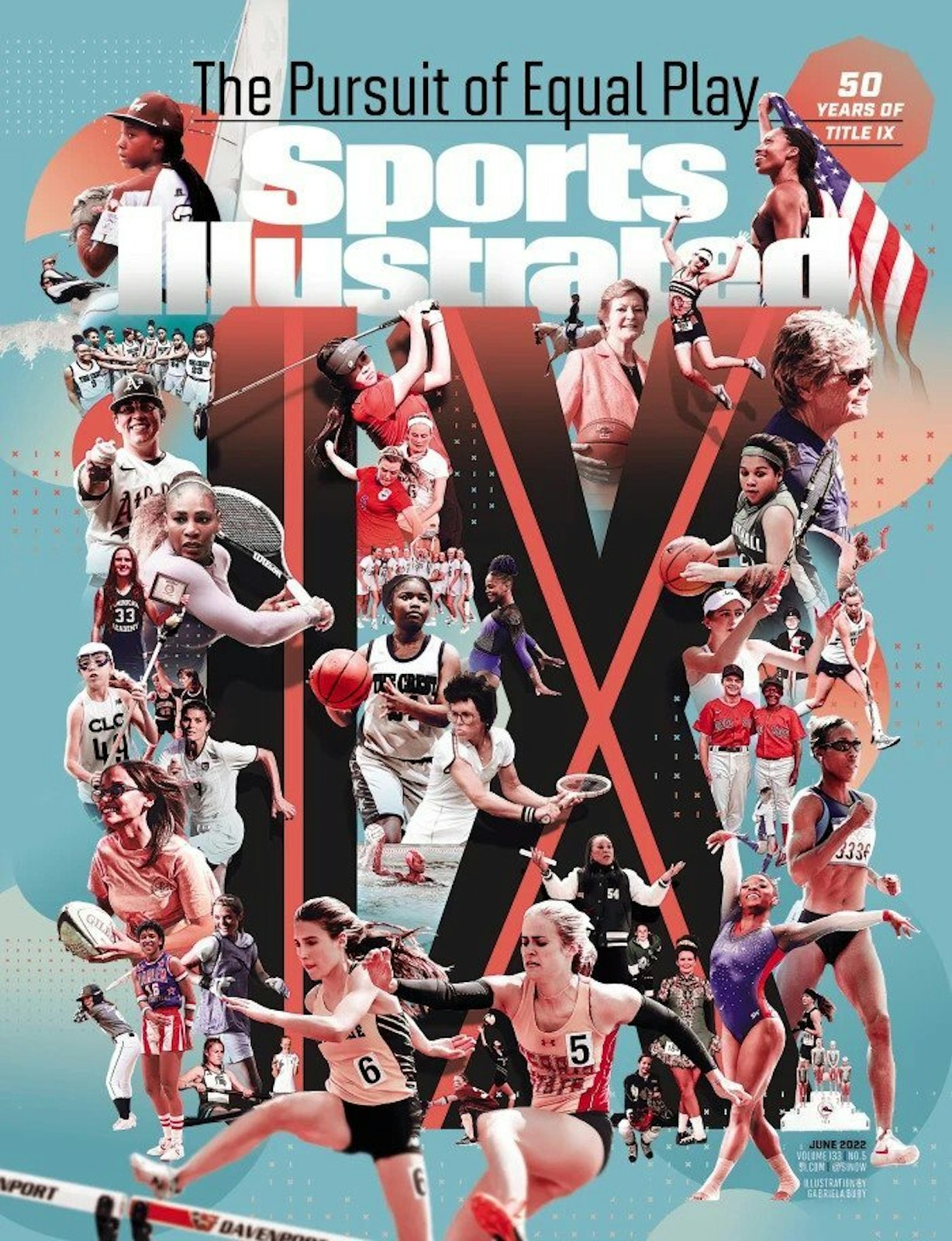 While in college, Lucarelli became the picture editor for Notre Dame's student newspaper, The Observer. In 1990, she was assigned to cover three of the university's football games.
Not knowing how to photograph football games, Lucarelli said, "I noticed Sports Illustrated on the credential of a photographer on the field with me. I thought I would follow him and learn from the best."
The SI photographer noticed, and after discovering Lucarelli's passion for the subject, encouraged her to apply for an internship.
In the summer of 1992, she worked as an SI photo intern, and by May of 1993, Sports Illustrated offered her a job.
For 25 years, Lucarelli worked as SI's NBA picture editor, for 15 years as the Sports Illustrated Kids director of photography, and for the past six years as SI's director of photography. During this time she has "edited Olympics, Super Bowls, NBA Finals, Stanley Cups, College Football Championships, Final Fours and World Cups," she said.
"As a Sports Illustrated picture editor, my role is to conceive cover ideas that work well with the story. I assign photographers from around the world who I think will best photograph the idea we want to create, whether that is an action cover or portrait, for our cover," Lucarelli said.
Working alongside the beat editor and creative editor, Lucarelli explained that, "Every detail, of every picture, is well thought. We only get one chance to get the right picture. Our audience expects perfection!"
SI's June magazine cover accomplished this goal, she said, featuring many females athletes from across the sports spectrum to showcase Title IX's impact on women's sports.
Among the female athletes featured in the June cover and issue were the daughters of several Gabriel Richard graduates.
Feature in the magazine cover are Abigail Dunn, a hurler for Wayne State University, and her sister Allison Dunn, who rows for Michigan State University, the daughters of Gabriel Richard graduates Mark and Kim Dunn ('87).
Lili Franzese, shown holding a ribbon she won for horseback riding, is also featured in the cover and is the daughter of graduate Rob Franzese ('87).
Lexie Streicher, the daughter of graduate Michelle Richards ('87), appears in SI's June issue for her successful career playing field hockey at Haverford College.
Lexie Streicher and her mother, Michelle Richards, told the Detroit Catholic that without Title IX, girls would not have the opportunities in sports they do now.
Without Title IX, Kim Dunn said does not know if her daughter Allison would have ever rowed for Michigan State.
"Rowing was always a gentleman's sports. I don't even remember a time growing up when there was women's rowing, so to even have that and be able to do that is really amazing," Dunn said.
Richards and Streicher agreed, adding that Title IX not only enabled women to participate in sports not commonly associated with female competition, but also provided them with opportunities to build character. This can inspire other girls to do the same, they said.
"Every time someone chooses to join a sports team, that has an impact not only on themselves but also [on] continuing to foster the importance of women sports," Lexie Streicher said.
Lucarelli agreed.
"Title IX has given so many female athletes … the opportunity to be leaders, work as a team, accomplish a common goal, build confidence, and develop their bodies physically, emotionally and mentally," she said.
Copy Permalink
Personal witness
Catholic schools