During 'Live at the Basilica' speaker event, Fr. John Riccardo asks two local sports legends about life lessons, God moments
ROYAL OAK — The pews at the National Shrine of the Little Flower Basilica were packed March 15 as people gathered to hear three well-known figures talk about faith, family and sports.
Part of Shrine's "Live at the Basilica" monthly speaker series, which brings in prominent Catholics to give talks on different aspects of faith, University of Michigan football coach Jim Harbaugh, former NBA player Tim McCormick and Fr. John Riccardo, a priest of the Archdiocese of Detroit and founder of ACTS XXIX, spoke at length about how God has worked in their lives.

Fr. Riccardo emceed the event, asking both sports titans questions regarding their careers and relationships with God. Harbaugh, the son of a former football player and coach and a former quarterback himself — first in college with the Michigan Wolverines and then for 15 years in the NFL — has become known for his outspoken pro-life Catholic views.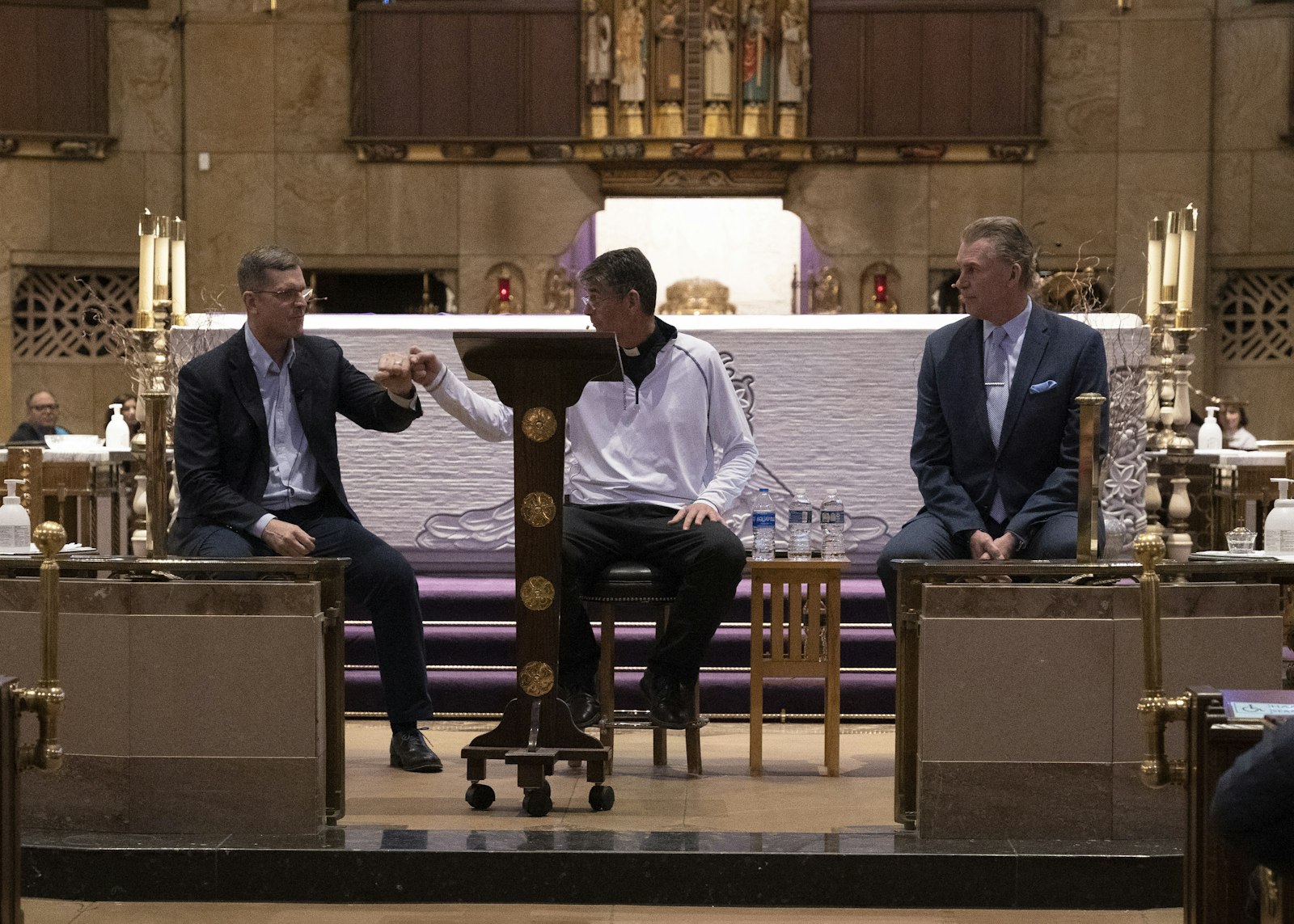 Last year, Harbaugh's speech a Plymouth Right to Life event went viral after a Detroit Catholic article covered the event, during which the coach called for "courage" in defending unborn life. Fr. Riccardo noted Harbaugh and his wife's bold stance on life to a standing round of applause from attendees.
McCormick, likewise, played basketball for Michigan before becoming the 12th pick during the 1984 NBA draft, alongside basketball legends such as Charles Barkley and Michael Jordan. He spent 10 years in the NBA and now does sports analysis for college and NBA games. Additionally, McCormick, a Catholic, runs the Michigan Elite 25 basketball program.
The two men answered Fr. Riccardo's questions about life, faith and advice by standing up and pacing around the altar, relaying stories of adversity that made them the athletes and men they are today.
"You are both in a well-placed position by God — (He) has given you a platform," Fr. Riccardo said. "I want to honor you both for the way you use the platform you have. You are men of great integrity, character, love, and a stance of life. You don't hide your faith — you are just really good men."
McCormick recalled his struggles with ego, going from a high school basketball championship to playing at the University of Michigan.

"I remember walking onto campus thinking, 'The messiah has arrived; we are going to win big. You are going to love my game,'" McCormick said. "The problem with all of that was there were these big storm clouds that were starting to build up, challenges and adversity, and I was so ill-equipped to deal with it."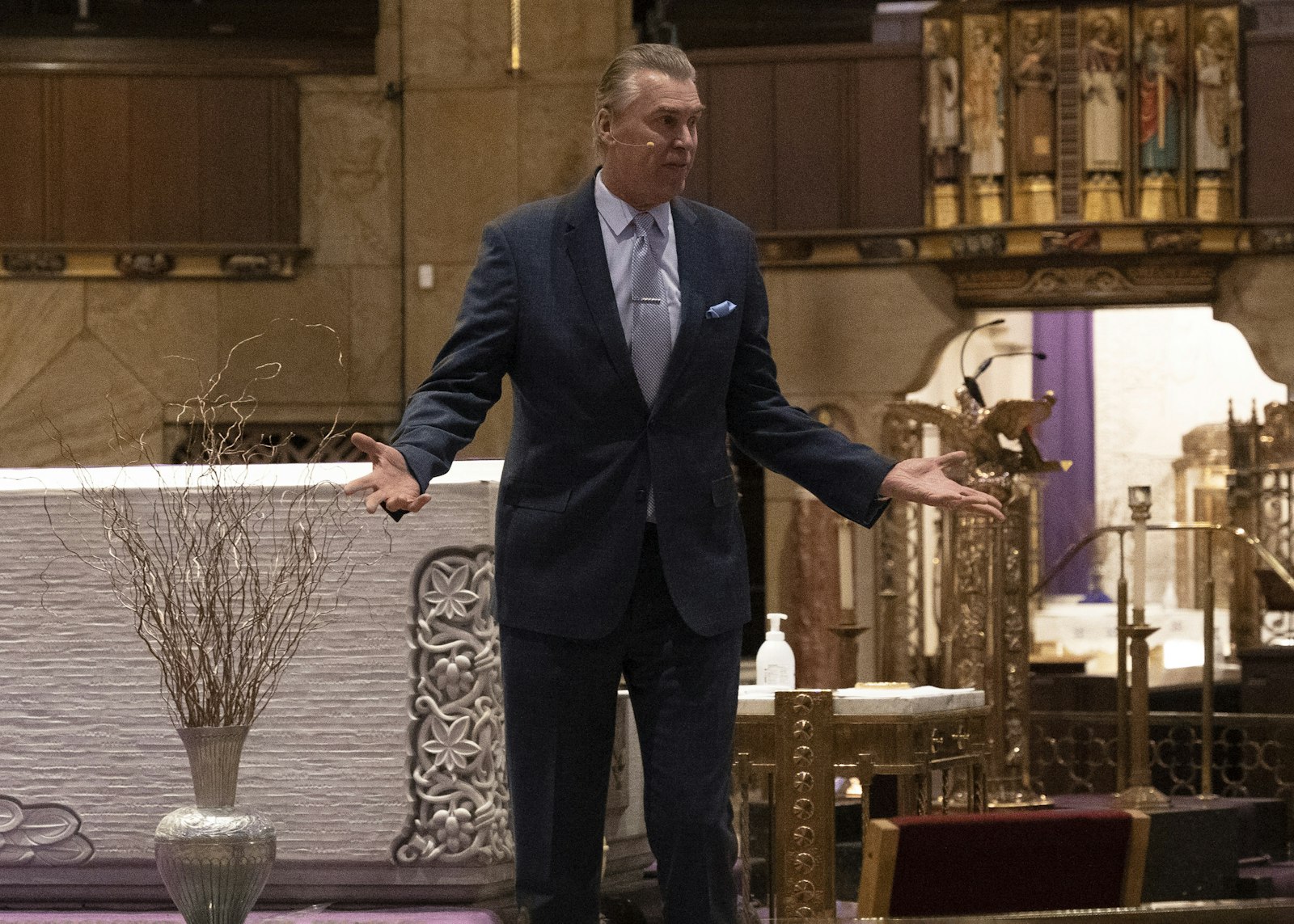 McCormick played very little as a freshman and then sat out during his sophomore year following two knee surgeries. His NBA dreams were shot, McCormick thought. He gained 50 pounds, lost friends and became "lonely, embarrassed and depressed."
Around that time, a friend invited him to a meeting of the Fellowship of Christian Athletes. McCormick attended and realized that although he was a cradle Catholic, he had never read the Bible before.
"I (had) never talked to other guys about faith and spirituality and religion," McCormick explained. "I remember I read Romans 8:28: 'In all things, God works for the good of those who love him, who[a] have been called according to his purpose.' It was like I was hit with a lightning bolt. What is my purpose now?"
Playing basketball and making it to the NBA seemed unlikely, so he took it to God in prayer.
"I prayed nonstop: 'God, send my purpose. Let me know what my purpose is,'" McCormick said. "I had no idea. And I waited and waited, and I wasn't getting anything; there was no response. I said, 'God, are you listening to me? Where is my purpose?'"
One day, McCormick received a phone call out of the blue from legendary Michigan football coach Bo Schembechler. McCormick needed to report to his office, Schembechler said before hanging up.
"I walked into his office, and he got right in my face, put his finger on my chest and said, 'McCormick, you are soft, both mentally and physically, and you have no clue what hard work is all about and that changes right now. You are going to report to the football building. And the men on my team are going to show you what hard work is and dedication and toughness.'"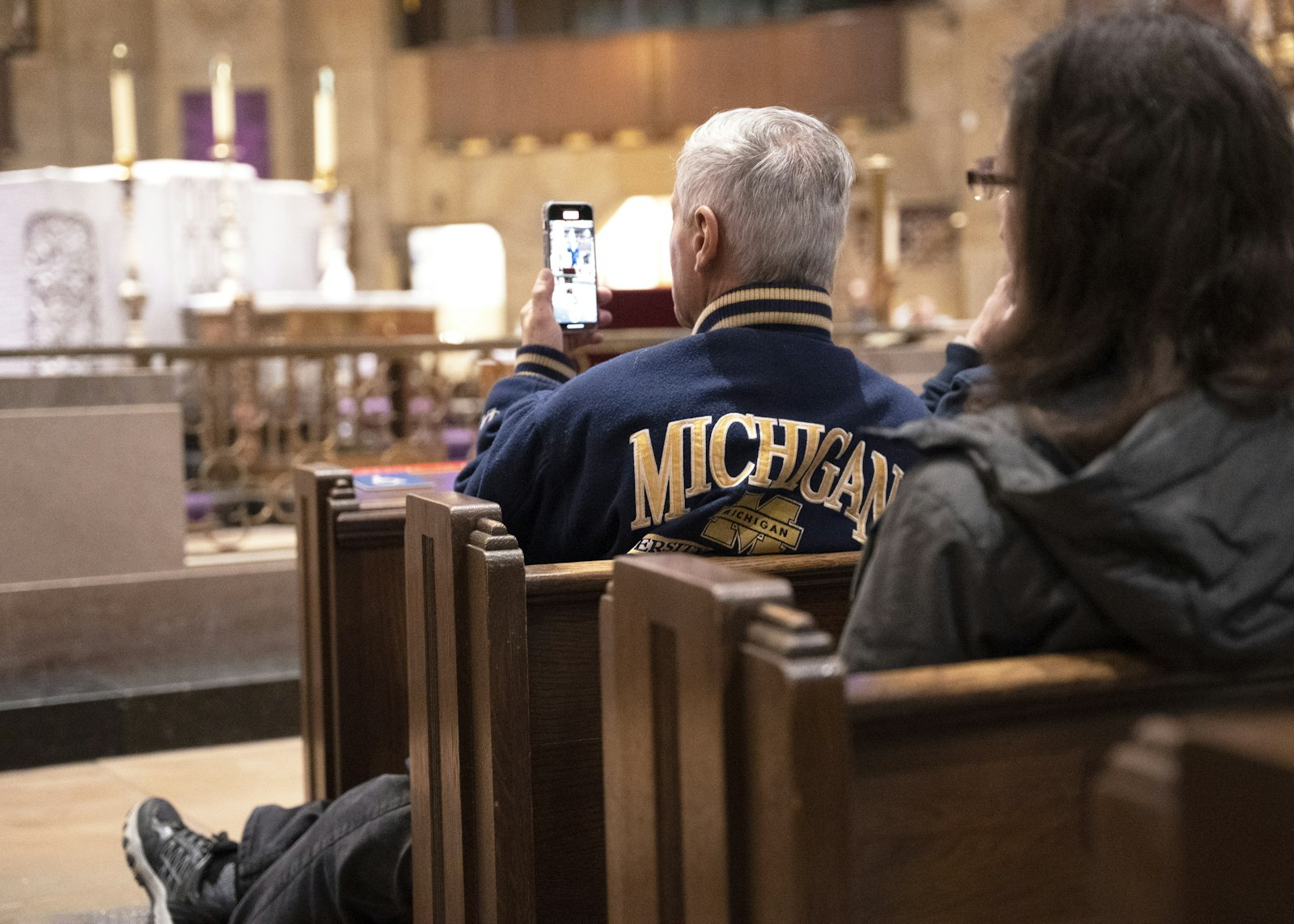 For the rest of the summer, McCormick trained harder than ever alongside Schembechler's football team, which included a young Harbaugh. On the basketball court, McCormick went on to lead his team to the NIT championship, was MVP and the No. 12 pick during the most legendary NBA draft of all time.
Recalling his meeting with Schembechler, McCormick said he's grateful for the push.
"As I was walking to the football building across the parking lot, I thought, 'God, thank you very much. I prayed for a message about my purpose, and you gave me Bo Schembechler,'" McCormick said.

For his part, Harbaugh recounted growing up wanting to be a quarterback and praying every Sunday at Mass to be 6'3" and 200 pounds.
"My huge obstacle was that there had never been a Harbaugh that had grown to over six feet. In the history of the Harbaugh, my dad was just about 5'11", and no other Harbaugh had, either. To make matters worse, my maternal grandfather was born in Sicily, about 5"4" and was a very small-boned man," Harbaugh quipped. "So that was the obstacle. 'How am I going to get there?' The other thing I heard, besides praying and asking God, is, if you drink milk, you will get big and strong."
Harbaugh joked about becoming the milk distributor at his school in order to get his hands on as much milk as possible. His prayer and milk paid off, however: When he reported to the NFL scouting combine, Harbaugh weighed in at 6'3", 205 pounds.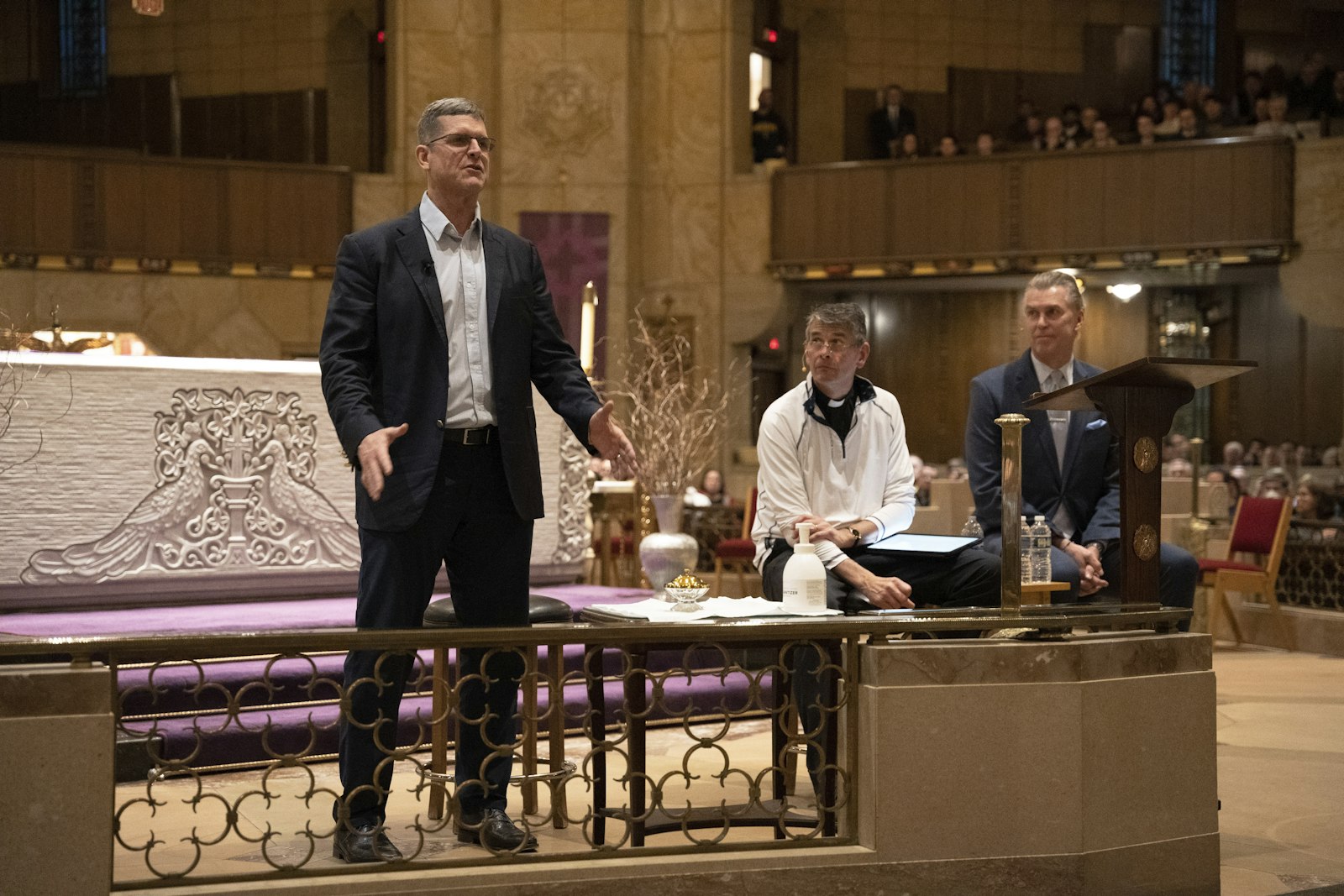 As a young athlete, Harbaugh said he struggled to put others first — a lesson he's learned in spades since becoming a coach and father.
"I am really trying to make up for that first half of my life where it was really all about me," Harbaugh said. "The coaching aspect has really helped immensely. I think the first half of my life was very focused on myself, and what I wanted to accomplish, and this last half of my life, I feel like it's not about me anymore, it is about those I am close to, about faith, family and still football. My wife, my kids, the players that I coach, and the other coaches on our staff."

Fr. Riccardo asked both men to name their own most influential coach, citing McCormick's time under Bobby Knight and Pat Riley and Harbaugh's time with Schembechler. However, to his surprise, both men cited their fathers, instead.
"My dad was my accountability partner," McCormick said. "He pushed me, and he also encouraged me, and he was my best coach."
When he was young, Harbaugh said, his father, Jack Harbaugh, always relied on quirky, encouraging phrases, including one the younger Harbaugh has frequently adopted: "Attack each day with an enthusiasm unknown to mankind."

Now, Harbaugh tries to encourage his players with another expression: "Do you."
"(Michigan quarterback) J.J. McCarthy, he kept saying, 'Do you, coach,'" Harbaugh said. "It started resonating with me, and I started saying to all of my players, my kids: 'Do you — it's working,'" adding, "whoever you are, don't get a big head."
McCormick concurred, adding adversity doesn't define a person, but one's faith and character do.
"During my career, I was on eight teams, traded seven times. There were negative articles in the paper that the (general manager) can't stand (me); he is trying to trade (me)," McCormick said. "There is always turmoil with your teammates. During my career, I had three concussions, 20 stitches, a broken nose, dislocated shoulder, torn rotator cuff, surgery for torn retina, surgery for a detached retina, broken ribs, 10 knee surgeries, a broken foot, a cracked toe — I once had athlete's foot.
"But the thing that I learned is, I know adversity is coming, and I am going to keep praying," McCormick said. "And I am going to know that I can persevere, and I can overcome."
Copy Permalink
sports
Personal witness