KRAKÓW, Poland (OSV News) – Mateusz Szpytma has always been fascinated by history. "I was looking at family albums all the time. I have loved history since I was a little kid," he said.
Little did he know that his childhood fascination would lead him to a lifetime mission – introducing the Ulma family to the world. The mission started out of a child's curiosity.
"I was looking at a picture album where I saw my aunts, my uncles, grandparents, and I asked my parents, 'Who are those people? They are in our family album, but I don't know them,'" recalled Szpytma, who was born in 1975 and spent his childhood in the village of Markowa.
"It's the Ulma family," his parents replied. "They were killed by the Germans during the war." Szpytma's grandmother, Maria, was Wiktoria Ulma's sister.
The Ulma family was killed in Markowa for hiding eight Jews, including a 3-year-old girl, in their home. The German Nazis killed all eight Jewish fugitives and the entire Ulma family March 24, 1944, right before Easter. They shot the parents, Jozef and Wiktoria, who was pregnant, in front of their children and then shot the Ulma children, ages 1 to 8. The Ulma family, including their unborn child, will be beatified in Markowa Sept. 10.
In 1995, Israel gave the Ulmas the title of Righteous Among Nations, an honorific used by Israel to describe non-Jews who risked their lives during the Holocaust to save Jews. However, in Markowa, where the Ulmas lived, for years they were treated as family members who were tragically killed – not heroes, let alone saints.
"The family cried, time passed and tears eventually dried," Maria Ryznar-Folta, a director of the Society of Friends of Markowa, told OSV News.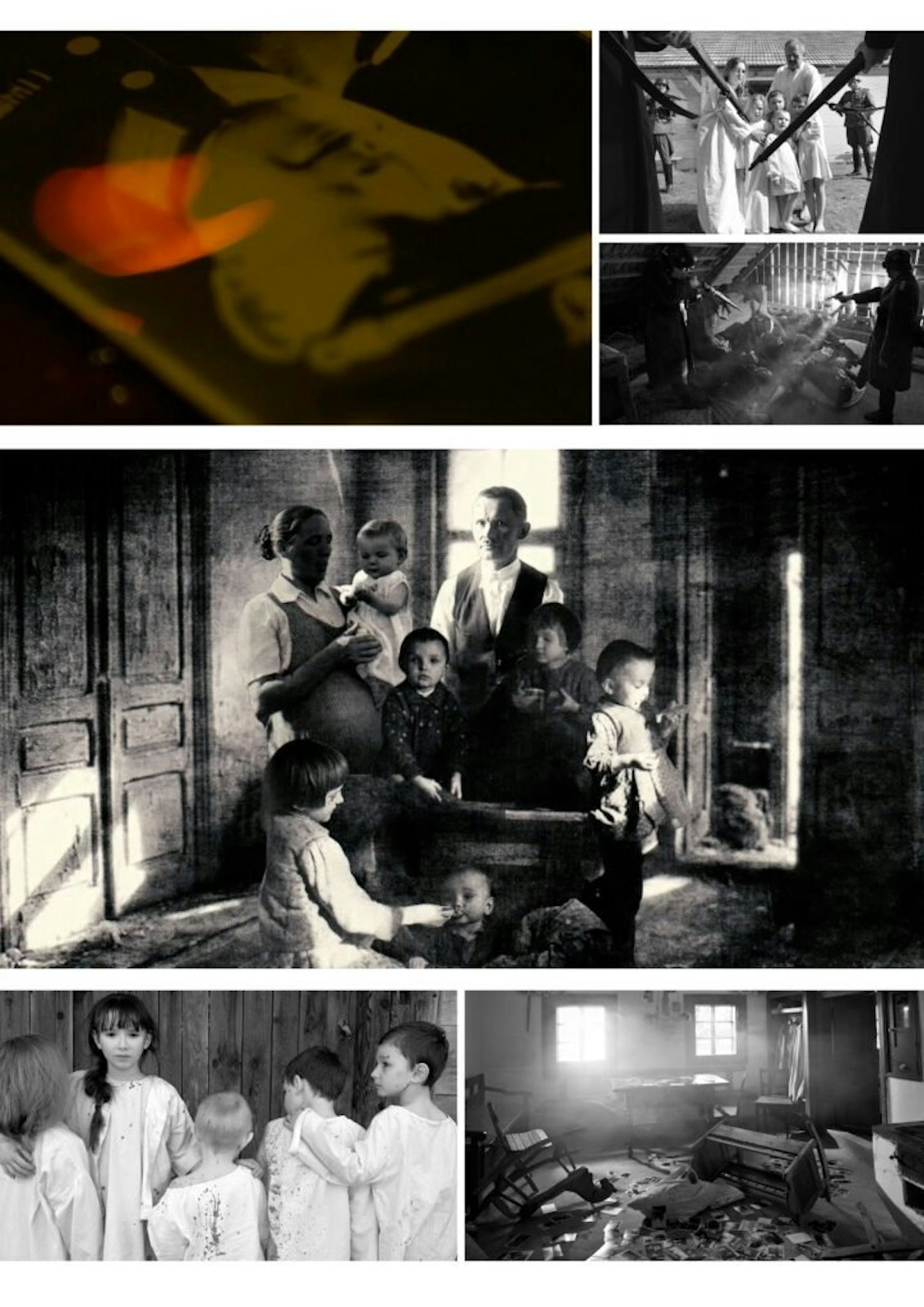 Twenty years have passed since Szpytma as a first grader asked about the people pictured in the family album. He became a historian, graduating from the Jagiellonian University in Kraków and started to work in the prestigious Institute of National Remembrance, based in Warsaw.
Before Easter 2003, he was visiting his parents and went to church for a Holy Week liturgy.
It was there the parish pastor told parishioners that the church was considering opening a sainthood cause for the Ulma family. "They were basically asking the parishioners, all those who knew the Ulma family, anyone who had knowledge about the story, to come forward to the parish office and outline any possible obstacles to such a process," Szpytma said.
"I remember very well that day in 2003," Szpytma told OSV News. "I could even tell you in which part of the church I was standing when I heard the announcement."
The young historian felt like he had been struck by lightning.
"I experienced a kind of a shock," he said. "For more than three years, I had been working at the institute in The Chief Commission for the Prosecution of Crimes against the Polish Nation, I was delegated to the unveiling of various monuments. I lived the history of World War II every day and even on holidays. And here, at home, my own family's history was unexplored. There was no publication, no book, not even an article. No monument dedicated to the Ulma family at all," he said.
And in that moment, his life and career path underwent a revolution and turned homeward to Markowa.
Szpytma convinced the village, the parish church and the local authorities to help him erect a monument in memory of the Ulma family.
A legendary Polish historian and Szpytma's boss, Janusz Kurtyka, who later died along with President Lech Kaczynski in a 2010 plane crash in Smolensk, Russia, endorsed his in-depth research on the family.
"I was all in. It drew me in so much," Szpytma told OSV News. At first, he thought he would write an academic article, "but then there was a small book, then a bigger book, then a book in English," and several exhibitions organized in Israel where Jews saved in the village – thanks to the people of Markowa – still lived at the time.
Szpytma interviewed his relatives and neighbors to get to know his aunt, Wiktoria, and his uncle, Józef. "Now it would be impossible to research," he said because many people he interviewed have since passed away.
"The Ulma children were raised in a beautiful family," Szpytma said. "People said that there was such an atmosphere in the Ulma house that you wanted to come to this house, sit down and stay with them. They said there was an atmosphere of openness, that no one left the house hungry, that they were willing to welcome people and share their talents," historian recalled.
Wiktoria was a tender and caring mother. Józef was a kind of celebrity in the village, a go-to man for different questions. He was the first one who grew different kinds of vegetables in Markowa, knew how to make fruit trees healthier, and was also a beekeeper and photographer. He gained all this knowledge from books that he first read and then shared with others in Markowa.
"We have an account of a man from a neighboring village who visited Józef and asked him to teach him how to take pictures, which Józef did," Szpytma recalled. "It's such a fascinating family."
It was Szpytma's idea to create a modern museum dedicated not only to his family members, but all Poles who rescued Jews during World War II.
Despite the risk of the death penalty, an estimated 300,000 Polish people hid and helped Jews in their homes. Over 6,600 Poles hold the title of Righteous Among Nations. Around 1,000 Poles, including women and children, were executed for hiding and helping Jews.
"Many more Poles helped Jews than those awarded the title, but oftentimes no one is alive to testify for those heroes," Szpytma said.
Szpytma oversaw the museum's construction. It was built in a record three years, between 2013 and 2016.
"It was a gigantic effort, physical, intellectual, probably the biggest effort in my life to meet the expectations of the authorities to open the museum in 2016. In human terms, it was impossible, it was only possible because of God's providence," he said. "I felt I had some superficial extra strength as I was working till late every single day."
At the opening ceremony of The Ulma Family Museum of Poles Saving Jews in World War II March 17, 2016, Polish President Andrzej Duda, visibly moved, spoke about how the witnesses recalled the death of the Ulma family: Germans commanded that some of the men from the village accompany them with their horse wagons to the Ulma house on the day of the execution.
"One of the Germans told the wagoners: 'Look. This is how Polish pigs who help Jews are slaughtered.' Then, they did not know what to do with the children: the six children of Józef and Wiktoria," Duda said.
"And the commanding officer of the German police said: 'We will spare you the trouble in the village' and he killed them all, one by one. The author of this account said: 'Gunfire, screams, lamentation were to be heard. It was shocking.'"
Before the pandemic, 5,000 visitors from Israel visited the museum annually. Today, many languages are heard in the museum as hundreds of visitors come daily ahead of the Ulma beatification. Szpytma is proud of it, but witnessing preparations to the beatification of his family members has been beyond his dreams.
"I was not sure whether this would happen in my lifetime, or maybe decades later," he said.
For him, the beatification's meaning is threefold – personal and historical but also spiritual.
"We are experiencing a crisis of family and marriage, and we know that today raising two or three children often causes enormous problems for parents, in the sense that it is often seen as an obstacle to a career," Szpytma said.
"And here they show – in the times that were so terribly hard – that it's possible to manage it even under difficult circumstances. They had two, three, six children – not during a time of prosperity, not during one of the best periods in Polish history," Szpytma said, but "during the worst time in the thousand-year history of our country, which was the time of the German occupation."
And despite that, the Ulmas still had "smiling kids," and "they knew how to feed everyone, they knew how to wash everyone's clothes, they knew how to take care of everyone, help with homework," and on top of everything – hide and feed eight Jewish fugitives for years, Szpytma said.
Their faith inspired them to make them take such risky decisions, Szpytma said. The biggest fear that the Ulmas had was "that if they did not do so, the Jews would die, that they would be murdered by the Germans. It was a concern to save their lives," he said.
"This is often embarrassing, because if someone complains about some problems (today), let's look at the Ulmas – how they lived in these conditions is simply something unimaginable," Szpytma said.
"I'm very happy as a historian, as a resident of Markowa, as a relative," Szpytma, who since 2016 has been vice president of the Institute of National Remembrance. But for him, his family history is not only something to be proud of, but much more: "It's a great commitment to try to live according to God's will yourself."
Copy Permalink