Suzanne Young has been creating work for churches since the 1970s and is featured in countless parishes in Detroit, nationwide
LAKE ORION — Vocations come in many forms. For local artist Suzanne Young, that vocation is to create religious sculptures for churches, hospitals and people's homes that draw them closer to Christ.
"Before beginning a sculpture, I pray to the Holy Spirit for inspiration and to Our Lady to guide my hands," Young told Detroit Catholic in a recent email. "Artistic talent is a gift from God, so I approach my work with the intention of creating religious art that will bring glory and honor to our Creator. Each artwork is individually created with the intention of inspiring the viewer to lift their hearts and minds to Our Lord."
Young's specialty is relief work of religious imagery, and her sculptures are featured across the Archdiocese of Detroit, including at St. Joseph the Worker Parish in Lake Orion, St. John Fisher Chapel University Parish in Auburn Hills, St. Hugo of the Hills Parish in Bloomfield Hills, St. John Neumann Parish in Canton, and in parishes and religious centers around the United States.
Young, now almost 70, knew she was an artist in grade school. Originally from Southfield, Young's mother advocated for her to attend Mercy High School in Farmington Hills, where Sr. Mary Ignatius Denay, RSM, had developed a standout art department.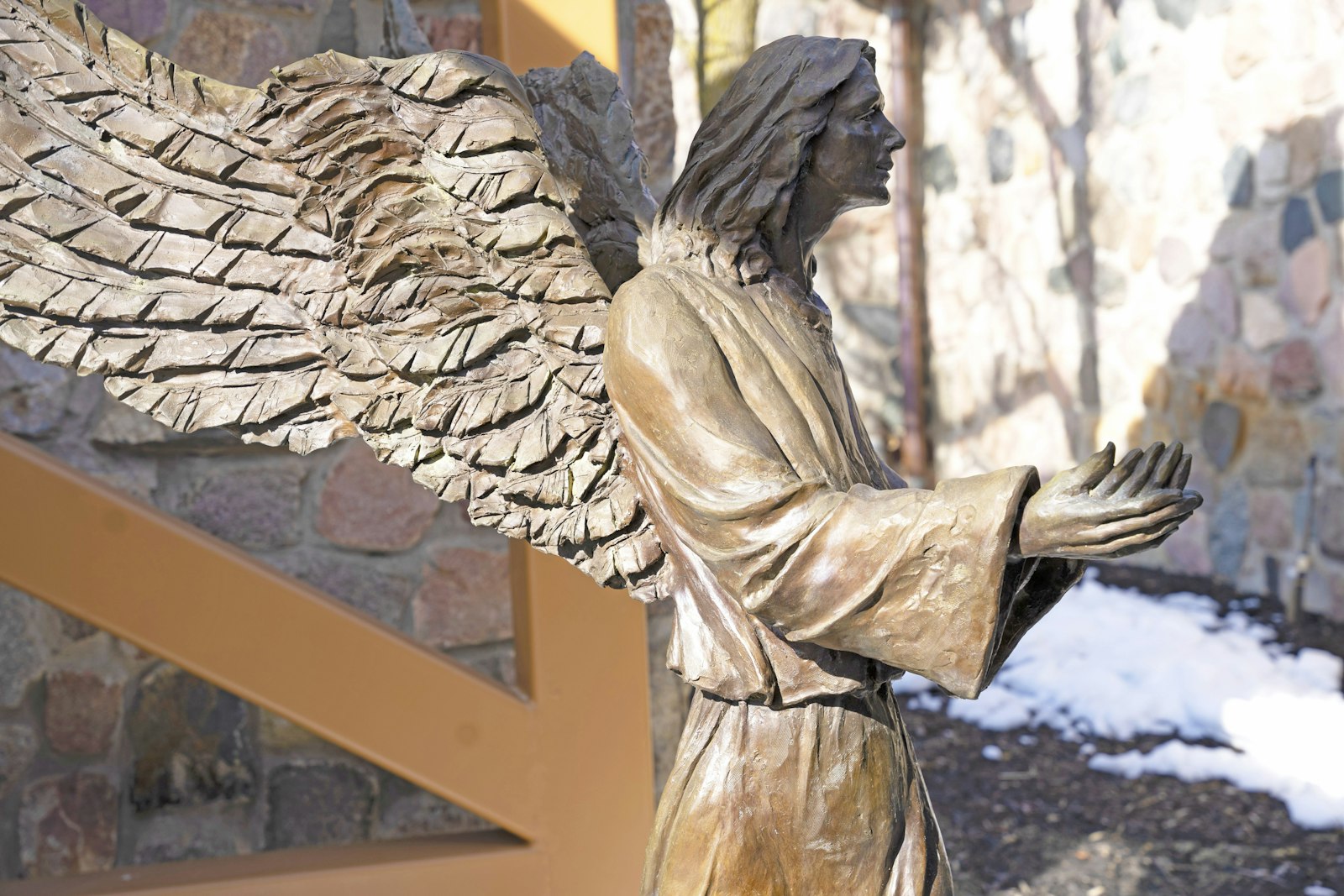 "Sr. Mary Ignatius really helped develop that talent (in me)," said Young, a parishioner at St. Joseph the Worker. "After four years with her, I won a scholarship to Pratt (Institute) in New York in 1971. I only stayed a year, but it was very helpful in creating art."
Young returned to Michigan and finished her education at Mercy College of Detroit, graduating in 1974. In 1977, she graduated from Eastern Michigan University with a master's in fine arts.
While completing her master's, Young was hired by her former art teacher, Sr. Mary Ignatius, to teach art at her alma mater.
Young said the Holy Spirit has always inspired her with ideas, but it wasn't until the late 1970s that she felt compelled to create religious work.
"I was creating artwork like ballet poses in relief (sculpture)," Young said. "I like rolling out the clay and then drawing the figure and modeling the figures and relief, and I thought, 'Gee if I would robe this figure or put it in the crucifixion pose, all of a sudden, it becomes spiritual, religious.' So it's interesting because, somewhere into the early '80s, I tried to just do the secular work, and it became very dry and unfulfilling."
Young decided to throw herself entirely into her religious artwork.
While still teaching, one of Young's students gave her a brochure for a Catholic conference in Dearborn. Young, who had previously shown her work at the Ann Arbor Art Fair juried show, got the idea to take out a booth to showcase her religious artwork to the conference attendees.
Her work was a hit — Young said the priests bought up her work, and other vendors encouraged her to begin regularly selling at Catholic conferences.
Young began attending conferences nationwide, eventually making enough money to quit teaching. She bought a home and built a dedicated art studio to began creating full-time, a process she trusts entirely to God.
"Other artists ask me, 'How do you survive?' or 'Aren't you afraid?' or they have called me (to ask), 'How do you market?' And I just say, 'The Lord sends me these jobs.'"

While Young is uncertain of the number of works she has created for spaces around the United States and within the archdiocese, as of 1988, she had sculptures commissioned by 54 churches nationwide — a number that, per Detroit Catholic's research, has likely doubled.
In 2021, Young felt compelled to create a set of Stations of the Cross for St. John Fisher Chapel, an inspiration she attributes to her mother, who died on Oct. 1, 2020. A year after her mother's passing, Young attended a Mass for her mother at St. Joseph in Lake Orion. After Mass, she went out to breakfast with some friends.
One friend who was a parishioner at St. John Fisher Chapel mentioned the chapel could use new Stations of the Cross, but didn't think the small parish could afford Young's work.

"I'm driving home (afterward), and my mother used to sit in the front seat (next to me) when she lived with me," Young explained. "I am alone physically, and I hear my mother's voice saying to me, 'Susie, Susie, make the Stations of the Cross for those poor people.' And I said, 'OK,' and I remember I called up a friend I was just with at breakfast, and I said I'm going to make the stations, and I said I'll just donate them."
The stations, which are 18 inches tall, ended up being a collaborative effort. Young sculpted the stations, while Deacon John Manera of St. Joseph — which is part of the same Family of Parishes as St. John Fisher — made the wooden plaques to mount them. Since their installation, Young said Stations of the Cross devotions have become increasingly popular at the chapel.

While many of Young's sculptures are larger in scale — such as a pair of bronze-cast messenger angels outside St. Joseph that face the altar, or a 6-foot statue of the crucified Jesus at St. John Neumman — Young said she's been inspired to create smaller sculptures, around 5 inches tall, for the past year.

Young finds inspiration for these works in day-to-day life and in the people she sees at Mass, she said.
"There was a lady sitting next to me with a little baby today, and so you see how (the baby) interacts with the adult," Young said. "Like with a father, (the baby) may pull at his beard, and so I've done that with Jesus with St. Joseph, (showing that) human interaction."
While creating, Young tries to immerse herself in the scene and lets the Holy Spirit guide the process so she can sculpt what the subjects must have felt. One example, Young said, is her statue of the Fourth Station of the Cross, which depicts Jesus and Mary touching each other's faces.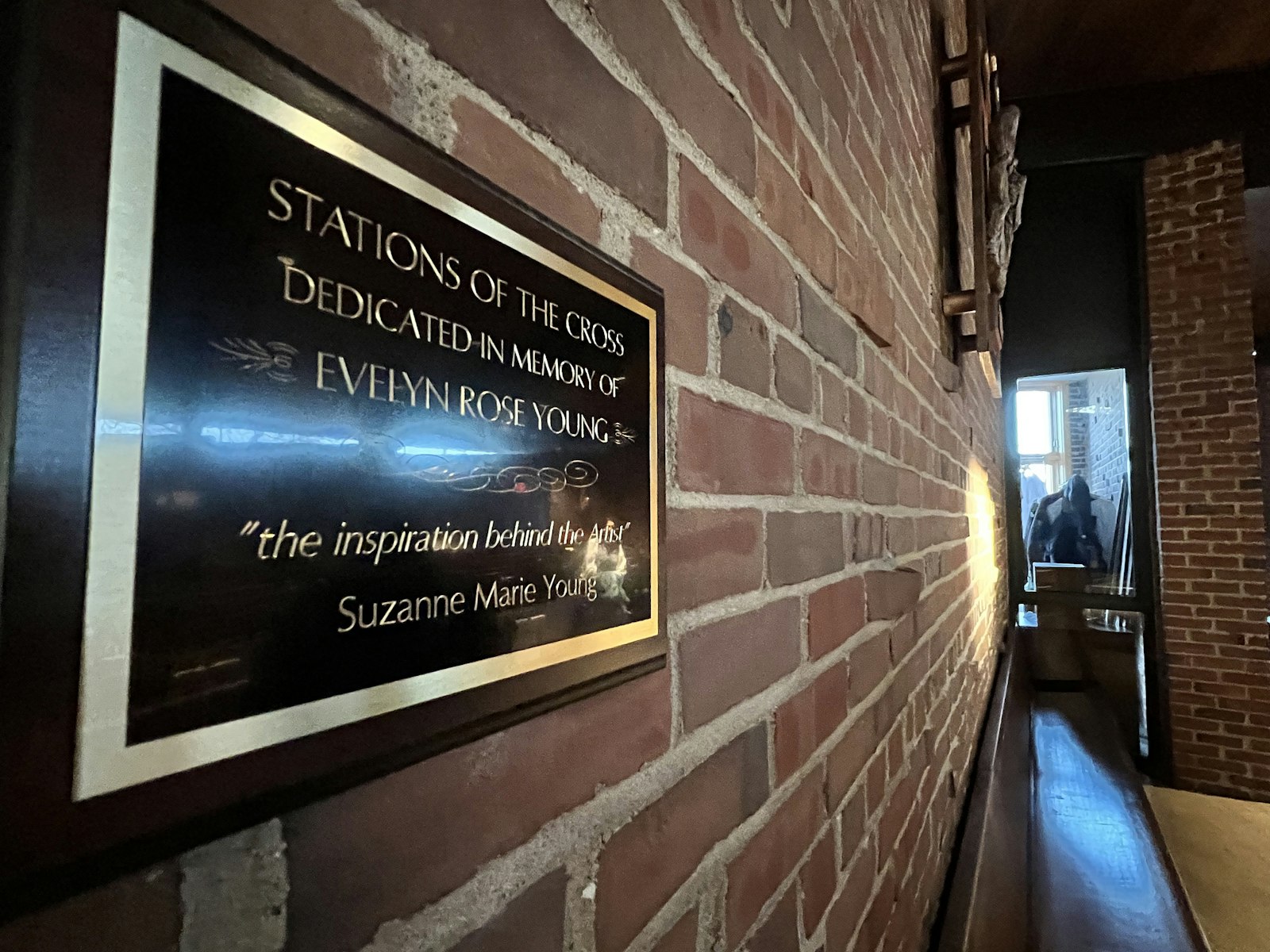 "What must it have been like for Mary to have seen her son dragged through the streets of Jerusalem, carrying His cross, on the way to his crucifixion? What must have she felt?" Young wrote in her email to Detroit Catholic. "For one instant, Mary reaches out to touch her son's face. Jesus places His hand on His mother's shoulder, and they lovingly look into each other's eyes. Mary's heart is breaking. However, she accepts God's will …. My hope is that each sculpture can be an impetus for meditation on the Lord."
Young prays that her work moves others to prayer and draws them deeper into relationship with Christ.
"I've sold many small pieces, like at the shows and in my online store," Young said. "People have them in their homes, where they can look and be inspired."
Young said she wants her artwork to serve as "holy reminders," a term she learned from Mother Angelica on EWTN.
"They're reminders of hope and the love of the Lord," Young said. "You look at a blank wall, or then you put an image on there, and it brings forth emotion."

Suzanne Young's religious art
To see more of Suzanne Young's Catholic artwork, or to purchase or commission a piece, visit www.religioussculpturebysmy.com.
Copy Permalink
Sacred art
Personal witness