FARMINGTON HILLS — Kaitlyn Pallozzi is a 14-year-old freshman pitcher on the Mercy varsity softball team.
She's had the start of a high school career that kids dream about; that probably even she didn't imagine.
In her first game on April 5, she pitched a no-hitter.
Three days later, in her second start, she threw a perfect game.
A really perfect game: she struck out all 21 batters!
The no-hitter was a 9-0 shutout of Dearborn Divine Child. Kaitlyn struck out 14. She walked one batter and hit another.
Three days later, it was three up, three down for seven innings in the perfect gem against a co-op squad of Ann Arbor Fr. Gabriel Richard and Greenhills. Kaitlyn's applied her full arsenal of a fastball (in the low to mid-60 mph range), a riser and change up. Fifteen batters went down swinging, six were called out.
She is the 12th in state high school history to strike out at least 21 hitters in a seven-inning game and the third to strike out at least 21 consecutive hitters.
There was little room for error. Mercy's batters struggled to solve the offerings of Gabriel Richard's Catherine O'Donohue (17 Ks) for a 1-0 victory. Richard rebounded with a 2-1 win in the second game for Mercy's only loss in its first nine games. The two squads meet again on May 3. Reality made its entrance into Kaitlyn's world in her third start on the mound against Warren Regina. Thoughts of perfection were erased when she walked the leadoff batter and of another no-hitter denied by a third-inning bloop base hit.
Kaitlyn settled down to whiff a dozen batters and limited the Regina offense to a pair of singles while the Marlins built a 5-1 lead after five innings.
Leading off the sixth inning, the Saddlelites' senior shortstop Abby Hornberger timed one of Kaitlyn's fastballs and sent it over the fence. Kaitlyn survived a bases-loaded jam, but coach Corey Burras pulled her in the seventh when Regina's leadoff batter singled.
Regina scored a run off reliever Asia Barbato, but she doused the Saddlelites' uprising with a bases-loaded strikeout to ensure a 5-3 victory.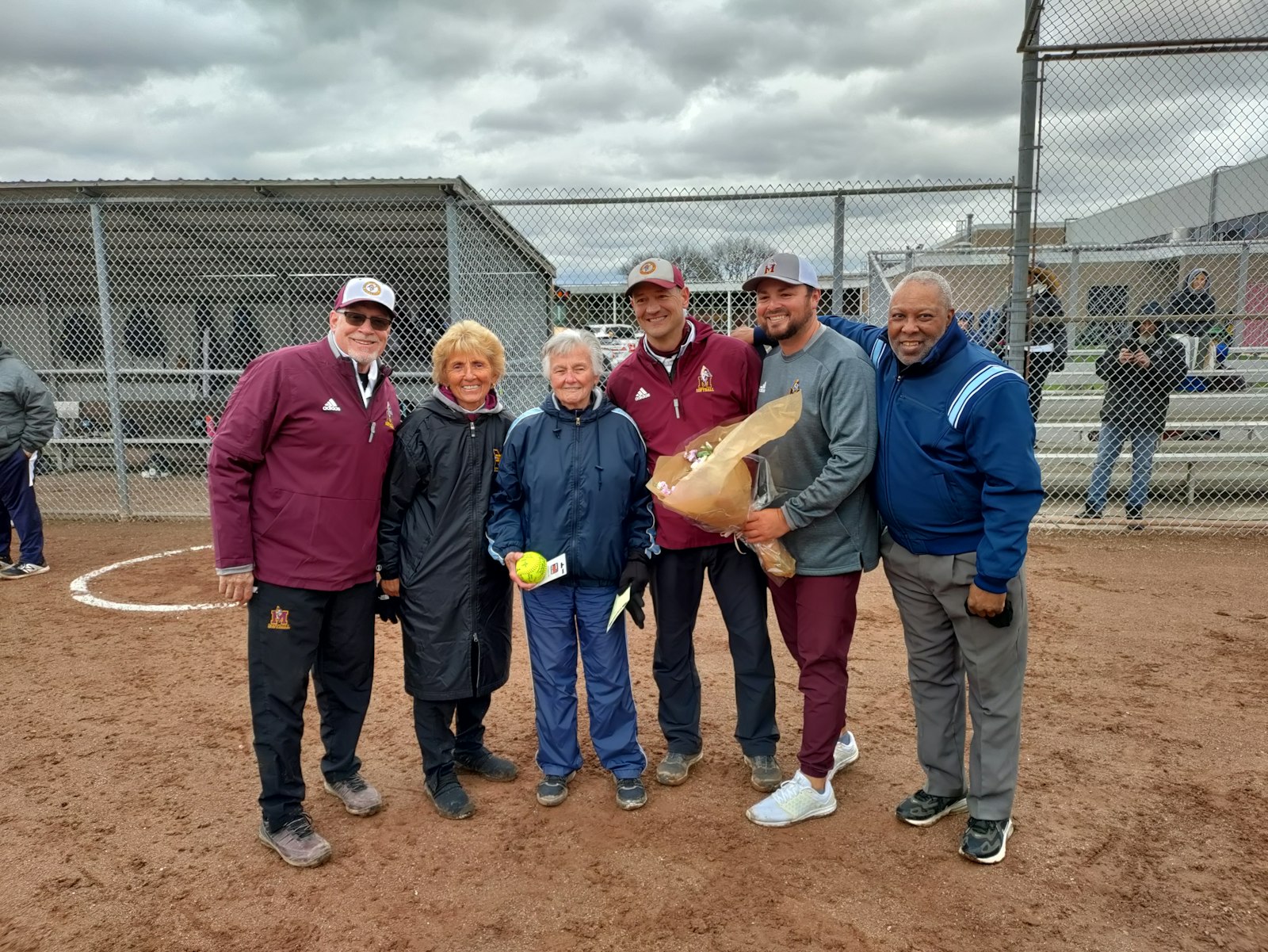 Barbato remained in the pitcher's circle for the second game and hurled a five-hit 6-1 triumph. Kaitlyn, stationed at first base, smacked a two-run triple to spark a four-run rally in the third inning that turned the tide in Mercy's favor.
Burras, in his third year at Mercy, explained his logic for removing Kaitlyn: "You want her to develop and grow, play under pressure. But you don't want to ruin the experience."
It's about managing a young pitcher, Burras said. "Her parents have instilled a great work ethic to perfect her craft. She challenges herself. She's a fierce competitor. She knows she has to earn her spot. She's adapting particularly well."
Kaitlyn joins Mercy's sophomore starters, Asia Barbato and Sophia Paluk. They have a combined 0.90 ERA for Mercy's first nine games this season.
Individually, Kaitlyn has a 3-0 won-lost record, 49 strikeouts in 20 innings pitched, .092 batting average against.
Barbato has a 3-1 record that includes three relief appearances, .097 ERA, 61 Ks in 29 innings. Last year, she compiled a 19-2 record and pitched in the state semifinals.
Paluk is 2-0, 1.02 ERA, 12 strikeouts in 13 innings.
Last summer Kaitlyn helped her team to a USA Elite national championship in Iowa. She stands 6-feet and played on Mercy's volleyball team this past winter. This summer, she'll have a busy agenda playing both high-level travel softball and volleyball.
Her sister, Julia, a junior at Mercy, also played on the volleyball team. Her brother, Jacob, a freshman at Dayton, played baseball at Novi Detroit Catholic Central.
Contact Don Horkey at [email protected].
Copy Permalink