Metro Detroiters have three more chances to venerate, pray with relic of the 'patron of impossible causes' through Wednesday
ROYAL OAK — Through God, all things are possible, and throughout the centuries, perhaps few saints have embodied the possibilities more than St. Jude Thaddeus, one of Jesus's twelve apostles.
Over the weekend, thousands of Catholics in the Archdiocese of Detroit have had the rare opportunity to venerate and pray with the "Apostle of the Impossible," whose relic is stopping in Michigan as part of a nationwide pilgrimage.
Lines were wrapped around the church — and in some cases out the doors — Oct. 13, 14 and 15 at the National Shrine of the Little Flower Basilica in Royal Oak, Immaculate Conception Parish in Lapeer and St. Andrew Parish in Rochester, where the relic has stopped so far.
The pilgrimage will continue today at the Cathedral of the Most Blessed Sacrament in Detroit, tomorrow, Oct. 17, at Divine Child Parish in Dearborn, and Wednesday, Oct. 18, at Mother of God Chaldean Catholic Church in Southfield before it moves on to the Archdiocese of Cincinnati. (A full schedule is at the bottom of this article.)

While venerating the relics of saints has long been a practice of Catholics, St. Jude is particularly special, known throughout the ages as the patron saint of "impossible causes." Catholics lined up to spend a hopeful moment with his relic — a large piece of arm bone placed in an arm-shaped case — and brought their lost causes to Christ through his friend, Jude.
The relic began a nine-month tour around the U.S. in Chicago on Sept. 9, sponsored by Treasures of the Church, an apostolate that brings relics to parishes and dioceses all over the world. The apostolate is run by Fr. Carlos Martins, a Companions of the Cross priest based in Detroit.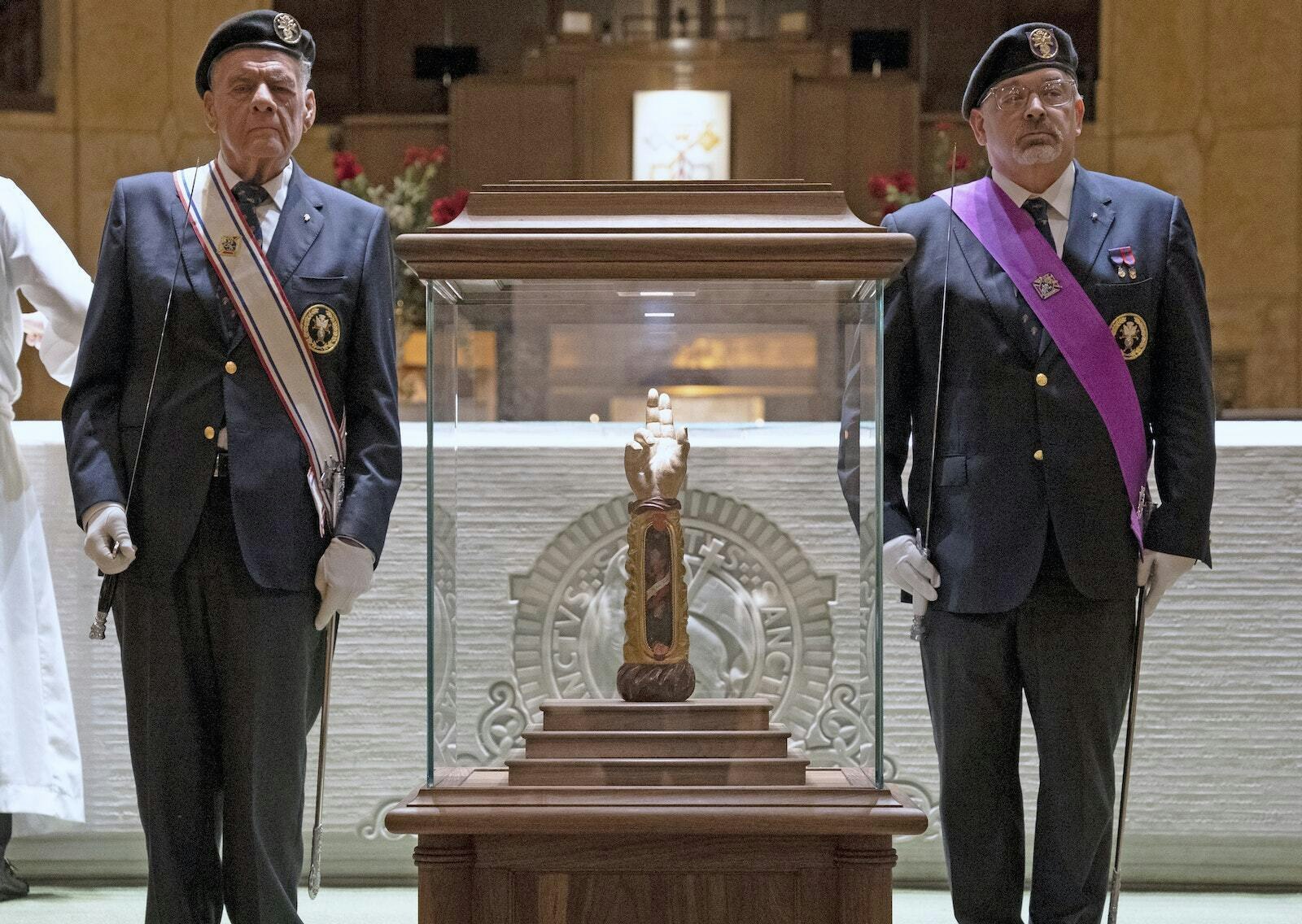 Following several hours of veneration Oct. 13 at the National Shrine of the Little Flower Basilica, Mass was celebrated in honor of St. Jude. In his homily, Fr. Martins said every person has gained a friend by meeting St. Jude, whom tradition says was a relative of Jesus.
"When you come forward, all of Jude is here to greet you, and as an apostle, as an emissary, he has brought forth for you a gift from heaven that he wants to give you," Fr. Martins said. "I don't know what that gift is going to be. It's going to be different for every one of us, but he is offering that. He has come a long way to give it to you; receive it."
As Catholics waited in a long line, intentions included an inoperable glioblastoma, stage four breast cancer, children who have fallen away from the Church and prayers of gratitude for intentions answered. Many of the intentions were private and held close to the heart, but brought tears to people's eyes as they thought with hope about what they were laying at the foot of the cross and in the arms of St. Jude.
Nuha Roumayah, of St. Regis Parish in Bloomfield Hills, stood in line to venerate St. Jude with her friend Hind Najor. Roumayah told Detroit Catholic they came because, two weeks ago, Najor was diagnosed with an inoperable glioblastoma, a type of brain tumor.
Roumayah said for the last two weeks, Najor has remained stoic following her diagnosis, unsure of how to feel.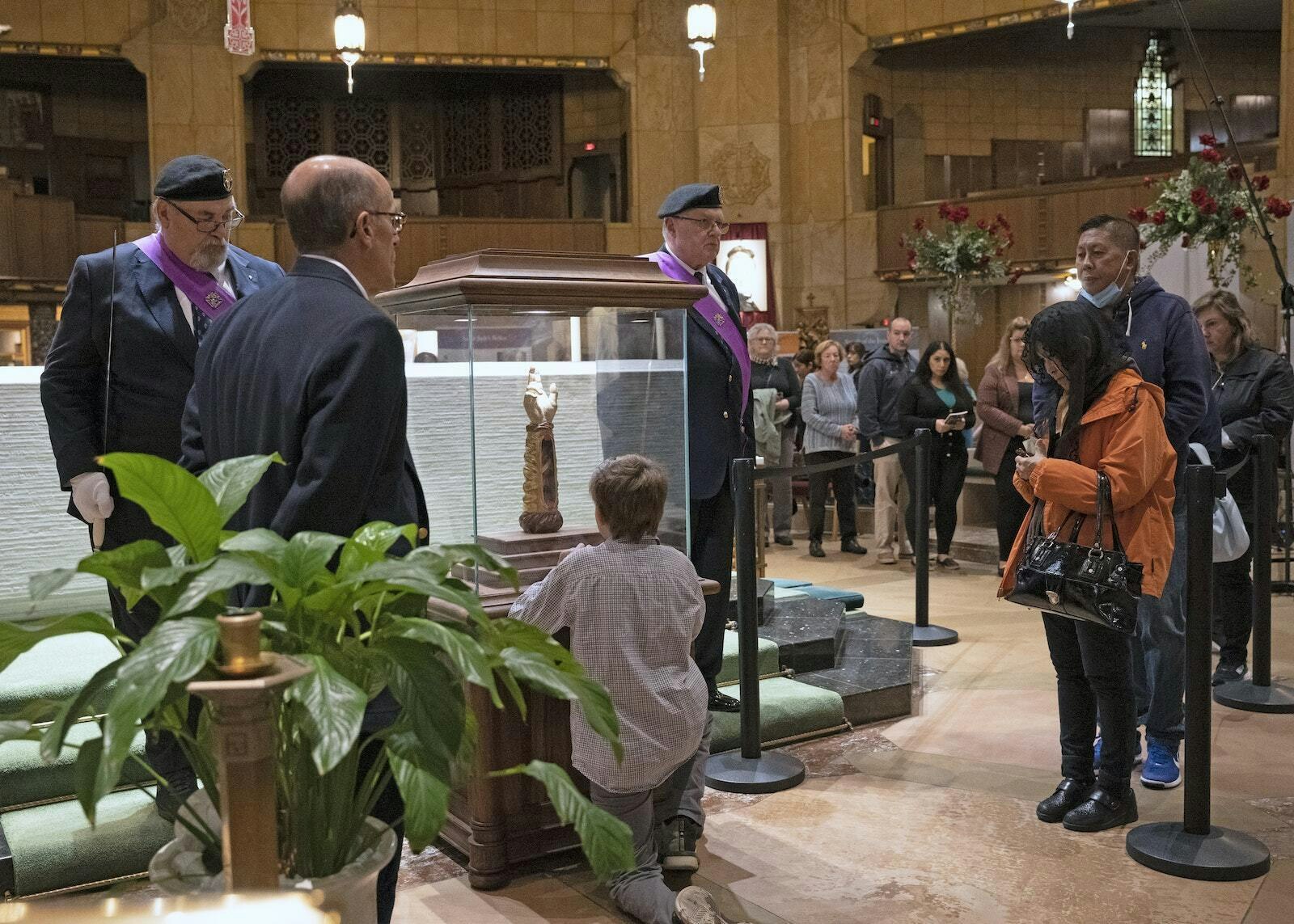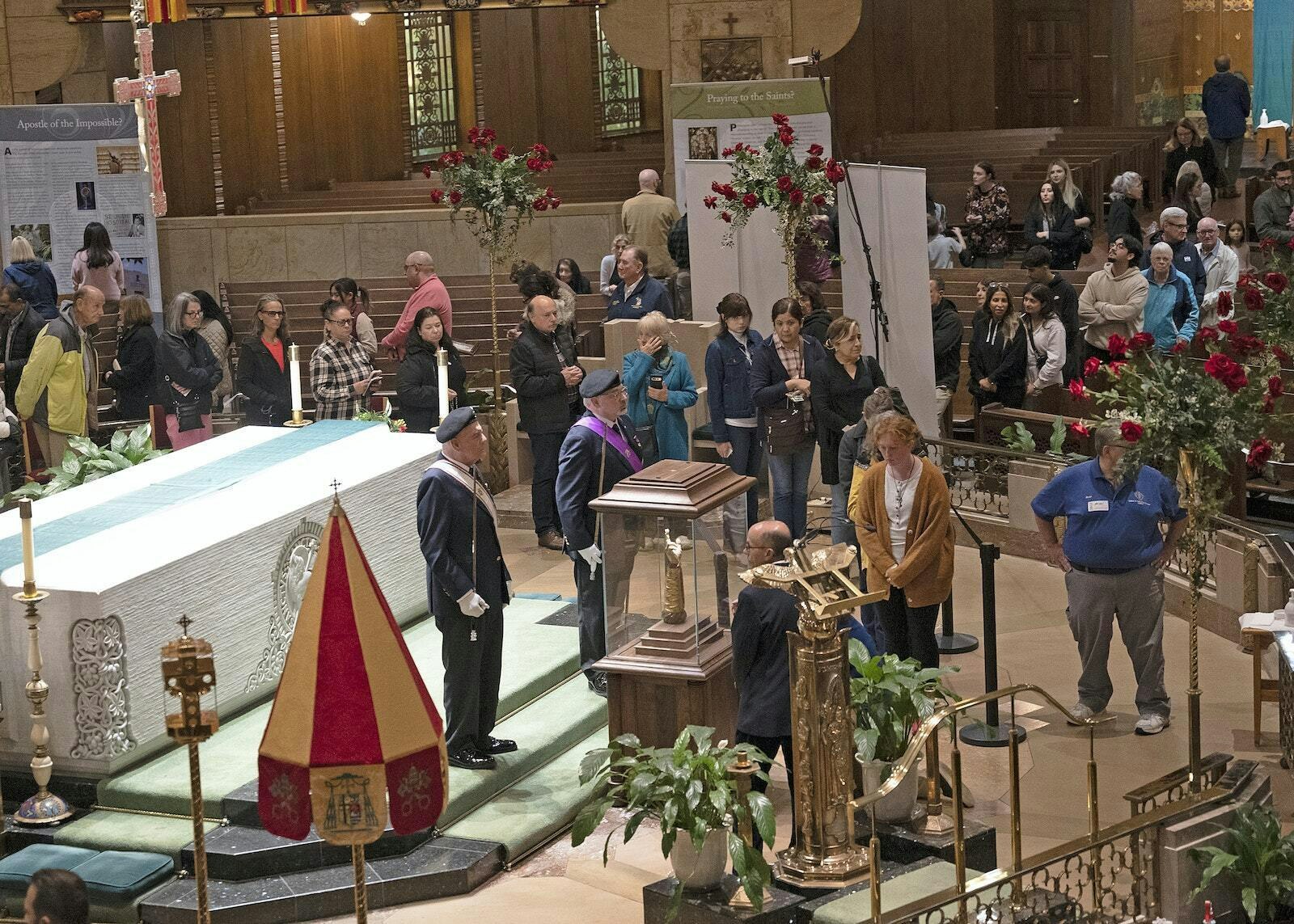 "The minute we were standing in line, she was overwhelmed with the Holy Spirit and just started crying and shaking, and she prayed with all her heart," Roumayah said. "And I never saw her like that in the past two weeks since she was diagnosed. I think that bringing her here and seeing this and seeing the people that are just here for hope and belief, is a miracle in itself."
Ingrid Manalo, a parishioner at St. Joan of Arc in St. Clair Shores, came with many intentions, including her children's return to the Church, a young doctor and mother who was just diagnosed with stage-four cancer, and her friends.
In our human condition, we often find ourselves overwhelmed and helpless, and we need the intercession of the saints, Manalo said.
"We can't do it ourselves, and we're part of the community of saints," Manalo said. "I think it's important to really unite our prayers with the saint; they're friends of Jesus so they can intercede for us."
Manalo has faith that God will answer her prayers through the intercession of St. Jude, but she recognizes that it may not be in her lifetime.
"We just have to keep persevering in prayer, even if things seem very difficult in our lives and even if we feel that our prayers aren't being answered in this life, we have to trust God that He will answer the prayers," Manalo said.
"I always remember Abraham in particular," Manalo added. "God promised him that he would bring his people to the promised land, but Abraham died without ever seeing that. And yet, generations later, Joshua brought the people to the promised land."
Manalo said she prays four rosaries a day for her children, and people often ask her if she has seen a change.
"I say, 'Well, I may not see it in this lifetime. I may not know, but I have to trust that God will see it through,'" Manalo said.
While many came with prayers yet answered, others came in thanksgiving for the way St. Jude has interceded in their lives.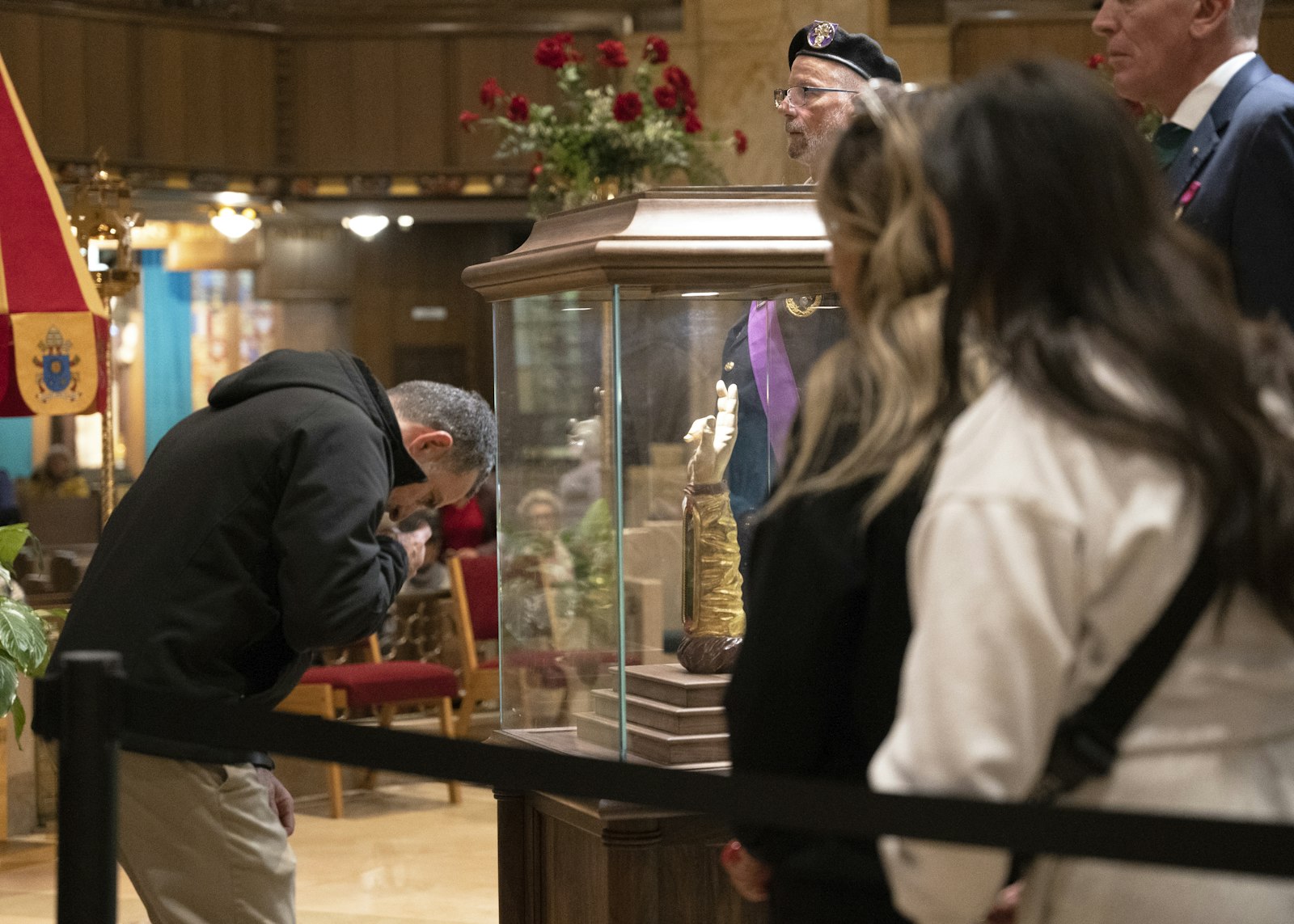 Surrounded by her husband and four children, the oldest of whom is named Jude, Linda Kanna said her visit was one of gratitude.
"St. Jude has been my saint for almost 25 years now. I was praying to him … wanting to find the love of my life," Kanna said, gesturing to her husband. "I appreciate everything he's done for me, and he's answered every prayer I've asked for, to be honest with you. I couldn't ask for more than this."
Zach Gale, from SS. Cyril and Methodius Parish in Sterling Heights, attributed several miracles in his life to St. Jude and jumped at the chance to venerate his patron saint in person.
Gale told Detroit Catholic that 11 years ago, as an exchange student from Ukraine in an economics program in Canada, he found himself failing most of his classes despite his time and efforts.
"My mother actually advised, 'You should pray to St Jude … some breakthrough will happen in your life.' So I started praying a novena to him endlessly without stopping," Gale said. "Nine days would stop, and I will continue on again."
Gale said that as he prayed, he felt enlightened and emboldened, and approached his professors to ask whether his midterm grades could be canceled and all the weight put on his finals. Although the move was risky, Gale felt sure of this path forward.
"I continued to study, and for some reason, it started clicking and making sense," Gale added. "And then I remember that when I sat for the exam, it was just like something was flowing through my mind onto the paper, and I was writing nonstop. I couldn't explain it just because I had so little time to prepare and so much to catch up from the beginning."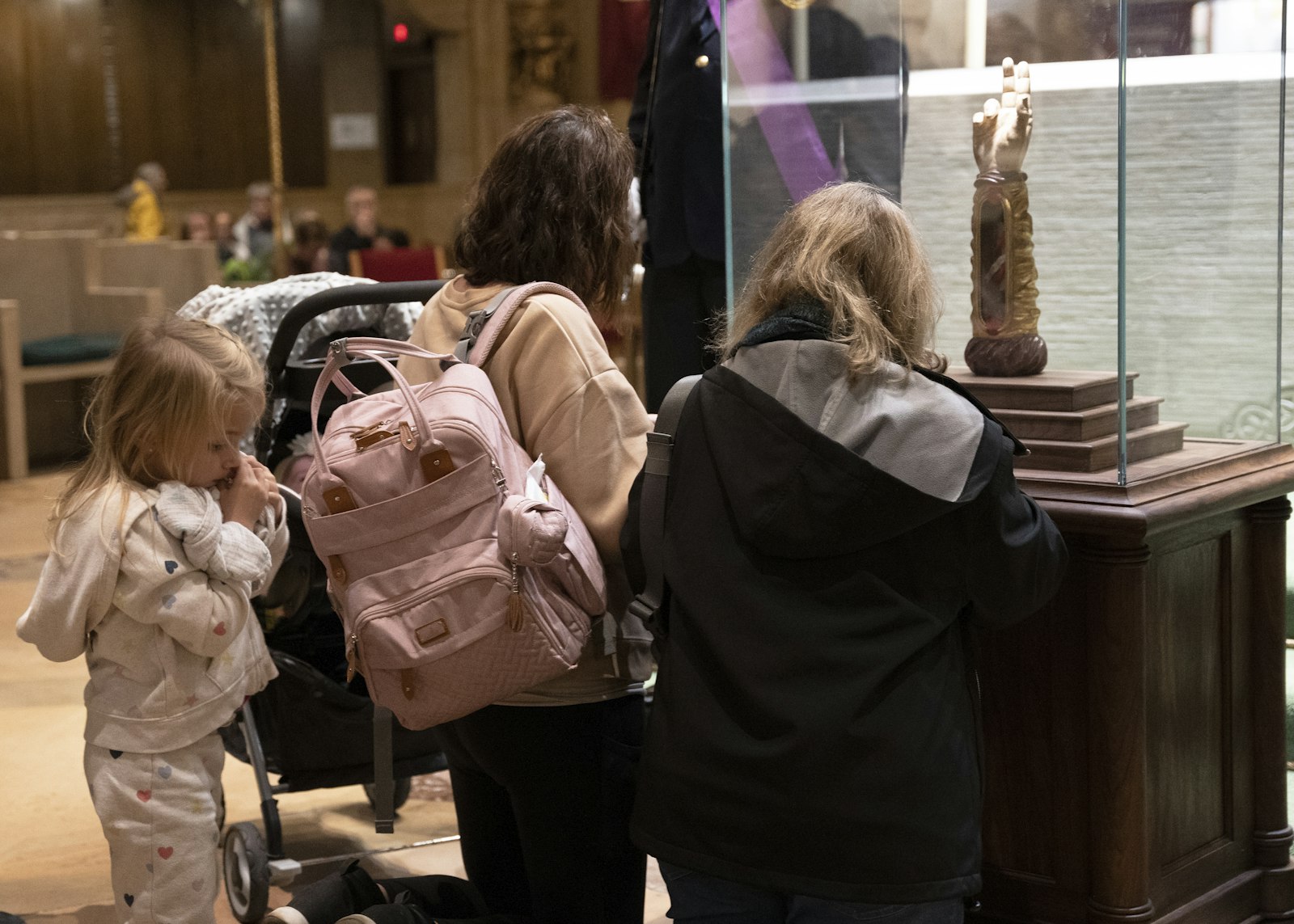 Gale graduated near the top of his class — something he acknowledges is only possible through the intercession of St. Jude.
In his homily, Fr. Martins emphasized that St. Jude's life is a reminder that God has great plans for each and every person.
"When you come up and venerate these relics tonight, you need to know one thing: it is not bones that you are coming to venerate; all of Jude is here, because the soul of the saint which is now in heaven beholding God, face to face, living in His glory, living in His communion, living in his paradise, is just as present in his reflections," Fr. Martins said.
"When you leave here today, you are leaving with a friend," Fr. Martins said of St. Jude. "He will always be with you, and he will never leave you. So whenever you think of that intention … you turn to Jude and you say, 'Jude, I need you to do something for this person or for that situation,' and Jude will go to work."

Tour of the Relics of St. Jude the Apostle
A major relic of St. Jude the Apostle will be available for public veneration at the following parishes. More details about the national pilgrimage can be found at ApostleOfTheImpossible.com.

Monday, October 16, 2023
Cathedral of the Most Blessed Sacrament
9844 Woodward Avenue
Detroit, Michigan 48202
(313) 865-6300
Public veneration of St. Jude's relic begins: 1 p.m.
Special Mass celebrated in St. Jude's honor: 6 p.m.
Public veneration ends: 9 p.m.
Tuesday, October 17, 2023
Church of the Divine Child
1055 North Silvery Lane
Dearborn, Michigan 48128
(313) 277-3110
Public veneration of St. Jude's relic begins: 2 p.m.
Special Mass celebrated in St. Jude's honor: 7 p.m.
Public veneration ends: 10 p.m.
Wednesday, October 18, 2023
Mother of God Chaldean Catholic Church (Our Lady of Chaldeans Cathedral)
25585 Berg Road
Southfield, Michigan 48034
(248) 356-0565
Public veneration of St. Jude's relic begins: 1 p.m.
Special Mass celebrated in St. Jude's honor: 6 p.m.
Public veneration ends: 10 p.m.
Copy Permalink
Prayer and spirituality
Liturgy and devotions