MACOMB TOWNSHIP — Nearly three weeks ago at the Catholic League girls golf championship at the Detroit Golf Club, Lauren Timpf and her Lutheran North teammates were waiting for the results to be announced.
Timpf knew her score. Her smiling, cordial demeanor on the outside belied the frenzy simmering on the inside. She failed to repeat as individual medalist by one stroke. If only a couple of putts had dropped.
"I'm more motivated than ever to win again," she said.
And she did. A week later, she shot a 73 at the Flint Elks Club course in Grand Blanc to lead the Mustangs to a regional victory.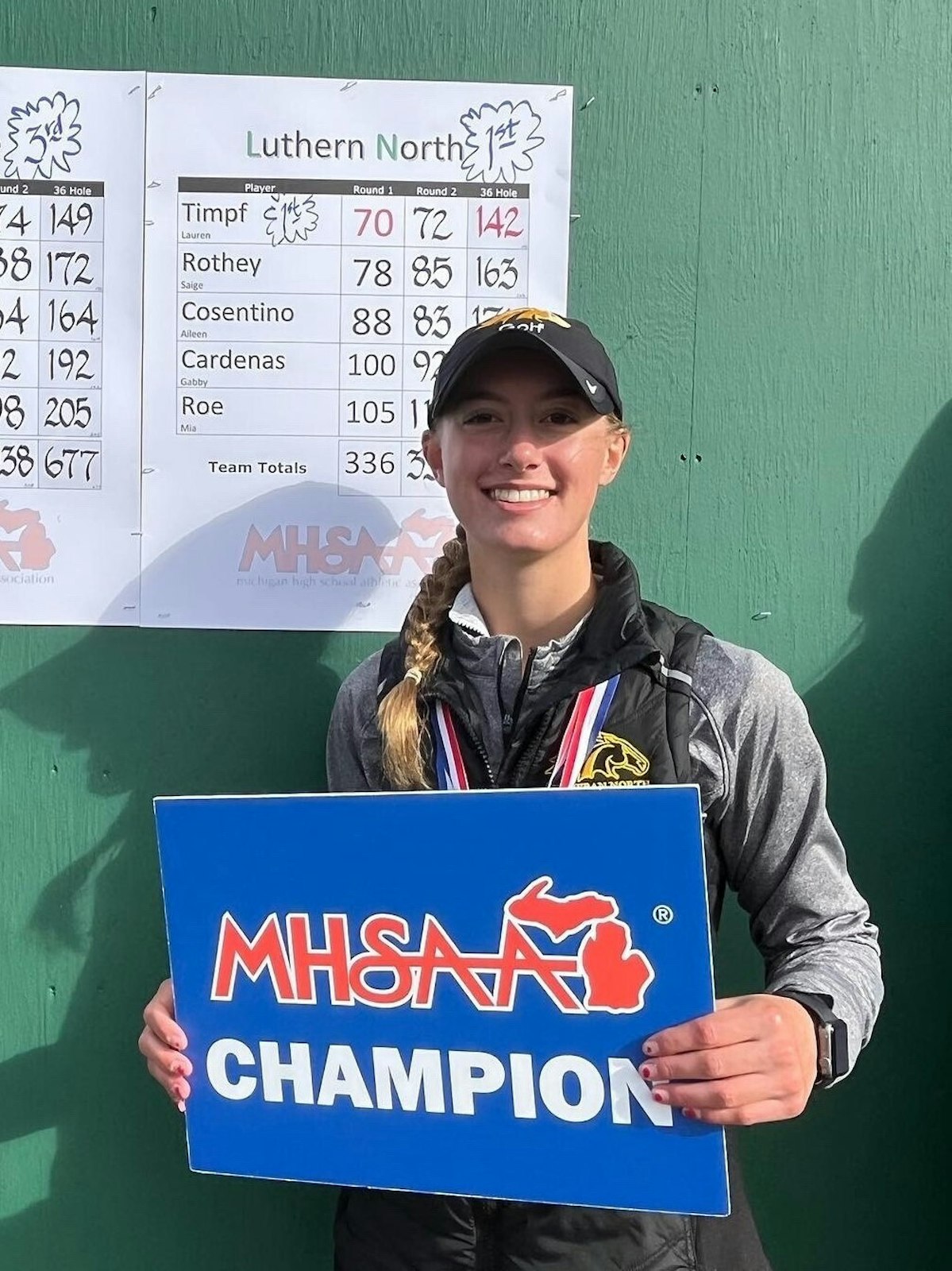 And this past Oct. 14-15, she won again, undeniably, a two-day test of her exceptional skills on Michigan State University's Forest Akers East course for the MHSAA Division 3 championship.
Timpf, a junior, shot a 70 on Friday and a 72 on Saturday for a 2-under 142 to repeat as medalist and spur on her mates to a team championship, the school's third overall to go along with the 2015 and 2016 titles.
Her score was the best among players from 72 schools competing in the MHSAA's four divisions.
"Everything was working together," she said. "My drives, irons, chips and putts. I was hitting the greens for my birdies. I tried to play smart yet aggressive." She had a five-shot lead going into the second day.
Lutheran North and defending D3 champ Bloomfield Hills Cranbrook Kingswood were deadlocked at 336 strokes apiece after the first round.
"The focus was to play your own game," coach Alex Schlump told his girls. "We had to be mentally stronger than everybody else, and we knew we were. That's been our strength all season long."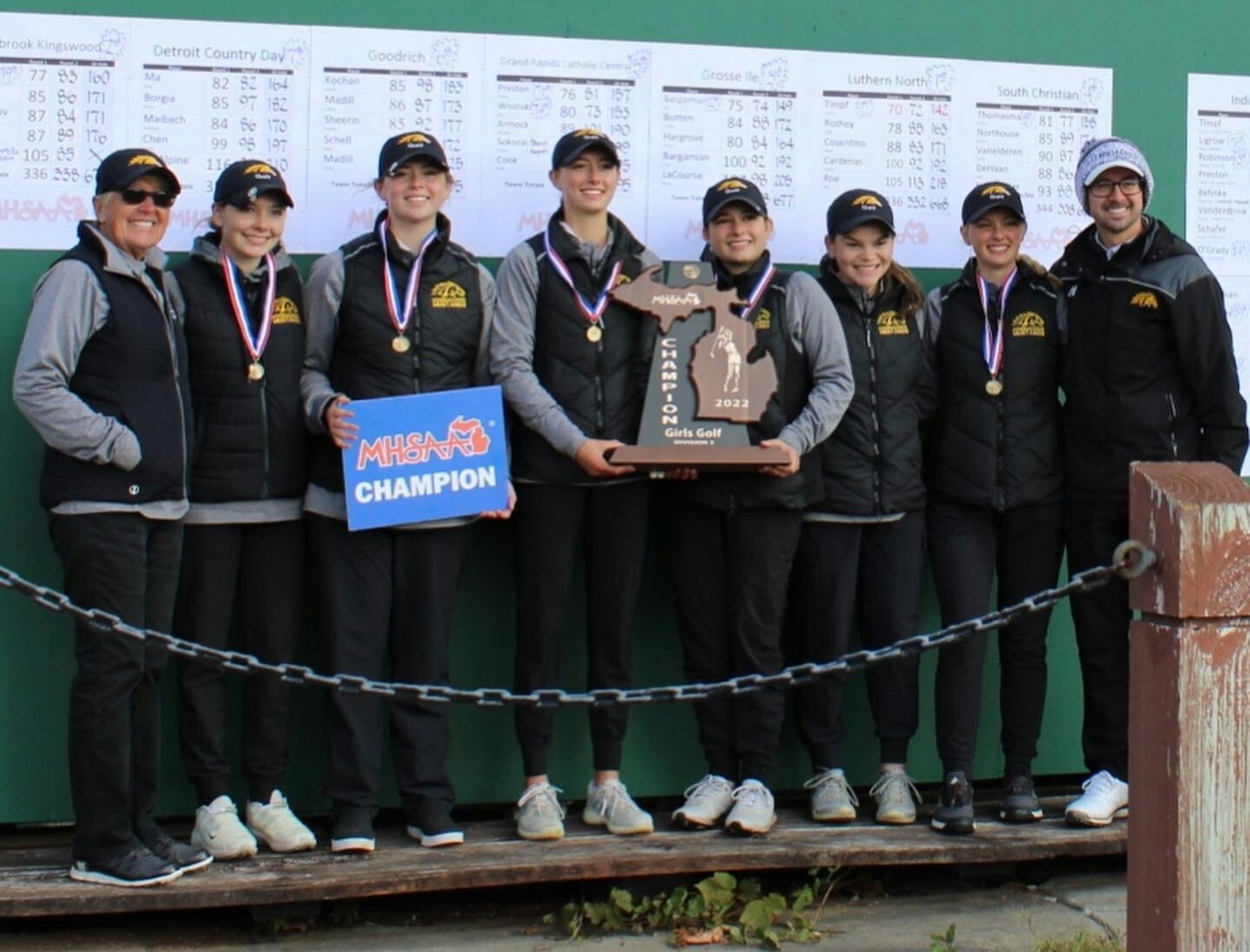 Lutheran North won the championship by six strokes, 668-674.
Rounding out the Mustangs squad: senior Aileen Cosentino 88-83 171; sophomore Saige Rothey 78-85 163; freshman Gabriella Cardenas 100-92 192; and senior Mia Roe 105-108 213.
Junior Mackenzie Behnke led Cranbrook with 77-83 160, ninth best in the Top 10 list.
Bloomfield Hills Marian wound up 11th. Senior Colleen Hand shot 89-84 173.
'Amen!' Mercy wins its third state golf title
Coach Vicki Kowalski and the Farmington Hills Mercy golf team assembled for their usual pre-meet prayer in the MHSAA Division 2 girls golf championship on Michigan State's Forest Akers West course.
She offered the credo: "I believe in you. The coaches believe in you. Your parents believe in you. Now go out and do it."
The team put an "Amen!" to their coach's confidence by winning Mercy's third state crown. Kowalski, in her 45th year coaching, also won in 1999 and 2001.
Mercy featured the same lineup that it did a year ago, when it finished 19 strokes behind the winners.
"This is a rough course," Kowalski said. "We wanted to stay in contention by getting our pars and birdies and avoiding big errors."
The Marlins took a 10-shot lead after the first day with a 343 total and improved by two shots the second day for a total of 684, some 27 strokes better than runner-up South Lyon.
Sophomore Maeve Casey, who was the CHSL medalist, led Mercy with 79-80 159, fourth in the top 10. Senior Chloe Vig had 78-88 186, ninth in top 10; junior Abby Slankster 94-87 181, sophomore Lila Polakowski 92-86 178, and senior Mia Juday 100-102 202.
Senior Mary Ronayne, of Dearborn Divine Child, was 10th among the individual qualifiers with 90-104 194.
Mia wins top 10 again
Sophomore Mia Melendez, of Ann Arbor Greenhills, was No. 1 in the Division 4 top 10 for the second year in a row with a 72-77 149. She won a year ago with 143.
In the team competition, Greenhills finished sixth with a 761 score, some 73 strokes off the winning score.
Royal Oak Shrine wound up 11th with an 820 total. Junior Anna Brush was team-best with 100-91 191.
Noteworthy: Jackson Lumen Christi, which will join the CHSL next year, won the Division 4 title, its first in school history.
Contact Don Horkey at [email protected]
Copy Permalink