Legislation would make Michigan roads safer, allow individuals to access basic human services such as medical care
LANSING — The Michigan Catholic Conference is lobbying the state Legislature to make it easier for undocumented immigrants to obtain a driver's license.
Michigan House Resolutions 4410, 4411, and 4412 and Senate Resolutions 0265, 0266, and 0267 would allow for any individual who resides in Michigan to obtain a driver's license or state ID card, regardless of whether the person is a citizen of the United States.
The legislation would reverse a 2008 law that prohibits undocumented residents from obtaining a driver's license or state ID, a policy the Michigan Catholic Conference and immigrant rights activists have been fighting since its implementation.
"There are very few places you can go in Michigan without being able to drive a car," Tom Hickson, vice president of public policy and advocacy for the Michigan Catholic Conference, told Detroit Catholic. "Without being able to drive a car, you'll have a hard time dropping your kids off at school, going to the grocery store, or making it to a doctor's appointment. Up until 2008 in Michigan, there was nothing keeping people from getting a driver's license."
Hickson said undocumented immigrants kept driving after the 2008 law was passed, but were now doing so without a driver's license, car insurance, and undergoing driver's training to make sure they were qualified motorists.
"The legislation reverts Michigan back to the policy in 2008 when it didn't have a citizenship requirement," Hickson said. "We're talking about 75,000 undocumented individuals in the state of Michigan that we are keeping away from getting a driver's license. We want people to be safe on the road."
Hickson said getting a driver's license would allow undocumented immigrants to go through driver's training, learn the rules of the road and become safer drivers.
Since the 2008 law was passed, the Michigan Catholic Conference, along with partners such as the Detroit-based Strangers No Longer immigrant rights group, has been lobbying to change the law.
"We started advocating for this about three years ago, and the organization itself is only five years old," said Rich Faba, a member of Our Mother of Perpetual Help Parish in Oak Park and chairman of Strangers No Longer's advocacy team. "We started talking about these bills in the previous legislature, but they went nowhere, languishing in committee. But with the new legislature this year, we reintroduced the bills."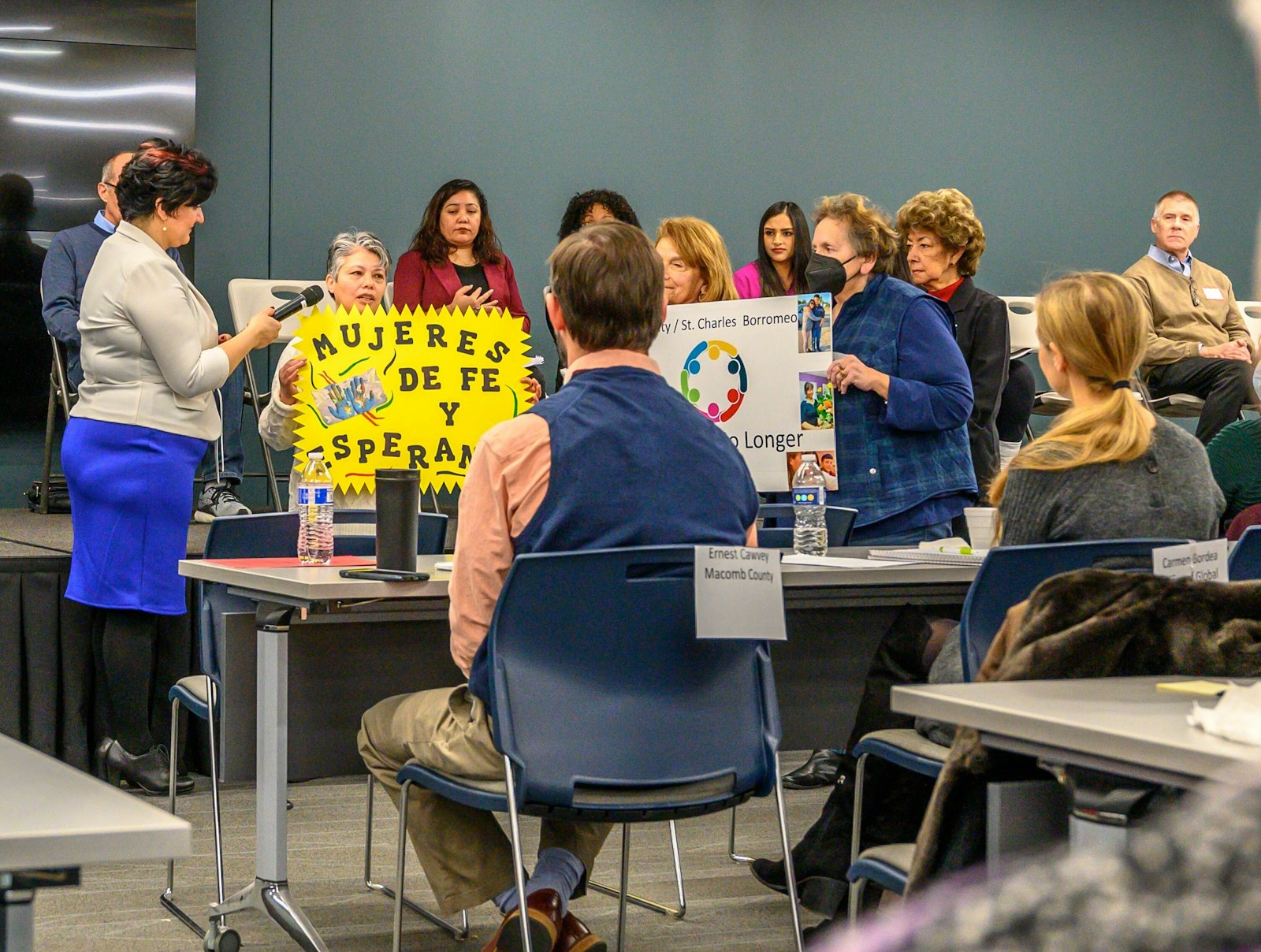 Driver's licenses became a leading issue for Strangers No Longer after the nonprofit began asking immigrants about the priorities the group should pursue to make people's lives practicably better.

"We have six circles of support, groups in our organization of linked parishes of immigrant women and undocumented folks who are part of our organization," Faba said. "They put forth a platform for human dignity, a list of 20 things they face every day that is a hardship for them. They spoke about medical help, language barriers and the ability to drive. We put those things together, a platform for human dignity, and the number one thing that would change their lives dramatically would be the ability to identify themselves with state IDs or drive a car."
Strangers No Longer worked with the Michigan Catholic Conference for a day of action on Feb. 28, when 180 members, Catholics from around the state, traveled via buses to Lansing to meet with 65 legislators to discuss the bills.
"We actually educated our senators and representatives about the bills and played a key role in the (April 12) announcement of the new bills," Faba said. "Paul Stankewitz (policy advocate for the Michigan Catholic Conference) came to our event and spoke with us, giving good advice on how to work with a lobbyist. I never did any lobbying before, none of us have; we're just regular folks who made our way to Lansing."
Hickson said the one-on-one interactions between Strangers No Longer and legislators played an important role in humanizing the issue and showing lawmakers everyday voters care about the topic.
"That was a cool day," Hickson said. "Paul Stankewitz from our team was there with Bill O'Brien (president of Strangers No Longer) and folks from all over the state, including many people from Strangers No Longer in southeast Michigan, and that is very impactful for a legislator, seeing how this is a grassroots movement, with lawmakers having one-on-one meetings with the folks who live in their districts.
"This is an important issue because we are talking about people who are part of parish communities, school communities. They are part of the fabric of the neighborhood, and their neighbors are taking action," Hickson added.
Strangers No Longer has been trying to humanize the debate around immigration since its founding, highlighting the principles of Catholic social justice and the obligation to care for the strangers and downtrodden.
Faba said most of the organization's work has been introducing immigrants to parish communities through circles of support and advocating for change on a federal level, but it was a welcomed change to push for concrete change on a state level.

Faba said Strangers No Longer is hosting a week of advocacy May 19-25, in which members are calling legislators in Lansing, asking for them to support the bills in the House and Senate that will allow undocumented immigrants to drive once again.
Immigration remains a federal issue, but the focus on state IDs and driver safety is a concrete, practical way advocates and residents of Michigan can both improve the lives of immigrants and all motorists, Hickson said.
"Most of the debate about the immigration system is taking place at the federal level, and the bishops have spoken very clearly that we need reforms," Hickson said. "We have a right, as a nation, to protect our borders. But people have a right to search for safe places to live with their families, to protect their families, to live their lives.
"Those are debates at the federal level," Hickson added. "But this is something we can handle in Michigan. This is a hardship on people who are seeking health care, going to work or seeking an education. This is one small thing to do to help these folks; by all means, let's do it."
Copy Permalink
Immigration and refugees