ORCHARD LAKE — More than two dozen inquiries were made from near and far when the news broke that the head baseball coaching position at St. Mary's Prep was vacant.
The Eaglets, after all, made headlines nationally and locally by their phenomenal achievements. Consider:
From about the middle of the 2019 season, St. Mary's lost only seven games and won 148 — the last 27 games in 2019, went 43-1 in 2021, 44-0 in 2022, and 34-6 in 2023. They rewrote two Michigan High School Athletic Association records: most wins in a season (44) and the longest winning streak, 84 games, from May 1, 2021, to May 3, 2023, five short of the national record.
The Eaglets won state championships in 2019, 2021 and 2022. They trounced nine fellow Catholic High School League schools 79-3 for four Central Division titles and four CHSL crowns and were 57-4 against 46 out-state schools and 12-0 against eight Buckeye State teams.
The caliber of talent during this span is attested by the near dozen players who are on Division 1 college rosters and a pair of players who have signed multi-million-dollar contracts to play professionally.
As it turns out, St. Mary's didn't have to look farther than 30 miles west to Milford to find Nick DiPonio, a candidate they knew well and who had been the Eaglets' head baseball coach from 2005-12. He coached the Eaglets to six district titles, three regional titles and runners-up in the 2007 and 2009 state finals.
A 1998 alumnus, DiPonio was the centerfielder who contributed three hits, scored two runs and drove in a run in the Eaglets' 8-6 triumph over Whitehall for the 1998 Division 2 state championship. He was named to the All State Dream Team and honorable mention on the USA Today All American team.
He played a year at the University of Detroit Mercy and transferred to Oakland University (business and finance major) for the last three years, where he finished with a career .339 batting average and ranks in several top 10 offensive categories.
Professionally, he played four years for Rovigo and San Marino in Italy. In 2002, he was a member of the San Marino club competing in the European Cup in Barcelona, Spain.
"I felt compelled" about his decision, DiPonio said. "I have strong ties with St. Mary's. It feels like home. Going through your formative years in high school, finding yourself, your faith, and the people you'll share these memories with for the rest of your life, and finding out what that means to you and others are gifts OLSM gave me."
He understands he and his team will be in the spotlight. "It's not about me," DiPonio, 43, said. "It's about the kids. I have a good staff and we'll move the program forward and give the boys the best they deserve."
Five years ago, DiPonio and his father, Ben, opened the Huron Valley Athletics Complex in Highland Township on the site of a former golf driving range pro shop that they renovated and expanded. The sprawling venue features indoor and outdoor facilities for training and practice in a wide variety of sports for kids and adults. He also owns and operates the West Oakland Wings amateur baseball and softball program with 18 current travel teams from 8U-18U.
'It feels like coming home'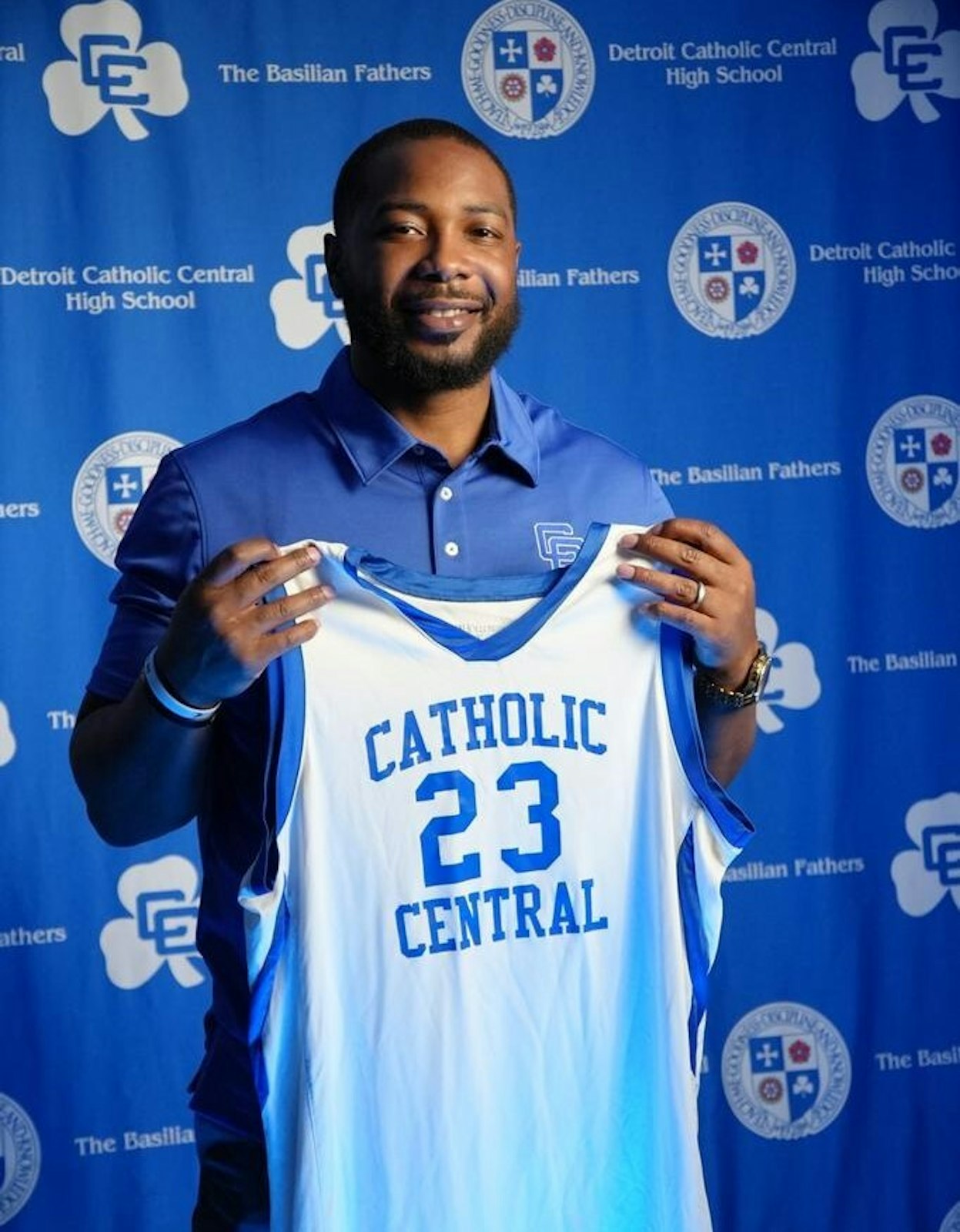 Newly hired Tory Jackson is the fifth head basketball coach in Novi Detroit Catholic Central's history.
Jackson, who has previously coached at Saginaw Buena Vista and Bay City John Glenn high schools, most recently served the 2022-23 season as head coach at Grand Blanc, where he led the team to a 25-3 record and a Final Four appearance.
He played four years under coach Mike Brey at the University of Notre Dame, where he was named captain of the Fighting Irish his senior year and earned numerous awards for his play and leadership.
After graduating with a degree in sociology and computer applications, Jackson, 41, spent some time playing professionally abroad.
"CC provides so much for its athletes and coaches, and I love everything about the Catholic League. It's the toughest conference in the state of Michigan, so being a part of that excites me as well," Jackson said. "In a lot of ways, CC is like a mini version of Notre Dame. Notre Dame is my second home, so for me this feels like coming home."
Contact Don Horkey at [email protected].
Copy Permalink