Northwest Detroit, Jesuit-run school announces program to encourage study of pioneering African-American leader, $10K scholarships
DETROIT — Loyola High School in Detroit is honoring the accomplishments of a pioneering African-American leader by providing financial support and opportunities for future African-American leaders.
The archdiocesan, Jesuit-sponsored school in northwest Detroit announced on Feb. 14, Frederick Douglass Day, the creation of the Frederick Douglass North Star Scholarship Program, which will provide financial support to Loyola sophomores who complete a course of study on the 19th century journalist, abolitionist, civil rights activist and former slave.
"This morning we're announcing the launch of our Loyola Frederick Douglass North Star Scholarship Program," David Smith, president of Loyola High School, told Detroit Catholic. "This is a program that not only honors Fredrick Douglass, it will educate and inform our young men about the life of Frederick Douglass, but also raise scholarship money to help offset the cost of their education."
The scholarship program, named after Douglass' abolitionist North Star newspaper, will provide $10,000 scholarships to Loyola sophomores who are nominated by faculty members, who then will complete a special course of study their junior year on the life of Frederick Douglass.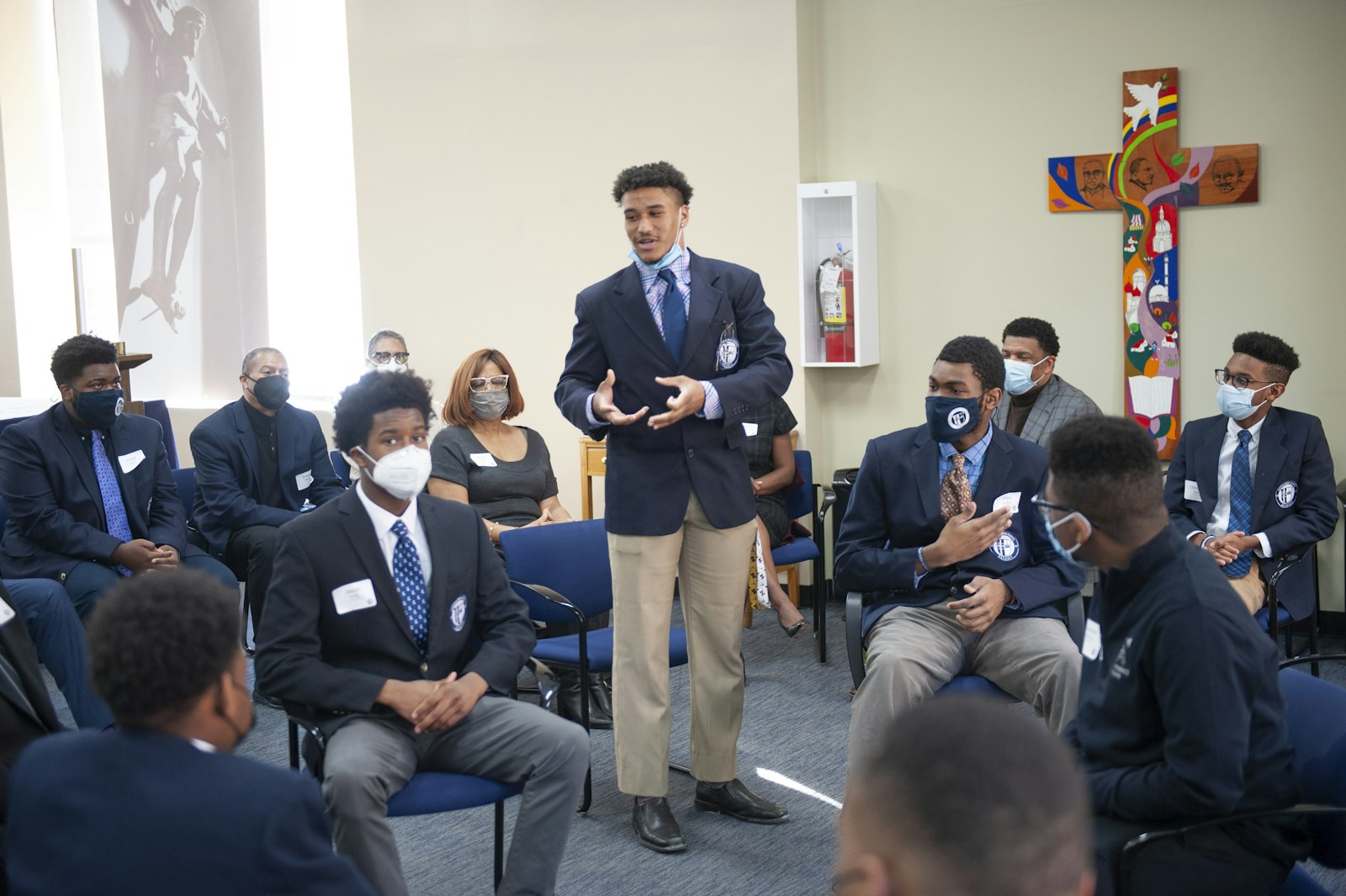 Recipients will then present before the entire 150-student, all-male student body on the life of Frederick Douglass on Frederick Douglass Day.
"Frederick Douglass is a great example as a leader for liberty, equality and justice, and a tremendous figure in African-American and Black history in the U.S.," Smith said. "For our school, which is predominately African-American, he holds an important role, along with other great figures in American Black history."
The scholarship was announced in the second-floor prayer room of the school in a presentation in which Loyola donors and supporters were present, along with business leaders in the community who take part in Loyola's work-study program, in which students work in professional offices to help cover the cost of tuition.
"The Frederick Douglass Scholarship will allow for Loyola to continue to give a high-quality education to well-deserving young men here on the northwest side of Detroit," said Wyatt Jones III, Loyola's principal. "This is for young men who, if they did not have opportunities like this, may not be able to experience what we do here at Loyola."
After the announcement, Loyola students spoke with supporters of the school and members of the community about Loyola's unique role as a predominantly African-American, all-male school.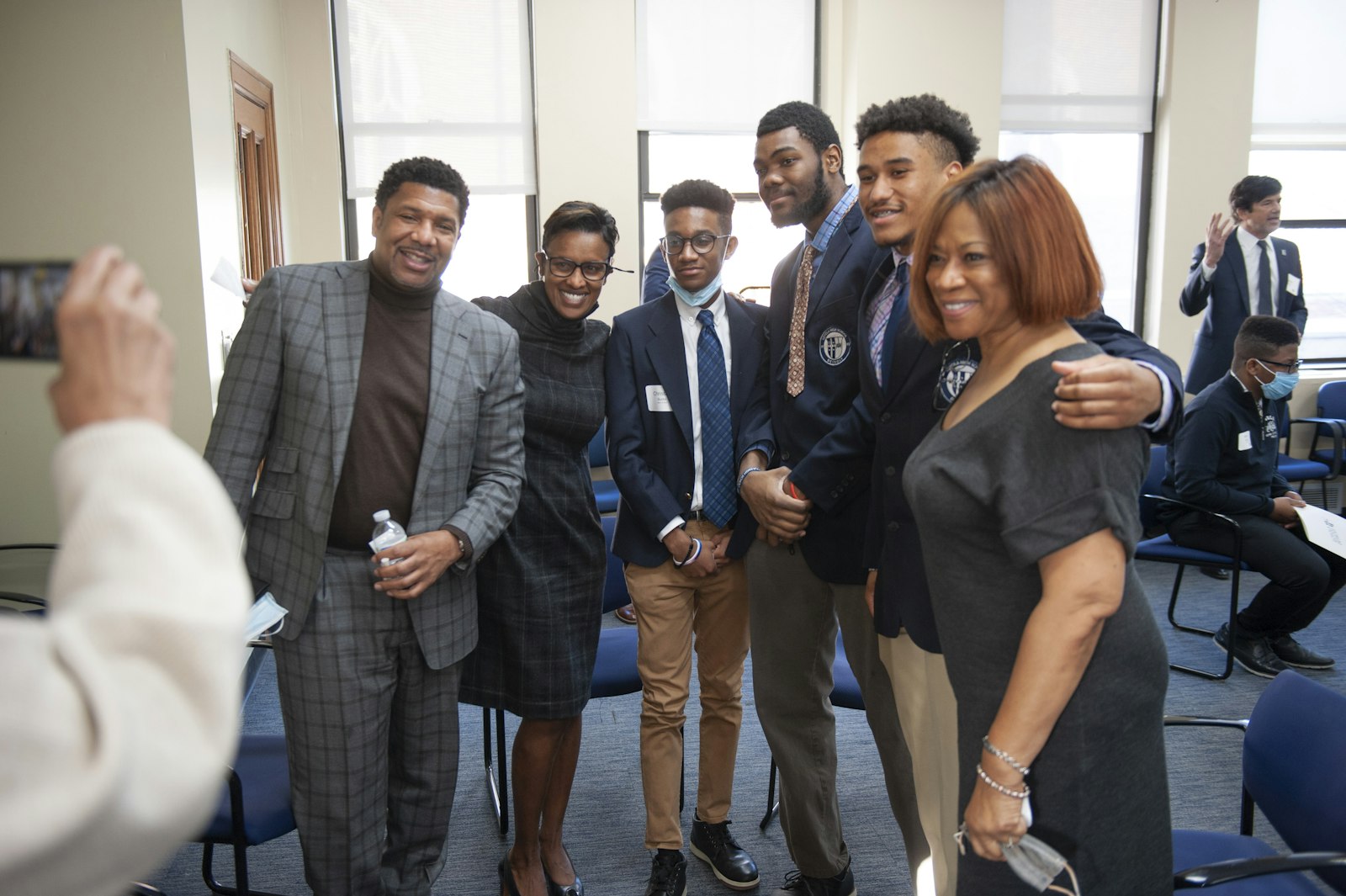 At Loyola, students are greeted with high expectations, and the school challenges all students to meet or exceed their potential, Jones said.

"Frederick Douglass represented that same type of passion and integrity, continuing to work, even when things got hard," Jones said. "We want to continue to teach the importance of accountability and the importance of responsibility. We really press upon our students the importance of our Catholic-Christian identity."
For 11 consecutive years, Loyola has seen 100 percent of its graduates accepted into college. Alumni of the school continue to give back to Loyola, with many being there on Feb. 14 for the announcement of the scholarship.
Donors had already given enough for three, $10,000 scholarships for the 2022-23 school year, Smith said, with a chance for donors to give to the Frederick Douglass North Star Scholarship Program online.
Each scholarship, each donation, helps continue Loyola's mission, which coincides with Frederick Douglass' message: "It is easier to build strong children than to repair broken men."
"Growing up as an African-American, you always are looked at as a statistic," said Michael Williams, a junior at Loyola. "People tell you you're not going to make it past 18, you won't make it past 21. It gives you a chance to show you are better, more than what those statistics are. You can go out in the real world, go out as a junior and senior, and you can go to a Catholic school, not paying anything because the job is helping you pay.
"My experience at Loyola has been great, where I've learned so much about myself," Williams added, "and it means a lot to know others will have that same opportunity."
Copy Permalink
Black Catholic ministry
Catholic schools
Stewardship