EAST LANSING – Baseball fans expected Orchard Lake St. Mary's to win the battle for a state championship last Saturday at McLane Stadium on the Michigan State campus, but not exactly in the manner they've been accustomed to in this spectacular season.
In a Division 1 showdown, the expectation was that the seemingly invincible season-long No. 1-ranked Eaglets would easily dispose of Grosse Pointe North. Instead, the Eaglets found themselves on the brink of an upset of major proportions before claiming a 1-0 victory.
The game started innocently enough. St. Mary's scored in the bottom of the first according to traditional baseball ritual: Nolan Schubart lined a single to center, advanced to third on a failed pickoff attempt, and crossed home plate on Ike Irish's groundball to short.
Eaglets fans settled down. This was just the beginning.
It was the beginning, yes, of almost the end of the Eaglets' quest for a third consecutive state title and setting a record for most wins by a team in a season with a perfect 44-0 slate.
St. Mary's didn't threaten again until the fifth inning when, with two outs, they strung together the other two other hits they managed for the game, a bunt by Jack Creighton and Schubart's second single to center, sending Creighton to third. Jake Dresselhouse bounced out to the third baseman to end the opportunity to maybe break open the game.
Meanwhile, St. Mary's Ciaran Caughey and North's Brennan Hill were locked in a duel. The southpaw Hill (6 IP, 1 R, 3 H, 9 K) delivered a crafty mixture of fast and off-speed pitches that had Eaglets' hitters mumbling to themselves and fans squirming in their seats.
Caughey (10-0; 5.1 IP, 0 R, 2 H, 9 K) was weaving a similar numbing effect on GP North's offense. His tour on the mound ended abruptly with one out in the top of the sixth after a Norseman batter singled and then sprinted to third on Caughey's wild pickoff attempt.
Coach Matt Petry called on Jasen Oliver, who plunked the first batter he faced to add a little bit more drama to the situation. With runners on first and third, in an attempted double steal, the third base runner was tagged out trying to get back to the bag. Oliver got a strikeout to end the threat.
GP North (23-8) gave it one more try to either tie or go ahead in the seventh inning. They had runners on first and second with two outs. The Eaglets junior first baseman Blake Grimmer smothered a hard-hit grounder inside the line and stomped on the bag for the final out.
St. Mary's produced mind-boggling numbers for the season, ranked No. 1 nationally for the second year in a row. Over their three years as state champs, the Eaglets are a combined 121-10-2, the last two years 87-1, ending this spring on a 66-game win streak that started with 22 wins in a row to close out the 2021 season.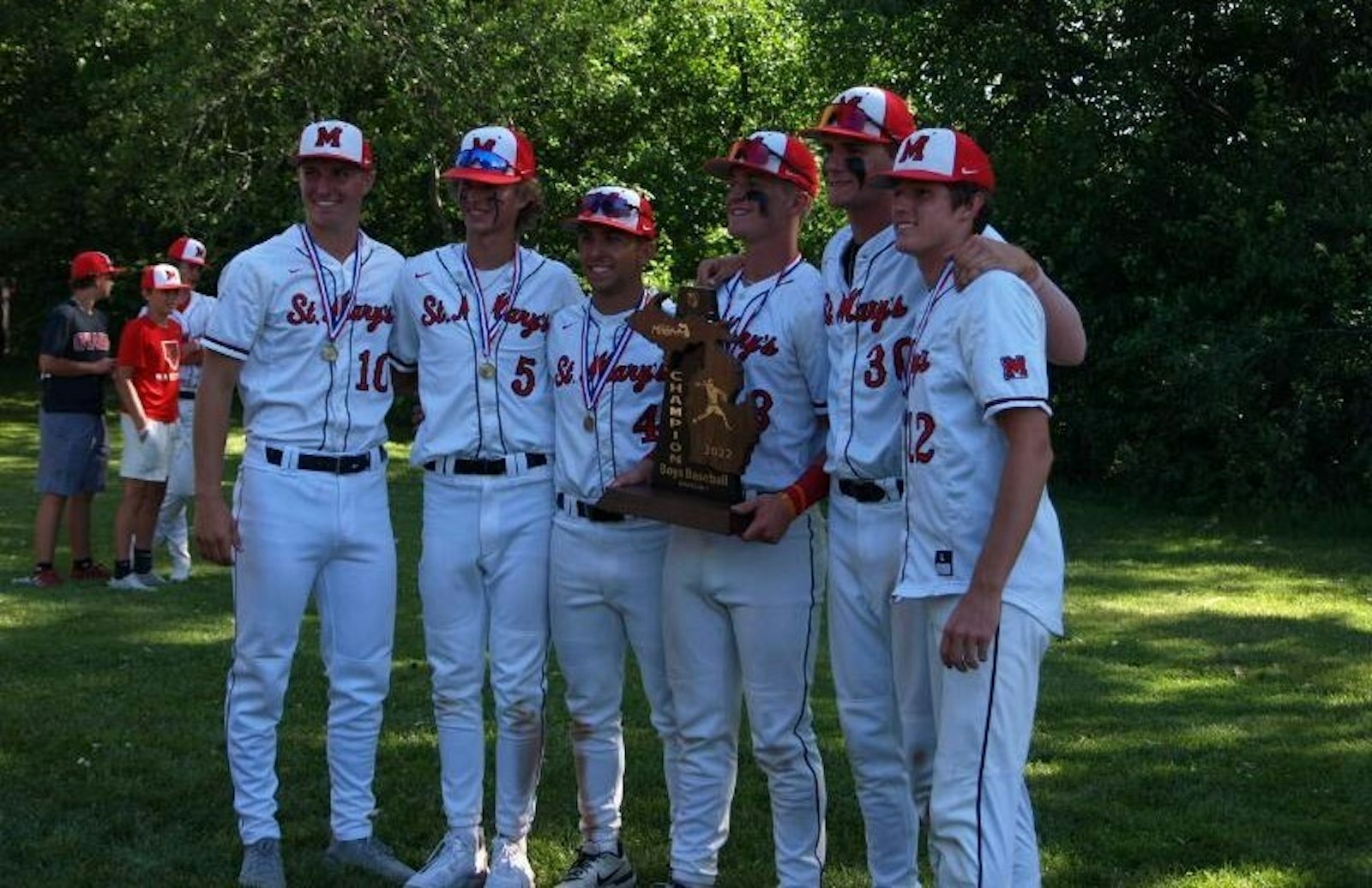 The team batted a robust .352 that included 144 extra-base hits: 77 doubles, 15 triples, 52 home runs. However, the axiom that good pitching can beat good hitting has no relevance when you have superb pitching like St. Mary's had.
No one can testify to that better than Ike Irish from behind home plate in catcher's gear for last two championship teams.
"Everybody (on the 11-man staff) did their job," he said. "It was awesome, a ream come true. At the end of the day we asked our pitchers to compete, and that's what they did all year for us.
"All our pitchers trained hard in the offseason. They worked harder than everybody. And it showed on the field. I can't tell you how many shutouts (16) or no-hitters (8) we had, but it's been amazing to see the pitchers develop."
Irish used Caughey as an example. "Last year, Ciaran wasn't our No. 2, but he stepped up to the role and came through." He had a team-best 10-0 record with a 0.52 ERA.
About fire-balling Brock Porter, the Gatorade National Player of the Year. "He's unreal," Irish said. "I think we'll be watching him on TV pretty soon."
Porter's 9-0 record included three no-hitters, a 0.41 ERA, 115 strikeouts in 58 innings. He's committed to Clemson and is expected to be a first-round pick in the major league draft in July.
Porter, Caughey (Kent State) and Irish (Auburn) are among nine seniors who will be taking their baseball talents to the collegiate level in the fall. They include third baseman Jack Crighton (Michigan), outfielder Jake Dresselhouse (Michigan State), pitcher Nolan Higgins (Michigan State), outfielder Nolan Schubart (Michigan), pitcher Brandon Skorupski (Davenport), and pitcher Will Stuligross (Hope College).
Contact Don Horkey at [email protected]
Copy Permalink