Project helps parishes, schools support vital ministries such as Project Hope, Walking with Moms in Need with needed supplies
TROY — The traveling crib just might be coming to a church foyer near you.
And hopefully, you brought baby supplies.
The crib is an initiative of Catholic Charities of Southeast Michigan, a visual reminder for parishes to support Catholic Charities' Walking with Moms in Need program by donating supplies to help mothers in unexpected pregnancies.

The portable crib serves as a simple, but stark, reminder of the real lives that can be helped through donations, said Andrea Spankie, coordinator of Walking with Moms in Need and Project Hope at Catholic Charities of Southeast Michigan.
"The traveling crib initiative is something we came up with at the end of last year to try to get parishes more aware of what we can be doing to support moms in need," Spankie told Detroit Catholic.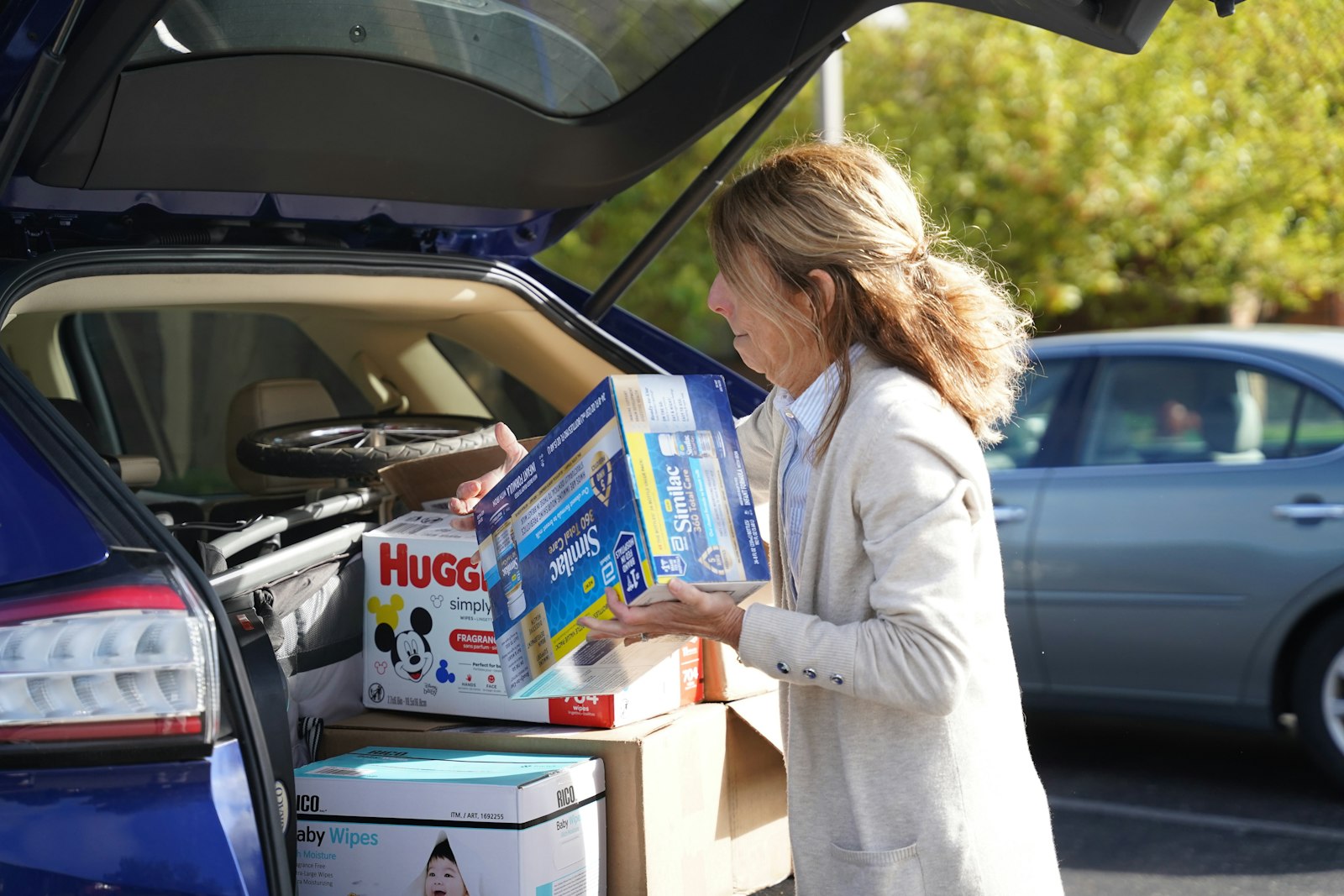 The crib began its travels this summer, staying at a parish for a week or two before moving to the next location. Parishioners drop off diapers, baby wipes, clothing and formula. A full list of supplies is on Catholic Charities' website, where parishes can also sign up to host the crib.
When a parish signs up, Spankie drives out the parish to set up the crib in the church foyer along with materials explaining how the project supplies Project Hope — Catholic Charities' ministry that helps women in unexpected pregnancies and mothers with newborns up to 2 years old.
"Project Hope runs on these donations," Spankie said. "We wouldn't have these things to give out if it wasn't for these collections. There have been several times when a client would come up on a Friday and I was completely out of a certain size of diapers, and that exact time someone comes in with that same size of diapers I needed. God is providing for these moms through parishioners who are inspired to get involved."
St. Anastasia Parish in Troy hosted the traveling crib — one of two making their way around the archdiocese — for a weekend in September. Spankie met with Kim Houseman, Christian service director at St. Anastasia, to set up the crib and place items the parish had already donated inside.
Houseman said the crib's presence at St. Anastasia served as a launching point for the parish to provide a more comprehensive continuum of care for expecting and new mothers.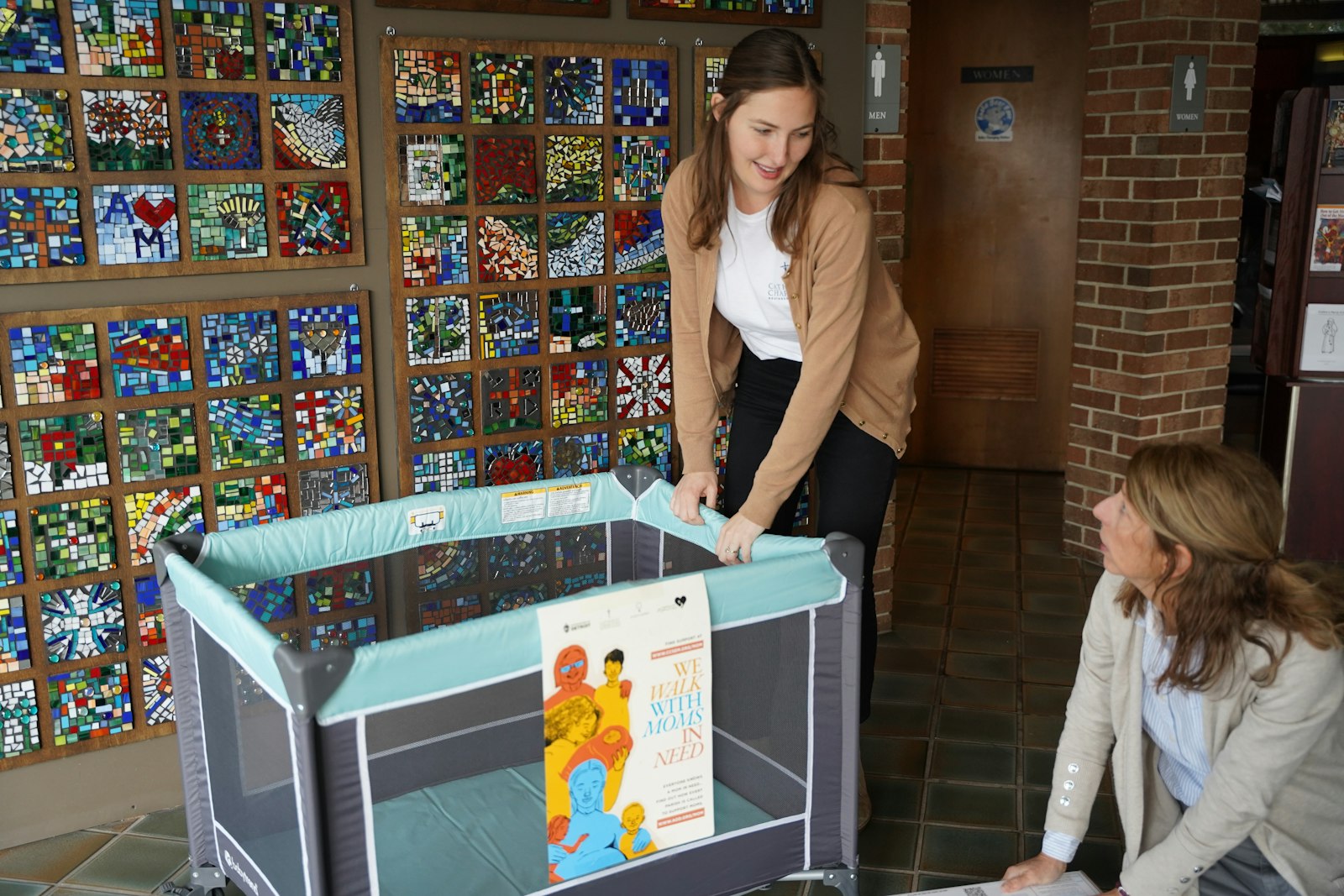 "So far we've been able to support Catholic Charities and help local outreach, but now we are moving forward with our own ministry team to be on call for anyone who is a new mom," Houseman said. "New moms will be able to call our line, my extension, and have a team to meet them when they are, ready to go and get the resources they need, along with mentoring them and supporting them spiritually."
Houseman said the Troy parish hopes having a more robust mom and baby care ministry will attract people who need help, knowing they can come to St. Anastasia for support.
"We've collected two cars-full of supplies, even before this weekend's Masses, so we know more will come in," Houseman said. "We also do our own layette bags here, so when a mom comes in who needs care, we have a bag full of sleepers and wipes and baby items to give."
The traveling crib has been to the Shrine of Jesus the Divine Mercy in Clinton Township, St. John Fisher Chapel University Parish in Auburn Hills, and for most of October will be at St. Therese of Lisieux in Shelby Township as part of the parish's Respect Life Month initiatives.
"It's amazing; almost anything we ask for at this parish, we get an outpouring of support from our parishioners," said John Karski, evangelical charity director at St. Therese of Lisieux.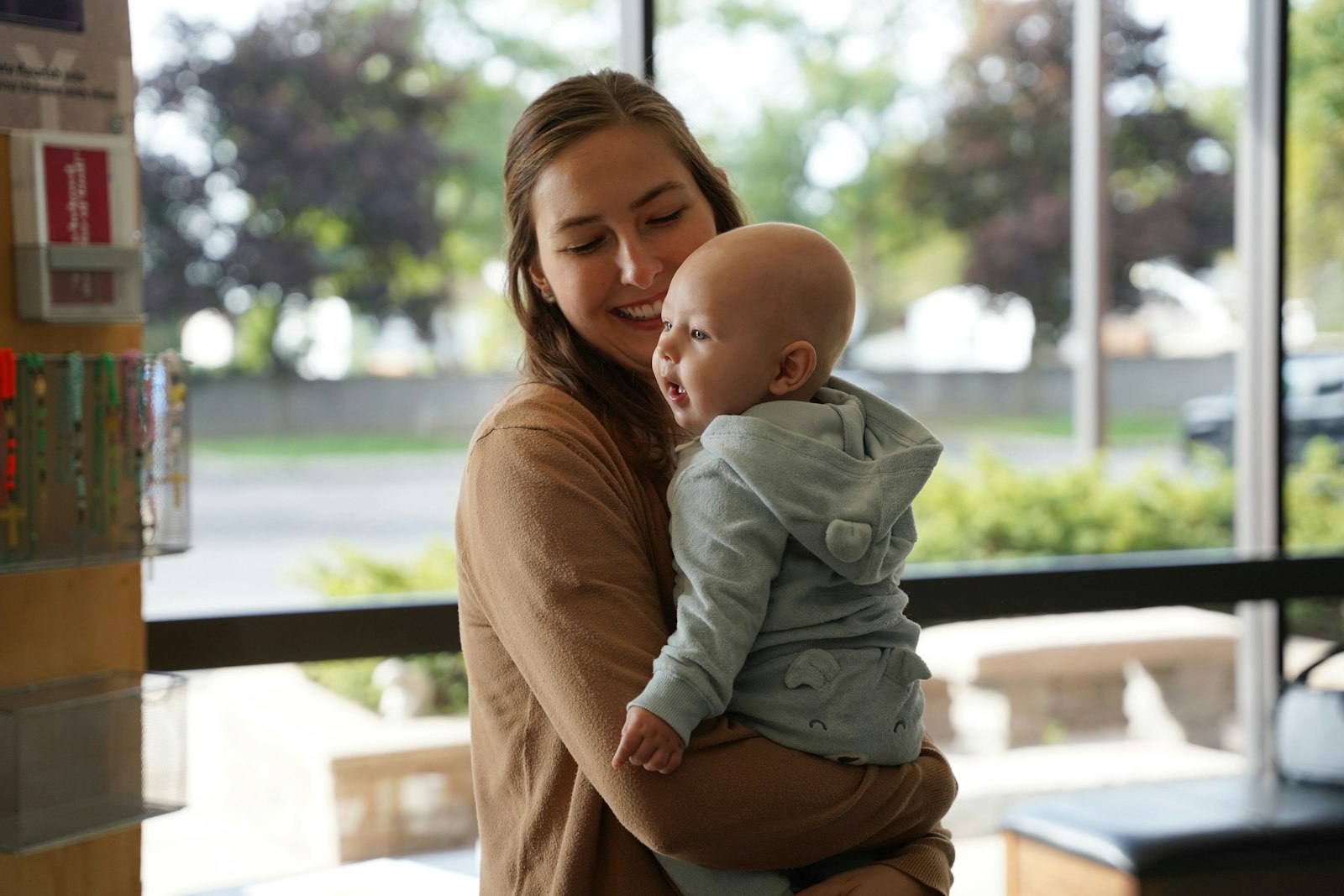 "With Proposal 3 coming up, this is generating a lot of attention," Karski added. "This is a good time to bring this cause to the forefront."
St. Therese of Lisieux has a knack for being a charitable parish, Karski added, from the parish medical supply closet that's staffed by a nurse to participation in the annual Life Chain.
"It's like the loaves and fishes; something gets started and then it just multiples," Karski said. "We have parishioners who really take up causes near to their hearts, whether it's the Adopt-a-Family program or the giving tree, the Brown Bag Program or Mercy in Action — it amazes me. Hopefully we keep filling up the crib every weekend; we have tables set up next to the crib just in case there is excess donations."
Catholics know the church stands with mothers and babies, so having a visual like an empty crib can serve as a powerful aid to solicit donations, Spankie said.
"I think it puts into more perspective when you see a crib set up in the vestibule of the church, who it is you are helping," Spankie said. "It's not just a cardboard box where everyone dumps in their donations. You can almost picture a little child that will be using this crib and donations. It pulls on your heart a little more."
With the election less than a month away, pro-life Catholics are — rightly — using their time to canvass, educate and encourage voters to reject Proposal 3. But regardless of the outcome, the Church will continue to walk with mothers and babies, Spankie said.
"Our mission as Catholics will be the same," Spankie said. "It's been the same thing pro-lifers have been doing for decades: supporting moms and babies before and after birth; it really doesn't change. We are praying, hoping this proposal doesn't go through. In the next month, we have a lot of praying and fasting to do, but regardless of what happens in November, we'll be doing what the Catholic Church has always been doing: helping moms in need."
Host the traveling crib
Parishes interested in hosting the traveling crib for a weekend or extended period can contact Andrea Spankie, director of Walking with Moms in Need at Catholic Charities of Southeast Michigan, at [email protected].
Copy Permalink
Pro-life
Christian service
Parish life