Local faith leaders expect Pope Benedict's life, teachings will live on: 'Here's a guy who will probably be a doctor of the Church'

DETROIT — As the body of Pope Emeritus Benedict XVI lay in state inside St. Peter's Basilica for a period of mourning following his Dec. 31 passing, 4,599 miles away in the Archdiocese of Detroit, priests and lay leaders reflected upon how the Holy Father impacted their own faith, and how his leadership, writings and example will resound in the Catholic Church for many years to come.
While Pope Benedict will be remembered as a theologian, prolific scholar and writer, there is so much more the late pope left the faith, said Fr. J.J. Mech, rector of the Cathedral of the Most Blessed Sacrament in Detroit.
"As we begin a new year, I was praying about Pope Benedict and thinking about who he is and who he was to the Church," Fr. Mech told Detroit Catholic. "Everyone always thinks of him as an amazing theologian because he is probably the best we've had in the 20th century, but there are other things about his life that maybe could be overshadowed by that lone qualification."
Fr. Mech said his respect deepened when Pope Benedict, through prayer, discerned that the Lord was asking him to step back from the papacy in 2013 after nearly eight years.
"How amazing that was, him recognizing and discerning in his spirituality what the Lord was asking of him," Fr. Mech said. "His theology and spirituality were inseparable, and even though he was such an amazing academic, his intellectual writings were completely influenced by his spirituality and his connection with the Lord."
Pope Benedict also had a significant love for the Eucharist, Fr. Mech added. He wrote extensively about the Eucharist as the source and summit of the faith, and his love of the Eucharist is worth reflecting on, Fr. Mech said.
"We are in the midst of a Eucharistic revival, and when you look at his papacy, he was trying to renew people's faith across the world where secularism had intervened," Fr. Mech said.
That drive for a renewal of faith and a deeper understanding is foundational to the Eucharistic revival in the U.S. Church, Fr. Mech said.

"When you come to the Eucharist, the source and the summit, it's not an empty ritual," Fr. Mech said. "When you leave, you are transformed. When I would read his work, that is what I would grab onto — it wasn't just an academic text; it was a text that helped us understand the real purpose of what we are supposed to be about."
Pope Benedict's writings on the Eucharist are accessible yet profound, said Fr. Charlie Fox, vice rector and dean of seminarian formation at Sacred Heart Major Seminary.

Fr. Fox met Pope Benedict in 2012 during Archbishop Allen H. Vigneron's ad limina visit to the tombs of St. Peter and St. Paul alongside other bishops from Ohio and Michigan. At the time, Fr. Fox was serving as Archbishop Vigneron's priest secretary and was allowed to accompany him to meet the pope in the papal apartments.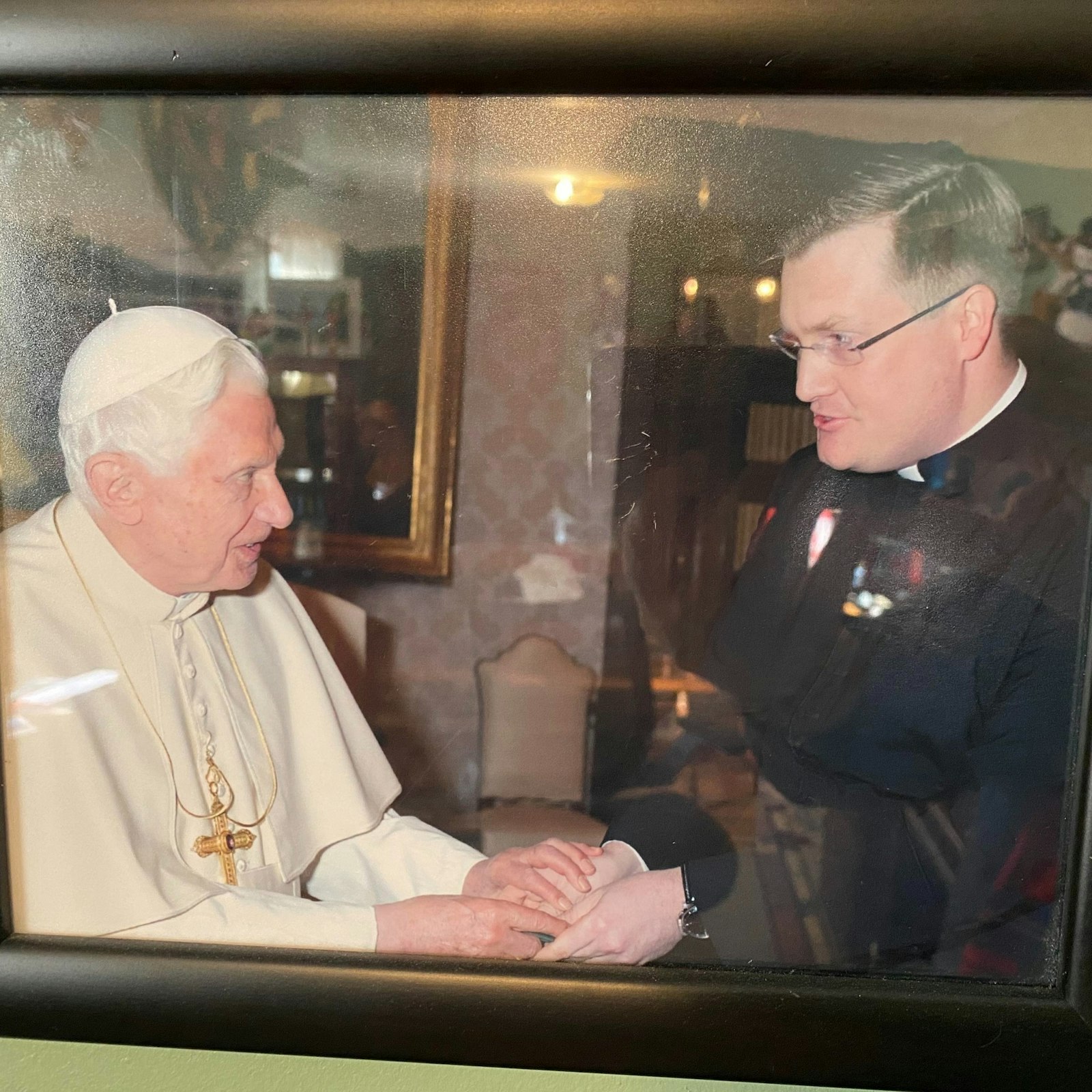 "(Our private audience) was a tremendous blessing because I had admired Pope Benedict for a long time, long before he became the Holy Father," Fr. Fox said. "I was able to have a chance to shake hands with the Holy Father and to offer a quick word of greeting, and he greeted me back. It was a brief but profoundly moving experience."
'He loved to hear people were studying'
Msgr. Chuck Kosanke, pastor and rector of the Basilica of Ste. Anne in Detroit, recalls meeting Pope Benedict twice — the first time in 1991, when he was still known as Cardinal Ratzinger.
"I was crossing the piazza of St. Peter's with another priest, and (Cardinal Ratzinger) was crossing as well on his way from his office to home, and we spotted him and went over and said hello," Msgr. Kosanke recalled. "He was very gracious given the importance of his position in the Vatican — it was just a few minutes, but it was a very great encounter. He asked us who we were and what we were doing. And, of course, at the time, we were studying. He smiled and was affirming — he loved to hear people were studying."
In 2005, Msgr. Kosanke was among one of the first groups to be named a monsignor by the pope. Msgr. Kosanke later met Pope Benedict again during a private audience with the alumni of the Pontifical North American College.
"I feel privileged to have personally met someone who has had such a significant impact on the life of the modern Church, especially since the Second Vatican Council," Msgr. Kosanke added.
As a young priest and theologian, Pope Benedict XVI took part in and influenced the teachings of the council. Throughout his time as the head of the Congregation for the Doctrine of the Faith and later as pope, he worked to guide the Church through a new era and sought to make sure the council's teachings were authentically propagated, Msgr. Kosanke said.
His personal life experiences and work with the council gave him a sensitivity to the world, and as pope, he served as a peacemaker.
"One of the things from his life that is significant to me is his choosing the name 'Benedict' to become pope. He says that it was in honor of Benedict of Nursia, a doctor of the Church, but also Pope Benedict XV, who was also pope during a very turbulent time in the world and in the Church," Msgr. Kosanke said. "When you met (Pope Benedict XVI), there was a sense of peace and calmness, and as pope, he really wanted to be a peacemaker among groups."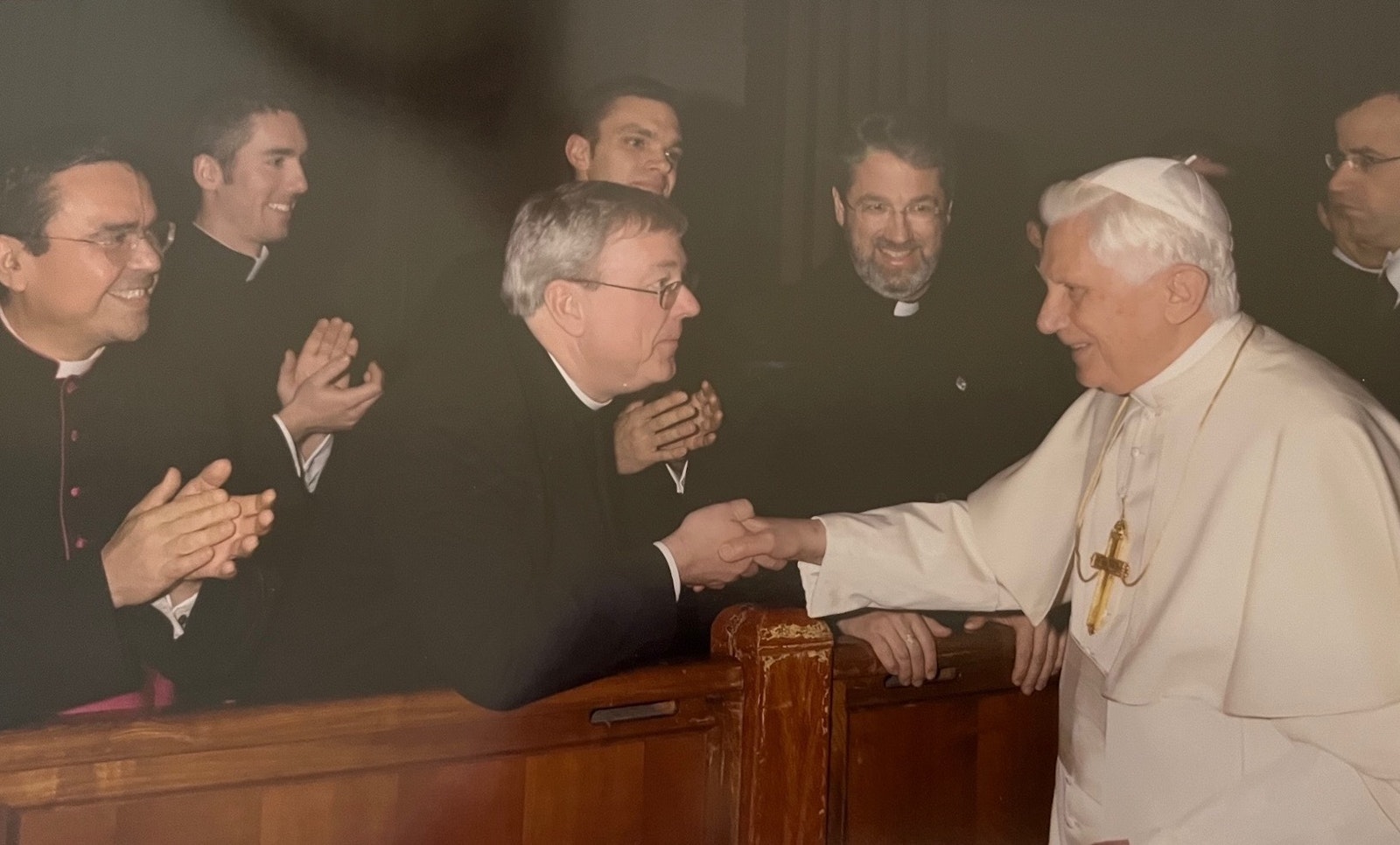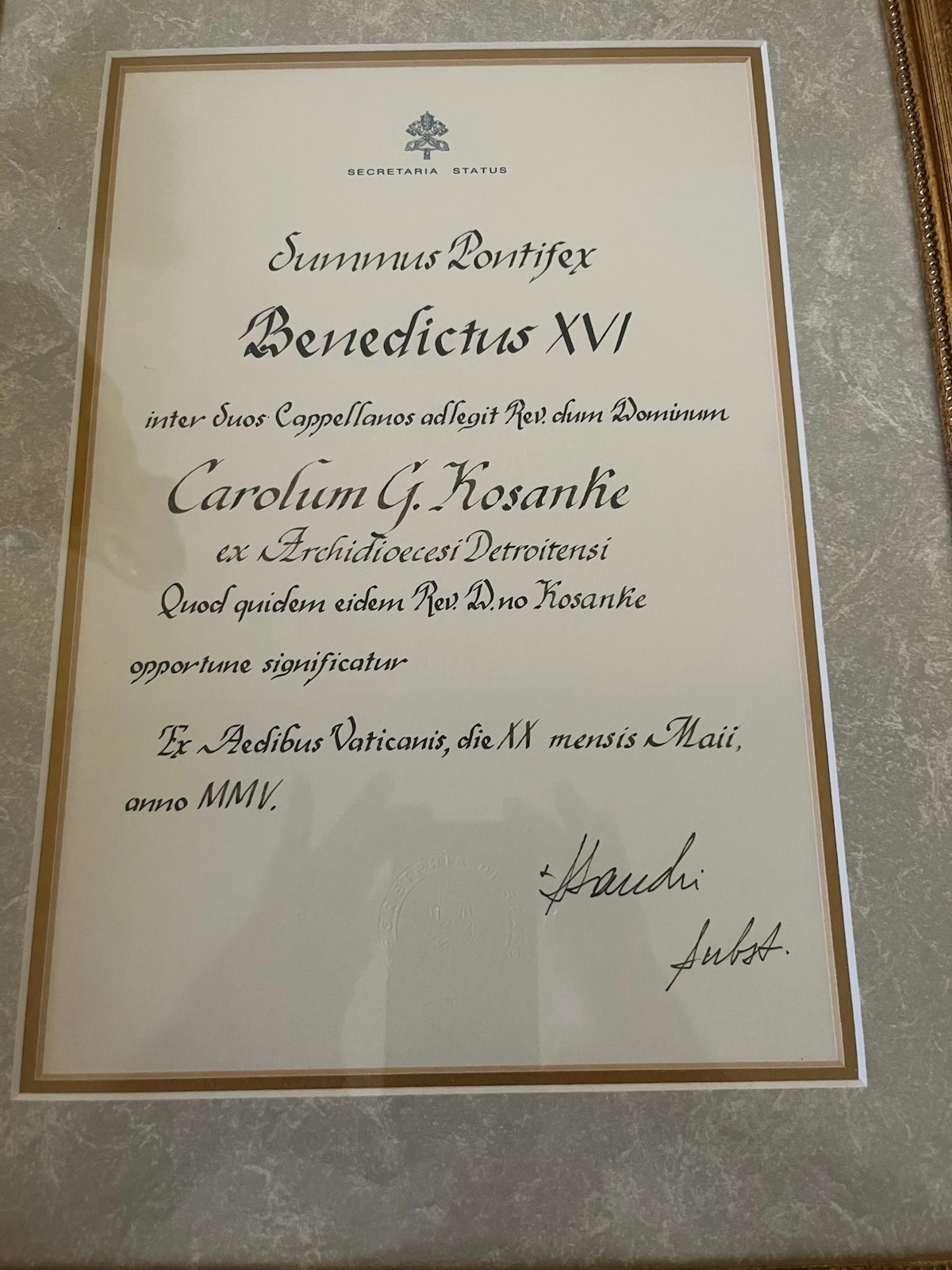 Pope Benedict XVI faithfully reached out to other religions, especially Judaism, and sought reconciliation, Msgr. Kosanke said. His experience of growing up in Nazi Germany gave him a sensitivity to the horrors of fascism, much like how Pope St. John Paul II fought the spread of communism.
As pope, Pope Benedict XVI held countless audiences, yet for those who met him, it was clear he took a real, personal interest in each person he met, said Antonio Rea, a parishioner at St. Hugo of the Hills in Bloomfield Hills, who alongside his wife, Suzanne, met the pope on several occasions in his capacity as a member of the Papal Foundation for more than 25 years.
The Papal Foundation serves the Holy Father and the Church through by funding the Holy Father's charitable work throughout the world. Members meet with the pope once a year following Easter for a private audience, when they present him with a check.
Despite the significance of the donation, Rea said Pope Benedict treated the donation as secondary to meeting with the individual members of the foundation.
"You knew you were in the presence of a great holy man when you meet him in person," Rea told Detroit Catholic. "He had a very peaceful presence about him, and he was always smiling — he had a very warm smile. When we greeted him, shook his hand and talked to him for a bit, he would look at you and could tell he was interested in what you had to say, who you were and where you were from."
Through the financial requests made by the pope to the Papal Foundation, Rea was able to observe firsthand the pope's charitable priorities. Rea recalled Pope Benedict was particularly concerned about child trafficking.
"He had a very strong influence in faith that has driven people," Rea said.
As humble as he was brilliant
Following St. John Paul II, Pope Benedict had big shoes to fill, and he did it with exceptional grace, said Fr. John Riccardo, a Detroit priest and founder of ACTS XXIX.
"It was said that after Pope John Paul died and Benedict became the pope, people used to come to Rome to see John Paul, but now they come to listen to Benedict," Fr. Riccardo said. "There was something about the charismatic personality of John Paul that drew people to him, but there was something about how Benedict both spoke and, perhaps even more so, how he wrote, that was just unbelievably penetrating."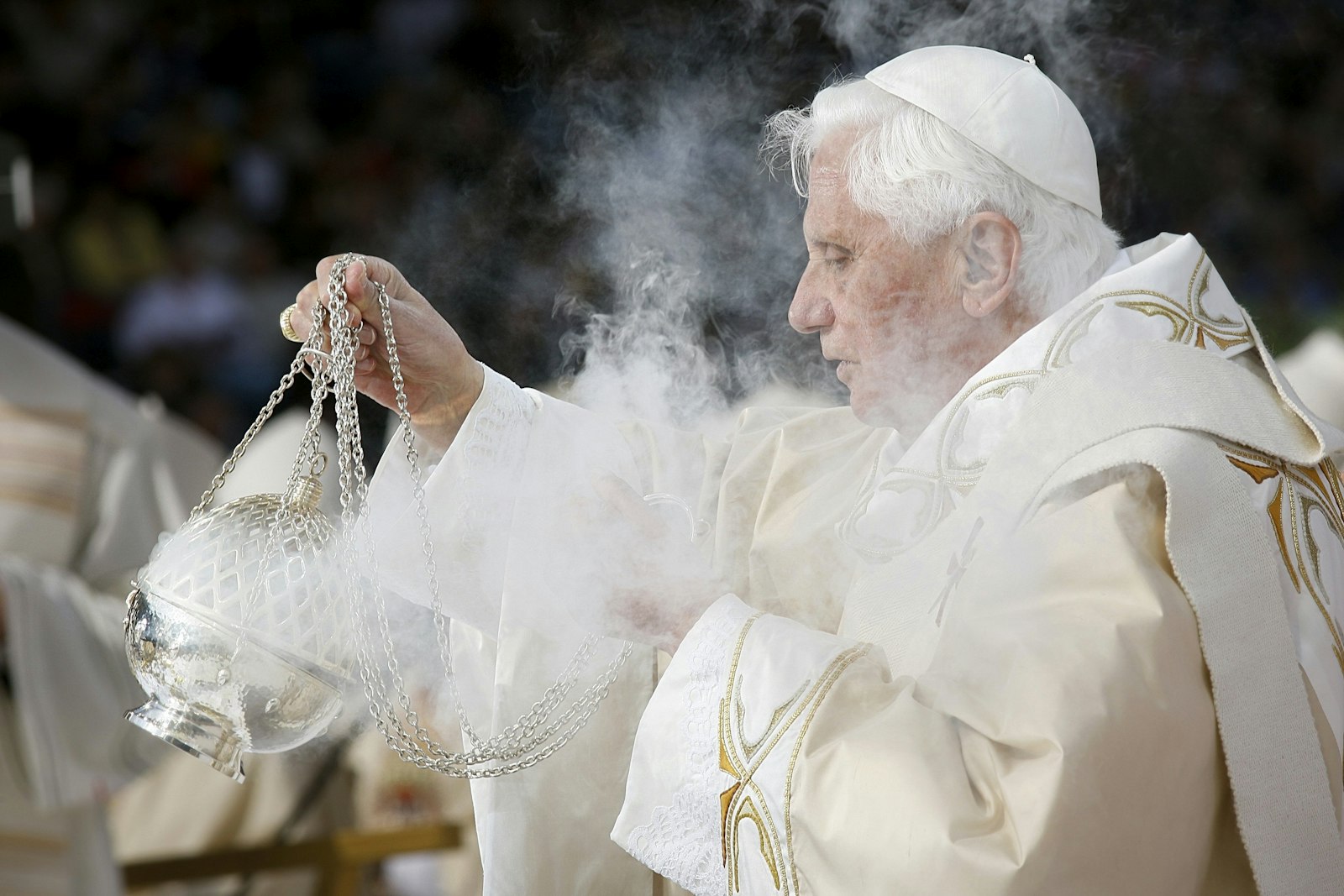 Pope Benedict XVI cannot be spoken of without mention of his intellect and writing; however, Fr. Riccardo said perhaps even more inspiring was the late pope's humility.
"Unless you read him, you wouldn't know about his humility," Fr. Riccardo said. "Here is a guy who will probably be a doctor of the Church, meaning he is one of the greatest minds in the history of the Church, and when he writes, he would say things like, 'Scholars aren't sure what such and such a passage really means,' or, 'We have to be careful about how we talk about this insight.' In other words, he is just stepping back and almost saying, 'As brilliant as I am, the key to wisdom is knowing that I know nothing and that I am always learning.'"
This humility and deflection are particularly inspiring living in a culture in which attention and affirmation are considered paramount, Fr. Riccardo said.

Many of Pope Benedict's works are accessible, Fr. Riccardo added, and he finds himself returning to certain works over and over again in prayer.
"Here is a man who never stopped learning and who engaged his mind wholeheartedly about all of life, but most especially about what God has done for us," Fr. Riccardo said. "Let's do what we need to stretch our minds. I think if most of us were being honest, we'd acknowledge that, by and large, our minds have atrophied since we left formal education. And so we have to make a commitment to keep learning — keep stretching the mind, get it involved, get it engaged, make a commitment to read good things, not just lofty theology, but put into our minds good things."
The faithful can also make a commitment to ask the Lord for the grace to emulate Pope Benedict's humility, Fr. Riccardo said.
"There are few things as attractive as humility, especially in someone who is genuinely great," Fr. Riccardo said. "Somebody who is as gifted as he was who is not standing before you saying, 'Hey, look at me.' He's saying, 'Everything I have is a gift, and I am trying to make a good return on the gift that God has given to me.'"

Regardless of whether Pope Benedict is ever canonized a saint, Fr. Mech said the faithful can look to him as a sure guide to the truth of the Catholic faith.
"Immediately upon his passing, I offered a prayer for him, but I also prayed to him. I am a big believer in the communion of saints," Fr. Mech said. "He had such a strong motivation to renew the world because of what we have been given in the Eucharist, so I prayed that maybe there would be a renewal for us as the body of Christ on earth that we would understand and take more fully what it is that was given to us through his papacy."
Pope Benedict XVI wasn't just an intellect, Fr. Mech added. He was deeply spiritual and was able to live out his faith.
"I would ask people to delve in — let's not let his work and his mission go to waste," Fr. Mech said. "Let's grab on and ask the Lord how we are supposed to take up the baton of what Benedict lived and promoted."

Copy Permalink