Michigan State tragedy hits close to home for St. Paul on the Lake, Guardian Angels parishes, with ties to victims' families

GROSSE POINTE FARMS — Tears were shed, words of consolation were shared, and memories were cherished Tuesday night during two emotional prayer vigils to honor the memory of three Michigan State University students whose lives were cut short during a shooting on the East Lansing campus one night earlier.
Two of the students, Brian Fraser and Alexandria Verner, belonged to Catholic parishes in Metro Detroit, while the third, Arielle Anderson, was a much-loved graduate of Grosse Pointe North High School.
Fr. Jim Bilot led hundreds of mourners at St. Paul on the Lake Parish in Grosse Pointe Farms in a prayer vigil that featured a picture of Fraser, 20, a Michigan State sophomore and 2017 graduate of the parish school, surrounded by candles in the sanctuary.
"We are here as a community of faith to support you and your support for us as a community of faith," Fr. Bilot said. "We come to pray, and that is the most important and most powerful thing that we could do at this time."
Leading the congregation, Fr. Bilot asked God to comfort Fraser's family and friends and to welcome him into the light of heaven.
"My brothers and sisters, we believe that all the ties of friendship and affection that knit us as one throughout our lives do not unravel with death," Fr. Bilot said. "Confident that God always remembers the good we have done and forgives all our faults, let us pray, asking (God) to gather Brian to Himself."

"In loving God, he was a faithful young man. This was his church. He received his sacraments here, and he received his faith from this community," Fr. Bilot added. "And we are indebted to his family for the gift that they have given him."
Acknowledging the unbearable pain of losing a loved one, Fr. Bilot said it's not easy to turn to God in prayer in the midst of tragedy.
"We come here filled with a lot of feelings, a lot of emotions, but we're not here about those feelings," Fr. Bilot said. "The core and depth of our being goes beyond our ability to feel, to think and experience. That's where Jesus wants us to be. We can be weary. We can be troubled. We can be angry. We can be despairing. We can be fearful. There are so many layers to what's going on that there's not one simple answer to any of the questions we may have."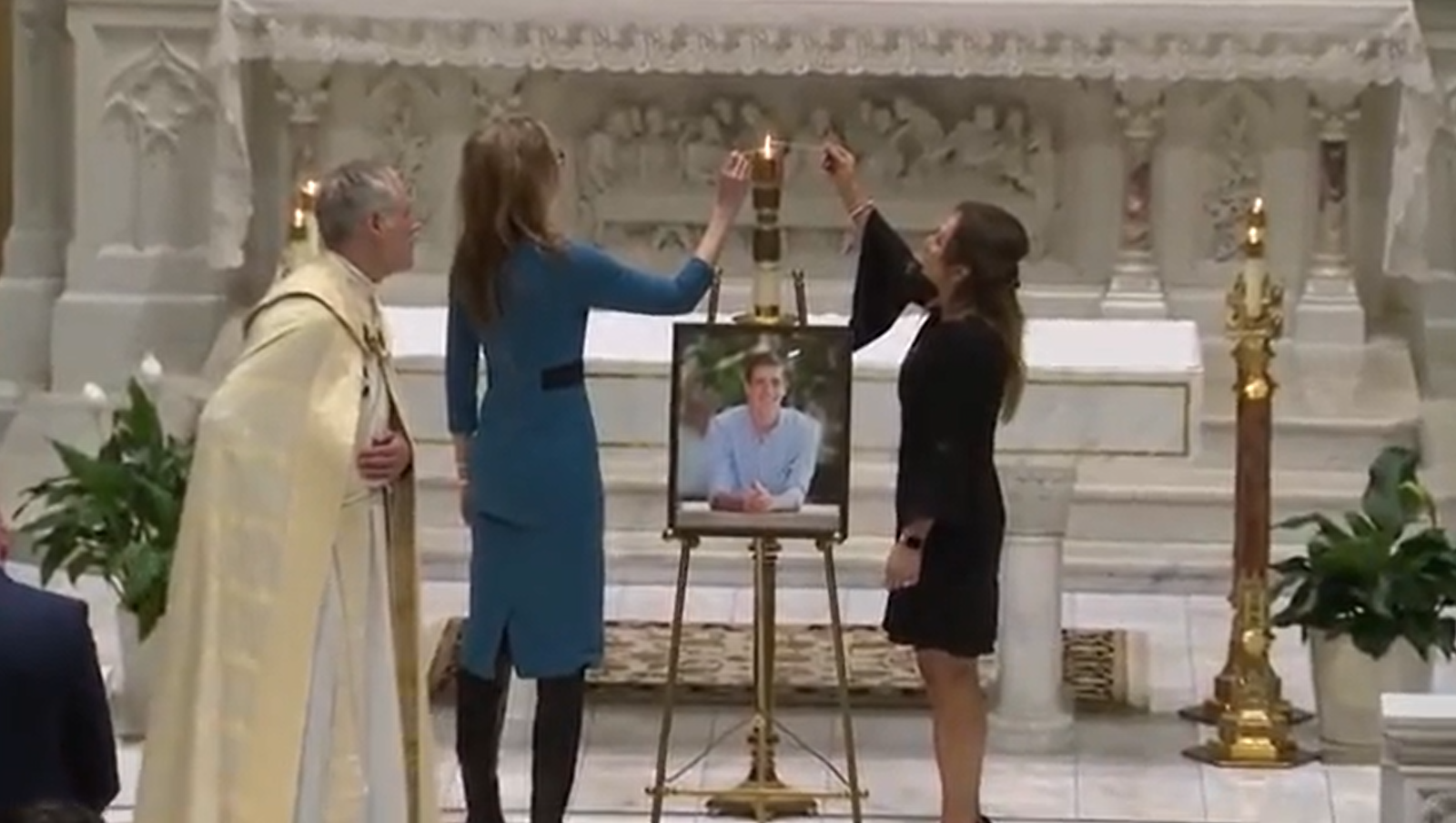 While Fraser had ties to the St. Paul community, Fr. Bilot acknowledged the two other students who lost their lives in the shooting, Anderson and Verner, urging prayers for their grieving families as well as five others still hospitalized.
On social media and in person, community members poured out their love for the three victims, who were described as positive, uplifting souls. Fraser was president of his fraternity, the Michigan Beta Chapter of Phi Delta Theta at Michigan State, and a swimmer at Grosse Pointe South High School. As a student-athlete, Verner played volleyball, softball and basketball and was studying biology and anthropology in college. And Anderson was a straight-A student who loved photography and helping others, and planned to become a surgeon.
Although their bright futures on earth were prematurely ended, Fr. Bilot said their future remains bright in heaven.
"One of the things that's very important for us to remember as we pray for Brian is that each one of us has been given a great gift that we often don't remember or acknowledge: Each one of us is given a guardian angel to guide us along our journey in life," Fr. Bilot said. "So at that horrendous moment in Brian's life last night, he was not alone. His angel was there to support him, to comfort him, and most importantly, to protect his soul."
Perhaps unintentionally, Fr. Bilot's mention of guardian angels alluded to another prayer vigil and rosary that took place Tuesday night for Verner, whose family belongs to Guardian Angels Parish in Clawson.
Deacon Christopher Stark led a livestreamed rosary from the parish, while a candlelight vigil took place at Clawson City Park, attended by community members, teachers, students and staff from Clawson High School, where Verner graduated in 2020.
"Today is truly the saddest day I've experienced in the state of Michigan," said Deacon Stark, himself a graduate of Michigan State University and Clawson High School and a friend of the Verner family.
Through tears, Deacon Stark prayed for the souls of Verner, Fraser and Anderson, "three young Spartans who lost their lives way too young, senselessly, and we ask the grace and mercy of God to be on their families, and for their souls to find a place of happiness, light and peace in the presence of God in paradise," he said.

Deacon Stark contrasted the darkness of the victims' last moments with the unapproachable light of heaven, where God comforts all and wipes every tear.
"The last thing they heard on earth was hatred. The last thing they heard was anger. The last thing they heard on earth was fear," Deacon Stark said. "The first thing they heard in heaven was, 'Welcome home. Welcome home, you are loved. You are a creation of God, and you are welcome here. And you are safe now.'"
Deacon Stark implored those participating in the rosary to let go of the anger, bitterness or hopelessness they might feel and place it at the foot of the Cross.
"God is with us through thick and thin, through it all — through the ugliness and noise of life that can be really challenging. There's a presence of God that walks with us. Jesus came into the world not to condemn us, but to give us the ministry of mercy, to find it within ourselves to forgive one another."
Several other Detroit-area parishes expressed solidarity with the victims and their families, with some parishes planning their own events to pray for those impacted.

Immaculate Conception Ukrainian Catholic Schools in Warren posted a prayer on Facebook begging God for mercy on the community and for peace.

"Almighty and most merciful God, we come to you with heavy hearts and troubled minds after the events at Michigan State University," it said. "We pray for the victims, teachers, students, and families. May the souls of the innocent victims find eternal safety and rest. We pray for all who are hospitalized. We give thanks for all the first responders including law enforcement and medical personnel for their intervention. God grant strength and peace to all those impacted. In Your name we pray, Amen."
Funeral arrangements are pending for the victims.
Copy Permalink