HAZEL PARK — "I got punched in the face on the first play of the game," Savannah Weaver revealed in the aftermath of her Warren Regina teammates' 28-7 victory over Bloomfield Hills Marian in the 41st revival of their powderpuff football series last Saturday at Hazel Park High School.
Did she retaliate? "No. We won the game," she said.
Regina has been playing an annual flag football game since 1965. They hosted a variety of Catholic high school opponents until 1981, when Regina and Marian agreed to make it a permanent date on their activities calendar. Regina has won the last six encounters, giving them an overall 24-17 advantage.
Only seniors participate. "They live for it," said principal Ann Diamond. Following tradition, the seniors in their sophomore year decided on their mascot (Wolves), colors (Carolina blue and black), patron (Mother Teresa), song ("History" by One Direction), flower (white rose) and motto ("Chase your dreams but always know the road that'll lead you home again" by Tim McGraw).
Diamond, a 1994 Regina graduate, intercepted a pass and returned it for a touchdown in her powder puff game.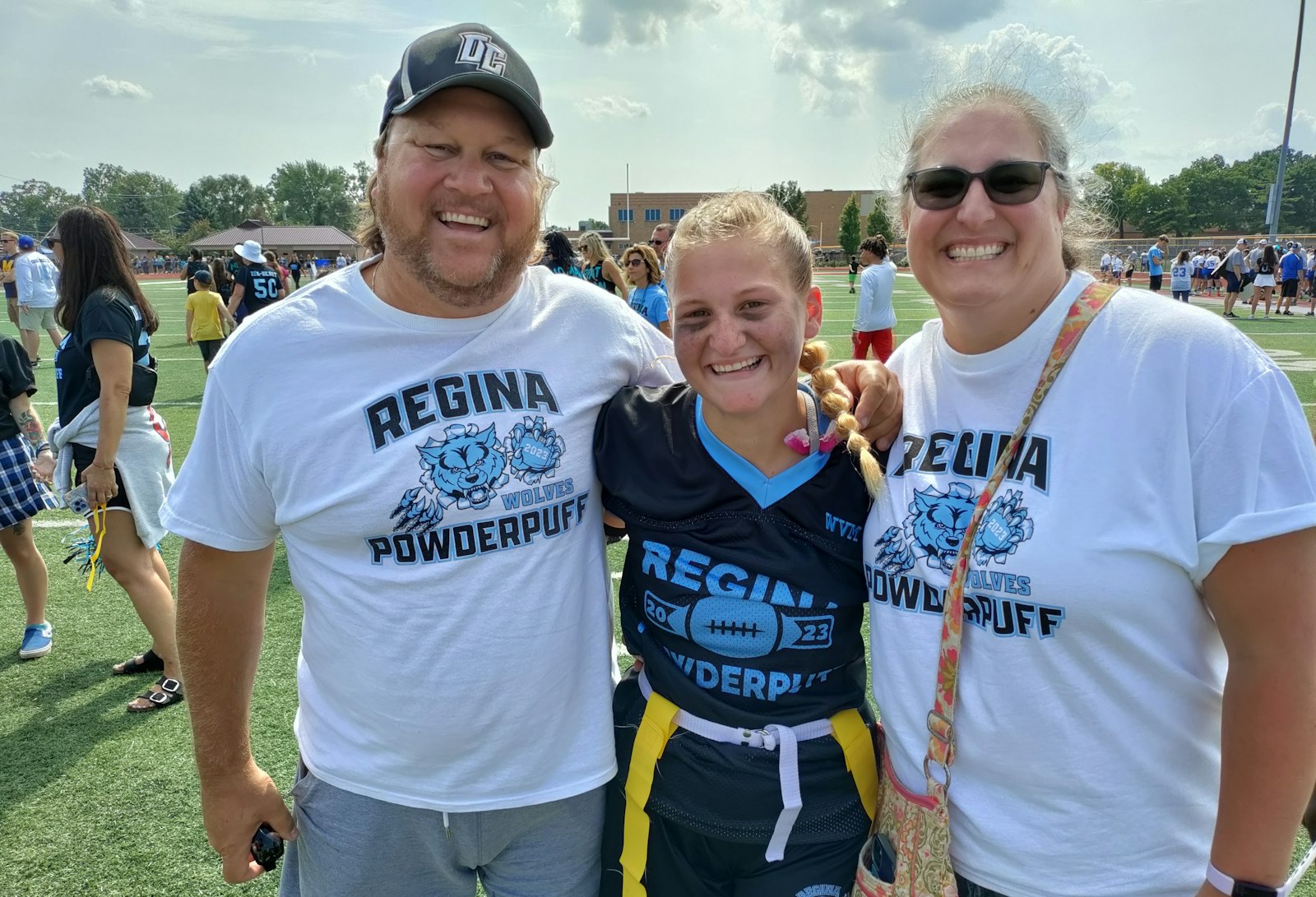 "Every year I want the girls to have as much fun as I had. It really brings the class together and makes their sisterhood stronger, more unified as a class," she said. "There are kids who don't play sports and they become athletes for one day. It's incredible."
Quarterback Zoe Hunt and wide receiver Gabriella D'Agostini connected on a 15-yard touchdown pass for Regina's first score less than three minutes into the game. Talyah Beard made it 21-0 at the half on 1-yard and 20-yard runs. Ava Marzolf scrambled 21 yards for Regina's final tally in the third quarter. Noelle Ermiger kicked four extra points.
Caroline Flynn raced 51 yards around left end for Marian's points late in the fourth quarter.
Before the kickoff, Regina paid tribute to their beloved powderpuff coach for the past 12 years, Bill Madek, who died of cancer on Aug. 10 at age 62. He was the Life Share director at Henry Ford Hospital, working with the transplant programs. A plaque was presented to his wife, Patricia, surrounded by their children and grandchildren.
"Regina High School was so blessed and fortunate to have such an amazing, dedicated man lead our long-standing Powderpuff tradition for many years," Diamond wrote. "Coach Bill Madek touched the lives of hundreds of young women and inspired them in numerous ways. His love of Regina, the sport, and the girls was evident by his genuine smile, his enthusiasm, his passion, and his sincerity when he talked about the Powderpuff program. For Bill, it wasn't about the win or the loss (although he LOVED to win!). It was about building a team of young women who were unified, supportive, and truly sisters."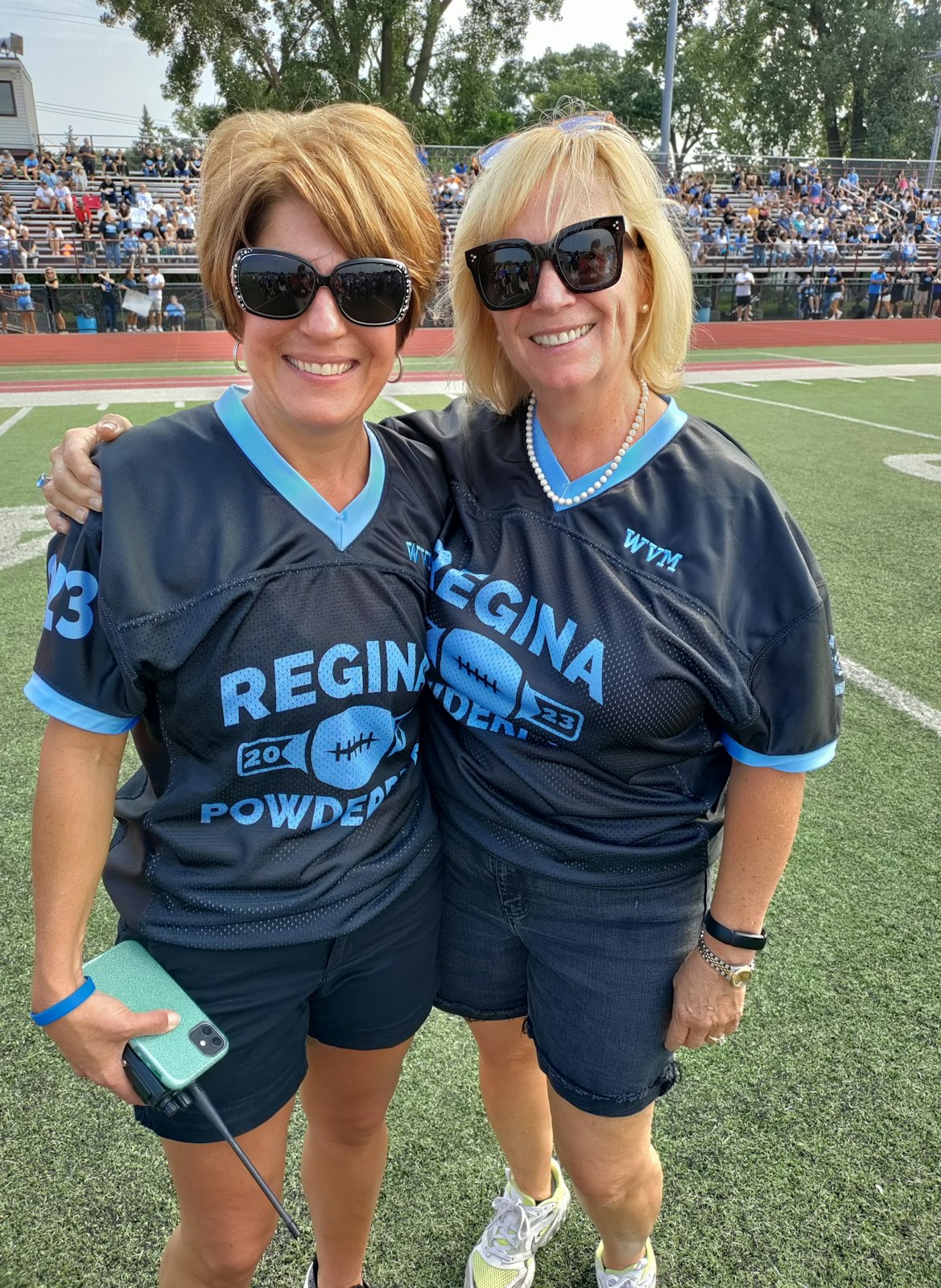 A scholarship in his honor has been established at Regina.
Diamond, who has been principal at Regina for 11 years, and Mary Treder Lang, president for three years, strolled the sidelines taking in the atmosphere of the 3,000 or so spectators on a gorgeous late summer afternoon.
"We have 101 girls in our freshman class, the largest in eight years," Diamond said. "I really think we are the best kept secret in Macomb County. Both of us together really care about the kids and the mission and our motto, 'Transforming girls into women of faith and vision.' They come in as little girls and leave as young women ready to take on the world."
Contact Don Horkey at [email protected].
Copy Permalink