WARREN – Gregg Golden has reached a couple of milestones with the advent of the 2022-2023 school year.
He's started his 26th season as cross country and track coach at Regina High, where he's built the Saddlelites into a force to be reckoned with in the Catholic League, Macomb County and the state.
The other significant event is one he'd rather not acknowledge. Come November, it will be five years since he found out he had the dreaded pancreatic cancer.
After sending his quad through a recent early morning practice, Golden reflected.
"I wasn't feeling well for a while. We did a couple tests that were inconclusive. I was getting worse. They thought my gall bladder was bad. They went in for a routine surgery to remove the gall bladder, and they found cancer on my liver. They did couple more tests and found the source was pancreatic cancer.
"It's not a great one," he said. "Only chemotherapy. I've had 88 treatments so far. It's part of my life right now. It's what I live with."
Golden, 53, laughed. "I've outlived expectations. Put it that way. It's stable right now. We're pretty happy with that—chemo treatments every two weeks, a scan every three months. Treatments knock me for a loop. Annie and Becky, who I coach with, are fantastic, so if there's something I can't handle, they take care of it."
Ann Zdankiewicz has assisted for five years and Becky Hendren for 20 years.
"Both are terrific," Golden said. "Honestly, I don't do a whole lot anyway except stand around and yell. They do most of the heavy lifting."
"He's a source of great inspiration," Hendren said. "The kids run hard. They run for him. He truly is one of a kind."
Sophomore Natale Lentine said, "He's the best coach we can ask for. He knows how to push us to be the best we can be."
"Thank God for the kids," Golden said. "The kids have helped me through it. My fellow coaches have helped me through it. It's really been a godsend. I'm very grateful the school has stuck by me and let me continue doing it, particularly when there are some days when I can't be there."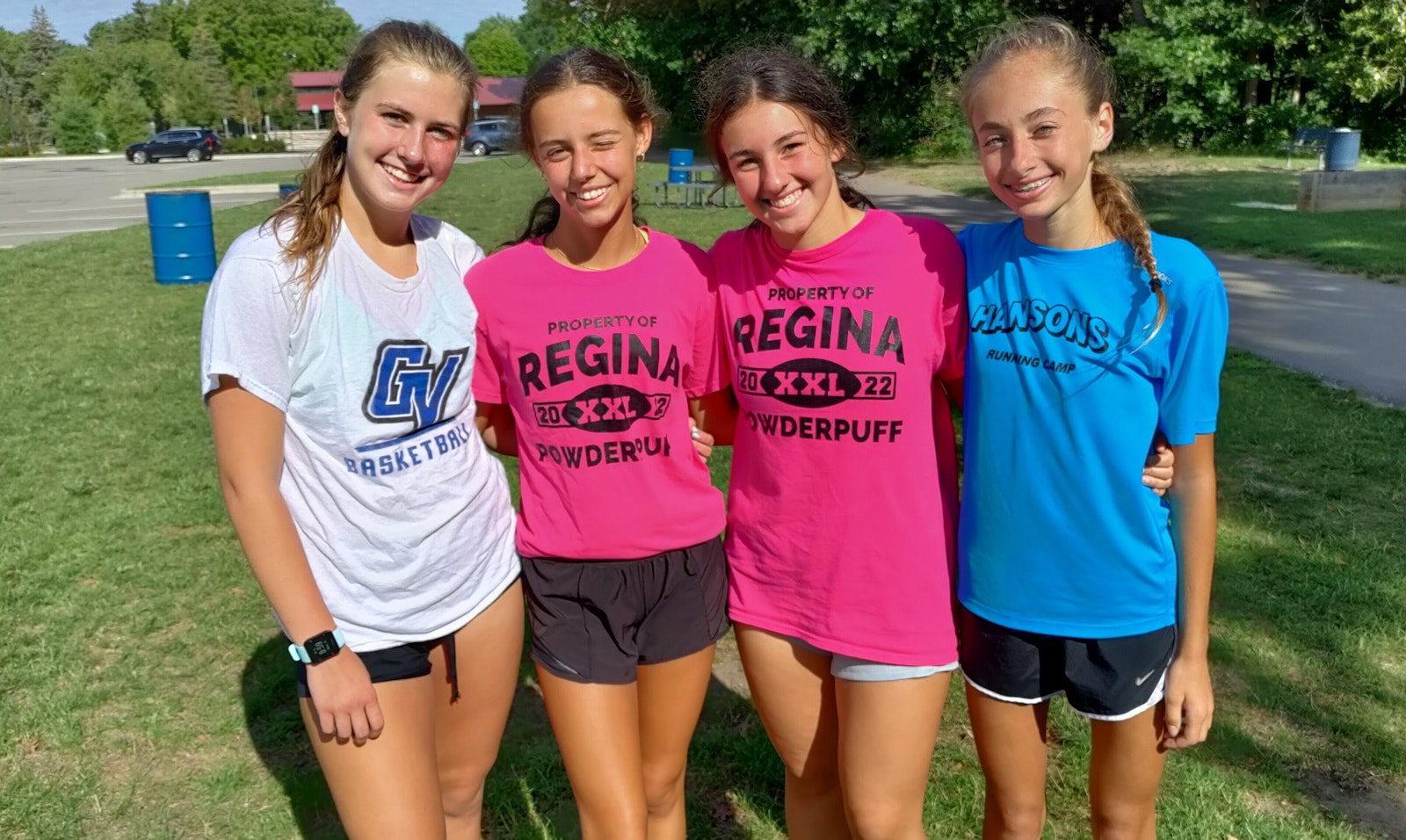 One of the "kids" was his daughter, Erin, now 22 and a recent graduate of Grand Valley State University.
"She went to Regina," Golden said, "and she had to put up with her dad for four years in cross country and track. It went well. I think I enjoyed it more than she did. It was really great. A lot of times kids play sports and you drop them off and pick them up when it's over. For those four years, I was able to go to practice with her."
Golden and his wife, Lynne, whom he met in college, have been married for 28 years. Their son, Ryan, graduated this spring from DeLaSalle High, where he was a goaltender on the soccer team. He's enrolled at Bowling Green University with an eye on becoming an airline pilot.
Golden ran cross country and track at Dearborn Heights Annapolis High School. He earned a degree in kinesiology from the University of Michigan and a master's in physical therapy at Oakland University.
Regina's cross country teams have won six regional championships and were runners-up on four other occasions. The Saddlelites have won six Catholic League titles and three runner-up finishes.
In Macomb County, Regina has won five County championships, seven times voted the Macomb County Team of the Year and seven times Golden was named Coach of the Year.
Regina has won six regional championships in track and field and finished second in the region six more times. The Saddlelites won the Catholic League crown in 2014.
Regina's athletes have been a recipient of the CHSL Mark Carpenter Good Sportsmanship Award in 19 of the 20 years it has been presented in cross country.
Golden was inducted into the Macomb County Coaches Hall of Fame in 2019 and into the Catholic League Hall of Fame in 2012.
Copy Permalink