Empowerment, mission key themes of annual Black Catholic Women's Conference at Sacred Heart Major Seminary in Detroit
DETROIT — An estimated 80 women gathered at Sacred Heart Major Seminary in Detroit on Aug. 12 for the 2023 Black Catholic Women's Conference.
The gathering was a time of fellowship, worship, inspiration, and health awareness, as women across the Archdiocese of Detroit — and some hailing from the Diocese of Lansing and Diocese of Toledo — came together under the conference theme "God has Entrusted Us with His Word."
"If women realize how valuable they really are, they could move mountains," said Vickie Figueroa, associate director of cultural ministries and Black Catholic ministry for the Archdiocese of Detroit. "If you know this gift of God, as Jesus told the Samaritan woman at the well, when we learn to love ourselves as God loves us, then we can move mountains."
Angela L. Swain, Ph.D., director of the Office of Human Dignity and Solidarity for the Archdiocese of Chicago, delivered the keynote address, offering a subtitle to the conference's theme.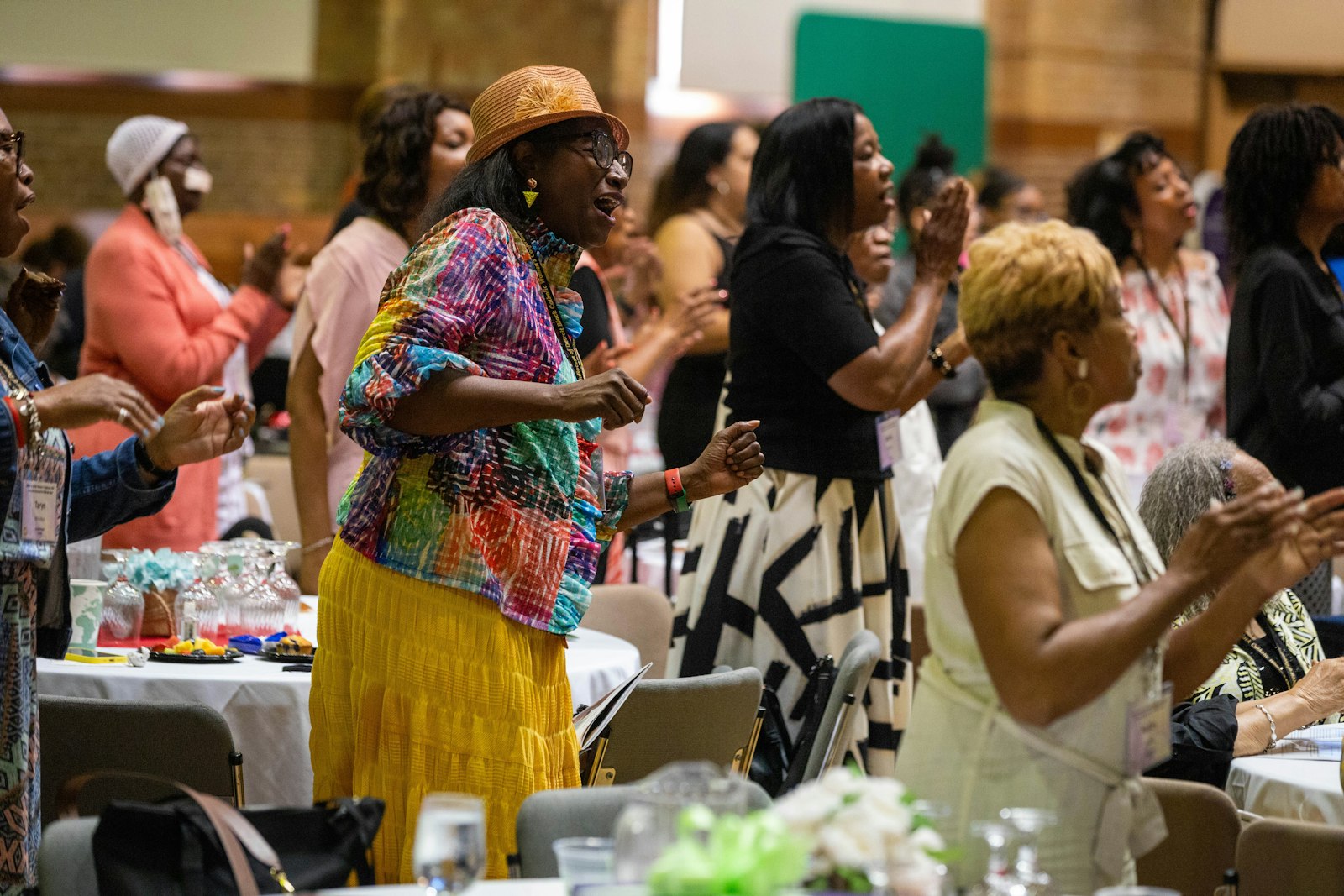 "I'd like to add a subtitle to the title: 'Reclaiming our dignity and claiming our power,'" Swain said. "I'm going to ask for table discussion and feedback, (and) coming from the Black church, I like the 'call and response' (style). So today we're going to have a conversation: What word comes to your mind when you hear violence against women?"
Women were invited to speak at their tables, answering the prompt with responses such as "education," "control," "fear," "hopelessness," "anger" and "insecurity."
After the women shared their thoughts, Swain recited a poem by Nikki Rucker titled "She Agreed," about Mary accepting being the mother of Jesus Christ, and how the salvation of mankind came from a woman's affirmation.
"It's a poem about Mary, the mother of Jesus, saying yes, accepting that role," Swain said. "As someone whose mom, my mom, Patricia, went the Lord almost two years ago, I vividly recall her narrative about how I arrived. She was in an abusive relationship, divorced after two years. Years later, she met Dad, and here I am.
"But what I didn't see was God's hands in all of this," Swain continued. "When she was a single parent, I had no father; my mother was in the abortion clinic because many family members said, 'That isn't going to happen.' And they called her name in the abortion clinic, and she stood up and walked out. Because she agreed."
Swain then analyzed the Book of Esther, a young Jewish girl who was chosen as the new queen of Persia, but through the prism of trauma, for both Esther, who was gathered with other women before King Ahasuerus of Persia, and Queen Vashti, who left the Persian king.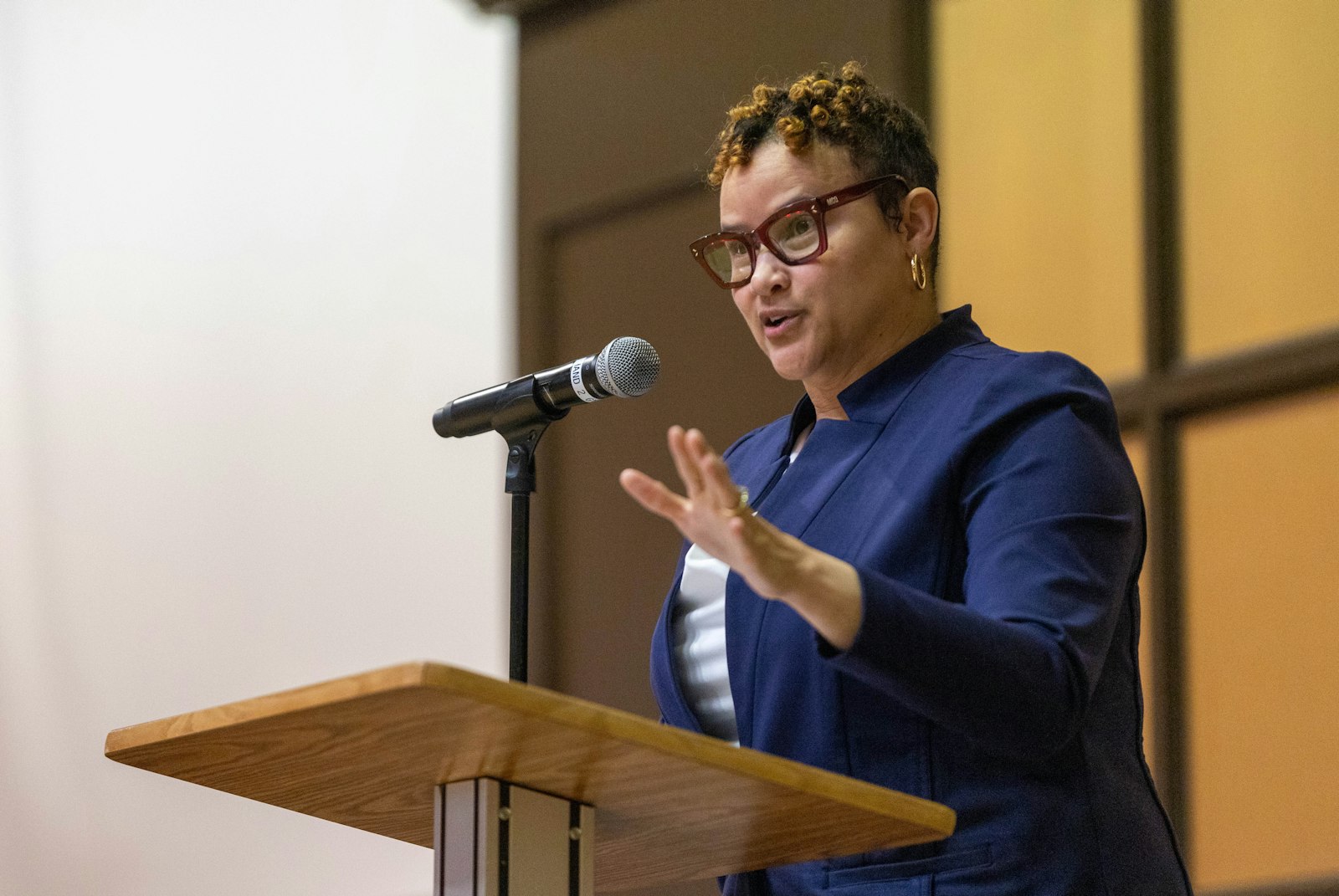 Esther became a hero to the Jewish people, persuading the Persian king not to kill the Jews after days of fasting.
"Unlike Mary, and my mother, Patricia, they didn't agree to the situation they were in," Swain said. "And I cannot help but reiterate the words found in Isaiah 58: 'Is this not the fast I have chosen: to loose the chain of injustice, and untie the horns of the yoke?'
"Centuries of trauma have been inflicted on the women of the African diaspora that have left an imprint of isolation, dehumanization, and demoralization," Swain added. "How then, do we respond? How do we reclaim our bodies, reclaim our dignity, reclaim our power?"
Swain said that is best done by looking to Mary, who actively said "yes" to the Lord's mission, and who actively claimed her role in the salvation of mankind. So, too, must women today claim Christ as the means of their salvation.
After the keynote address, Fr. John McKenzie of Christ the King Parish in Detroit celebrated Mass with conference attendees. Fr. McKenzie recently returned from the National Black Catholic Congress in Washington, D.C., and after speaking with his fellow Black priests, he emphasized the role Black mothers have in encouraging Black vocations in the Church.
"Your faith life, your walk of faith, inspires us men to do what we need to do, what God has called us to do," Fr. McKenzie said. "So, I encourage you to deepen the faith that only you can have. Because that faith inspires us, which then inspires the world."
Fr. McKenzie further added the women of Detroit's Black Catholic churches need to reach out to the young people of the parishes and recruit them into leadership positions in parish life.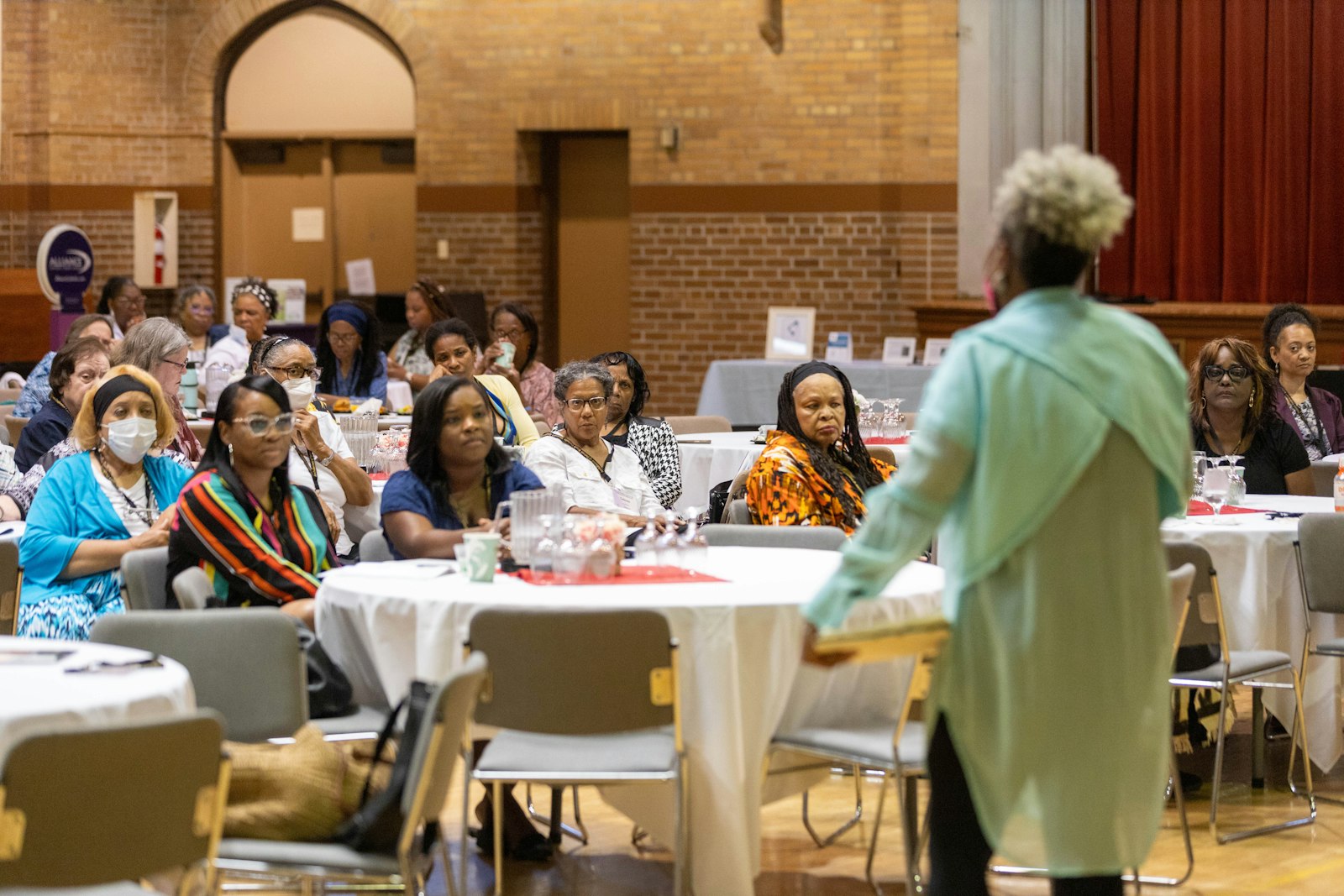 "We need to be a Church filled with young adults," Fr. McKenzie said. "We need them to be at the table when we make decisions. If you have young adults in your congregation, reach out to them, be a mentor for them. To the youth here today, you are not the future of the Church; let's get that out of our heads. According to Pope Francis, you are the 'here and now' of the church."
During the conference, many women who have served Black parishes in Detroit were recognized, including including Michelle Baines, music minster of Corpus Christi Parish in Detroit, who was awarded the 2023 Woman of Faith Award by the Archdiocese of Detroit's Office of Black Catholic Ministry.
Women have a power given to them by God that can transform the world, Swain told conference-goers — throughout salvation history, from Sarah to Esther to Mary, God has called upon women to transform the world.
Swain ended her talk on a personal note, saying all women are called to greatness in their individual circumstances.

"God has entrusted us with a great work," Swain said. "I didn't know it at the time, but my great work would be showing my kids resilience when I was diagnosed with multiple sclerosis. I was just trying to stand up every day, but I was faithful. I would like to offer up a word of prayer over us. As we join our hearts in prayer, remember this: God is asking us to do great things, and with His help, we can accomplish them."
Copy Permalink
Black Catholic ministry