ANN ARBOR — "We're the boys from Orchard Lake you hear so much about" was a popular refrain at St. Mary's Prep going back decades when the school was an all-boys boarding school until the mid-1980s, when it transformed into to an all-boys commuter school.
Four years ago, the academic model was refitted into a co-division concept and girls were welcomed to apply. They number about 300 in four grades now and have made their presence known in athletics so much so that the tune has been amended to "We're the girls from Orchard Lake you are hearing so much about."
Their latest conquest occurred Oct. 12 on Fr. Gabriel Richard's campus in Ann Arbor when the Eaglets won their second consecutive Catholic High School League Cardinal Division volleyball championship, 25-16, 25-21, 23-25, 25-23, against Macomb Lutheran North.
"Having our first senior class," coach Molly Campbell said," means we have had four years working on the team's chemistry. We don't really lose anybody but keep adding more players working on their weaknesses. It helps to have them for four years. We're very lucky."
Defense turned out to be the best offense for Lutheran North in its third set win. The Mustangs led from an 11-11 tie and frustrated St. Mary's attackers with an aggressive blocking defense by seniors Ava Acre, Jordan Pflaum and Gabi Kempf and junior Claire Leinberger. For the game, Pflaum and Kempf had 10 blocks each.
The fourth and deciding set was nip and tuck from the start. The lead changed seven times and was tied eight times. The Eaglets held the largest lead at 19-15.
"We focused on winning the next point, one point at a time," Campbell said. "We changed a lot of things very quickly."
Back-to-back kills by sophomore Jillian Gibbs and one by senior Sophie Borowski decided the outcome in St. Mary's favor.
About Borowski, Gibbs said, "We trust each other and have fun. We're like two peas in a pod. Our connection is really strong. We trade off each other. She's taught me a lot." They had 10 kills apiece.
Senior Mia Cibor sparked the offense with 44 assists.
Leinberger had 13 kills for Lutheran North. Senior Kamryn Rastigue made 40 assists.
"We were nervous in the first set," Mustangs coach Paul Ordul said, "but once we got those jitters out, we came back. We did a super job. The front line worked hard on blocking." Lutheran North won the 2019 Cardinal Division trophy.
St. Mary's (20-4-1) had defeated Lutheran North back in September by a similar 3-1 score.
In the Michigan High School Athletic Association district playoffs, St. Mary's, ranked No. 6 in Division 2, will meet Livonia Clarenceville (1-7) on Oct. 30. Lutheran North (24-7-1) opens against St. Clair (2-19-1) also on Oct. 30.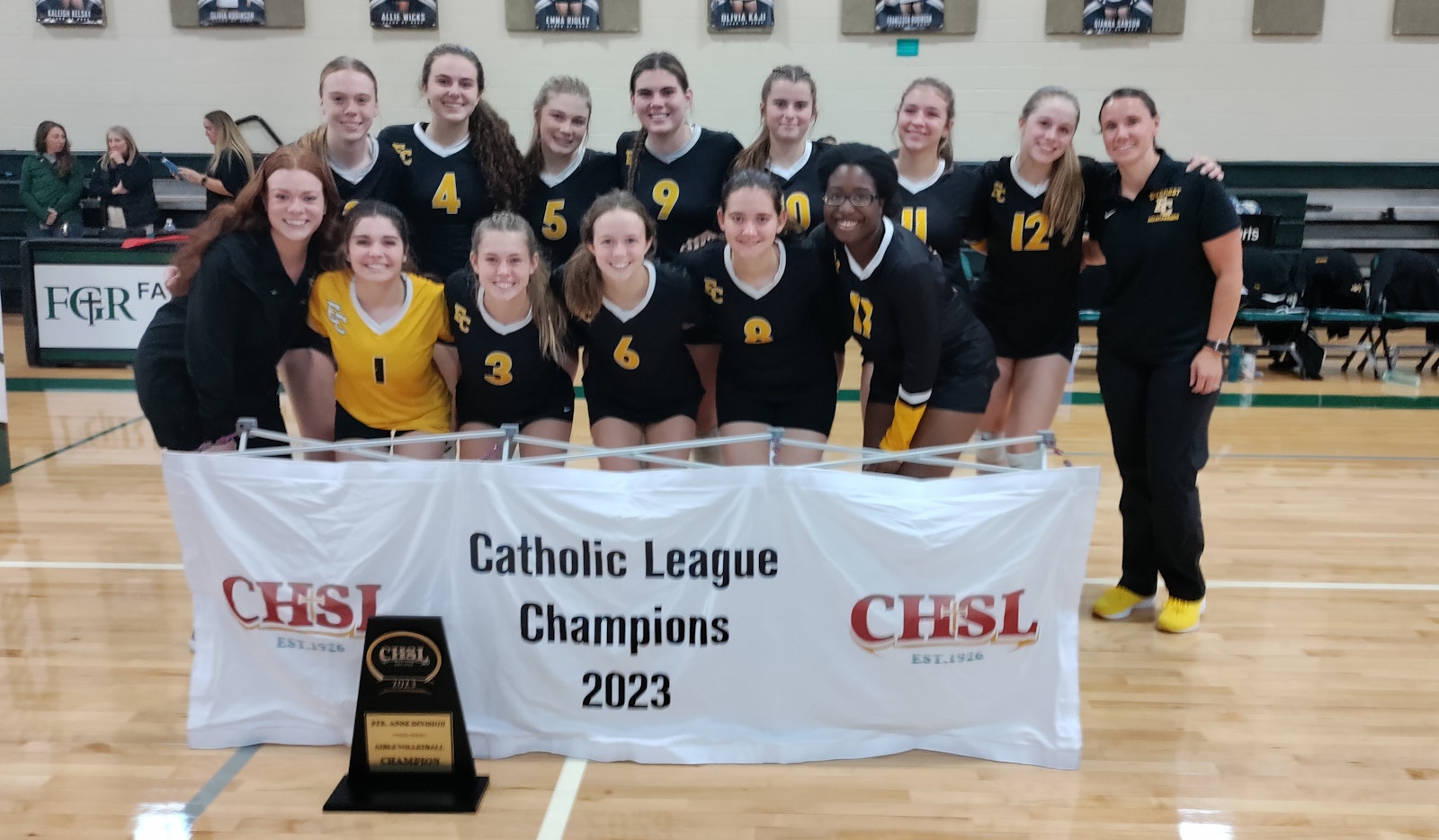 Everest wins first CHSL title
Clarkston Everest Collegiate had little difficulty beating Ann Arbor Greenhills, 25-14, 25-4, 25-9, for the first Ste. Anne Division title. The CHSL created the Ste. Anne trophy for the smaller schools with the addition of the five Toledo schools.
Juniors Sarah Bradley and Madalyn Krappmann led the offense with 14 and 2 kills respectively. Freshman Layla Kouatli had seven kills for Greenhills.
Everest (17-2-1) will play Genesee Christian (15-5) in a MHSAA Division 4 playoff Oct. 30. Greenhills (12-2) will meet either Clinton (7-6-2) or Grass Lake (14-2-1) in a Division 3 district on Nov. 1.
Contact Don Horkey at [email protected].
Copy Permalink