Coming out of a pandemic, parents and educators want to know how children are doing, and several questions remain on their minds regarding the academic and social-emotional impacts on children who faced major disruption in learning and classroom routines.
In the fall of 2019, prior to the pandemic, the Archdiocese of Detroit adopted the Star assessment, which is an adaptive growth assessment given to elementary school students at three intervals during the school year — fall, winter, and spring — to measure proficiency and growth in reading and math. However, with the pandemic's arrival in 2020, Archdiocese of Detroit schools could not complete the third interval of testing at the end of that school year.
Instead, the focus at that time was on quickly pivoting to remote learning and providing as much consistency and normalcy as possible in a world that was anything but consistent and normal.
The next academic year, as AOD schools largely returned to safe in-person learning, it became more important than ever to collect assessment data to understand and measure any gaps in learning caused by pandemic disruption. Elementary schools in the Archdiocese of Detroit, therefore, committed to completing the testing at all three intervals, that year and moving forward. Today, complete Star assessment data from the 2020-2021 and 2021-2022 school years can help answer questions about student progress — and there is cause to celebrate both learning and growth, especially when considering the context.
Before jumping into the data, it's fitting to reflect on the context. Catholic schools in the Archdiocese of Detroit made their best efforts to provide excellent in-person instruction while following the evolving health and safety protocols. It is also a reality that many families from neighboring public schools, fatigued from lengthy periods of remote learning, yearned for in-person instruction and decided to enroll their children into Archdiocese of Detroit Catholic schools for the first time.
No doubt, enrollment numbers have increased in the Archdiocese of Detroit schools, and that is a cause for joy, particularly considering the mission and call for Catholic schools to be centers of evangelization that bring more souls to Christ. What a gift and opportunity it has been to serve and evangelize families who might not have previously considered the path of Catholic education!
With this gift also comes the challenge and need for greater differentiation in classrooms, as the pandemic threw students off pace in their learning. Anecdotally, teachers have reported that students within a single classroom are performing at more varying levels of learning than ever before, and this poses a unique challenge as they seek to ensure each learner's needs are thoroughly met.
Considering this context, how does one begin to understand how children are faring in this new academic milieu? The Star assessment data is a starting place, providing results for students in Archdiocese of Detroit schools as well as aggregated results from those in other subgroups, such as students in public schools, students in Catholic and private schools, and students from all types of schools nationwide.
To help understand the effects of the pandemic on learning, Renaissance — the Star assessment provider — has published a series of studies titled How Kids Are Performing (HKAP). The most recent publication indicates that students across the nation ended with an average percentile rank (PR) of 40 in reading and 50 in math by the end of the 2021-2022 school year, showing no change from the prior year. When analyzing subgroups, HKAP indicated that students from public schools ended with a PR of 38 in reading and 49 in math, showing a 1-point decrease in reading and a 1-point increase in math from the prior school year. Students from Catholic and private schools across the nation ended with an average PR of 61 in reading and 64 in math, with no change in reading and a 1-point increase in math from the prior year. The students in Archdiocese of Detroit schools ended last year closely aligned to the Catholic and private school PR scores, but with greater increases: Our students achieved a 6-point increase to 59 in reading and a 5-point increase to 64 in math.
It's important to note what these "percentile ranks" mean. They are not meant to be interpreted the way standard percentages and letter grades may be interpreted for a given class — in other words, a percentile rank of 59 on the Star assessment is not equivalent to a student earning a 59 percent (or an F) in a class. Rather, when considering the Star assessment, the default proficiency PR is set to 40. Across the nation, this is what most schools and intervention services use as their "proficiency" benchmark. However, schools in the Archdiocese of Detroit have set their proficiency benchmark to 60 PR, raising the standard for educating students, attentive to our ability to serve the unique learning needs of each child. Therefore, ending the 2021-2022 school year averaging a PR of 59 in reading and 64 in math is right on track, healthy and aligned to the performance in other Catholic and private schools around the nation. It is also noteworthy that several schools in the Archdiocese of Detroit ended the year for reading and math well above the 60 PR proficiency benchmark in both academic subjects.
In addition to proficiency benchmarks and percentile ranks, it is also important to consider growth, which is reflected in the Star assessment by another data point called the student growth percentile (SGP). This number indicates the rate at which students are growing in their learning. The students in the Archdiocese of Detroit ended last school year with a higher SGP than all subgroups in both reading and math, with a 54 and 55 SGP, respectively, above the typical pre-pandemic threshold of 50.
The following table identifies the PR and SGP scores in reading and math, for years 2020-2021 and 2021-2022, for Archdiocese of Detroit schools, public schools, Catholic/private schools, and schools of all types nationwide.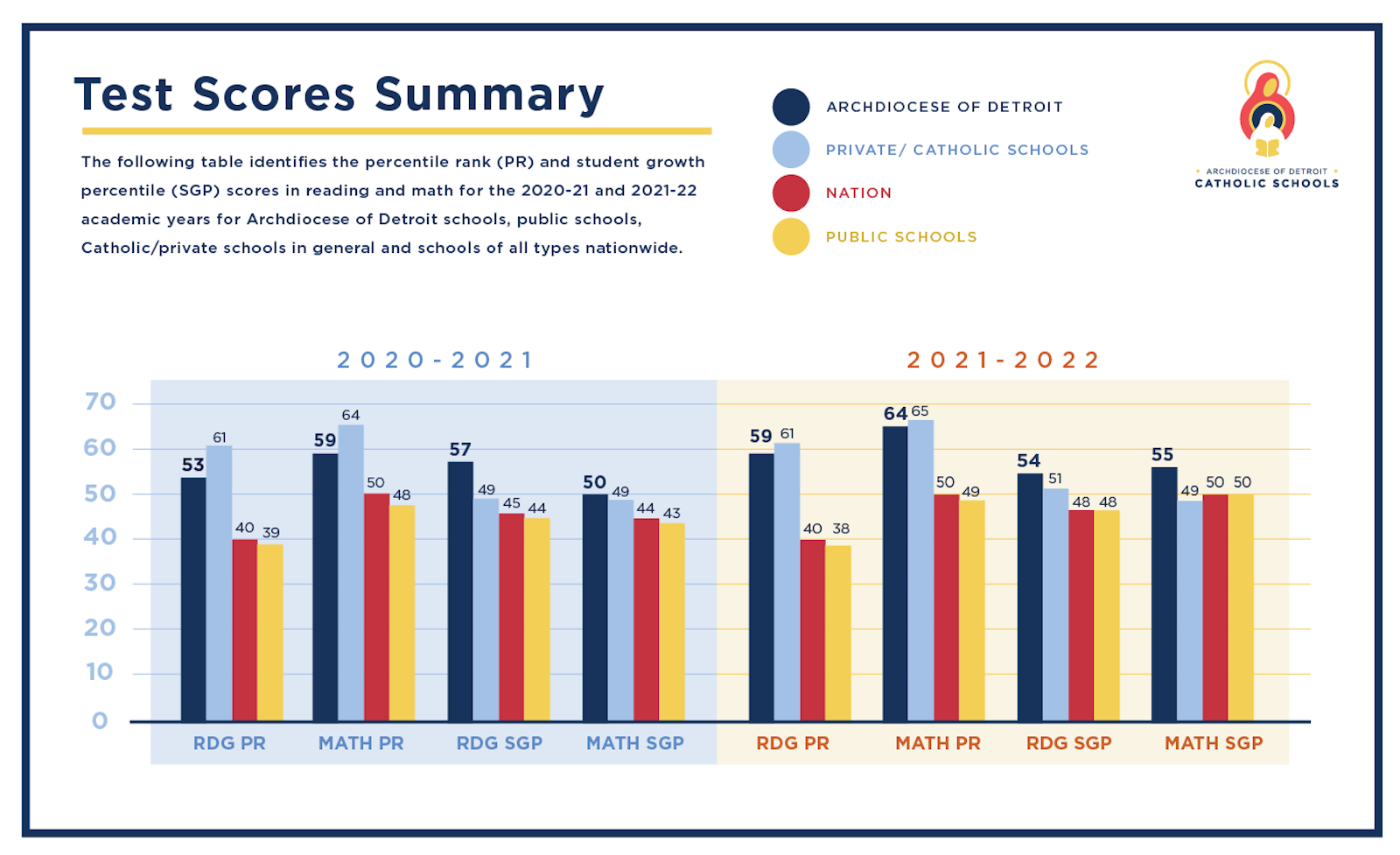 Considering the footprint of the 53 Archdiocese of Detroit elementary schools — comprising urban, suburban and rural regions and spanning more than 100 miles — principals and teachers naturally serve a diverse range of learners with varying learning needs. The data show our educators have unequivocally risen to that challenge in the last two years.
We should commend principals and teachers in the Archdiocese of Detroit's schools for their service and dedication, especially throughout the many challenges posed by the pandemic. Parents, too, ought to be recognized for their sustained support and collaboration with schools during an unprecedented time.
While the results indicate that schools in the Archdiocese of Detroit are committed to serving with excellence all our students and families, there is certainly more work to be done to ensure all learners' needs are met. Schools in the Archdiocese of Detroit will continue to strive toward improvement to foster sustained learning and growth. With hearts and minds faithful to the mission and eyes fixed on Christ, Catholic schools in the Archdiocese of Detroit will see their work sanctified.
May Bluestein, Ph.D., is assistant superintendent for curriculum, instruction and assessment for the Archdiocese of Detroit's Department of Catholic Schools.
Copy Permalink
Catholic schools