Renowned speaker and author Immaculée Ilibagiza speaks to St. Kieran parishioners about the power of love, forgiveness
SHELBY TOWNSHIP — Immaculée Ilibagiza remembers every detail of the last time she saw her parents in April 1994. Ilibagiza, a 24-year-old university student, had returned to her parents' home in Rwanda for Easter break. Ilibagiza had woken up that morning to a horrifying broadcast on the radio — the president had died in a plane crash, and the government had organized to track down and murder members of her tribe, the Tutsis.
Ilibagiza, a survivor of the 1994 Rwandan genocide — between April 7 and July 15, during which Hutu Militias killed members of the Tutsi minority and more moderate Hutus — spoke for two hours to parishioners at St. Kieran Parish in Shelby Township on the evening of March 8.
Ilibagiza is the author of five books, including the New York Times bestseller "Left to Tell: Discovering God Amidst the Rwandan Holocaust." Ilibagiza previously worked for the United Nations and now spends her time speaking about her experience and the lessons of faith she learned through her suffering. She also leads pilgrimages to sites of Marian apparitions, including Our Lady of Kibeho in Rwanda.
On the day of that horrifying radio broadcast, Ilibagiza's father handed her a rosary and told her to go to the home of a sympathetic Hutu neighbor to hide.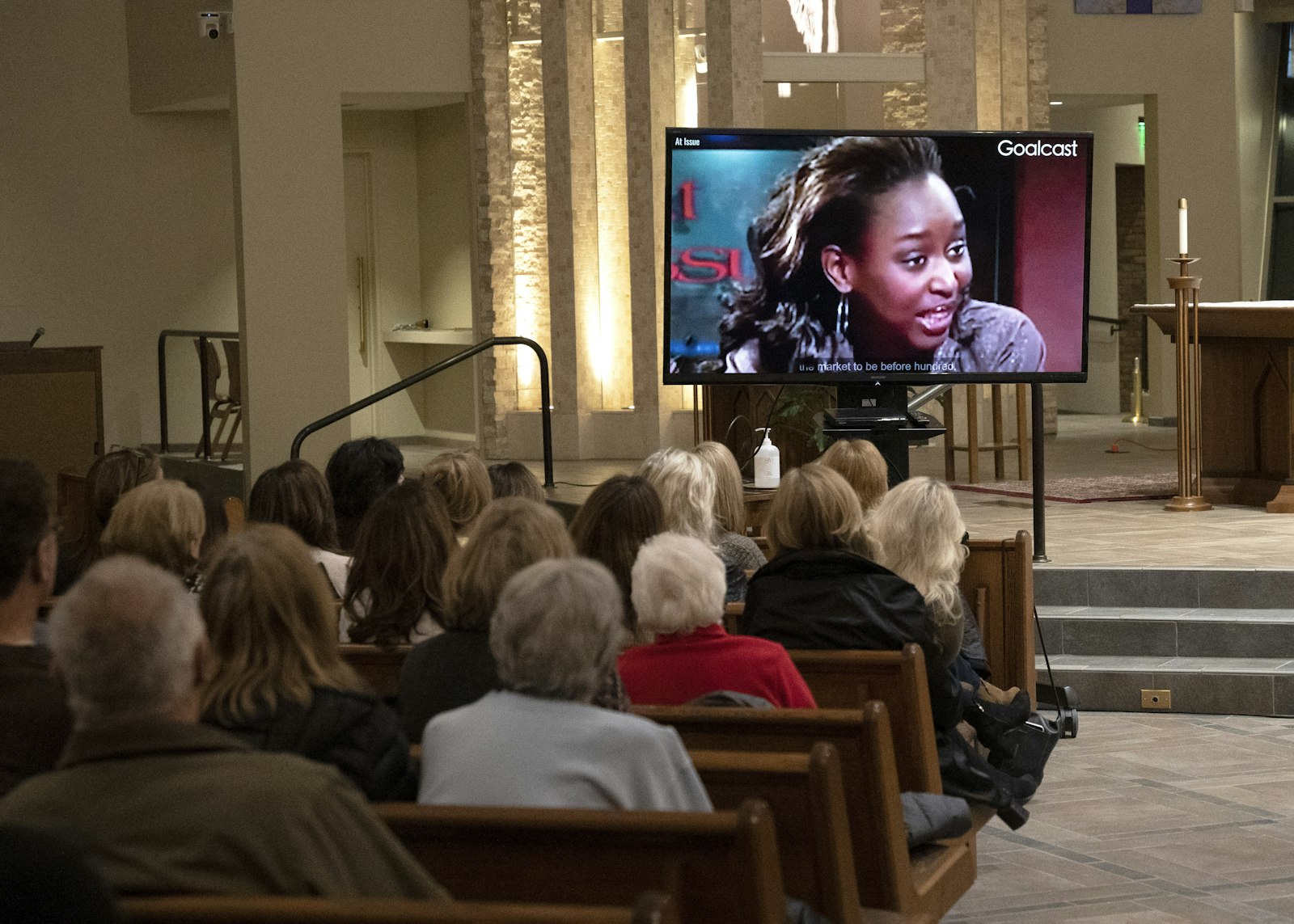 "I remember when I was leaving, it was as if something in my heart was telling me, 'This is it; you will never see him again,'" Ilibagiza said. "I literally can remember looking at everyone where they were standing, where my mother was, and the angle she had, and I felt like that was it — and actually that was it; that was the last time I saw them.
"I remember when my father gave me the rosary, it was as if something was speaking to my heart, as if he said words he didn't say. I felt he was telling me from his heart, 'I will never be here again, but whatever you need, you know what to do. Pray the rosary, and you ask Our Lady, you ask God, and they will give it to you. I'm your father; I have taken care of you, but this is it.'"
For 91 days, Ilibagiza, along with seven other women ages 7 to 55, hid in a three-by-four-foot bathroom in the home of the Hutu neighbor. They were ordered to be absolutely silent and feared being found in the small, four-bedroom home. At one point, Hutu militias came and searched the house, but inexplicably did not enter the bathroom, despite touching the door handle.
When Ilibagiza finally left that bathroom, her life had changed entirely: everyone in her family, except for one brother, had died, as well as countless friends and neighbors; she weighed 65 pounds and had no home.
More than that, however, she walked out knowing God was with her. Those three months had changed her, and Ilibagiza now had the capacity to love and forgive, even those who had hurt her the most.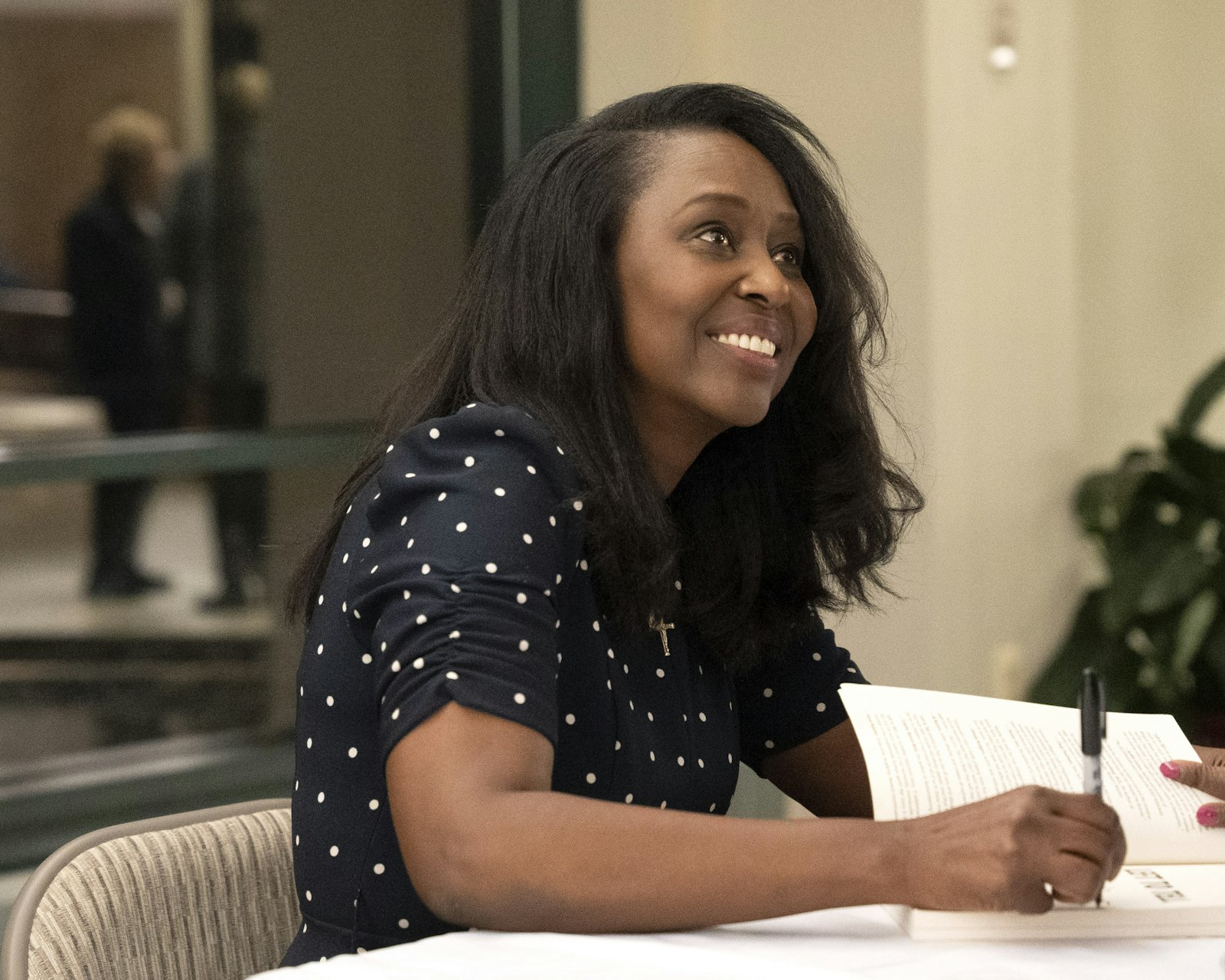 "I will never wish what happened to us to happen to anyone, and I still cry to this day for losing my mom and dad and how they died," Ilibagiza said. "Suffering is bad, but it is a part of life, and it really teaches us to come closer to God. Our Lady has told us through her apparitions that when we live suffering, where there were thorns, she dresses them in roses. Where there was winter comes summer and spring."
Our Lady can teach us how to embrace suffering, Ilibagiza said. And she knows from her experience to take suffering as a gift and ask God what He wants to teach.
Ilibagiza repeatedly emphasized that one of the biggest lessons she learned from her suffering was the power of love. When she has found herself questioning how such terrible suffering could have happened, inflicted by neighbors and friends, she said the answer is clear: because of a failure to love.
"Anywhere there are wars, families being destroyed, there is always somebody who failed to love somebody, and that's exactly what our Lord has told us: 'The greatest commandment is love,'" Ilibagiza said.
Sometimes we take love for granted, but when we realize what a lack of love can do, then we realize its importance, Ilibagiza added.
"Love is so important. So don't take it lightly. As long as I know I am loving, to me, that is the core of my life," Ilibagiza said. "We don't know when we're going to live, where we're going to go, but when we are here, try to be the most loving person in whatever way, every moment."
Another lesson Ilibagiza learned in the bathroom was that, without a shadow of a doubt, God is real.
While in hiding, Ilibagiza only had the clothes on her back and the rosary her father gave her. Ilibagiza said fear and anger overtook her thoughts, and she began losing faith.
One day, Ilibagiza peered out of the tiny window in the bathroom and saw hundreds of people, primarily armed young men, running through the streets, searching for people to kill. Ilibagiza was consumed by fear as they surrounded the house, began to scream, and then entered in search of her and the other women.
Ilibagiza knew she was about to die and felt a voice telling her to open the door and surrender — why wait for the inevitable? However, she heard another voice telling her not to open the door and to ask God to help her instead.
"(The voice said), 'Do you remember who God is? God is almighty. Do you know what almighty means? It means He can do anything. Do you know what anything means? It means even if they open the door, they might not be able to see you. Even if they shoot you, the bullet might not be able to go through you,'" Ilibagiza recounted. "I remember I had to choose which voice to listen to. In those two voices, really, what they were trying to accomplish was that I could either pray or don't pray. If I believe there is no God, what do you do? You will lose hope. The other way is to keep asking God. Keep praying and actually believe that's where our power lies."
Ilibagiza turned to the kinder voice and prayed as she had never before in her entire life.
I told him, 'If you are there, I am begging you, I want to have a sign for sure,' because I was kind of losing my faith. 'If you are there, don't let the killers find the door to the bathroom' — I remember asking this specific question because I wanted to know God heard me," Ilibagiza said. "If they don't (find us) today, I will know you did it, and if you did it, I promise I will seek you."
Ilibagiza fainted and woke up five hours later to a quiet home — the militia had left, and while they searched every nook and cranny, they had approached the door to the bathroom, touched the handle but decided to leave.
God had heard and answered her prayers, and Ilibagiza realized she wasn't alone.
"We couldn't speak in the bathroom, but now I can talk to God. I can talk to angels, and I can talk to Our Lady," Ilibagiza said. "I started to speak to Him the way I am speaking to you now because since He can hear me, I better just talk to Him now. I started to talk to Him about my anger."
Eager to understand God, Ilibagiza began to read the Bible. She began to pray the rosary from morning until night, working through her anger and fear. Slowly, she developed the ability to pray from her heart and mean what she said.
"The moment I started to mean the words I was saying and say them in a way I could hear, everything changed. I felt the power in me, and healing that was different," Ilibagiza said.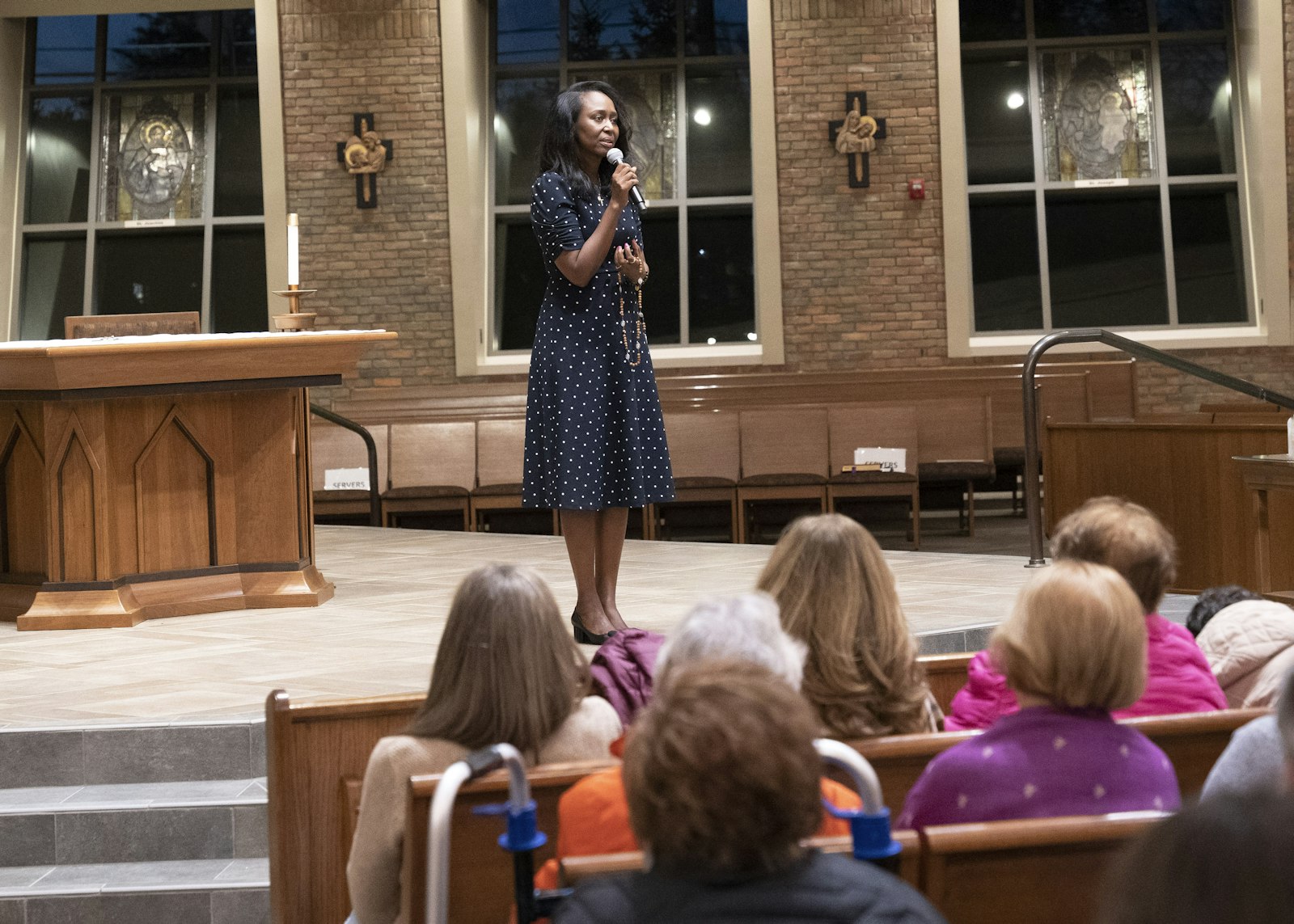 When angry, Ilibagiza thought of becoming a soldier and killing everyone who had hurt her family. However, as she prayed and talked to God, her heart softened.
While praying the rosary, Ilibagiz stopped short when she came to the line: "Our Father who art in heaven ..." She realized that if she meant these words, that meant that God truly is the Father of everyone, and she could not hate His children.
"God tells us in the Bible that He loves us more than we can love our own children," Ilibagiza said. "Even if a mother can forget his newborn, our Father in heaven says He will never forget you. He knows even the number of the hairs on your head."
Ilibagiza said her heart melted as she realized how much God must be hurting as he watched his children turn to hate.
Another line in the Our Father also gave Ilibagiza pause: "Forgive us our trespasses as we forgive those who trespass against us." She couldn't bring herself to say the words, and decided to skip it. How could she forgive those who had hurt her?
One day, while meditating on the fifth sorrowful mystery, the Crucifixion, the words of Christ on his cross, "Forgive them, Father, for they know not what they do," took Ilibagiza by surprise.
She, too, realized those who had hurt her family did not truly know what they were doing and, in some way, thought they were doing good.
"When we do something that goes against God's commandment, against love, sooner or later it starts to hurt us," Ilibagiza said.
"I was trying to become a killer. That is what anger does to us," Ilibagiza added. "It pulls us to become like the one that is hurting us. When I realized the power of forgiveness, I felt a huge weight was lifted from my shoulders. I felt free. I also realized these people are still the children of God."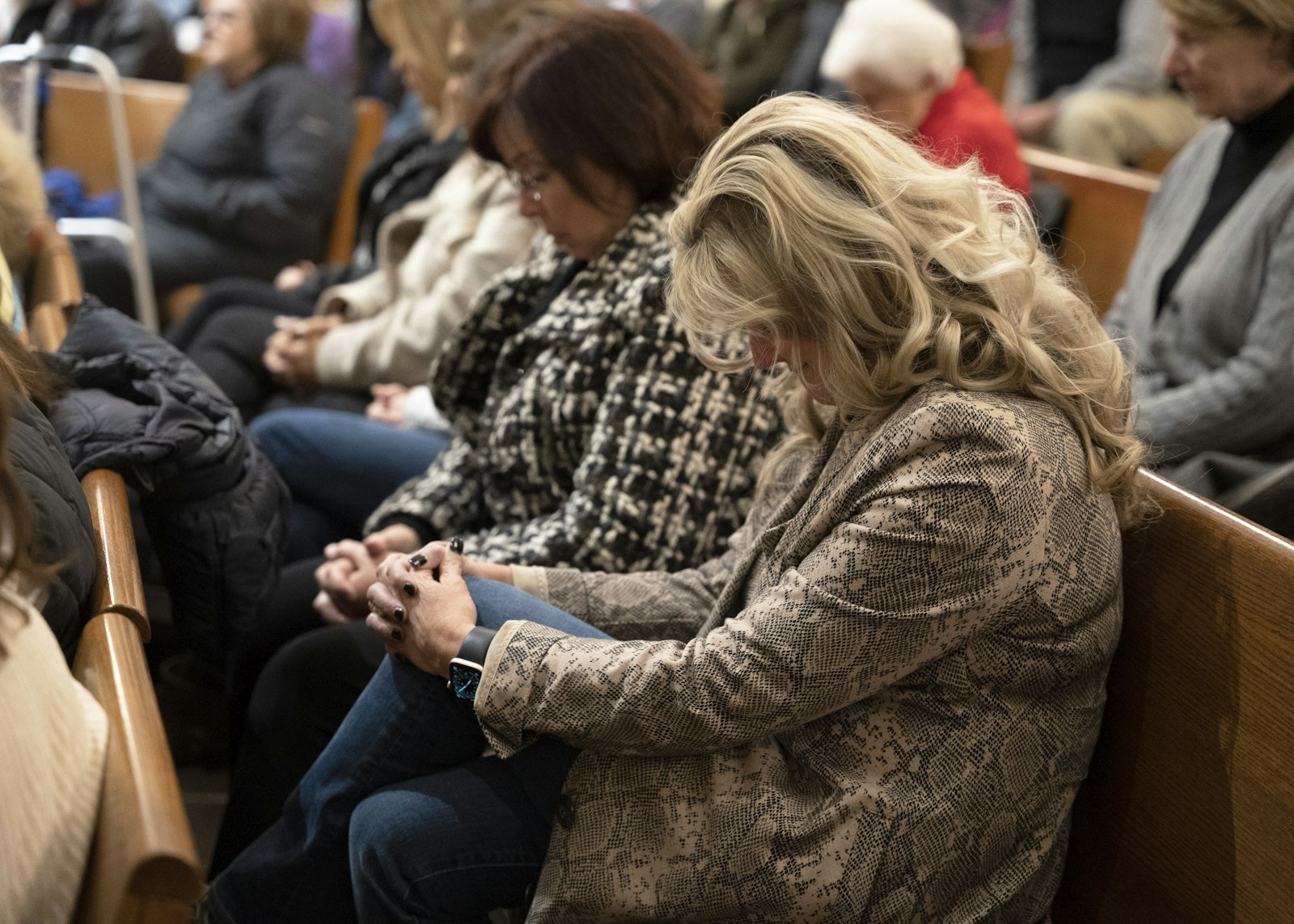 Ilibagiza began to pray for those who had hurt her. If her heart could change, she reasoned, why not theirs?

"I realized the people on the side of love are people who have suffered and who have known injustice maybe worse than me, but no matter what happened to them, they stand for love," she said. "They stand up for justice, for truth, and when I saw that, I knew I am never going to go on the side of hate."
When Ilibagiza was finally freed and went to a refugee camp, she had nothing and soon learned her entire family had died. She recalls breaking down in tears and feeling hopeless.
"And then I felt the grace of God holding me tight and reminding me, 'Hey, remember me in the bathroom? The journey of your loved ones is over here on earth, but not in heaven. But your journey here is not over, and you don't know how long it will be,'" Ilibagiza said.
In that moment of grace, Ilibagiza knew God was asking her to use whatever time she had left to love in whatever capacity she could.
"'What is within your capacity is how you choose your life, moment by moment — not tomorrow, because you do not know what is tomorrow,'" Ilibagiza recalled of God's encouragement. "'Choose now to love or to hate, to be kind or to be mean, and if you choose love and kindness, I am with you. Ask me for everything you need. I will give it to you. I will help you. You will never be alone.'"
Ilibagiza said that she started to live to love others and began right there in the refugee camp in whatever small way she could.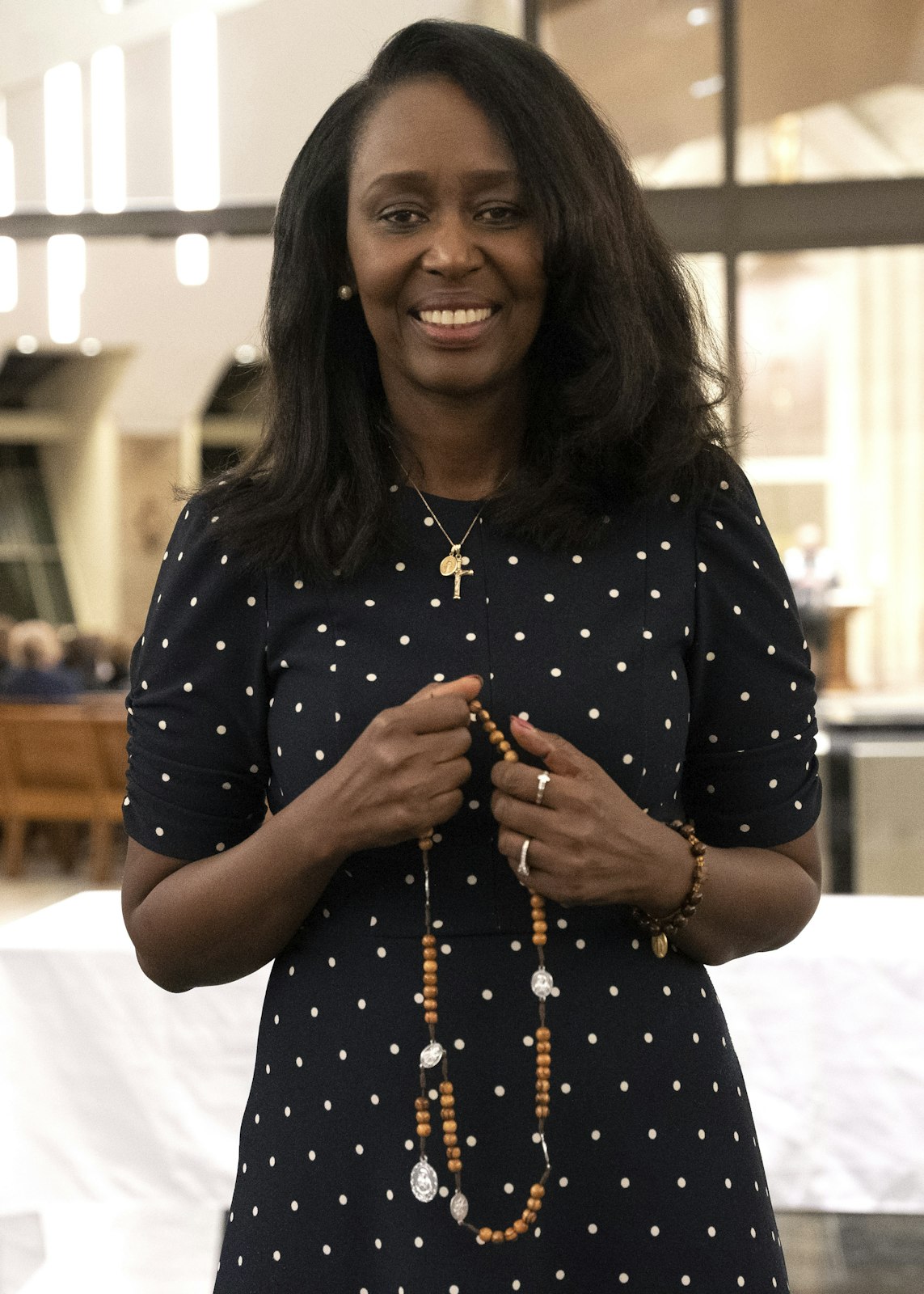 "I feel like it's the same way I am living (now)," Ilibagiza said. "We just have this moment; we just have today to do the best we can. Whenever I think of myself as a wife and mother, I think, 'How can I be a better mother? How can I care and be courageous and love and respect my husband? How can I do that? How can I write with care?'
"Moment by moment, we just have to choose how we can be a good person," she added. "'How can I love?'"

Ilibagiza said if she can forgive, anyone can, and it is all possible through God.
"To have faith is the most beautiful gift you can ever have. All those who have faith and believe in God can say all things are possible. You'd never have to lose hope because God is always there, and you can run to him," Ilibagiza said. "To love God truly, and to know God is there is the greatest gift because I can be at peace. Whatever happens, He is going to be there; He is going to help me to deal with it."

Copy Permalink
Personal witness