Middle school event draws Catholic young people from Detroit, Cleveland, Lansing and Saginaw to praise God, find themselves
DETROIT — Teenagers today face a constant bombardment of social media, noise and consumerism that is summarized in one phrase: "Are you good enough?"
The messages are endless: Be popular; be pretty; be funny.
But on Sunday, Oct. 9, on the campus of the University of Detroit Mercy, teens heard a different message: "Be present. Be here. Be you."
The Holy Fire Great Lakes conference, hosted by the National Federation for Catholic Youth Ministry, Equipping the Saints (also known as EQ Saints) and the Archdiocese of Detroit, offered middle schoolers a day of praise and worship, confession, Eucharistic adoration, Mass and speakers who delivered the clear message: "You are made by God, and you are enough."
Evangelist and Catholic hip-hop artist Joe Melendrez led with his own unique brand of praise and worship, enticing youths to cluster near the stage during his performance and keynote in the "God pit," a play on words of "mosh pit."
Melendrez recalled his childhood growing up in a nominally, culturally Catholic family in Texas. He attributes hip-hop icon Puff Daddy with being a big influence on him, but it wasn't until the captain of the high school soccer team invited Melendrez on retreat that he really started to own his faith.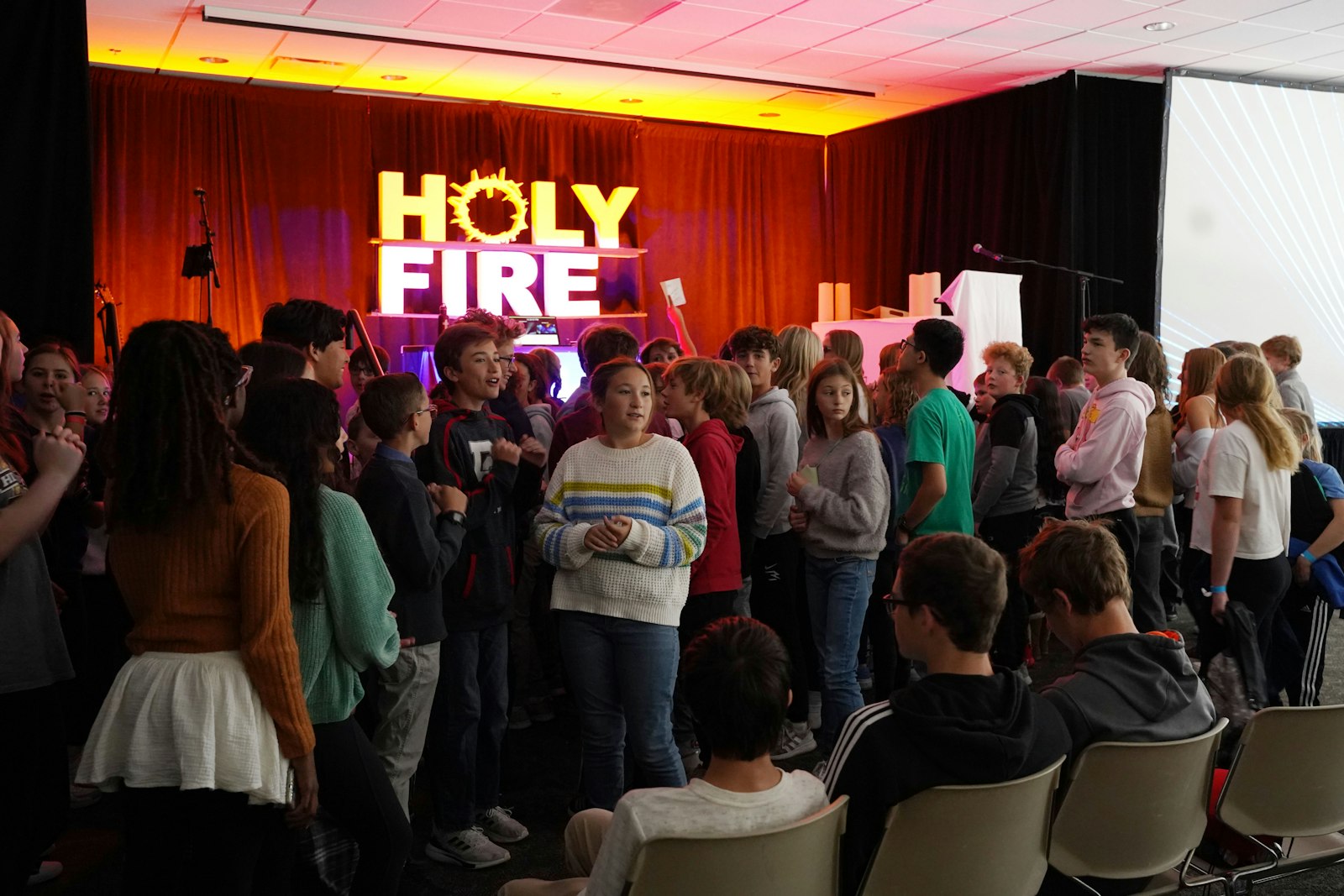 "On this retreat, I had a powerful encounter with God, and during that encounter, I started weeping and crying tears like I never felt before in my life," Melendrez said. "It was then I knew two things in my life: No. 1, God is real. Turn to someone and say, 'God is real.' And No. 2, this love I felt wasn't just for me; it was for everyone. Turn to someone and say 'God's love is for everyone.'
"I said this prayer, 'If you can use anyone Lord, you can use me,'" Melendrez added. "If you say that simple prayer every day, guess what God is going to use your life?"
An estimated 450 middle schoolers attended the retreat, hailing from the Archdiocese of Detroit and the dioceses of Cleveland, Saginaw and Lansing.
Speakers addressed the social pressures young people face when it comes to embracing their faith, bringing up the real challenges they experienced in their own faith journeys.
"When I was 15, my mom made me go on this church retreat — you probably had the same battle I did when it was about coming to this today," said Noelle Garcia, a Kansas-based youth and young adult evangelist who has been featured on EWTN. "I remember thinking, 'I don't want to go. We hardly go to church; why should I go to a church retreat?' This wasn't even a one-day thing, this was a whole weekend retreat."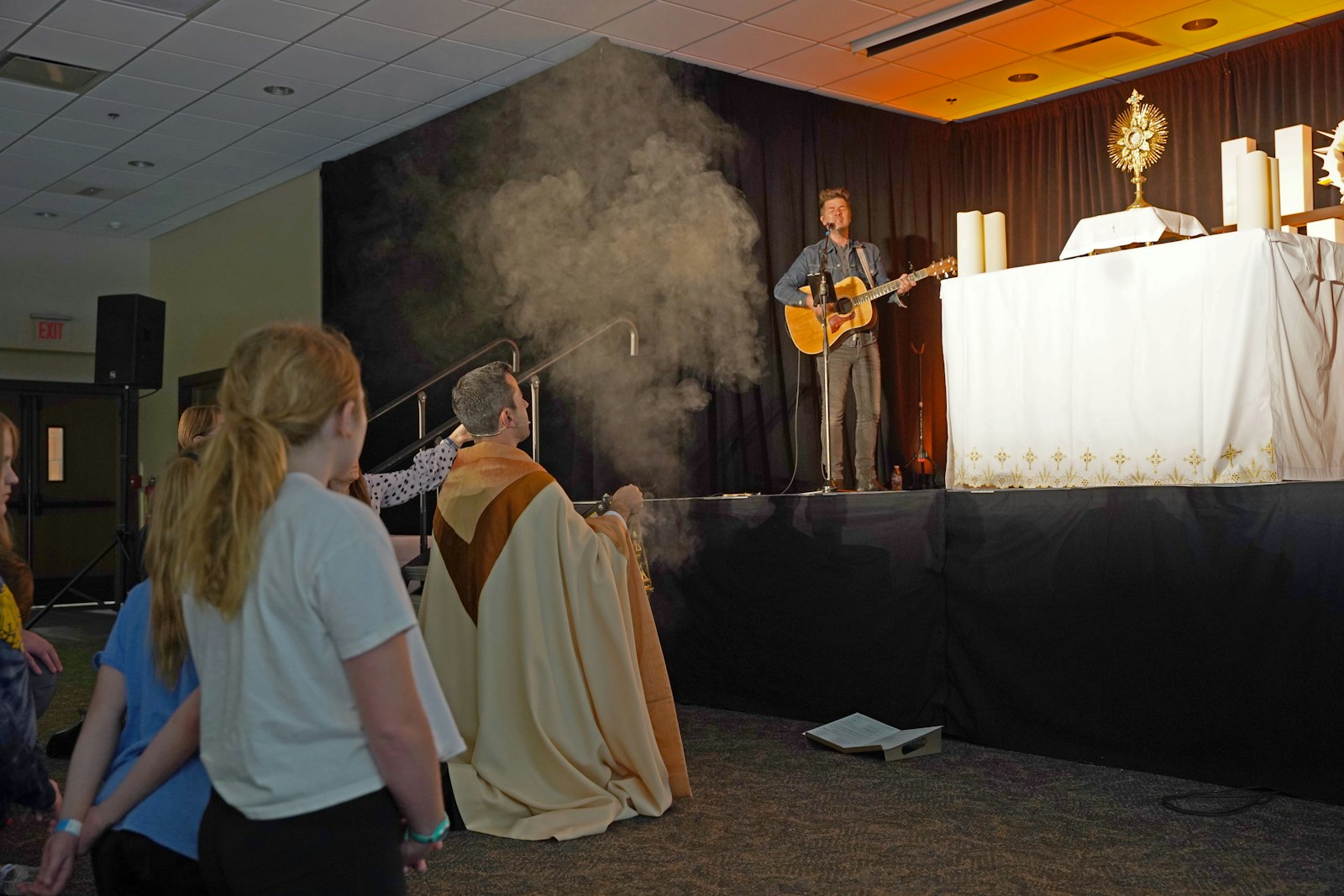 Garcia said she made a deal with her mother: She would try it for a day, and if she hated it, she could come home.

"So this carful of kids comes to pick me up, and at that point, I was ready to end everything," Garcia recalled. "(But) these kids were nice to me. They wanted to know more about me. They were there for me. ... They changed my life. Today, every single person in this room is fighting their own battle. Even if you don't know it."

Growing up, Garcia recalled struggling with mental health and body image issues, which had a great impact on her faith and enthusiasm in talking about God.
She admitted thinking the struggles she faced as a teenage girl — trying to be popular, have friends, get a boyfriend and be "perfect" in every way — were unique to her, until the conference speaker began to talk about Jesus' Passion.

"It was then I found my worth, my security, my hope: it was Jesus on the cross," Garcia said. "That encounter with Jesus is what brings me here today. God is so good, not demanding our servitude. But He takes on flesh to be closer to you. Close enough that you receive Him at Mass. That is how close He wants to be."
The Oct. 9 conference included time for confession and Eucharistic adoration and concluded with Mass celebrated by Bishop John M. Quinn, bishop emeritus of Winona-Rochester, Minn., and a former auxiliary bishop of Detroit.
Sr. Tracey Matthia Dugass, FSP, the final keynote of the afternoon, spoke about her faith before joining the Daughters of St. Paul in Chicago.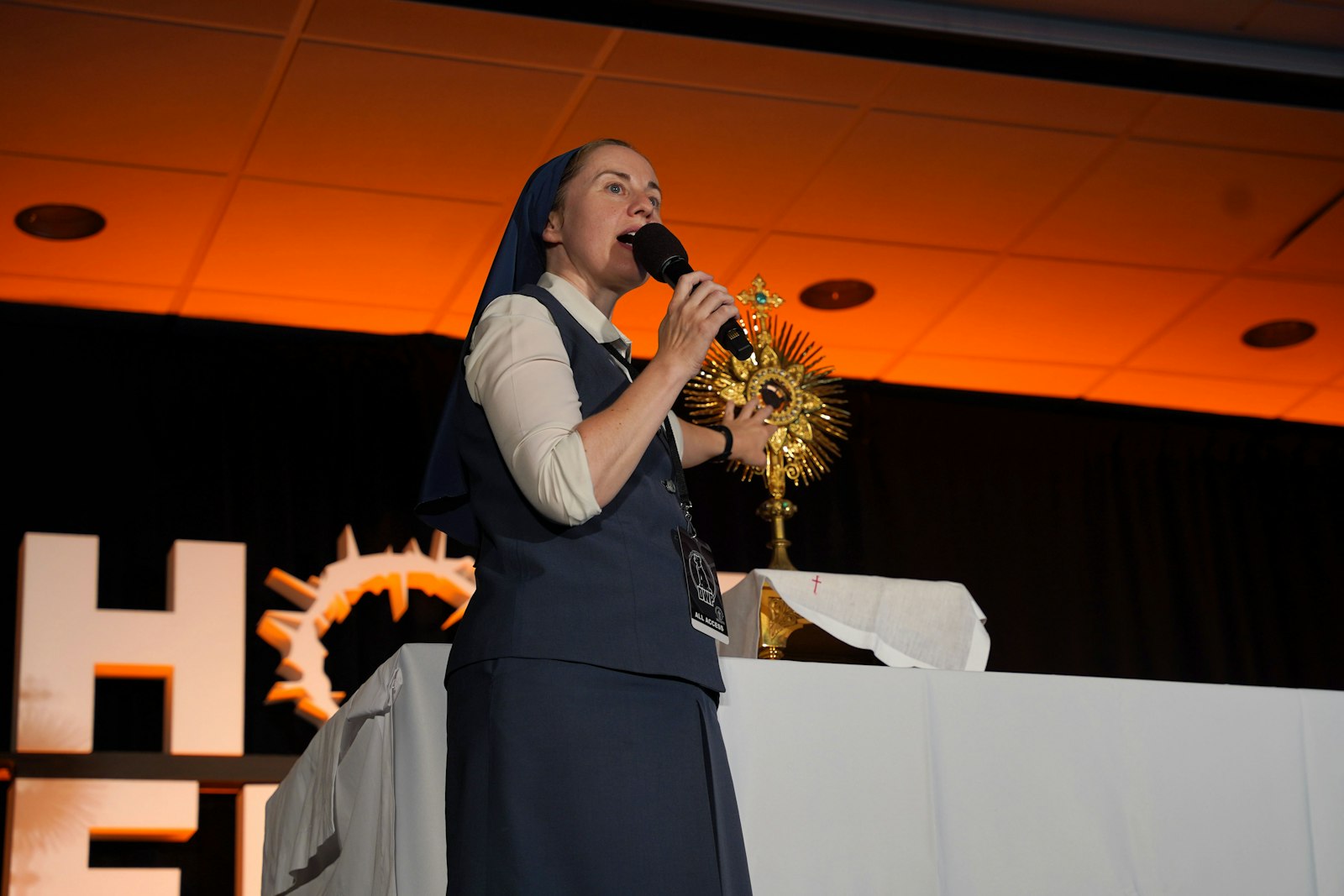 If one is constantly comparing oneself to others, they are bound to be sullen and depressed, Sr. Tracey said. But when one looks to God, they will find Him instead.
"I had a friend who was taking horse-riding lessons," Sr. Tracey said. "My friend has never been on a horse before, and as he is on this horse, he is going toward a wall. He tells the instructor, 'This horse is going to walk me into the wall.' Then the instructor screams, 'Stop looking at the wall. He is going where you are looking.' My friend looks to the open field, and sure enough, the horse takes off into the field.
"You are going where you are looking," Sr. Tracey said. "Where are you looking?"
It's easy to get caught up in mass media and the desire to be popular — it's understandable, she said — but maturity is realizing the first person to impress is God.
Sr. Tracey spoke about the day she turned her life over the God. Her boyfriend at the time, who prayed regularly, suggested she do the same.

"I remember praying, 'God, I know you made me; I know you talked to my friend — talk to me," Sr. Tracey prayed. "As I prayed, my focus started to shift away from making myself good, making myself acceptable, making myself awesome, because I realized God made me good. God made me with a gift to give other people. And when I realized who I was, who God made me to be, my desires started to shift."
Copy Permalink
Youth ministry