St. Isaac Jogues School credits strong culture of faith as a dozen families — many new to the school — prepare to enter the Church this Easter

ST CLAIR SHORES — In November, catechumens and candidates who will join the Church this Easter at St. Isaac Jogues Parish in St. Clair Shores were standing before the altar, and it brought Sr. Maria Guadalupe Hallee, OP, to tears.
"All of these individuals at Mass filling up the front of the church with their sponsors, and I found myself in tears," Sr. Maria Guadalupe told Detroit Catholic. "I was not expecting to be moved that deeply by the sight, but it was this huge group of people taking steps to enter the Church."

Sr. Maria Guadalupe, principal of St. Isaac Jogues' K-8 grade school, has a special reason to be moved: a large number of those families are connected with the school.
Among the 18 people entering the Church this year at St. Isaac Jogues, 12 school families have at least one person receiving the sacraments.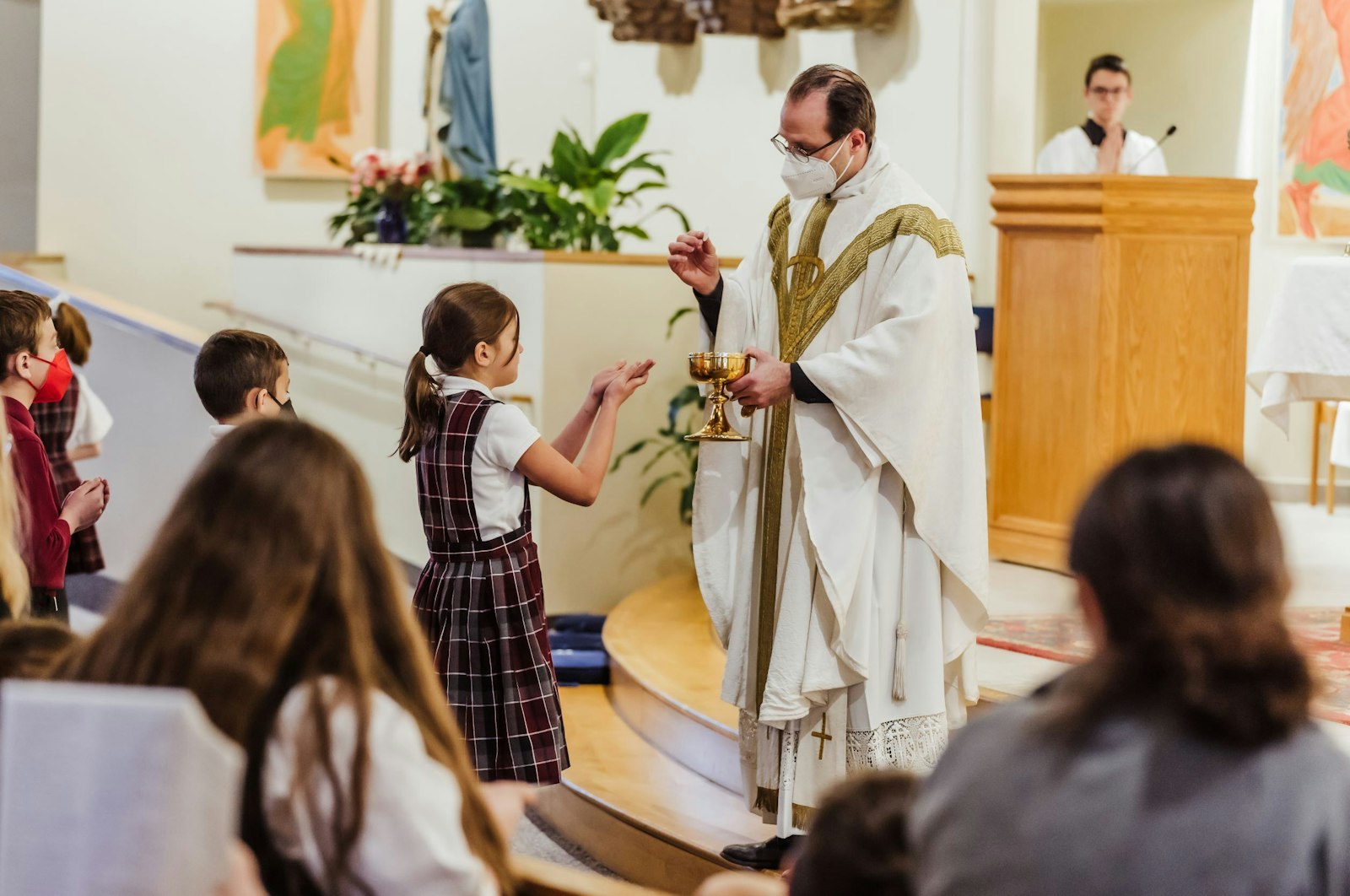 No, there isn't something in the water at St. Isaac Jogues. But there is something in the air: conversation about Jesus.
"In an ideal world, we should be expecting this, because that is what we're about in the field of Catholic education: making disciples of Christ," Sr. Maria Guadalupe said. "Jesus Christ gives us that great commission, 'Go and make disciples of all nations, baptizing them in the name of the Father, the Son and the Holy Spirit.'"
Many of the families who send their children to St. Isaac Jogues are Catholic already, Sr. Maria Guadalupe said, but not all.
"People come here who aren't Catholic, who aren't Christian, but they are part of the school community. So when we have those conversations with parents, who tell us how their children — or even they themselves — want to become Catholic, it's really humbling."

St. Isaac Jogues' 220 students learn about Jesus and the Church during religion class, but it's not limited to that. Catholic culture permeates the school, Sr. Maria Guadalupe said. Students learn about the sacraments and become curious, leading to conversations with their parents and family members.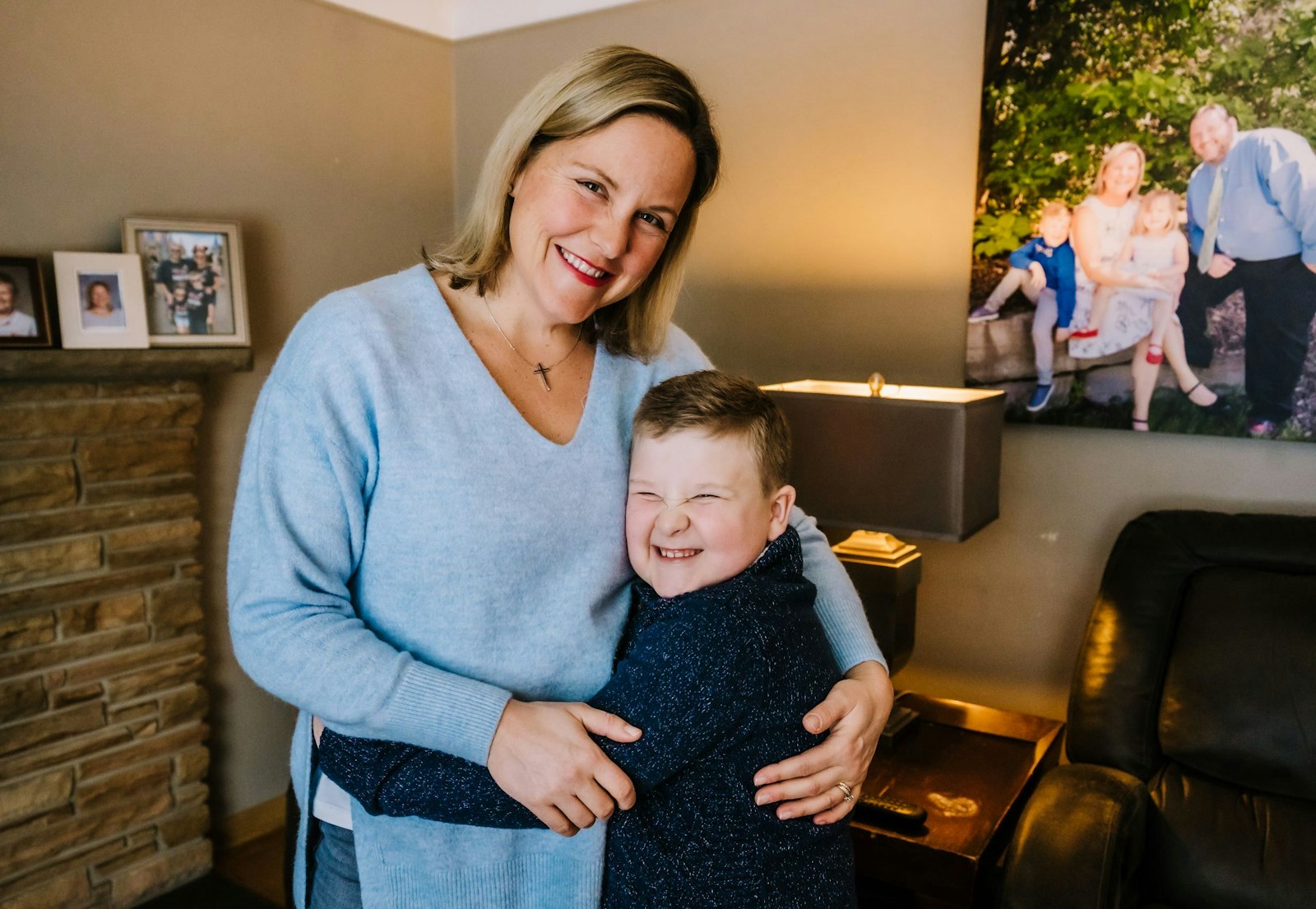 Owen Wilson is one of those students who asked his parents about the sacraments while attending the second grade at St. Isaac Jogues School.
"I'll be taking my first Communion, and I'm excited," Owen said. "Other members of my class are taking their first Communion. I've been learning about the Church and how it's a great place to have confession and learn about God. I had my first confession, and it was really good. I had to tell all my sins to the priest so I could get ready for Communion. It felt good to come out of the confessional."
The Wilson family first considered Catholic school when their local public school opted for remote learning during the pandemic.
"I don't think we would have been looking at Catholic schools if it wasn't for the pandemic, and that was the first thing I said to Sr. Catherine Marie (St. Isaac Jogues' principal until Sr. Maria Guadalupe took over this year)," said Carolyn Wilson, Owen's mother. "This is a terrible thing, the pandemic. But one of the major blessings God has done is opened the door to St. Isaac Jogues and bringing us into a Christian school."
Before long, Owen was asking his parents why he wasn't Catholic, like all of his friends.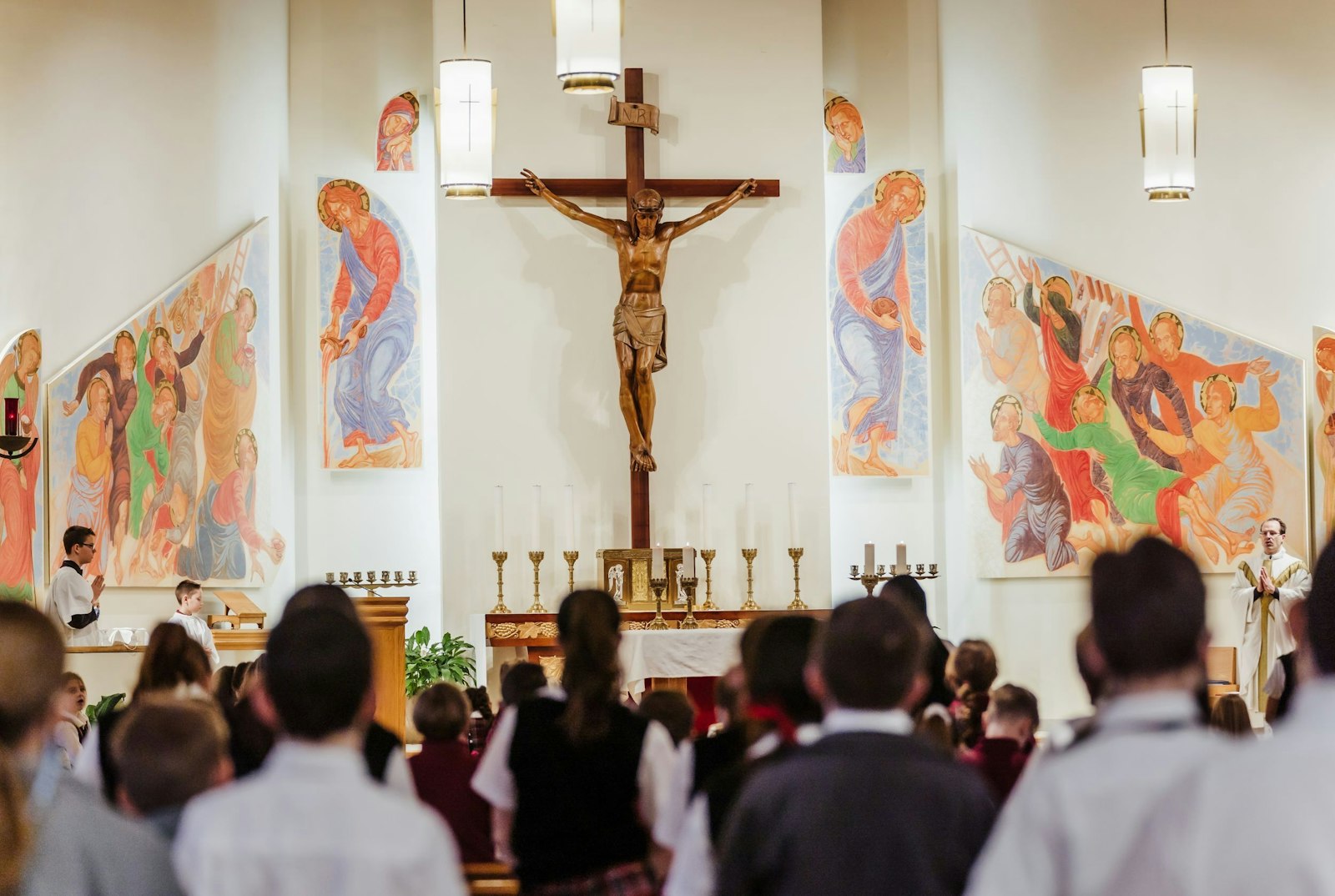 "I wasn't quite set on converting to Catholicism, but the more Owen was at the school, and my daughter, Christina, was at the preschool, I kept warming up to the idea, started going to church more often, and everybody was so welcoming. Fr. David (Cybulski, pastor of St. Isaac Jogues Parish) was amazing," said Carolyn Wilson, who is Lutheran, while her husband, Kevin, is Catholic. "Something clicked, and I just felt the Holy Spirit. I said, 'You know what? This is what we're going to do.' Ever since then, we've been off and running, and it's been amazing."

Now, Carolyn and Owen will be receiving Communion together this Easter.
"We are both super excited about receiving the Eucharist together for the first time," Carolyn Wilson said. "I know he's excited, and I'm just as excited as he is about it. It's going to help us grow spiritually closer."
Fifth-grader Kain Bunch will be baptized, confirmed and receive his first Communion this Easter. And his father, Brad, will be joining him.
"I've been going to St. Isaac Jogues for two years, and in school I've learned about the people in the Bible and what baptism does when you are baptized and you join the Catholic Church," Kain Bunch said.
Like the Wilson family, Kain's parents became curious after listening to their son talk about what he was learning in class, asking questions about his family's faith and wanting to join his friends in church.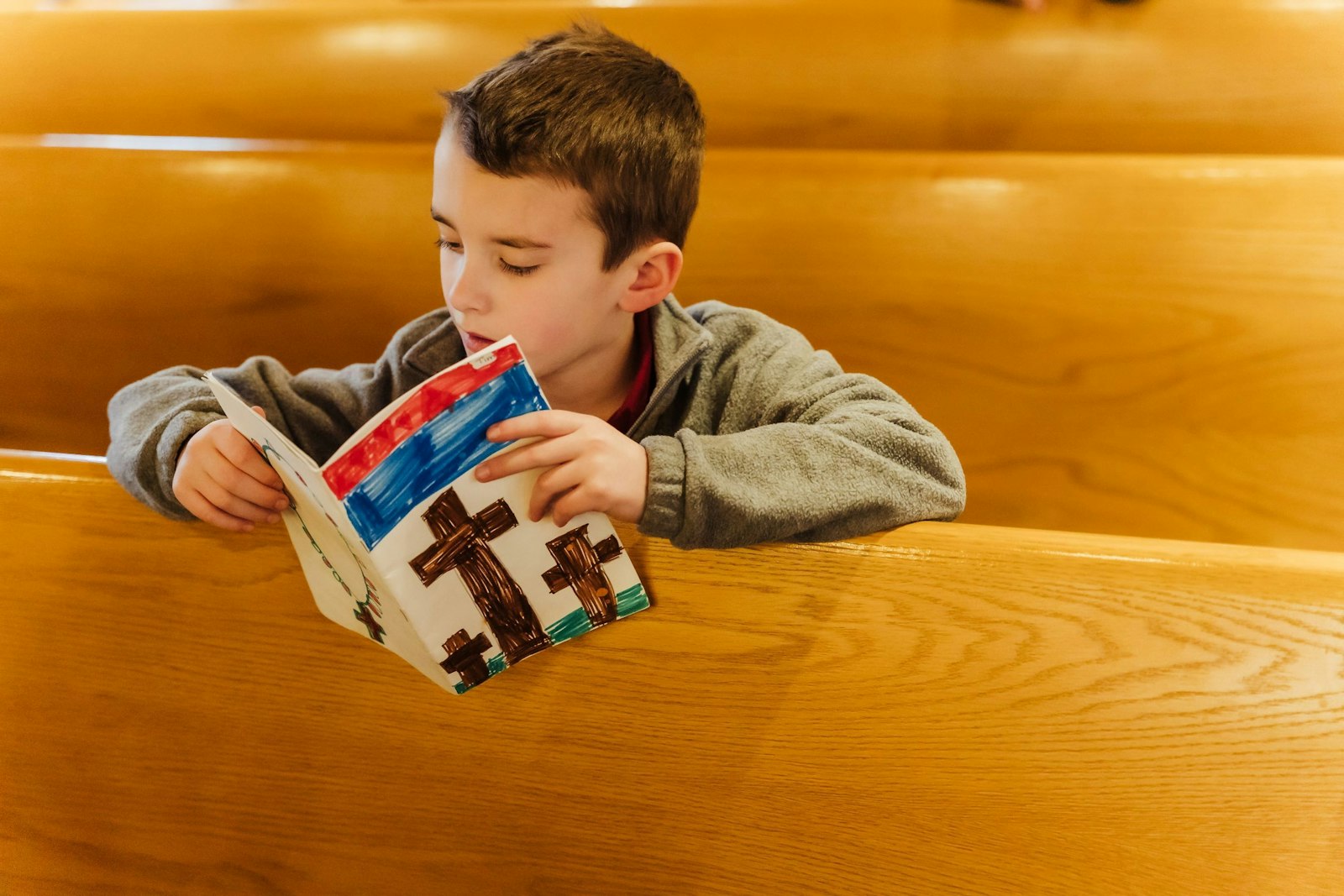 "We did the public school system until two years ago," said Angela Bunch, Kain's mother. "I was born and raised Catholic; I didn't go to a Catholic school, but a lot of my family did. We looked into St. Isaac Jogues and were very happy, impressed with the school and the church community. I didn't see it coming, Kain wanting to be baptized, but I'm very happy. It's a silver lining during a pandemic to get this experience, educational and religious."
Brad was baptized Lutheran as an infant, but grew up with in a family that bounced around Lutheran, Catholic and nondenominational churches.

"It's been exciting for me," Brad Bunch said. "At the same time Kain is going through his catechism, his religious education through the school, I'm attending their program in the evening. It's refreshing, a good reconnection with faith. I'm becoming reacquainted with some of the lessons I've learned in the past."
Angela Bunch said Kain has taken to his new school — where he started during the pandemic because the local public school system was doing remote learning — and the family loves the community surrounding the parish.
"It's really been a blessing to be here, not only for the church, but the educational aspect as well," Angela Bunch said. "Kain is doing well. He likes the sports, loves the families, the other students. I think it was a great transition, and I thank God we had the chance to look at St. Isaac Jogues."

Copy Permalink
Conversions
Catholic schools
Evangelization