For Fr. Dan Dixon, of Birmingham, and Fr. Dan Kennedy, of Toledo, the Jesuit charism of service is 'a faith that does justice'
DETROIT — Fr. Daniel J. Dixon, SJ, and Fr. Daniel J. Kennedy, SJ, agree that their ordination has been a long time coming.
Men who discern the priesthood with the Society of Jesus, better known as the Jesuits, undergo a lengthy formation process. For Fr. Dixon and Fr. Kennedy, the process seemed daunting at first, but now, 11 years later, they wonder where the time has gone.
The two were ordained June 10 at Church of the Gesu in Milwaukee with four others in the Jesuits' Midwest Province, among 17 new Jesuit priests ordained in the United States, Canada and Haiti this summer. Both will begin their service as priests in southeast Michigan.

"At the beginning, it can feel like a mountain that you're climbing. As soon as you get over one smaller peak, you look out and see another, larger peak," Fr. Kennedy told Detroit Catholic. "The logic behind the length of the Jesuit formation doesn't make sense until you immerse yourself in it. Working as a Jesuit, but not yet a priest, was when I experienced my own deep desire for the priesthood."
Fr. Kennedy, a native of Toledo, Ohio, will serve as a special assistant to the president at University of Detroit Jesuit High School and Academy while working toward his master's degree in clinical mental health counseling at John Carroll University online. Fr. Dixon, a native of Birmingham, will minister to students at the University of Michigan in Ann Arbor as a pastoral associate at St. Mary Student Parish.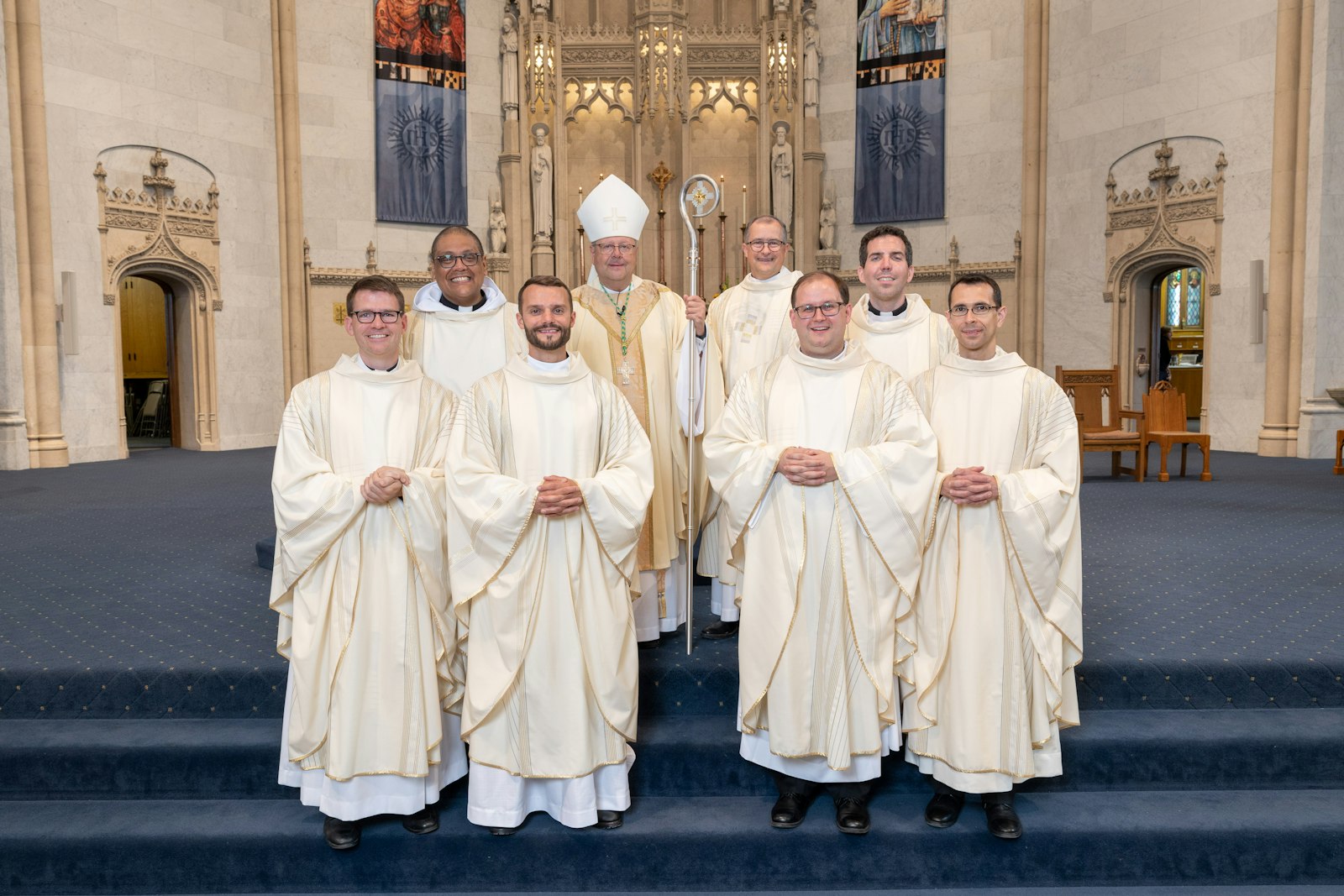 Men who discern with the Jesuit community spend the first two years of formation in the novitiate, learning about the Jesuit charism and taking vows of poverty, chastity and obedience at the end of the two years. Over the next three years, known as "first studies," men complete their philosophy and theology coursework and other degree requirements. During the subsequent three years, the regency stage of formation, Jesuits serve in active ministry before the final stage, a three-year period of additional theology studies prior to priestly ordination.
Early signs of God's plan
The seeds of Fr. Dixon's religious vocation began to germinate when he was a teenager.
He grew up in Birmingham, graduating from University of Detroit Jesuit High School. While at U of D Jesuit, he led a Kairos retreat and realized he not only enjoyed ministering to his peers, but that they trusted him in discussing their joys and struggles.
At the same time, Fr. Dixon got to know a soccer-playing, Coldplay-listening Jesuit regent who was working at the school, which made an impression on the young man.
"The experience of seeing this relatable, younger Jesuit didn't necessarily make me think that would be me one day, but it made me open to the conversation," Fr. Dixon told Detroit Catholic.
The conversations continued throughout college at the University of Notre Dame, where Fr. Dixon formed a friendship with Fr. Bryan Daley, SJ, a theology professor who served as his spiritual adviser and thesis adviser.
After college, Fr. Dixon taught with Notre Dame's Alliance for Catholic Education (ACE) program, which supports underfunded Catholic schools around the country and in Ireland and Chile. Those years would prove to be a turning point, as Fr. Dixon could see the impact of his work and the parallels to Jesuit life.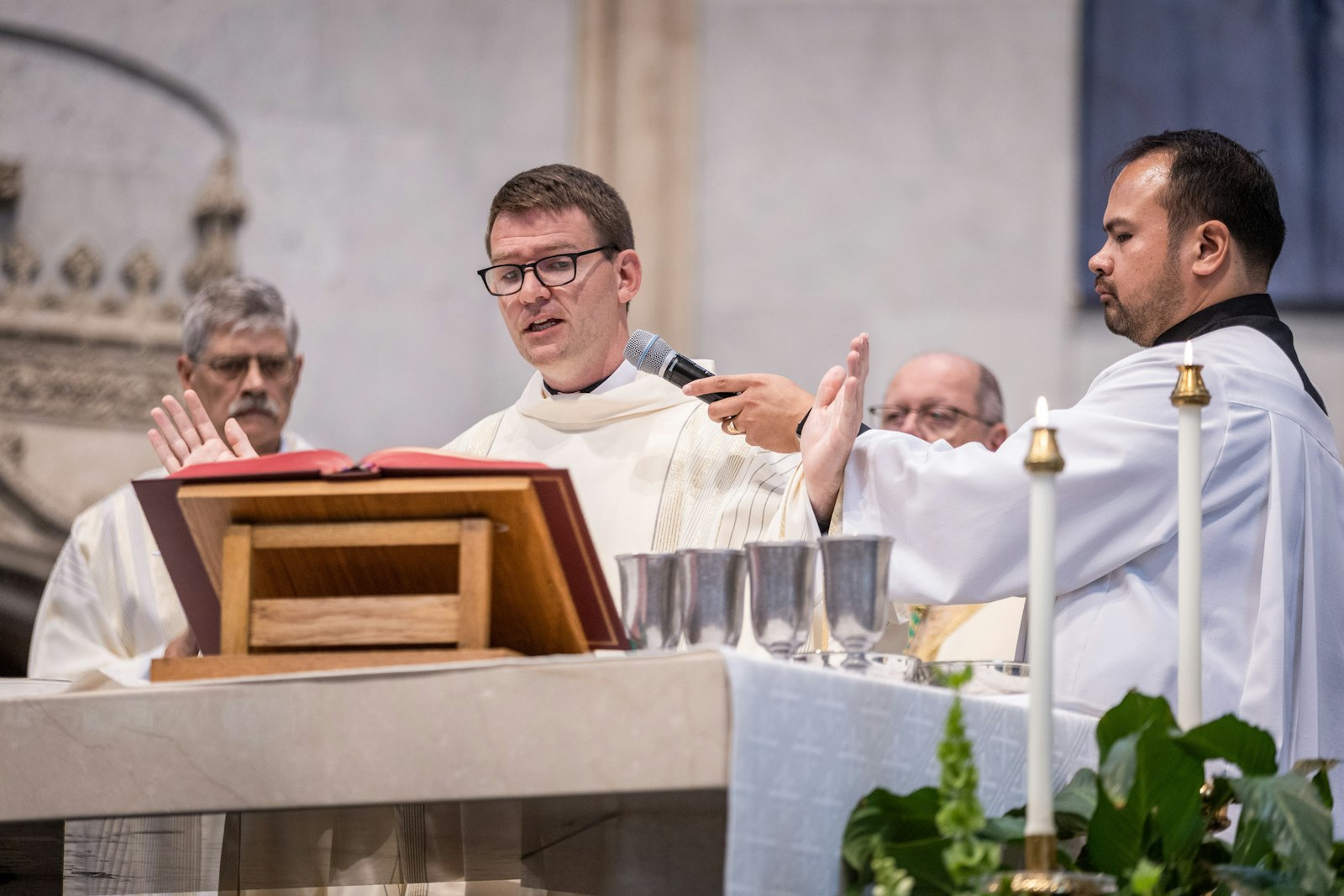 "Those years were huge for me because I loved teaching, prayer was an important part of my time there, and I was living in community — not making money, but living together with others as a single man. Honestly, I was just really happy," Fr. Dixon said. "So the Jesuit life was on my mind, and I decided I had to try it."
The community aspect of the Jesuits, along with the missionary work around the world, drew Fr. Dixon. He and his best friend from high school attended an eight-day retreat together in college. While both came away thinking they might be called to the priesthood, they each discerned God was calling them on different paths for their priesthood.
His friend, Fr. Grayson Heenan, is a priest in the Archdiocese of Detroit.
"Every priest is called differently. The Jesuits represent a faith that does justice. When those two lanes are integrated, that's my lane," Fr. Dixon said. "You could be sent anywhere at any time, and if that's more exciting to you than intimidating, then maybe the Jesuit life is for you."
'A great line of work'
Fr. Kennedy grew up in Toledo, Ohio. His parish priest's joyful spirit and his effort to know the names of all the students in the parish grade school helped him see the priesthood as a possibility.
"To me as a young child, it seemed like a great line of work, and something that would be more than 'just work,'" Fr. Kennedy said.
Then as a student at St. John's Jesuit High School, Fr. Kennedy encountered the Jesuits and noticed the deep sense of meaning in their ministry. He was inspired by the story of St. Ignatius of Loyola, founder of the Society of Jesus in 1540. Like Fr. Dixon, Fr. Kennedy directed retreats and participated in service work throughout his high school years.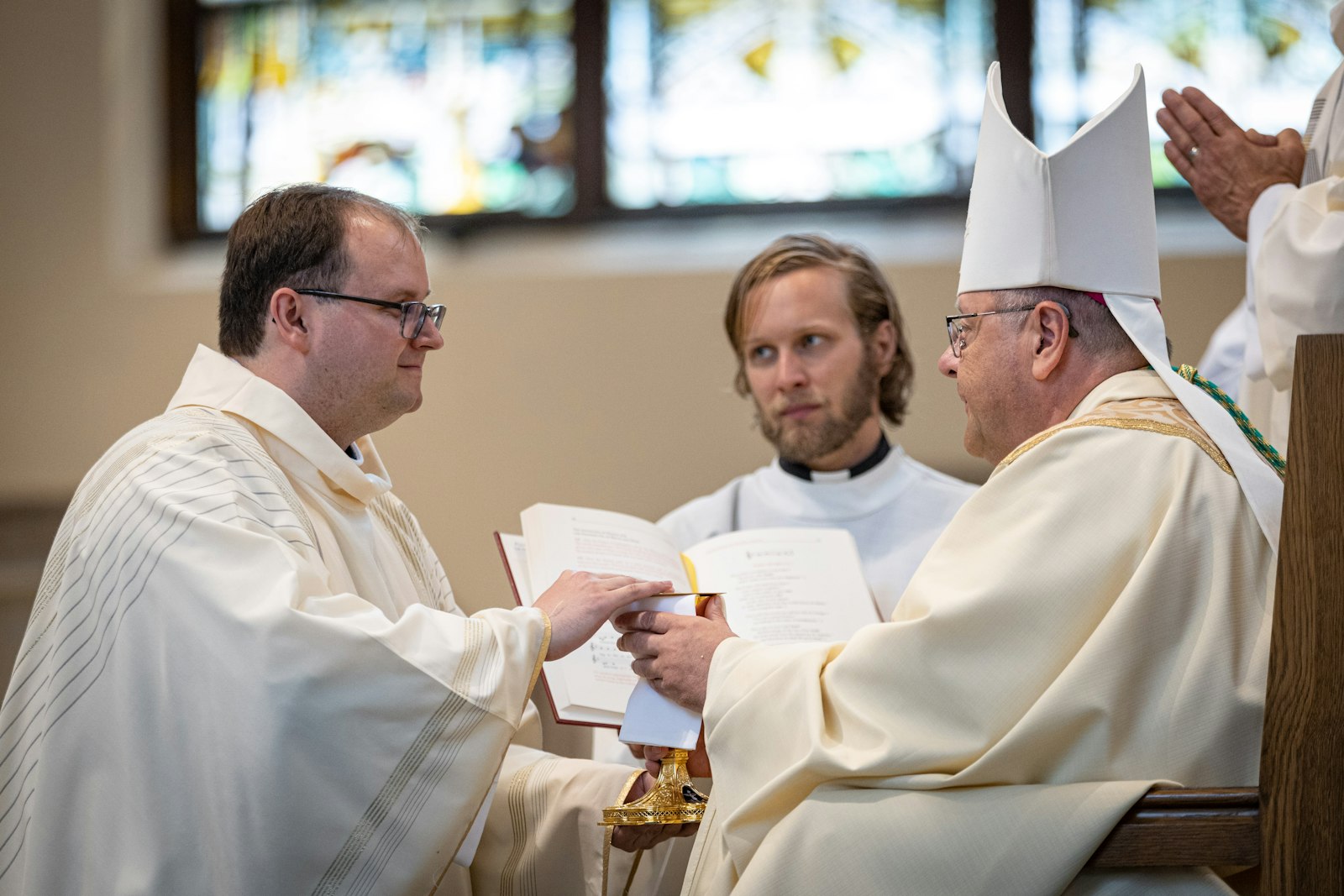 After graduating from Boston College, Fr. Kennedy entered the Society of Jesus. Fr. Kennedy recalls one of the most impactful times in his formation, a 30-day pilgrimage in which the men are given a bus ticket and $30 to travel while relying on the generosity and compassion of strangers. Combined with a 30-day silent retreat, the pilgrimage serves as a foundation for those in the novitiate stage.
"Those two experiences are excellent ways to test one's vocation," Fr. Kennedy said. "'Can I trust the Lord in this set of circumstances, or in that set of circumstances?' Since Jesuit life is about going wherever the need is greatest, the Society wants to build that capacity in you to trust the Lord, and the only way to build it is by testing it."
Ordination day
Fr. Dixon and Fr. Kennedy were moved by the many people in their lives who traveled to Milwaukee for their June 10 ordination. As Fr. Dixon was walking into the church, he was surprised and delighted to see a couple he knew from his time as a deacon at St. Elizabeth Parish in Oakland, California.

"During the Litany of Saints, I thought of all the people in my life who have died and I believe are praying for me, and of all the holy men and women who couldn't be there and I know are praying for me," Fr. Dixon said. "The graces of that weekend are overflowing."
Fr. Kennedy remembers feeling a great sense of peace as the bishop laid his hands upon his head.
"At the end of the day, the ordination is not about me. It's about what God is doing in my life that hopefully can be of service to the people," Fr. Kennedy said. "I felt a great sense of gratitude to all these people that made it out to the ordination, each of whom represented a piece of my formation along the way."
Copy Permalink
Consecrated life
Vocations
Priesthood