3 killed, at least 8 injured during mass shooting at northern Oakland County public school; Catholics offer outpouring of support
OXFORD — A 15-year-old sophomore high school student is in custody after a mass shooting that killed at least three students and wounded at least eight others at Oxford High School, a public school in northern Oakland County, on Nov. 30.
Authorities responded to 911 calls at approximately 1 p.m. Tuesday after reports of a shooting at the school, which has an enrollment of approximately 1,800.
Oakland County Undersheriff Mike McCabe told local media outlets the shooter acted alone and surrendered to authorities. The shooting lasted approximately 5 minutes, McCabe said, during which approximately 15-20 shots were fired. McCabe said one of those shot was a teacher, while the rest were students.
The shooter appeared to have acted alone and used a semiautomatic handgun, McCabe said, according to local media reports.

Emergency crews from across the Metro Detroit area arrived on scene and could be seen at the school throughout the afternoon, including several medical transport helicopters. Victims were transported to nearby hospitals. Those killed included a 16-year-old male, a 14-year-old female and a 17-year-old female. Two victims remained in surgery Tuesday evening, while six were in stable condition.
In addition to law enforcement from multiple nearby municipalities, the Federal Bureau of Investigation also was on scene.
Local Catholic leaders immediately responded to the situation with prayers and an outpouring of support for victims and those impacted.
"I am heartbroken to hear of the horrific tragedy at Oxford High School. On behalf of the clergy, religious, and faithful of the Archdiocese of Detroit, I offer heartfelt prayers for the victims, their families, and all those affected in our community," Archbishop Allen H. Vigneron said in a statement.
"May Our Blessed Mother wrap all those wounded — physically, emotionally, or spiritually — in her loving mantle and offer them consolation in the difficult days ahead."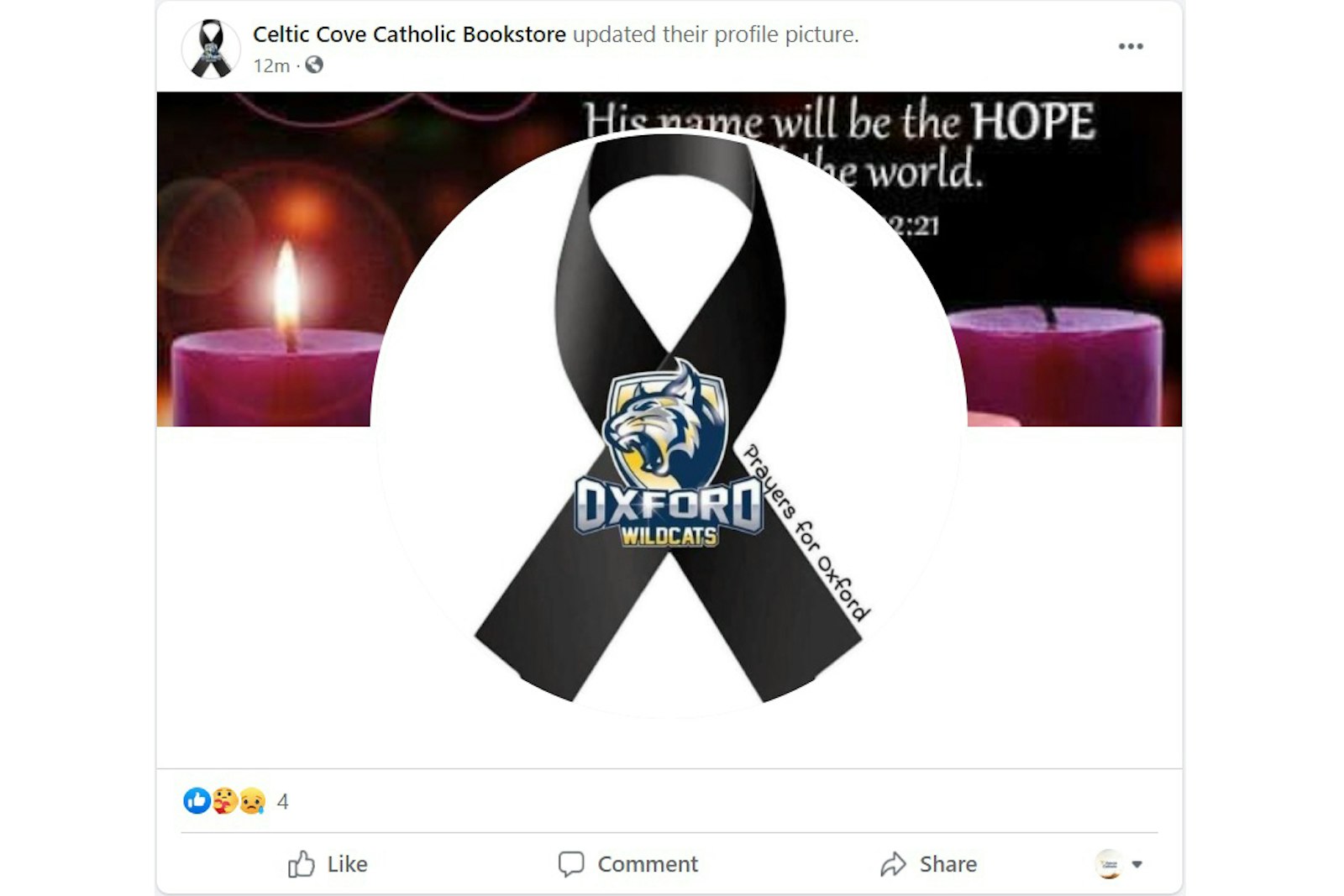 St. Joseph Parish in Lake Orion, which is the nearest parish to the school, immediately put its own K-8 school on lockdown Tuesday afternoon after learning of the shooting, said Sue Audette, worship coordinator at the parish.
"Lots of parents, as soon as they got word, came to pick up their students," Audette told Detroit Catholic. "Everybody was locked down, and we were releasing students as parents came to pick up their kids."
Although Oxford is a public school, many families in the area are parishioners at St. Joseph, as well as nearby Immaculate Conception Parish in Lapeer.
Audette said St. Joseph's associate pastor, Fr. John Carlin, went to the nearby Meijer store where students from Oxford High School were evacuated in the aftermath of the shooting to comfort families and offer pastoral support.
The parish has a regularly scheduled Mass at 7 p.m. Tuesday evening, Audette said, which will still take place. Religious education classes at the parish were canceled Tuesday evening, as well as a Christmas concert practice. Families were invited to attend the 7 p.m. Mass instead, with adoration afterward.
"We are shocked and devastated by today's terrible tragedy at Oxford High School," the parish said in a statement on social media. "St. Joseph School will be closed tomorrow, as a day of mourning and prayer for the lives lost, and for everyone who was affected in one way or another. All of us are connected, as we have many SJS alumni who attend OHS, in addition to our friends and neighbors who are Wildcats.
"Please join in praying for the repose of the souls of the lives lost, for comfort for their grieving families, for healing of all who are injured, and for peace in our community in the days and weeks to come. Also pray in a special way for the Oxford Community as a whole.
"Hug your kids a little tighter tonight, as we move forward together in faith," the statement concluded.
Catholic schools and parishes across Metro Detroit reached out on social media to offer their condolences and prayers.
"We are deeply saddened to learn of the shooting today at Oxford High School," St. Thecla Catholic School in Clinton Township posted on Facebook. "May the mercy of God, comfort the students, staff, families and first responders of today's tragedy. May we unite as a community and hold everyone involved in our hearts and prayers."
St. Mary's Preparatory in Orchard Lake and Everest Collegiate High School and Academy in Clarkston also posted messages of prayers and support.
Gov. Gretchen Whitmer, speaking to local media outlets around 5 p.m., called the shooting "every parent's worst nightmare."
"I appreciate the quick response of all of our first responders. My heart goes out to our families," Whitmer said, as reported via livestream on several local media outlets. "This is an unimaginable tragedy. I hope that we can all rise to the occasion and wrap our arms around the families, the affected children and school personnel, and this community. It is an unimaginable tragedy."
President Joe Biden, who is traveling in Minnesota, was also briefed on the situation.
"As we learn the full details, my heart goes out to the families enduring the unimaginable grief of losing a loved one," Biden said in remarks to the media.
Counseling services
Catholic Charities of Southeast Michigan has counseling services available to those who need it in the aftermath of the Oxford High School shooting.
Copy Permalink