WASHINGTON (OSV News) -- Pope Francis has accepted the resignation of Bishop Paul J. Bradley of Kalamazoo, Michigan, and has appointed as his successor Msgr. Edward M. Lohse, vicar general and moderator of the curia for the Diocese of Erie, Pennsylvania.
Bishop Bradley, 77, has headed the Kalamazoo Diocese since 2009. Bishop-designate Lohse, 61, also is pastor of St. Julia Parish in Erie. He was ordained a priest for the Erie Diocese in 1989 and named a monsignor in 2015.
The changes were publicized in Washington May 23 by Archbishop Christophe Pierre, apostolic nuncio to the United States.
Bishop-designate Lohse will be ordained and installed at the Cathedral of St. Augustine in Kalamazoo July 25. He will become the fifth bishop of Kalamazoo.
"With thanksgiving to our loving God and with deep gratitude to our Holy Father, Pope Francis, our diocese's wait for our new shepherd has yielded a wonderful gift" in the appointment of the Erie priest as the southwest Michigan diocese's new shepherd, Bishop Bradley said in a statement. "We welcome him with open arms and hearts filled with joy. May he walk with us, teaching us and leading us in the ways of hope-filled disciples of our risen Lord."
Bishop Bradley turned 75 Oct. 18, 2020, and submitted his resignation to the pope as required by canon law. Until his successor's ordination, he will continue as apostolic administrator.
"As a diocese, we rejoice at this honor for one of our fine priests," Erie Bishop Lawrence T. Persico said. "It is a testament to the clergy of the Diocese of Erie. Although it is difficult to lose one of our priests, who has served with great faith, wisdom and hope, we rejoice with the church of Kalamazoo on their new shepherd."
Bishop-designate Lohse said he was "both humbled and honored to be asked by the Holy Father to become the fifth Bishop of Kalamazoo, and I am grateful to Bishop Bradley for his support."
"The task ahead is a daunting one, but none of us walks the path of faith alone. I know that I will need to count on the prayers of Bishop Bradley, the priests, religious and laity of the diocese, and I pledge my prayers for them in return," he said in a statement. "Together, we will go forward to proclaim Christ, and to meet him in the hearts of all God's people in the Diocese of Kalamazoo."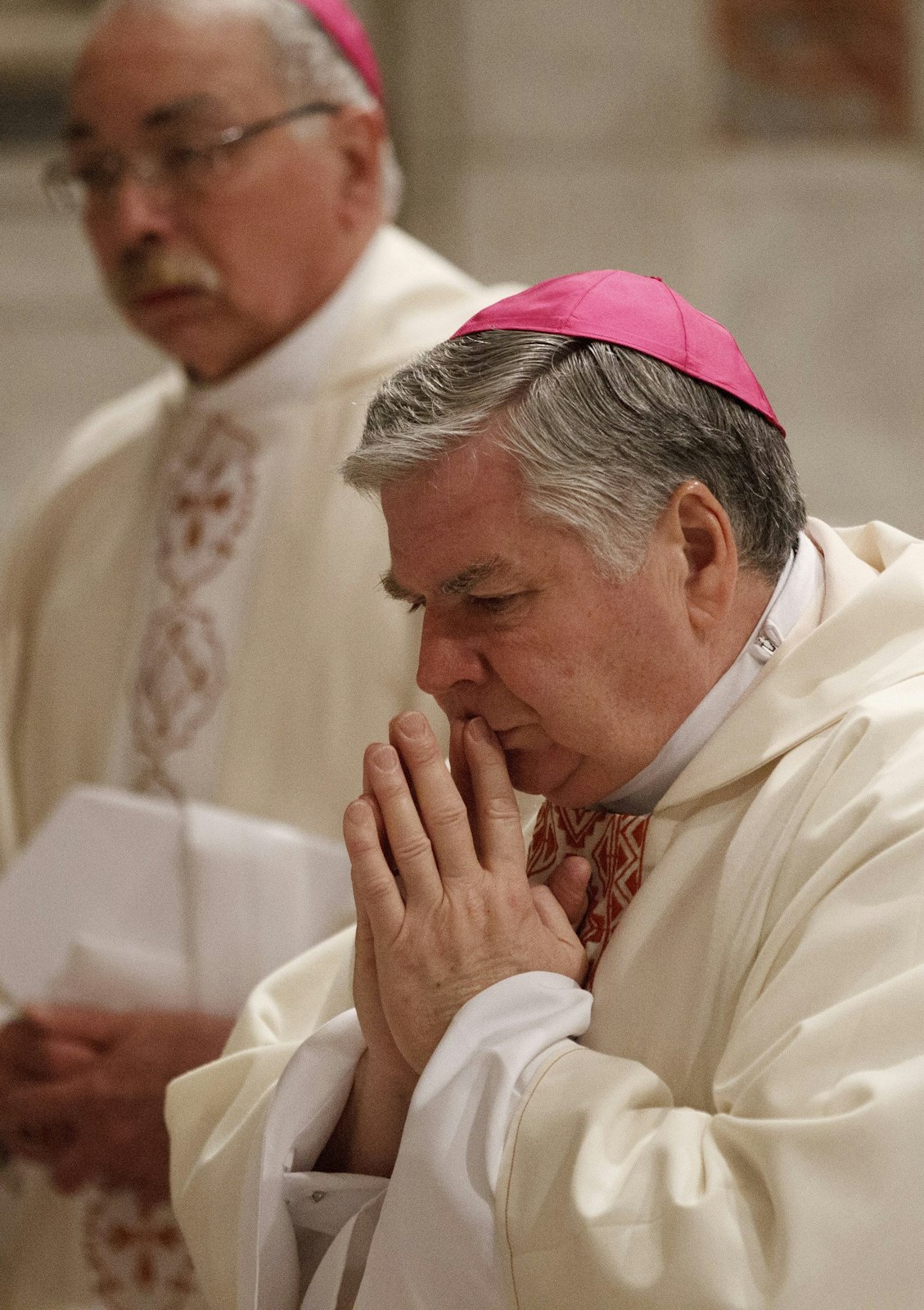 The nine-county Diocese of Kalamazoo is in southwest Michigan. It covers just over 5,300 square miles and has a Catholic population of about 77,800 Catholics out of a total population of 966,198.
Edward Mark Lohse was born in Erie Nov. 23, 1961, to the late Edward L. and the late Ida E. (Dedrick) Lohse, and is the sixth of seven children in the family. He grew up in McKean, just outside of Erie, where his family belonged to St. Francis Xavier Parish. He attended Our Lady of Peace Elementary School in Erie and graduated from Cathedral Preparatory School, also in Erie, in 1980.
He studied for the priesthood first at St. Mark Seminary while attending Gannon University in Erie, where he earned his bachelor of arts degree in history, graduating summa cum laude in 1984. He received a master's of divinity at St. Vincent Seminary in Latrobe, Pennsylvania, graduating with highest honors in 1987, before completing his studies for the priesthood there a year later.
He was ordained a priest by the late Bishop Michael J. Murphy April 21, 1989, at St. Peter Cathedral in Erie.
Then-Father Lohse was assigned to the faculty and the Campus Ministry Office of DuBois Central Catholic Middle and High School in DuBois, Pennsylvania (1990-1995). During that time, he also was an adjunct faculty member for Gannon University.
In 1995, he was named Erie's diocesan vocations director, a position he held for five years and held again from 2002 to 2010.
In between those two assignments, Bishop-designate Lohse studied canon law at the Pontifical Gregorian University in Rome, earning his licentiate in canon law in 2002, graduating summa cum laude. At the same time, he became involved with broader administrative duties for the Erie Diocese as assistant chancellor (2001-2002), vice chancellor (2002-2007) and chancellor (2007-2010).
In 2010, the Vatican named him as an official of what is now called the Dicastery for the Clergy in Rome, an assignment that lasted through 2015.
While in Rome, he also became an adjunct faculty member at the Pontifical North American College and studied for his doctoral degree in canon law at the Pontifical Gregorian University. He received the degree, summa cum laude, in 2016.
When he returned to Erie, Bishop Persico appointed him episcopal vicar for canonical services in 2016. A year later he was named director of the Office for the Protection of Children and Youth, moderator of the curia and vicar general -- three positions he has held until the present. In 2022, he also became pastor of St. Julia Parish in Erie.
Bishop-designate Lohse was a member of the National Conference of Diocesan Vocation Directors for 13 years (1995-2010). He also served on the St. Vincent Seminary board of regents in Latrobe from 2003 to 2010.
Currently, he is a member of the Canon Law Society of America, Gannon University's board of trustees and the Eastern Regional Conference of Canonists.
He has written numerous articles for professional journals and periodicals on topics ranging from canon law to the priesthood and has won several awards, including the Diakonia Award for service from St. Vincent Seminary (1987). In 2010, St. Vincent Seminary awarded him an honorary doctorate of divinity and in 2016 named him an "alumnus of distinction."
In his spare time, Bishop-designate Lohse includes gardening, traveling and enjoying the outdoors among his interests. He has continued to enjoy maintaining his family's farm in McKean, where he grows everything from apples, peaches and cherries to grapes, berries and rhubarb.
"He even keeps the vintage tractor running in fine shape," according to the Erie Diocese.
Copy Permalink