Archbishop Vigneron serves as principal co-celebrant and consecrator as southwest Michigan diocese welcomes new shepherd
KALAMAZOO — Twenty-five bishops entered the Cathedral of St. Augustine in Kalamazoo on July 25. By the time Mass was finished, 26 bishops processed out.
The newest addition to the ranks of the episcopate was Bishop Edward M. Lohse, who was ordained and installed as the fifth bishop of the Diocese of Kalamazoo, one of seven dioceses in the state of Michigan.
Bishop Lohse, 61, succeeds Bishop Paul J. Bradley, 77, who had served the diocese since 2009. Archbishop Allen H. Vigneron of Detroit, Michigan's metropolitan see, was the principal co-celebrant and consecrator during the Mass.
The cathedral was standing-room only as Bishop Lohse took his cathedra — or episcopal seat — after showing the congregation the official decree from Pope Francis, which was announced May 23 by Archbishop Christophe Pierre, apostolic nuncio to the United States.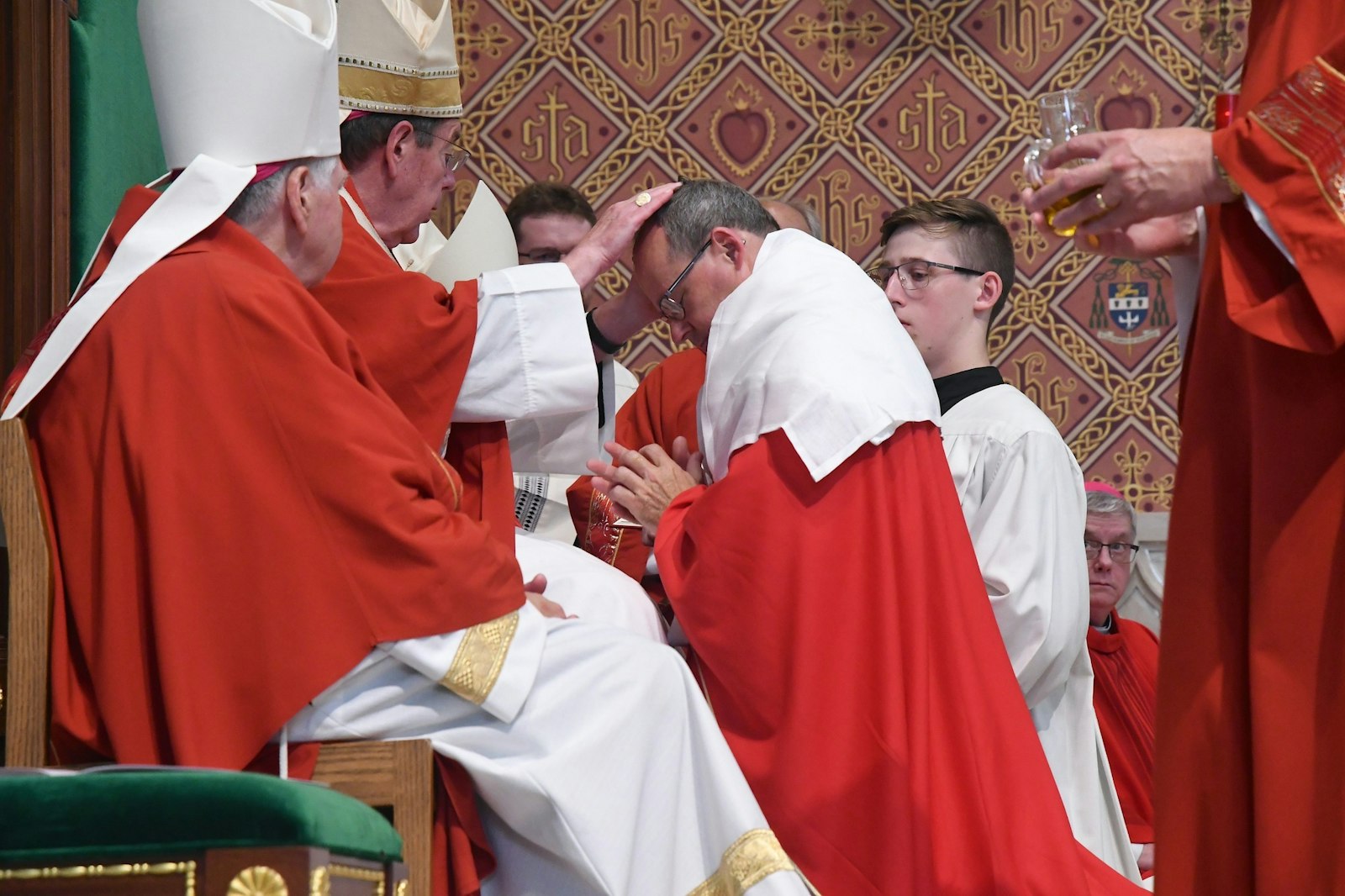 "What a great day for Kalamazoo, and even more so a great day for the Lord Jesus," Bishop Lohse said in his first remarks to the faithful after his installation Mass, which was livestreamed on the Diocese of Kalamazoo's Facebook page. "I want to first express my thanks to almighty God, who in His goodness has called me to this apostolic ministry, and St. Thomas Aquinas would be quick to remind me that this call to be a successor to the apostles is through no merit of my own, but purely by divine grace."
Bishop Lohse expressed his gratitude to Pope Francis, "who has been for me and for so many an instrument of that grace," and Archbishop Pierre, who was in attendance.
Bishop Lohse previously served as vicar general and moderator of the curia for the Diocese of Erie, Pa., as well as pastor of St. Julia Parish in Erie. He was ordained a priest for the Diocese of Erie in 1989 and named a monsignor in 2015.
The new bishop assumes a diocese that stretches 5,300 square miles in southwest Michigan and serves a Catholic population of nearly 78,000 and a total population of approximately 966,000. Bishop Lohse remarked on the gracious welcome he's received in the diocese so far, especially from his predecessor, Bishop Bradley.
"Bishop Bradley, you have been exceptionally kind to me, and I want to thank you for your kindness and for the 14 years of your ministry — a good foundation you left me," Bishop Lohse said.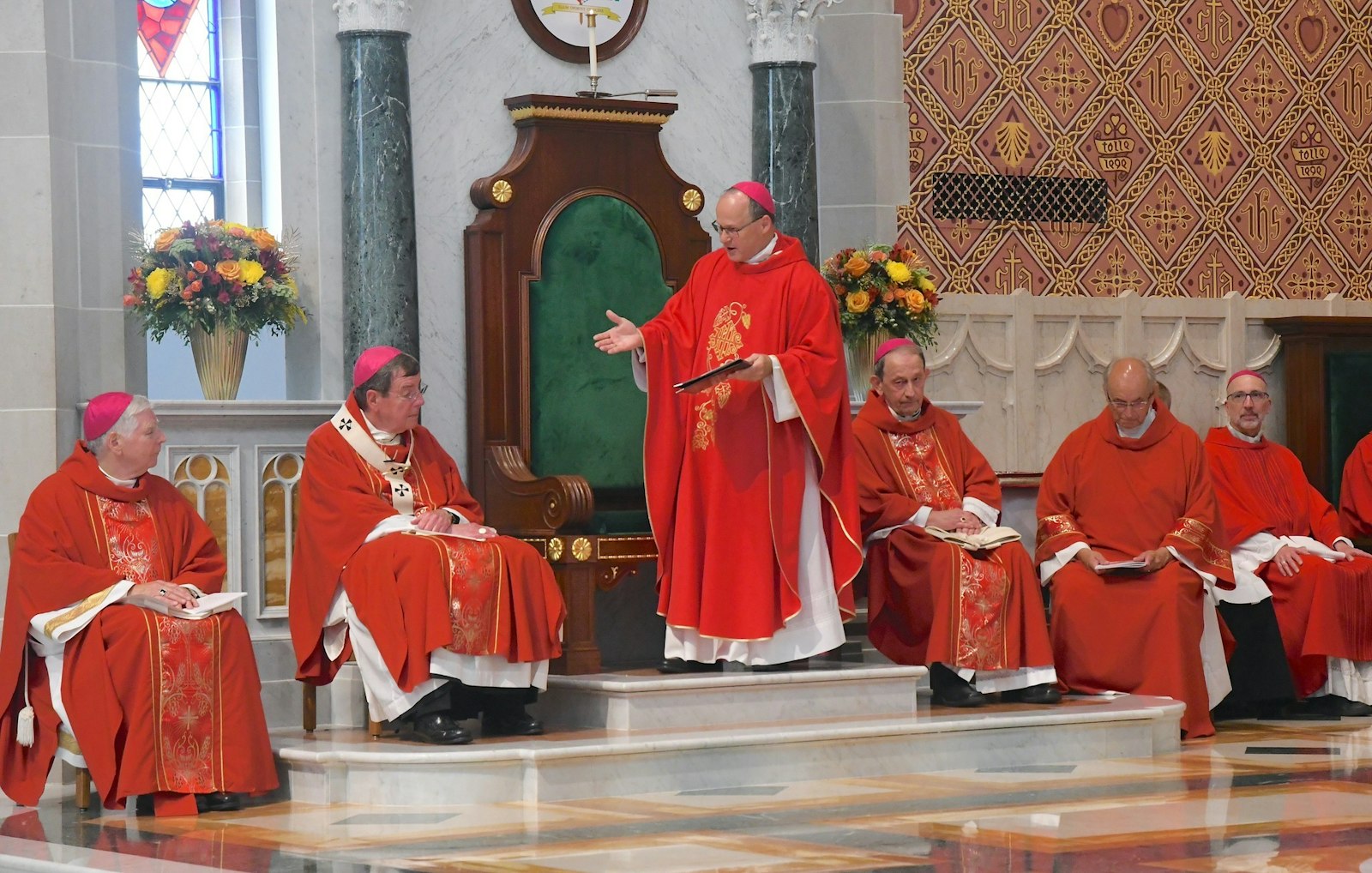 Bishop Lohse also thanked Bishop Lawrence T. Persico of the Diocese of Erie, to whom Bishop Lohse said he owes "more than I can count for your support and mentoring throughout these past 11 years."
Addressing the faithful of the Diocese of Kalamazoo, Bishop Lohse emphasized the role of the martyrs in the Christian life, adding he hopes to take strength from their example as he begins his ministry and leadership.
"Today we begin our common path in this great adventure of discipleship. We do so not by accident on the feast of an apostle and martyr, the first apostle to be martyred, St. James," Bishop Lohse said. "We do so mindful of the fact that it is the martyrs themselves who are the measure of the commitment to which we are called in Christ."
To the last remark, Archbishop Vigneron, seated to Bishop Lohse's right, echoed "Amen."
"I'll second that," Bishop Lohse replied.
"The road ahead will not always be easy. I will make mistakes. But I do ask for your prayers and your patience as together we seek to discern where the Holy Spirit is leading us in an increasingly complex world," Bishop Lohse said. "But no matter how complicated life may seem, one thing will always remain constant, and that one thing is Christ. It is Christ whom we follow. It is Christ whom we serve in our neighbor. It is Christ whom we adore. He must increase. Let this be our guiding principle."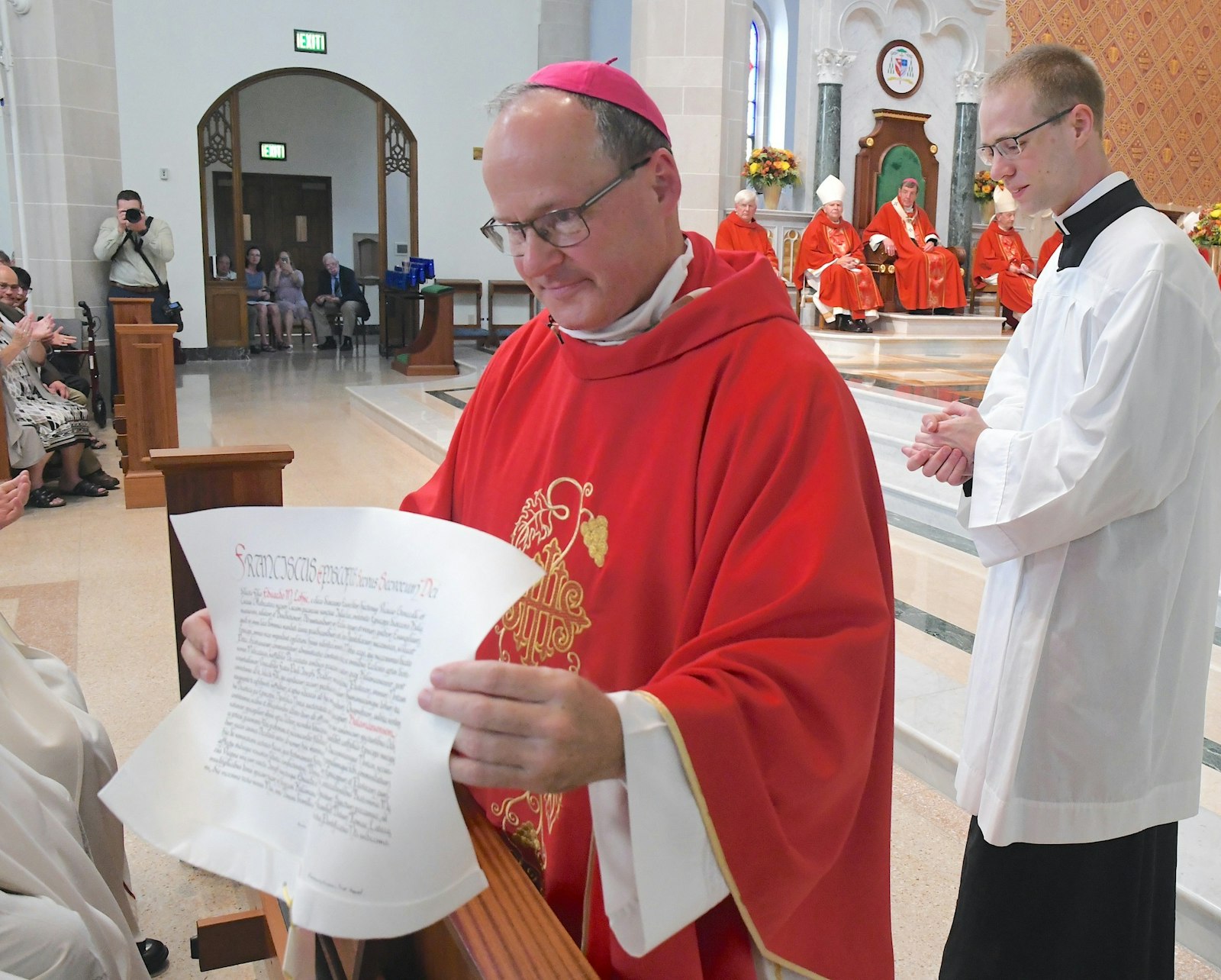 Edward Mark Lohse was born in Erie Nov. 23, 1961, to the late Edward L. and the late Ida E. (Dedrick) Lohse, and is the sixth of seven children in the family. He grew up in McKean, just outside of Erie, where his family belonged to St. Francis Xavier Parish. He attended Our Lady of Peace Elementary School in Erie and graduated from Cathedral Preparatory School, also in Erie, in 1980.

He studied for the priesthood first at St. Mark Seminary while attending Gannon University in Erie, where he earned his bachelor of arts degree in history, graduating summa cum laude in 1984. He received a master's of divinity at St. Vincent Seminary in Latrobe, Pennsylvania, graduating with highest honors in 1987, before completing his studies for the priesthood there a year later.

He was ordained a priest by the late Bishop Michael J. Murphy April 21, 1989, at St. Peter Cathedral in Erie.

Then-Fr. Lohse was assigned to the faculty and the Campus Ministry Office of DuBois Central Catholic Middle and High School in DuBois, Pennsylvania (1990-1995). During that time, he also was an adjunct faculty member for Gannon University.

In 1995, he was named Erie's diocesan vocations director, a position he held for five years and held again from 2002 to 2010.

In between those two assignments, Bishop Lohse studied canon law at the Pontifical Gregorian University in Rome, earning his licentiate in canon law in 2002, graduating summa cum laude. At the same time, he became involved with broader administrative duties for the Erie Diocese as assistant chancellor (2001-2002), vice chancellor (2002-2007) and chancellor (2007-2010).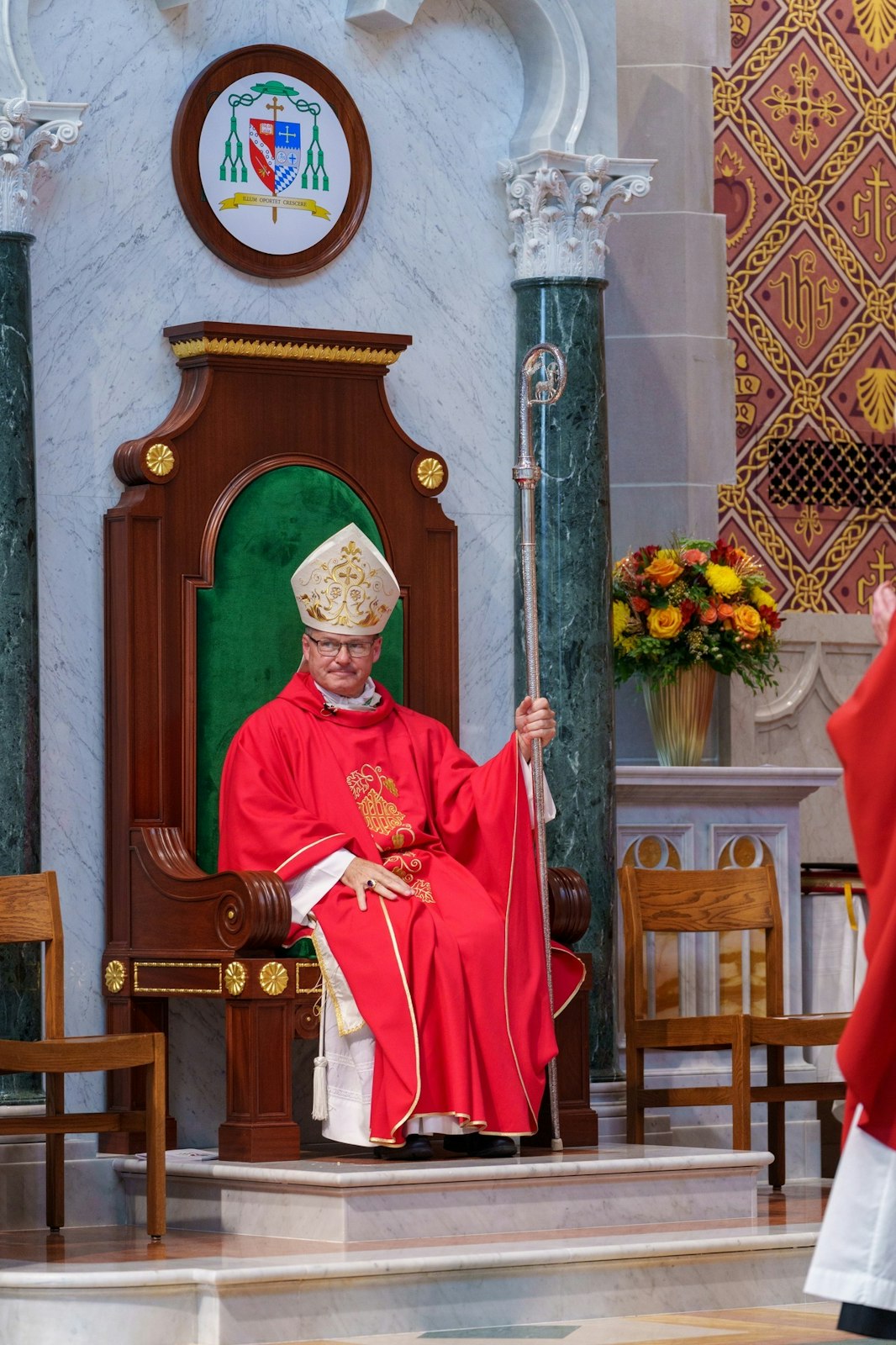 In 2010, the Vatican named him as an official of what is now called the Dicastery for the Clergy in Rome, an assignment that lasted through 2015.

While in Rome, he also became an adjunct faculty member at the Pontifical North American College and studied for his doctoral degree in canon law at the Pontifical Gregorian University. He received the degree, summa cum laude, in 2016.

When he returned to Erie, Bishop Persico appointed him episcopal vicar for canonical services in 2016. A year later he was named director of the Office for the Protection of Children and Youth, moderator of the curia and vicar general -- three positions he has held until the present. In 2022, he also became pastor of St. Julia Parish in Erie.

Bishop Lohse was a member of the National Conference of Diocesan Vocation Directors for 13 years (1995-2010). He also served on the St. Vincent Seminary board of regents in Latrobe from 2003 to 2010.
Currently, he is a member of the Canon Law Society of America, Gannon University's board of trustees and the Eastern Regional Conference of Canonists.

He has written numerous articles for professional journals and periodicals on topics ranging from canon law to the priesthood and has won several awards, including the Diakonia Award for service from St. Vincent Seminary (1987). In 2010, St. Vincent Seminary awarded him an honorary doctorate of divinity and in 2016 named him an "alumnus of distinction."

In his spare time, Bishop Lohse includes gardening, traveling and enjoying the outdoors among his interests. He has continued to enjoy maintaining his family's farm in McKean, where he grows everything from apples, peaches and cherries to grapes, berries and rhubarb.

"He even keeps the vintage tractor running in fine shape," according to the Erie Diocese.
OSV News contributed to this report.
Copy Permalink