DETROIT — Longtime Cabrini High School administrative assistant Kathy Leja was honored for her 21 years of service during the Oct. 23 Prep Bowl at Detroit's Ford Field.
Leja, a 1975 graduate of Allen Park Cabrini who was hired by Tim Kluka to work as an assistant in Cabrini's athletic department, was recognized as the Catholic High School League's Sylvia Kolaz Administrative Assistant of the Year.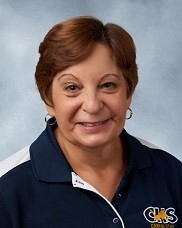 Leja, who is retiring in December, is able to "maintain control and amazing organization with all the chaos that occurs in any athletic department," said a statement from the league.
"Under the ever-changing schedules and protocols over the past two years, Kathy has been gracious and always professional," the league's statement said. "Cabrini High School's motto, 'I can do all things through Christ who strengthens me,' is epitomized by Kathy."
In addition to Leja, 115 educators were honored during the Prep Bowl halftime celebration for their years of service to Catholic education. They are:
50 years
Vickie Granger (De La Salle Collegiate)
45 years
Duane Holmes (Notre Dame Preparatory)
40 years
Elaine Gagnon (De La Salle Collegiate)
Mary Hursley (Marian High School)
Barb Perry (Cabrini High School)
35 years
30 years
Kathleen Gordon (Our Lady of Sorrows)
Elizabeth Olech (Divine Child Elementary)
Sr. Lenore Pochelski, IHM (Marian High School)
Nicholas Young (University of Detroit Jesuit)
25 years
Raymond Coleman (Cabrini High School)
Theresa Radich (Everest Collegiate)
Kathleen Schuchardt (University of Detroit Jesuit)
Jill Shopinski (Marian High School)
Michele Sophiea (St. Anselm)
Ronda Sovine (Divine Child High School)
Michelle Wildrick (Everest Collegiate)
20 years
Laurie Anderson (St. Patrick, White Lake)
Margie Bond (Notre Dame Preparatory)
Colleen Crotty (St. Joseph School)
Joseph Gerardi (De La Salle Collegiate)
Bridget Hondzinski (Holy Family Regional)
Constance Jenkins (University of Detroit Jesuit)
Kris Kalson (Holy Family Regional)
Anne Marie Marn (Holy Family Regional)
Dominic Michalik (Detroit Catholic Central)
Kim Myers (Holy Family Regional)
Julia Ribits (Detroit Catholic Central)
Lydia Sawchuk (University of Detroit Jesuit)
Orrin Tibbits (St. Catherine of Siena Academy)
Matthew Zemba (Divine Child High School)
15 years
Kelly Bicknell (Marist Academy)
Monica Burke (St. John Paul II CCS)
Erin Cavanaugh (St. Mary, Royal Oak)
Jeremy Clark (St. Patrick, White Lake)
Dennis Dael (University of Detroit Jesuit)
Claudine Denha (Marian High School)
Jennifer Ehle (Shrine Catholic)
Eric Heinz (Divine Child High School)
John Hickey (De La Salle Collegiate)
Denise Iaquinta (University of Detroit Jesuit)
Jason Jackett (Divine Child High School)
Gregory Kaiser (Marist Academy)
Alison Kline-Kator (Mercy High School)
Pamela Korenek (Holy Name Catholic School)
Angela Kraetke (St. Anselm)
Katie Luttrell (Divine Child High School)
Margaret McGrane (Divine Child High School)
Deborah Moore (Divine Child Elementary)
Sharon Morey (University of Detroit Jesuit)
Kristi Pope (Holy Family Regional)
Anne Popyk (St. Anselm)
Toni Searls (St. Joseph School)
Annette Sharp (Divine Child High School)
Christine Shefferly (Divine Child Elementary)
10 years
Enza Antonucci (Austin Catholic)
Karah Cheek (Divine Child High School)
Melinda Garcia (Divine Child Elementary)
Christine Geoghegan (Divine Child High School)
Kevin Griswold (Detroit Catholic Central)
Marga Hale (St. Thecla)
Monica Hernandez (Holy Family Regional)
Kara Hidlay (St. Mary, Royal Oak)
Christopher Janusch (Mercy High School)
Bro. Ken Kalinowski, FSC (De La Salle Collegiate)
Denise Kelly-Kirk (Marist Academy)
Nicholas Kocsis (University of Detroit Jesuit)
Andrea Lazaar (Cardinal Mooney)
Brian Leslie (Divine Child High School)
Katrina Palushaj (Notre Dame Preparatory)
Jessica Polansky (Holy Family Regional)
Valerie Sanders (Divine Child Elementary)
Marc Sierra (Divine Child High School)
Deann Sitler (Holy Family Regional)
Jessica Spearman (Divine Child High School)
David Swenson (Divine Child High School)
5 years
Paul Abbott (Divine Child High School)
Abbie Bailey (Marian High School)
James Baker (Austin Catholic)
Carol Bokhari (Austin Catholic)
John Brahier (Divine Child High School)
Paul Davis (Loyola High School)
Melissa DiRusso (Divine Child Elementary)
Tjuan Flowers (Loyola High School)
Jennifer Fox (Loyola High School)
Fr. Patrick Fulton, CSB (Detroit Catholic Central)
Teriza Girgis (Holy Family Regional)
Linda Hong (Holy Family Regional)
Colin Horn (Loyola High School)
Keri Knochel (Divine Child Elementary)
Steven Krepp (University of Detroit Jesuit)
Kellee Linsley (Austin Catholic)
Jessica Livingstone (St. Mary, Royal Oak)
Bertha Lopez (Holy Family Regional)
Timothy Madej (Marist Academy)
Therese Marz (Loyola High School)
Andrea McMahon (Divine Child Elementary)
Jennifer Moore (Divine Child Elementary)
Dennis Morey (Loyola High School)
Rhonda Morris (Loyola High School)
Fr. Theodore Munz, SJ (University of Detroit Jesuit)
Tim Papich (Divine Child High School)
Megan Pizzo (St. Pius X)
Michelle Popiel (St. Anselm)
Lauren Post (Divine Child High School)
Michelle Read (Divine Child Elementary)
Angelica Rodriguez (Marian High School)
Maria Schweiss (Divine Child High School)
John Shinske (Detroit Catholic Central)
Philip Silvestri (Detroit Catholic Central)
Lauren Spalding (Divine Child High School)
Michelle Sugg (Divine Child High School)
Estela Tapia-Rodriguez (Marist Academy)
Zachary Wiggins (Detroit Catholic Central)
Jeffrey Zajac (Marian High School)
Copy Permalink
Catholic schools